Build a nightstand from wooden crates for stylish storage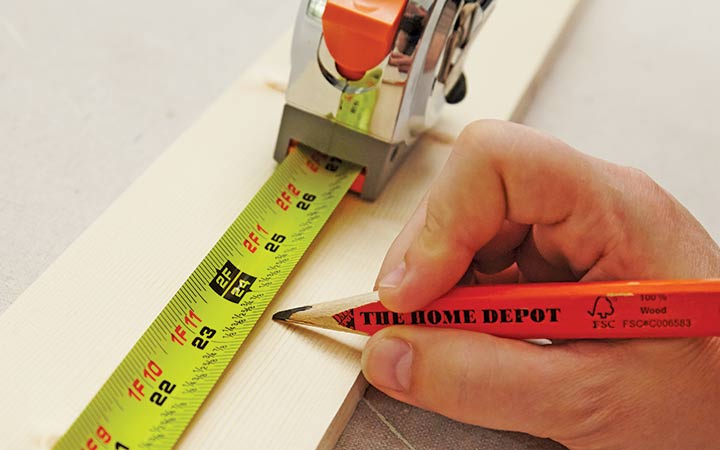 Measure and mark:

• Six 13 ¼-inch side boards from the 1- x 2-inch x 8-foot common board
• Four 23 7/8-inch vertical boards from one of the 1- x 4-inch x 8-foot common boards
• Four 18 ¼-inch back boards from the other 1- x 4-inch x 8-foot common boards
• One 20 ¼- x 13 ¾-inch section from the sanded plywood board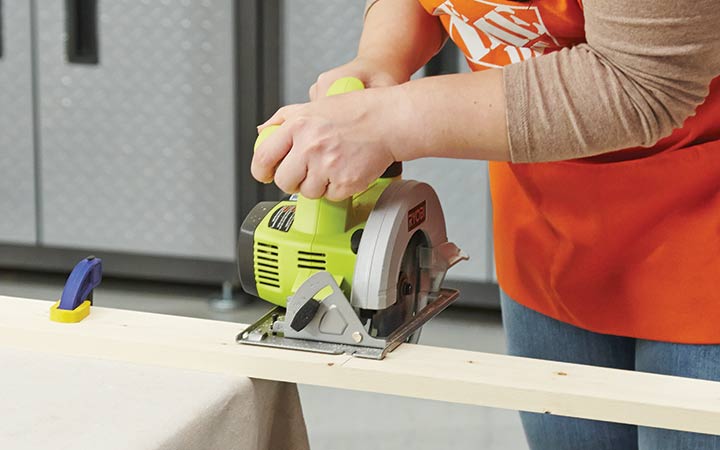 • Using your circular saw and clamps, cut along your marks.
• You should now have six 1 x 2 x 13 ¼-inch pieces, four 1- x 4- x 23 7/8-inch pieces, four 1- x 4- x 18 ¼-inch pieces and one 20 ¼- x 13 ¾- x 23/32-inch piece of plywood.

Tip: If you're planning to paint or stain your nightstand, give it a good sanding, then paint or stain and allow to dry completely before it's assembled.
• Lay two of the 23 7/8-inch vertical boards 6 ½ inches apart.
• Place three of your 13 ¼-inch sideboard pieces on top, evenly spaced between the vertical boards, and attach them with the brad nailer.
• Repeat with the other two 23 7/8-inch vertical boards and 13 ¼-inch sideboards.

Tip: Be sure that the spacing on the side boards matches.
4
connect the side frames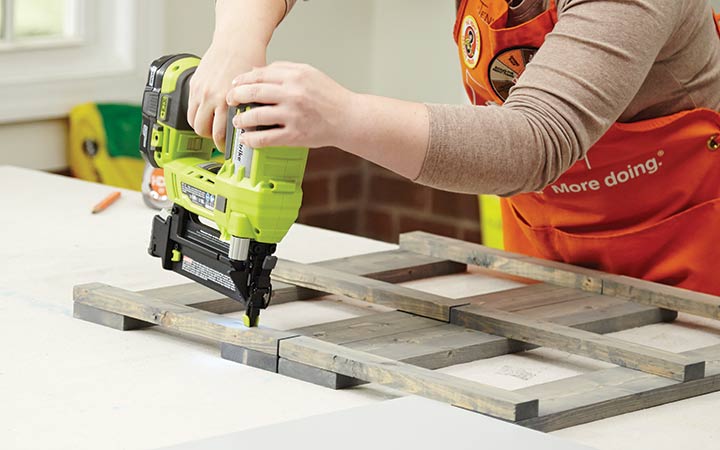 • Connect the side frames you've just built to the back board.
• Position the two side frames parallel to each other with the sideboards facing inward.
• Sandwich the four 18 ¼-inch back boards between the two frames with two of the back boards above the bottom sideboards and the other two back boards above the middle sideboards.
• Secure the back boards to the side frames with a brad nailer and nails.
5
attach top and insert crates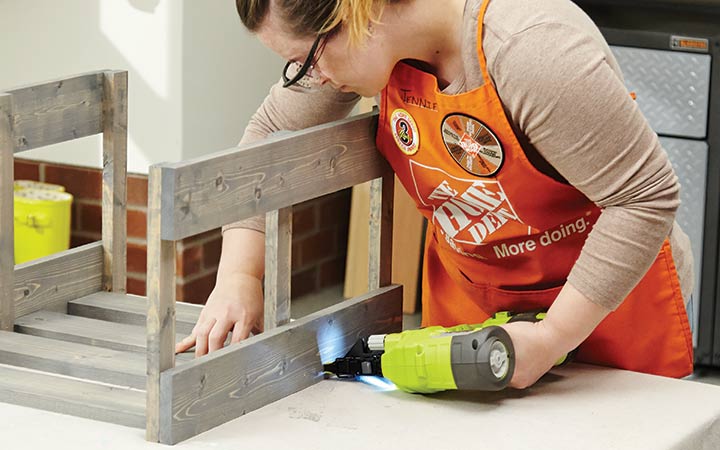 • Place the 20 ¼-inch by 13 ¾-inch plywood board on top of the frame, leaving a ¼-inch overhang on all sides.
• Use your brad nailer to secure it to the frame.
• Slide the crates into the frame, slatted-side facing outward, so that each one rests on top of the side boards.