DISCOVER THE POWER OF BEHR – ONLY AT THE HOME DEPOT
LEARN MORE ABOUT BEHR'S CUTTING-EDGE PAINTS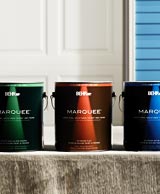 THE BEST EXTERIOR PAINT BEHR HAS EVER MADE
If you are looking for the best in paint technology, then Behr's innovative MARQUEE™ Paint and Primer is it. Sold only at The Home Depot, Behr uses cutting-edge technology in their MARQUEE paint. MARQUEE Interior stays looking newer longer and offers One-coat color coverage in 350 new, exclusive color palettes.

Additionally, MARQUEE Exterior is specially formulated to offer exceptional dirt resistance, advanced protection from fading and early rain resistance. Enjoy the state-of-the-art in paint technology today!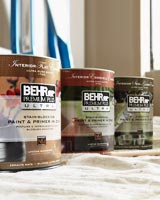 BEHR PREMIUM PLUS ULTRA®
BEHR Premium Plus Ultra® the original high-performance Paint & Primer in One, now allows consumers to paint, prime and protect all in one to help projects get done quickly and easily with long-lasting results.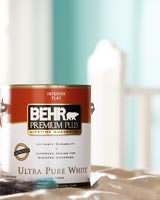 BEHR PREMIUM PLUS®
BEHR Premium Plus® Self-Priming, Zero VOC* and Low Odor Interior Paint delivers exceptional durability and hide and seals previously painted and uncoated surfaces such as drywall, wallboard and wood without the use of a separate primer. In addition, the low odor formula allows the paint smell to dissipate faster, making it the ideal product to use in family spaces.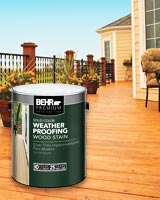 WEATHERPROOFING WOOD STAINS & FINISHES
Utilizing an advanced 100 percent acrylic resin, the suite of products is able to protect decks, siding and fences from sun, rain, snow and ice and provide an incredible look that will last for years.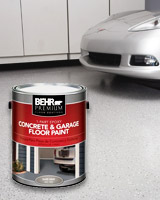 CONCRETE, BASEMENT & GARAGE FLOOR EPOXY
Behr's Concrete & Garage Floor Paint is a no-mix formula that is ready for use as soon as you open the can. This water-based paint is a high-performance, chemical resistant paint which blocks chemicals, oils, and gasoline, yet can easily be cleaned with soap and water. A durable, satin finish paint - Behr's Concrete & Garage Floor Paint works wonders on hard-to-clean interior and exterior floors and is ideal for garage floors, concrete porches, walkways, driveways and basements.