Moving can be stressful and overwhelming. Here are over 80 moving hacks, tips and tricks to cut this monumental task down to size. Whether your new place is across the country or just around the corner, use this guide to get fast tips on moving and packing, plus lots of helpful advice on planning, budgeting and organizing.
Organizing Tips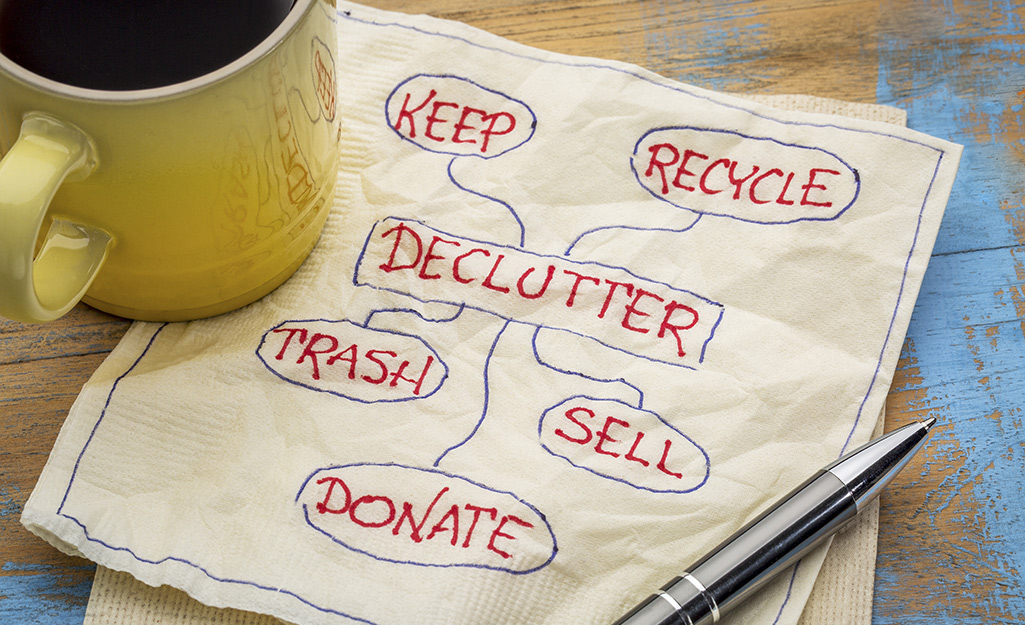 It's never too early to start packing for a move, so begin planning as soon as possible. These moving tips will get rid of the need to rush, eliminating the stress and improper packing which could damage your property in transit. 
A rule of thumb for how long it takes to pack for moving is one day for each room. Be sure to include the garage, workshop, attic and basement in your timeline. Also know that kitchens often take longer to get packed.
Areas that aren't used every day, such as the basement and attic, should be at the top of your list of what to pack first when moving.
Pack out-of-season clothing, fine china or anything that won't be needed until after the move.
Designate a central location to keep moving boxes, tape, markers, stickers, bubble wrap and other packing supplies. Cut back on the number of times you will have to search for them.
Use this opportunity to scale down. Donate unused items to charity and throw away things that no longer work.
When you find something that you're unsure whether to keep, sell or give away, start a pile of things to review.
Follow the guideline of "one room, one box" to avoid having a single box contain things from multiple rooms. An exception to this rule might be for pictures and mirrors hanging on walls.
Pack items by group, not necessarily by room. For example, select a time to pack all of the books or all of the knick-knacks in the home. Feel free to mix-and-match the contents in a box – as long as the contents are from the same room.
Establish a labeling system for boxes – color-coded, for example – to easily identify where each box should be placed in the new residence.
Keep floors, walkways and stairways clear of packed boxes to help prevent falls.
Prepare a clear plastic storage bin in advance for moving day. This kit should contain things you may need after the moving truck is loaded or before it's unloaded at the new place, like cleaning supplies and toilet paper.
Pack an overnight bag for each family member. Make sure each has enough essentials for a week in case the moving truck is late or unpacking boxes takes longer than you estimated.
Budgeting Tips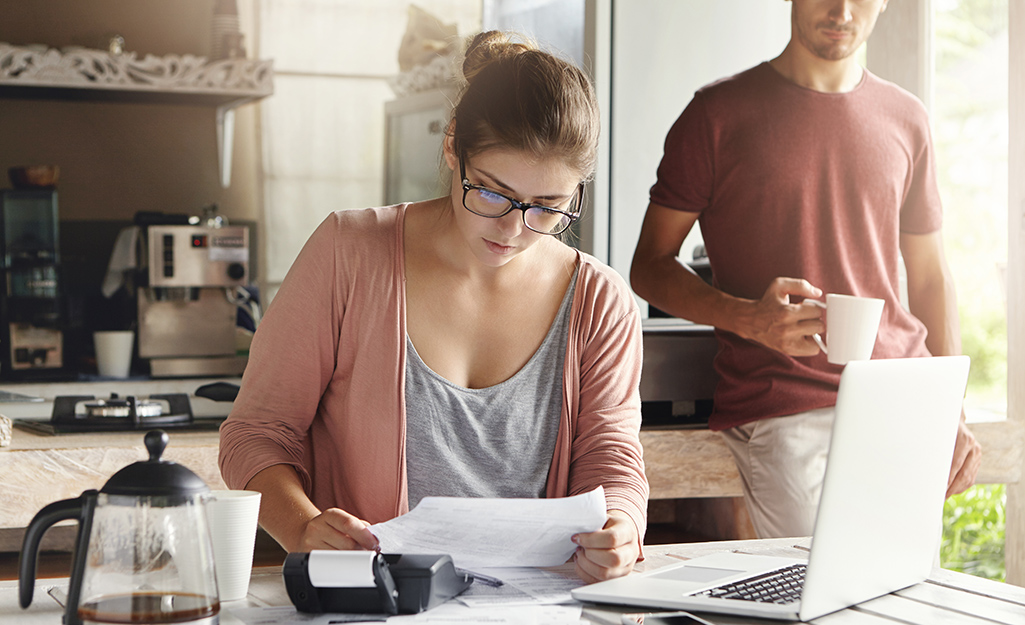 Moving can be expensive. Use these moving and packing tips to cover and prepare for any unexpected moving expenses.
Look into local moving truck rentals and figure out what size truck you will need. Make sure you allocate money for gas.
Find out how much moving insurance will cost.
Get multiple moving company quotes for costs and availability for the time you need to move. Some moving companies offer discounts depending on the day of the week or time you move. Mid-week moves are usually more budget-friendly than weekend moves.
Be generous when calculating how many hours it will take you to pack, move and unpack between your existing and new home. Factor in traffic in your area.
Think about expenses such as utility deposits for your new place, food costs (cooking may be difficult while you're in the moving process), additional pet or child care, and new vehicle tags or parking permits.
Budget in what it will cost you to clean or hire a service to clean your old place and your new one.
Tips on Buying Supplies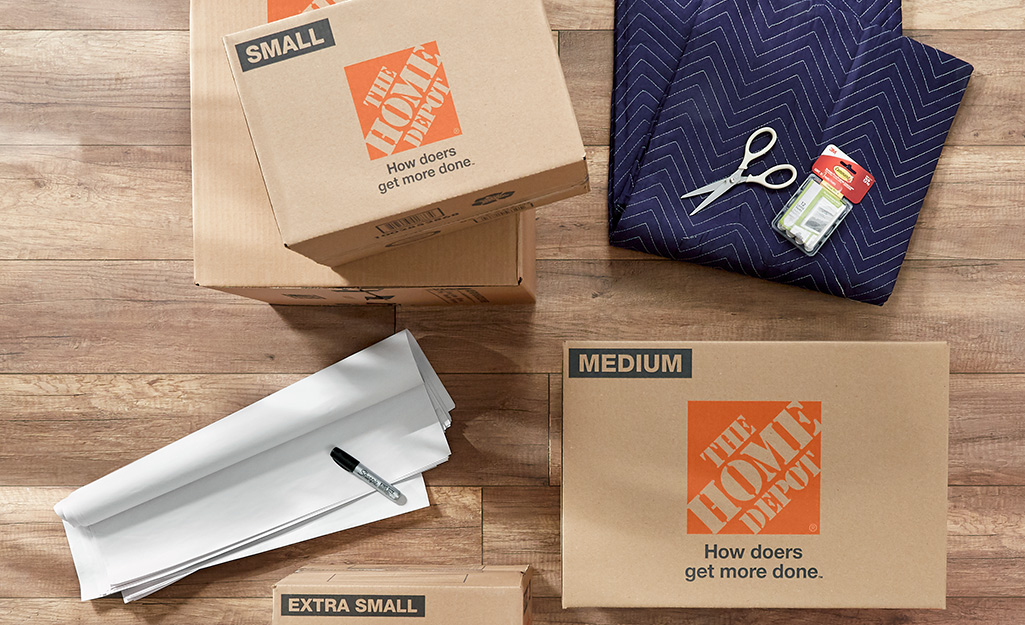 An ample inventory of the right moving supplies can make your whole moving process easier. Our moving calculator can help you determine the number and type of boxes that you'll need. Factor in these basic moving and packing supplies and make just one trip to the store.
Moving boxes of various sizes, including specialty types like wardrobe boxes for hanging clothing and TV boxes for flat screen televisions.
Thicker heavy-duty boxes are good for electronics or other fragile items.
Plenty of packing tape for sealing boxes and a packing tape dispenser.
Sticker labels and permanent markers for labeling boxes.
Scissors and box cutters will come in handy.
Material for fragile items is included in some moving kits, but be sure to have enough packing foam and bubble wrap for breakables.
Bubble wrap, stretch plastic wrap, packing paper, moving blankets, moving bags, mattress bags, cartons, foam pouches and cushions will all be useful for protecting your things in transit.
Vacuum storage bags can be used to reduce the amount of space taken up by comforters, seaters and other bulky clothing.
Depending on how much you have to move, consider buying a handtruck or dolly.
Get tie down straps to keep items from shifting and falling during your move.
Moving Tips for Renters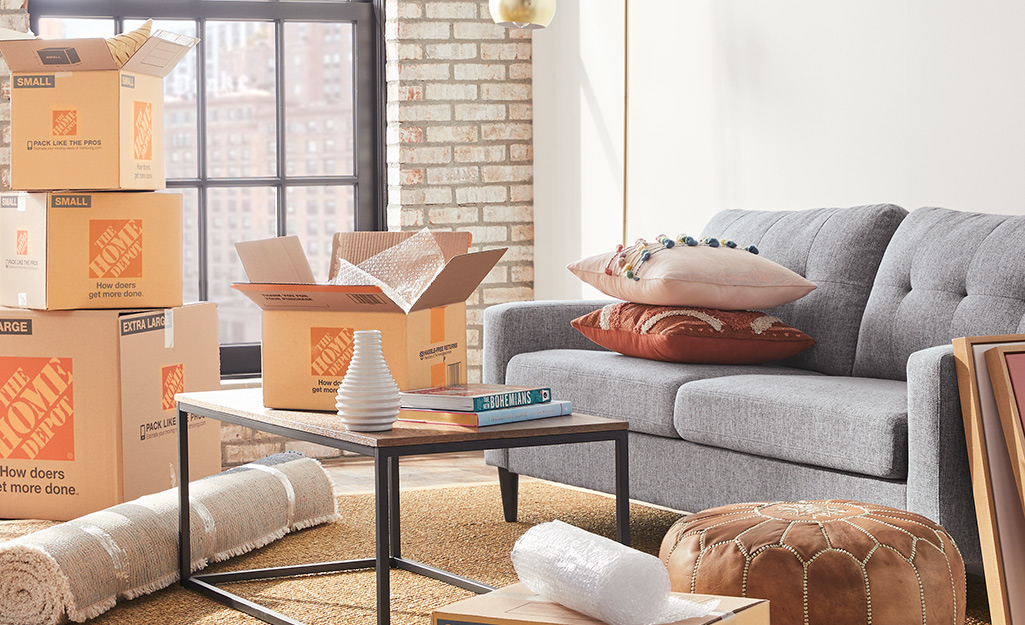 Beside the moving basics, if you rent or lease, using these additional apartment moving tips will make your process smoother.
Review your lease. Give the right amount of notice and follow the move-out details exactly.
Most rentals have a moveout checklist to help you get your deposit back. If you don't have one, ask your landlord.
Let your new landlord know what day you're arriving. Make sure you have gate access, if applicable.
If you're moving into a building with an elevator, ask if you need to schedule a time slot for a service elevator.
Ask your landlord where you should park your moving truck. Your landlord may have a designated area for you to park.
Obtain a parking permit or daily pass for off-street parking for your new home, if necessary.
Request keys before you move in and make sure the new keys work.
Packing Tips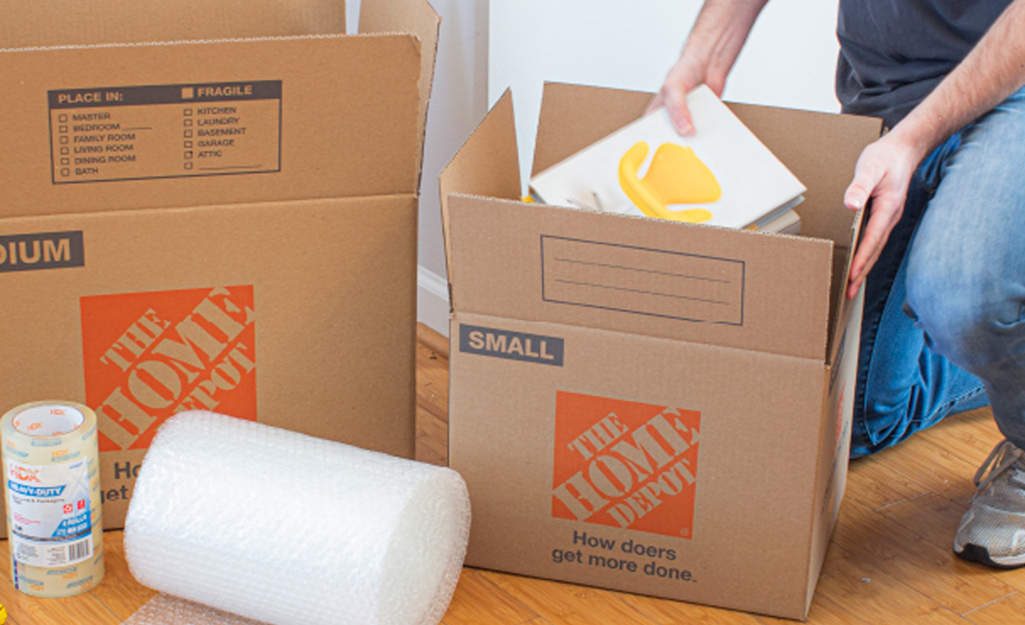 As you begin to box up your belongings, use these tips to pack efficiently.
Prepare boxes by securing the bottom with packing tape. Always use a strip for the seam on the bottom and use additional pieces on each flap on boxes holding heavier contents.
Line the bottom with crumpled newsprint or packing paper.
Choose box sizes that are appropriate for the contents. The heavier the item, the smaller the box should be.
Reserve larger boxes for things like pillows and sweaters that are bulky but don't weigh as much compared to their size.
One of the best packing tips for moving in a hurry is to pull drawstring trash bags up and over your hanging clothes and cinch them around the hanger. This makes it quick and easy to move a closet full of clothes in your car.
Protect your dishware with foam pouches and specialty boxes.
Place wrapped dishes into boxes upright vertically, rather than flat.
Place comforters, linen and other bulky items into vacuum seal bags to save space when moving.
Wrap pieces that belong together with stretch wrap.
Protect your bed with a mattress bag.
Seal lotions, detergents and other liquid containers in zippered plastic bags to prevent leaks.
Mark fragile items with tape and put an "X" on the glass side of wall art and mirrors.
Keep floors, walkways and stairways clear of packed boxes to help prevent falls.
Don't overdo it. Carry less and make two trips.
Utilize space by packing smaller pieces within the gaps of odd-shaped or larger items, such as lamp shades.
To prevent small items from being thrown out accidentally when unpacking, wrap them in brightly colored tissue paper or a labeled plastic bag.
Wrap items with clean packing paper to protect surfaces from being marred during transit.
Protect delicate pieces with bubble wrap, packing foam and/or cardboard dividers. Pack these breakable items together in a box and clearly label it as fragile to promote extra care when handling.
Pack flat screen TVs in adjustable TV boxes, which can also be used for mirrors and framed artwork.
Do not overload boxes. They should be sealed with just one piece of packing tape.
Moving Advice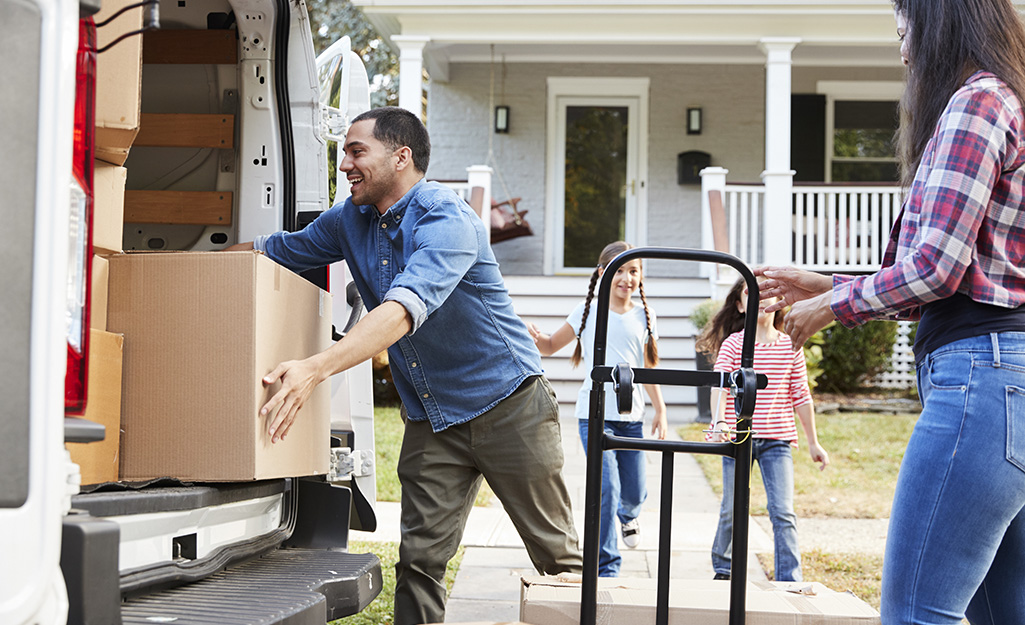 Here's some advice to make moving day a little easier: 
Build additional time into your estimate for unforeseen speed bumps. You should not be packing on moving day.
Prepare a clear plastic storage bin in advance for moving day. This kit should contain things you may need after the moving truck is loaded or before it's unloaded at the new place, like cleaning supplies and toilet paper.
Schedule free pick-up of items you're giving away to local charities. Save donation receipts and moving receipts for taxes.
Remember to lift with your legs.
Plus, if you're moving long distance, follow these tips:
Transfer or cancel utilities or other accounts.
Make sure your car is up for the drive with a trip to the mechanic.
Pack an auto emergency kit and first aid kit in your car.
Get portable power banks to keep your phone charged while traveling.
Update your mailing address with banks, organizations or subscription services.
Determine how much to pack on the truck and how much to ship ahead. Strongly consider using a professional moving company.
If traveling with pets, make a list of pet-friendly hotels and book rooms ahead of time.
If traveling with children, pack activities, snacks and a change of clothes per child. Put them where you can easily access them.
Tips for Moving Day and After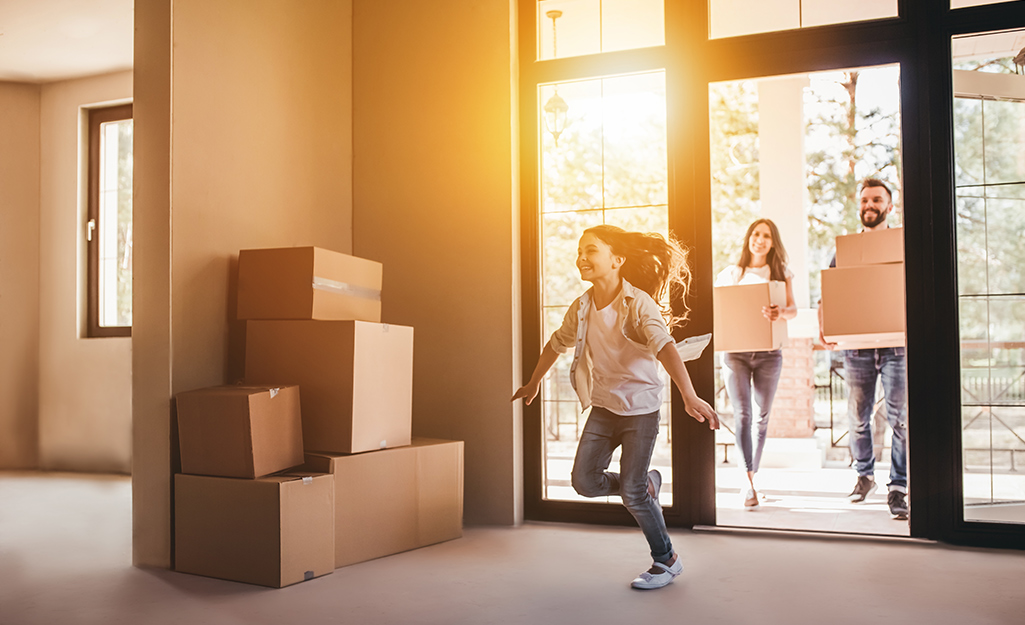 Use equipment such as hand trucks, dollies and moving carts to wheel appliances or multiple boxes in one trip to the moving truck.
Ergonomic lifting straps can assist you when moving bulky, heavy items such as mattresses or appliances.
Put down floor protection film to prevent tracking dirt onto the carpet.
Wear work gloves to protect your hands while moving.
Use furniture gliders to protect floors while moving large pieces or to make scooting across carpet easier.
Use moving blankets to protect your furniture from scratches, chips and dents.
Moving blankets can assist with dragging heavy items in addition to protecting furniture finishes.
Rope, twine, bungee cords and/or tie-downs will be needed to keep boxes and other objects in place in the truck.
Bring door stops to your new home to prop open entryways and help the move go quicker.
Keep floors, walkways and stairways clear of packed boxes to help prevent falls.
Don't overdo it. Remember to lift with your legs. Carry less and make two trips.
Before leaving your old home, walk through it one last time to make sure nothing is left behind.
Necessities like medication and toiletries should be kept with you in an overnight bag and not loaded into the truck with your other belongings.
Be sure to securely latch and lock the moving truck door.
Get cash for tipping movers. A good rule of thumb is 4 to 5 dollars per mover per hour. Consider providing a cooler of drinks and snacks for movers.
If you've bought a home, consider changing out all your door locks for added security.
Once you follow these simple moving tips and tricks, your move will be easier and less stressful. Whether you're moving across town or across the country, proper planning and the right supplies can make all the difference. Need moving boxes, storage containers or other supplies? 
The Home Depot delivers online orders when and where you need them. Plus, get all the tools you need to move a TV and everything else without the upfront investment with moving and lifting equipment rentals.
Explore More on homedepot.com