Lighting in a home bathroom often comprises a single fixture on the ceiling or on a wall above a mirror. There are other options for an attractive, energy-efficient lighting scheme. A few inspired changes can enhance a bathroom's functionality, improve safety, an even create a relaxing and soothing environment. 
Installing appropriate lighting in your bathroom can make a difference. This guide offers tips on the best type of bathroom lighting and where it can be placed in this room of the house.  
Considerations for Choosing Bathroom Lighting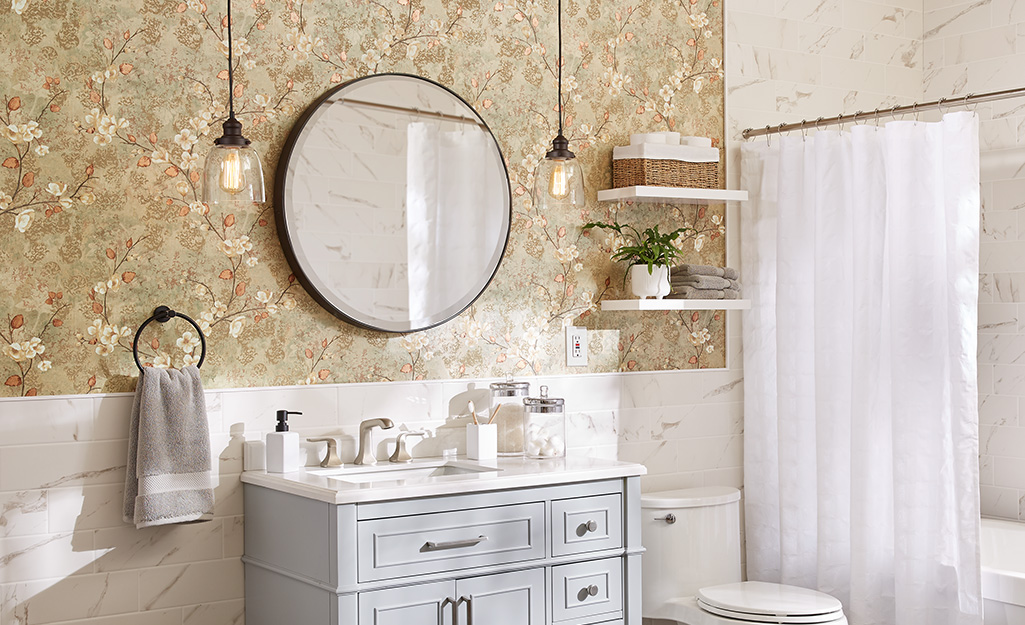 The bathroom is the first stop for people when they get up in the morning but is more than a place for bathing, applying makeup and grooming.  
The best bathroom lighting helps set the mood for the day or help people reach a state of calm in the evening. Good bathroom lighting is critical for safety, particularly for older persons. Many seniors take their morning medications in the bathroom. The bathroom is also where older persons in most cases report experiencing a fall.  
Here are some factors to take into consideration when looking at a bathroom lighting plan. 
Look at the bathroom's size and layout. A single light fixture may be sufficient for a bathroom in an apartment or condo, but makeup and grooming require added lighting that is focused and enhanced.
Ambient lighting choices, dimming switches and designed fixtures like wall sconces can create an atmosphere of relaxation in a master bathroom.
Natural light belongs in any conversation about bathroom lighting. Daylight regulates sleep and wake cycles since the human body responds to light from the sun. Look for a choice of lighting that balances with the natural sunlight from a window.
Bathtub and shower lights create a unique look for the bathroom and add a level of safety.
Bathroom Light Styles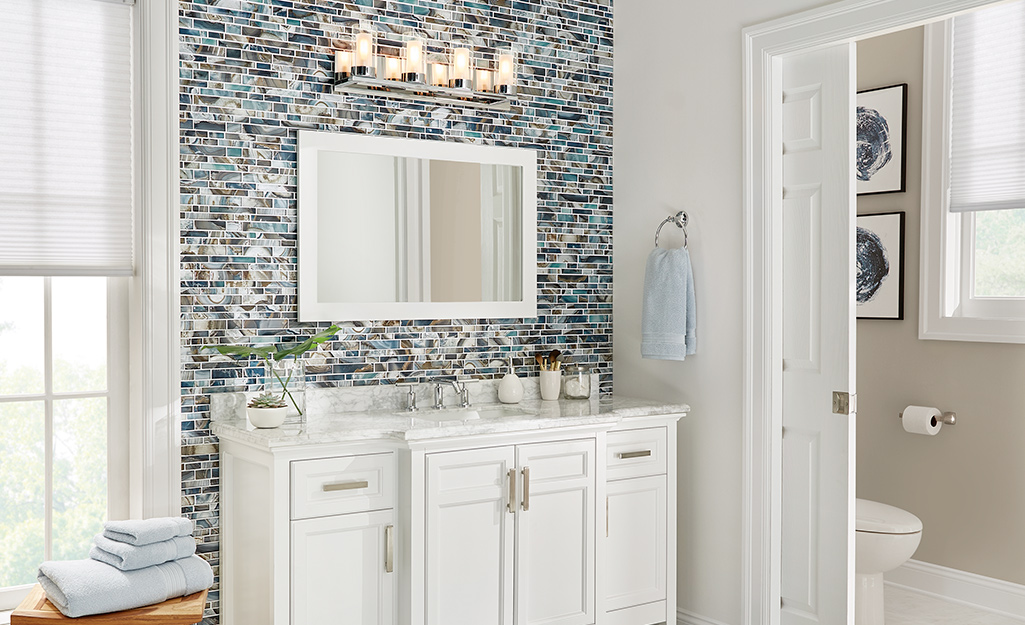 The choice of light style can set the tone of the bathroom's overall look.     
Classic: This vintage style features shades reminiscent of 19th or early 20th century lighting fixtures.
Modern: Globes, cylinders and geometric sconces and shades and varied color choices are the distinctive characteristics of modern and contemporary lighting fixtures.
Transitional: Minimalist design features straight, clean lines and simple curves. The use of wood is common in transitional lighting.
Industrial: This lighting fixture style employs prolific use of metal in different finishes for a factory-like appearance. This style of lighting also includes recessed light fixtures.
Bathroom Light Bulb Types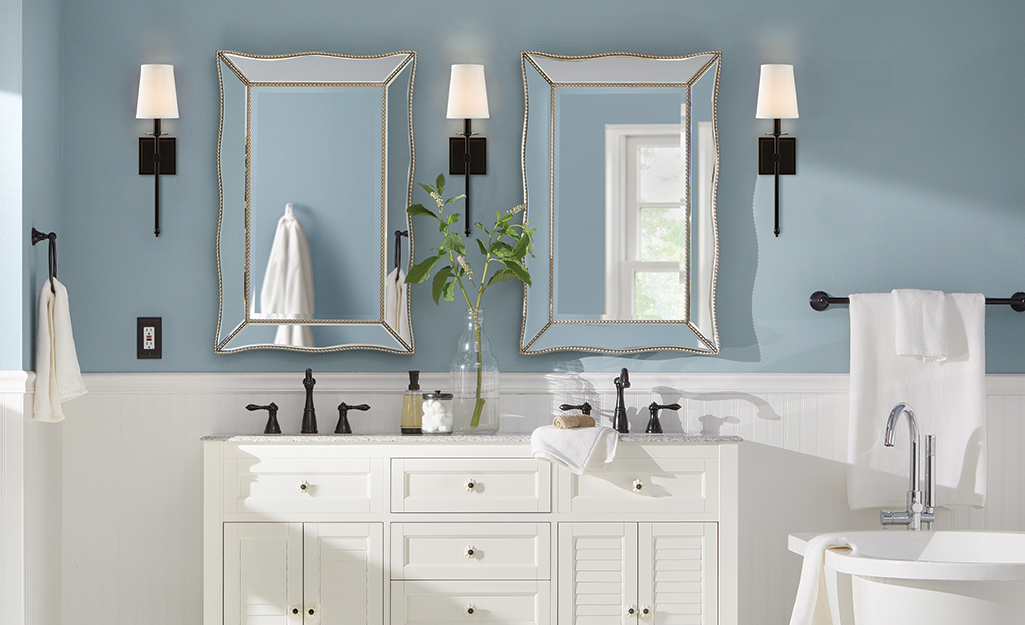 Bathroom lighting bulbs include incandescent, fluorescent, halogen and LED. The choice of bulb can depend on the type of lighting and the desired wattage, or brightness, that creates even lighting.  
Take brightness into account when choosing bulbs for the best lighting for a bathroom. Incandescent bulbs of 75 to 100 watts work well in larger bathrooms like master bathrooms, while bulbs of 40 to 60 watts are sufficient in smaller bathrooms or powder rooms.
Use the color rendering index (CRI) when choosing bulbs for bathroom lighting. The CRI measures light intensity and how it displays colors. Bulbs with a CRI rating of 80 to 100 are best for bathroom illumination. Most LED bulbs, for example, with a CRI rating of 80 to 90 produce a more natural output of bright light and can provide the best lighting for grooming.
LED bulbs operate on a lower wattage, but last longer and use less energy than incandescent bulbs. They are also less toxic than fluorescent bulbs, which contain mercury.
Bulbs with a softer light output are ideal for accents or ambient light.
Frosted bulbs can reduce glare and shadows compared to clear bulbs.
Vanity Lights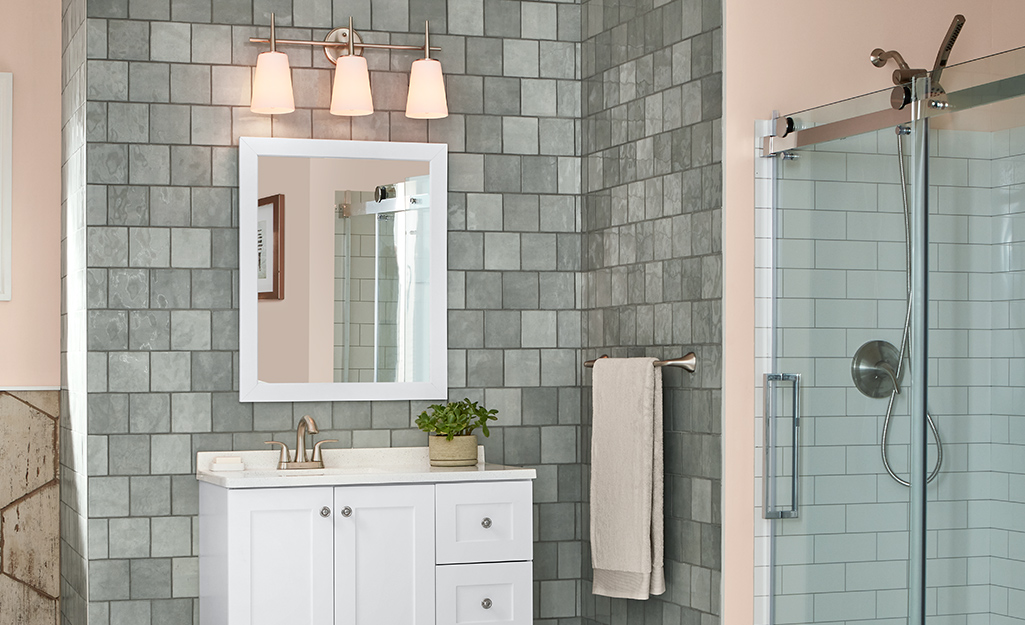 Vanity lights provide the best bathroom lighting for makeup and grooming. The best fixtures for vanity lighting can be mounted on either side of the bathroom mirror to illuminate the head and face. This method of installation minimizes glare and leaves no part of the face in shadow, unlike an overhead lighting fixture.  
Side-mounted wall sconces are suitable options for vanity lighting. Mount sconces beside the mirror for best performance.
A vanity light bar produces a high glare and can create shadows on areas of the face like brows and the nose. Installing a light bar or strip lighting on the top of the mirror minimizes the appearance of shadows.
Shower and Tub Lights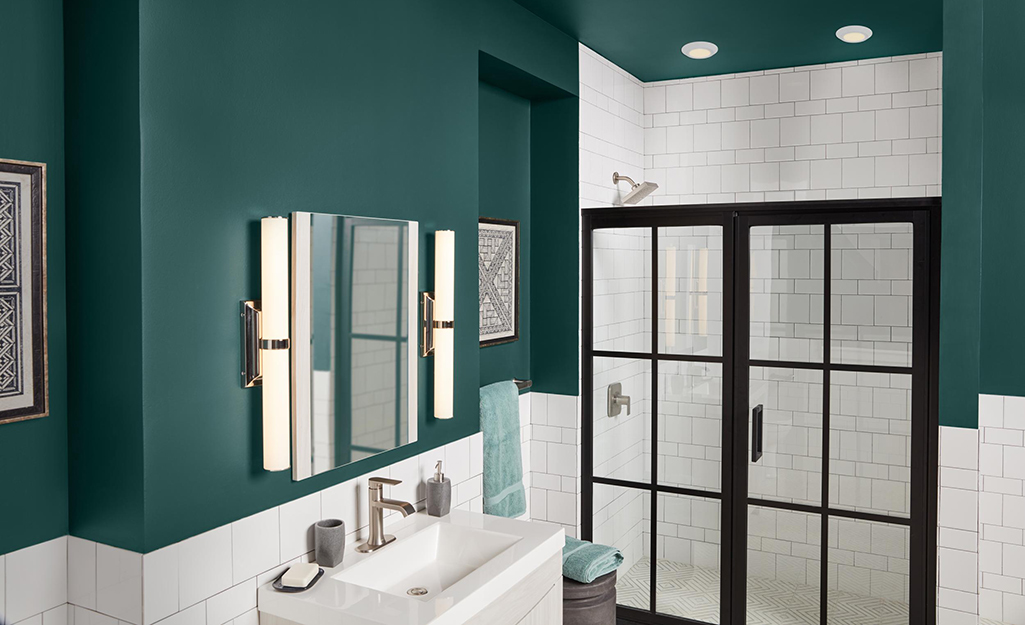 Install waterproof light fixtures in shower areas for added brightness. Recessed lights can be fixed into the ceiling, making them ideal for installing above your shower.  
The shower lights must be wet rated and contain features designed to keep moisture out of the housing and away from wires and electrical connections. Wet-rated shower light features can include a rubber housing and moisture-resistant cover that snaps into the recessed light housing. Glass lenses are less likely to yellow than plastic ones when installed over showers. 
Bathroom Exhaust Fan Lights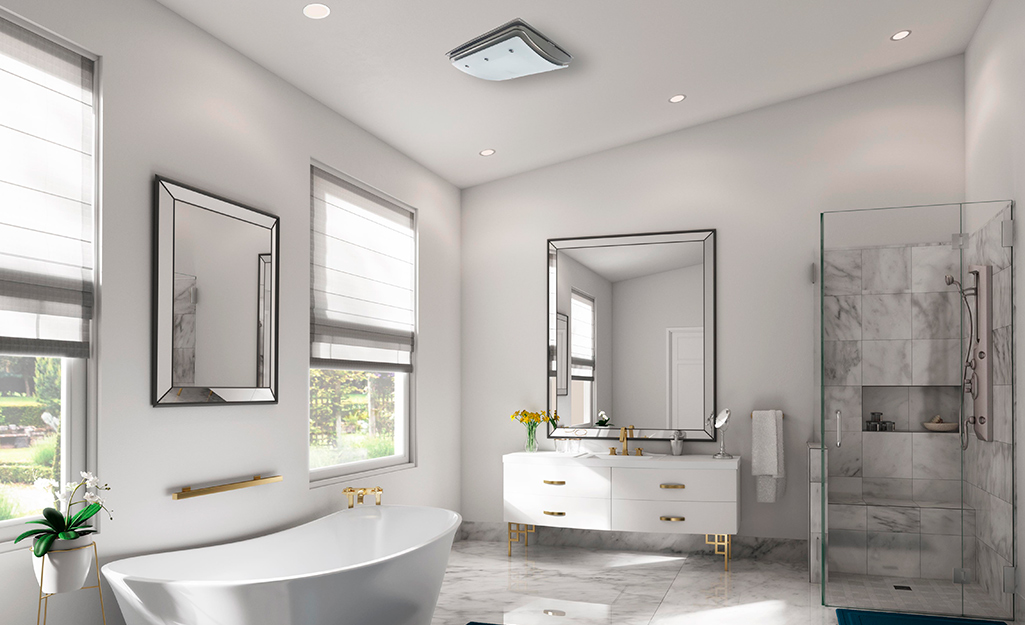 Many overhead flush-mounted lights are paired with an exhaust fan for circulating moisture out of the bathroom. When choosing an exhaust fan-light combo make sure there the fan has access to outside ventilation. Sending bathroom exhaust into an open attic can cause moisture to build under the roof. A ceiling vent to the outside would have to be built for an exhaust-fan combo in a bathroom with no outside access.  
Other Bathroom Lighting Options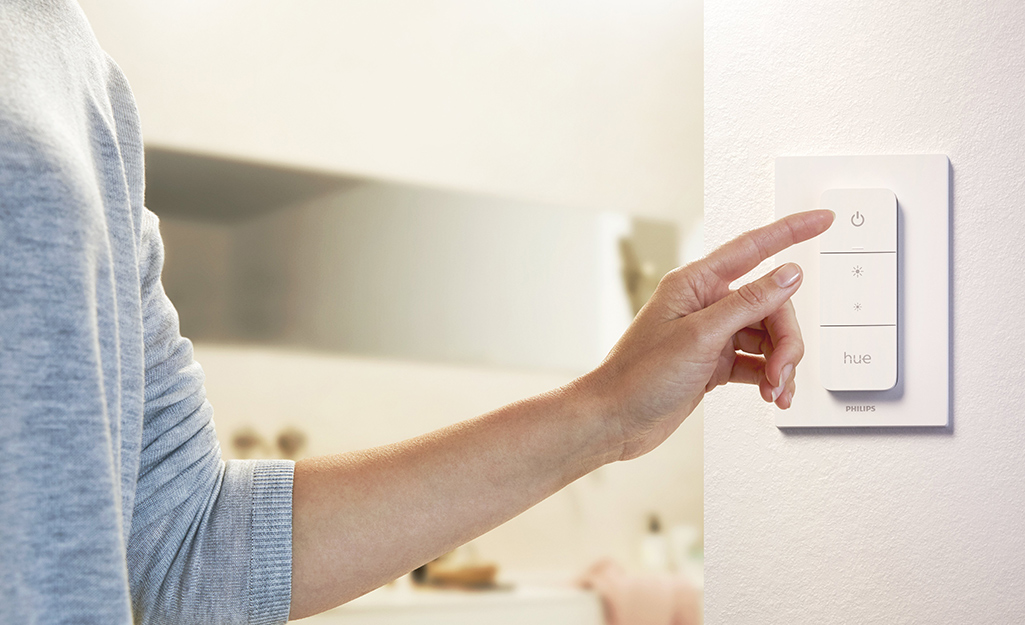 Hanging lights, semi-flush mount lights and pendant lights add style and flair to larger bathrooms with plenty of ceiling-to-floor height. The best bathroom lighting fixtures provide stylish illumination in the bathroom. Most are wet rated to withstand moisture, making this bathroom lighting a safe choice.
Install a dimmer switch for your bathroom lighting. It allows the user to customize the level of light needed. Dimmed lights are easier on the eyes when making late-night bathroom trips. The lower light also can create a relaxing mood.
Natural Bathroom Light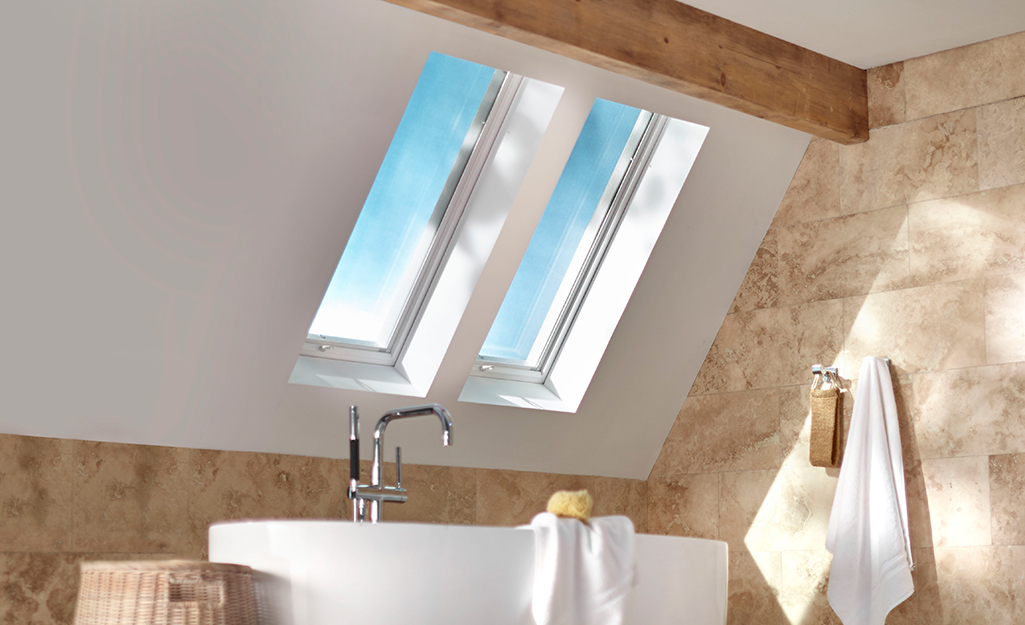 Natural light belongs in any conversation about the best lighting for a bathroom. Daylight regulates sleep and wake cycles since the human body responds to sunlight. Look for a choice of electrical lighting that balances with the natural sunlight from a window.  
Consider installing a skylight to enhance lighting in a master bathroom, especially one without a window. Skylights add ambience to the bathroom and creates the impression of open space. Skylights also reduce the need to turn on the bathroom lights each time, which make skylights an energy saver. 
Use your imagination in choosing the best bathroom lighting options. Download The Home Depot Mobile App to find the right lighting products and check inventory. If the plans require a lighting renovation, speak to The Home Depot's bathroom remodeling professionals.    
Explore More on homedepot.com