Finding the best bathroom vanities for your home will depend on your style preference and budget. Bathroom vanities provide storage space and are available in a variety of styles, sizes and materials, including bathroom vanities with tops and custom bath vanities. This guide will help you understand what to look for when choosing a bathroom vanity, including storage needs and the size of your bathroom. 
Things to Consider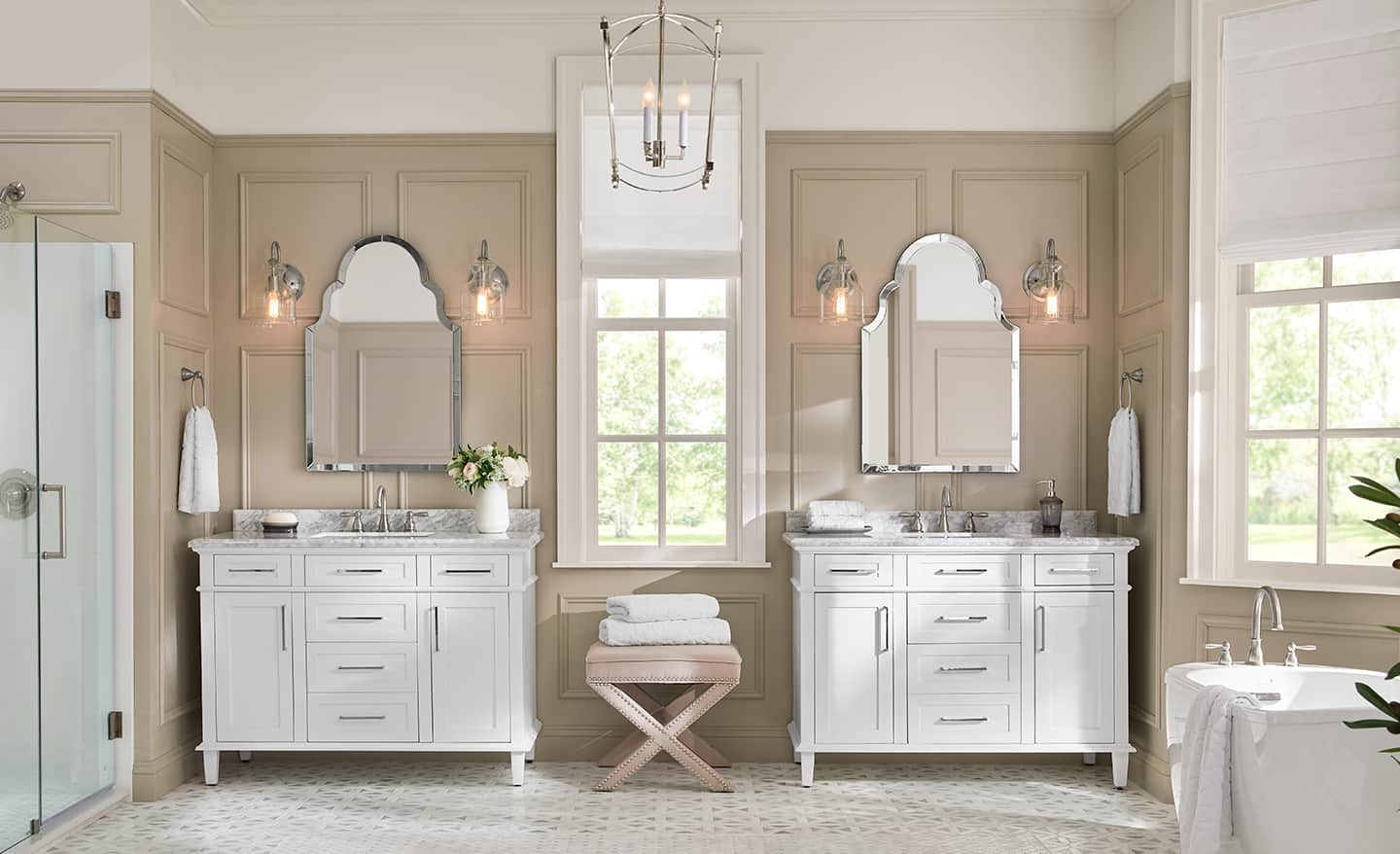 Before you begin to shop for a bathroom vanity, take a few minutes and consider how you will use the vanity. If this is a children's bathroom, for example, you'll want plenty of storage space for multiple sets of toiletries.  
You'll likely use the space to wash your hands, brush your teeth, style your hair, store toiletries and more. Thinking through how the vanity will be used will help you decide on a new vanity for your home. 
Here's how to choose the best vanity for your home.  
Budget: Begin by deciding on your budget for a new bathroom vanity. This will help you narrow down your choices on features.
Size: Always begin by measuring the space and, if applicable, the size of your current bath vanity. Consider ease of use when choosing the cabinet height. You should be able to use the sink without reaching up or bending over too far. Standard vanity widths are 24-inches, 30-inches, 36-inches, 48-inches, 60-inches and 72-inches. Standard bathroom vanity depth ranges from 17-inches to 24-inches. Standard bathroom vanity height is about 31-inches. Some vanities go up to 35-inches high. Shorter vanities often work well for children.
Hardware and accessories: If you're updating your bathroom vanity to a completely different look, be sure that your vanity mirrors, vanity lighting and other accessories match the style and finish you've chosen.
Faucets: When selecting your new vanity, note the spacing of pre-drilled holes allotted for a faucet. This will let you know if you need a centerset, widespread or single-handle faucet. Example: 4-inches for centerset, 8-inches for widespread or single hole.
Storage: Is this a vanity for a guest bath that won't get much use? Will this bathroom vanity be replacing one in a busy family bathroom? Drawers and cabinets for storage are important things to consider.
Vanity side and backsplashes: Decide if your bathroom upgrade will involve a vanity side and backsplash. If so, calculate this into your measurements. Install the side and backsplash after the vanity has been installed.
Tip: Choose the size, style, colors and options you want in a custom bathroom vanity or custom vanity top. 
Bathroom Vanity Types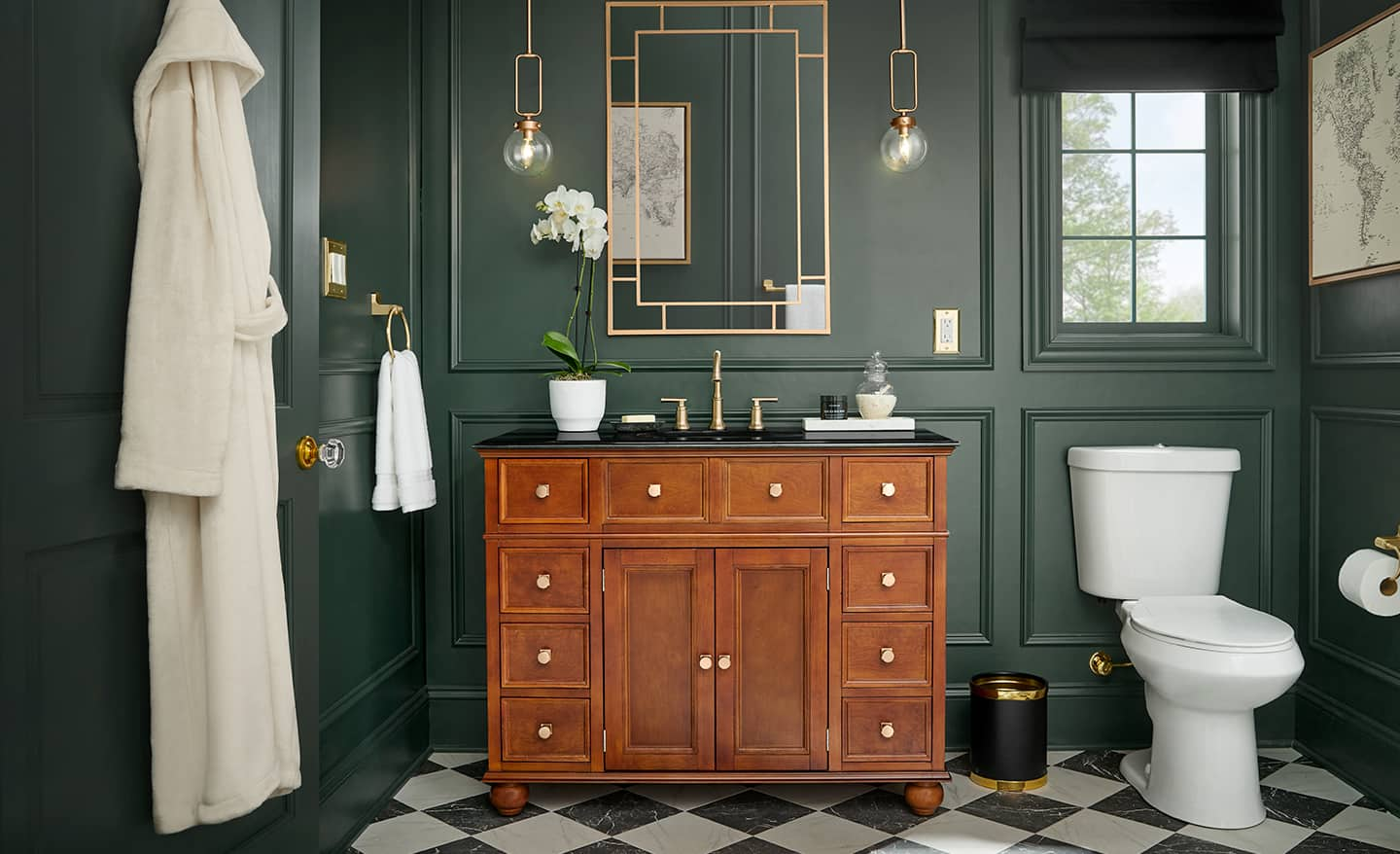 There are so many types of bathroom vanities available. It can be overwhelming to figure out which is right for you. 
Bathroom Vanity Styles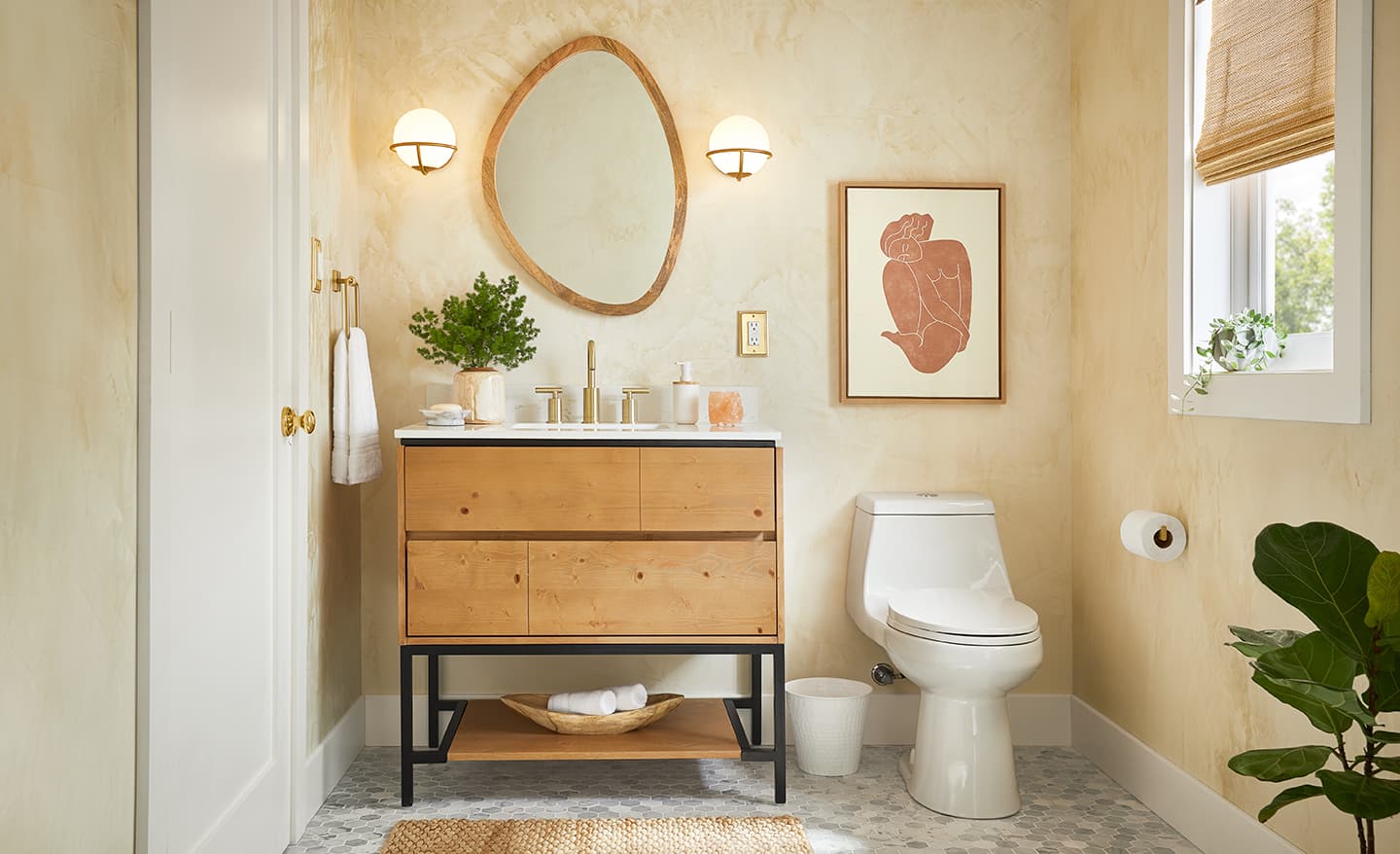 Bathroom vanities come in popular decorating styles.  
Bathroom Vanity Materials and Finish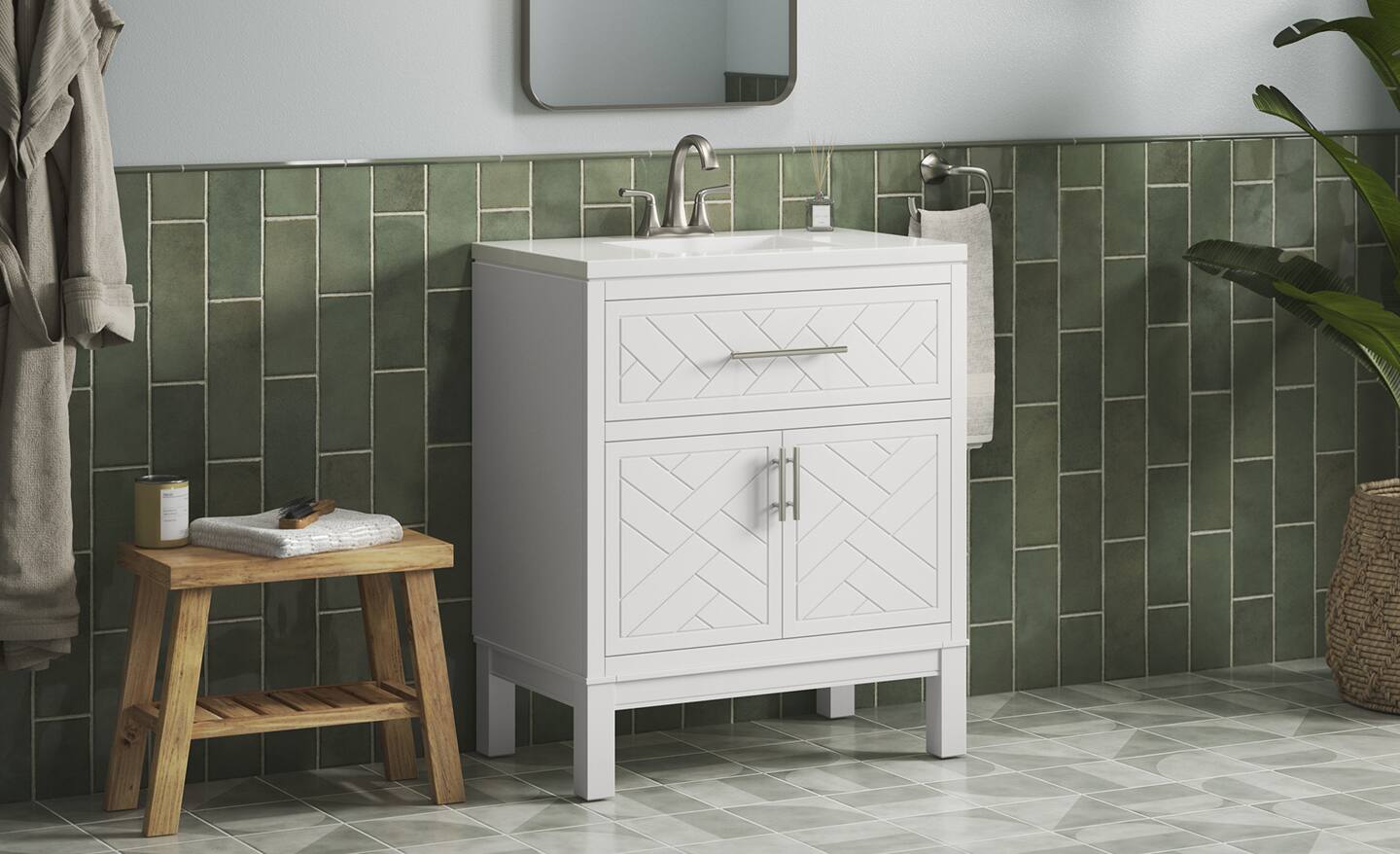 Bathroom vanities are available in a variety of materials and finishes, from classic aesthetics to modern styles. 
Veneers give the same look as wood but are less expensive and come in a variety of colors and finishes.
Solid woods like oak, maple and cherry are beautiful and durable. They can be stained or dyed to a desired finish or tone.
Laminates are made of long-lasting, low-maintenance synthetic materials.
Cast polymers feature cultured marble, onyx and granite designs. These resist stains and are easy to clean but difficult to repair.
Below are the most common bathroom vanity cabinets.
Furniture-style vanities are known for intricate carvings, distinctive hardware and rich finishes.
Frameless or Euro vanities have doors that hang directly on the side of the cabinet.
Framed vanities have doors that hang on the front of a box-like frame.
Different vanity storage options include:
Doors and drawers for keeping extra toiletries and towels handy and hidden
Tilt-down drawers as space-saving storage solutions for bathroom supplies
Open shelves that work as extra storage and display areas
Bathroom Vanity Countertop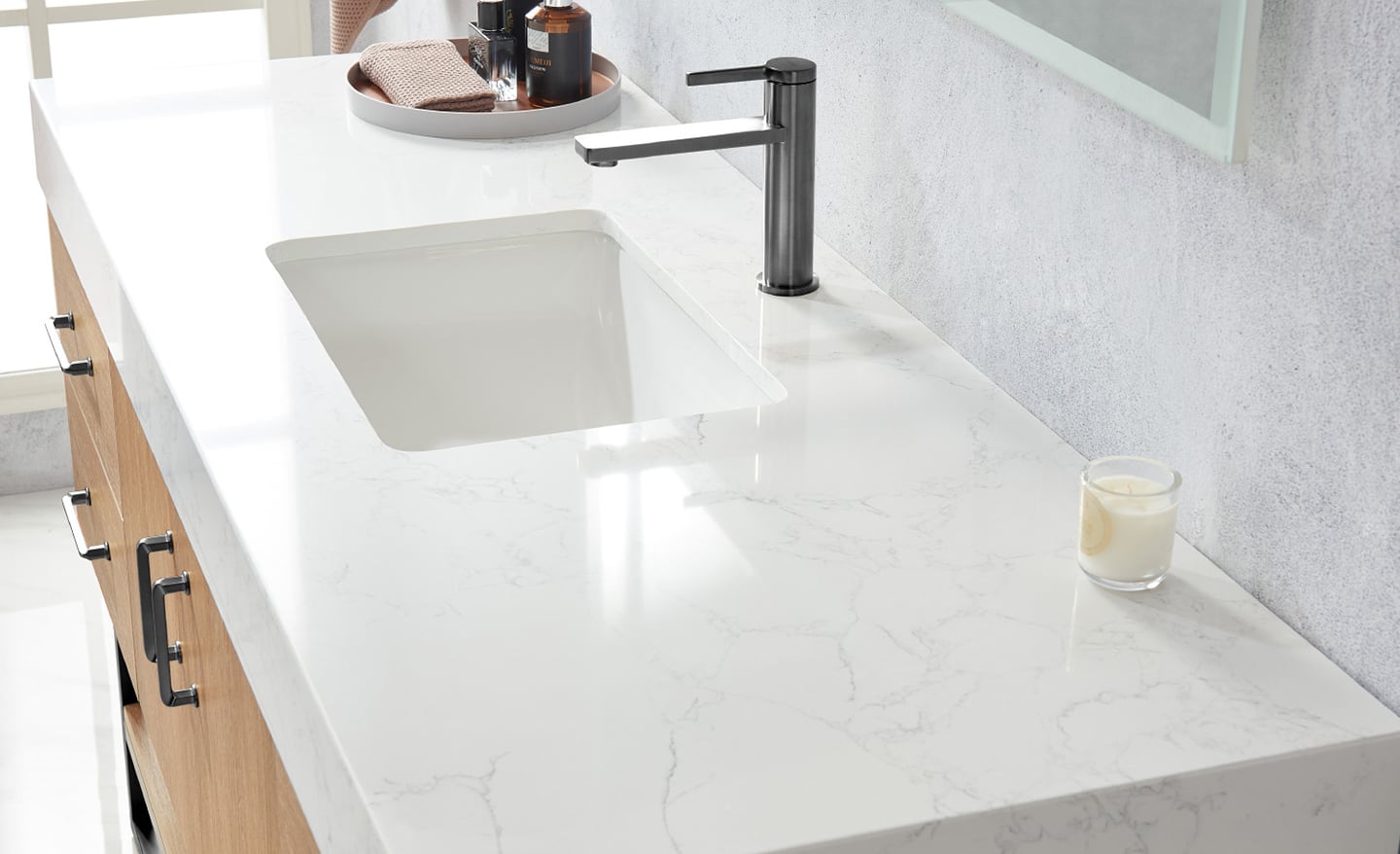 Choosing a bathroom vanity countertop is just as important as choosing the material of the vanity itself. Consider the amount of use the bathroom gets and how often it will need to be cleaned. Some countertop materials are more porous than others. 
Solid-surface materials are highly durable, water-resistant composites that require a sturdy base and professional installation.
Natural stone slabs or tiles of granite, marble or other natural stone are stain-resistant, highly durable, easy to clean and need regular polishing.
Engineered stone or quartz composite tops look like stone but are more durable and resist stains, mildew and bacteria.
Ceramic bathroom vanity tops are durable, easy to clean, moisture-resistant and require periodic sealing.
Laminate is the most affordable, low maintenance option but scratches and chips cannot be repaired.
Vanity Sink Options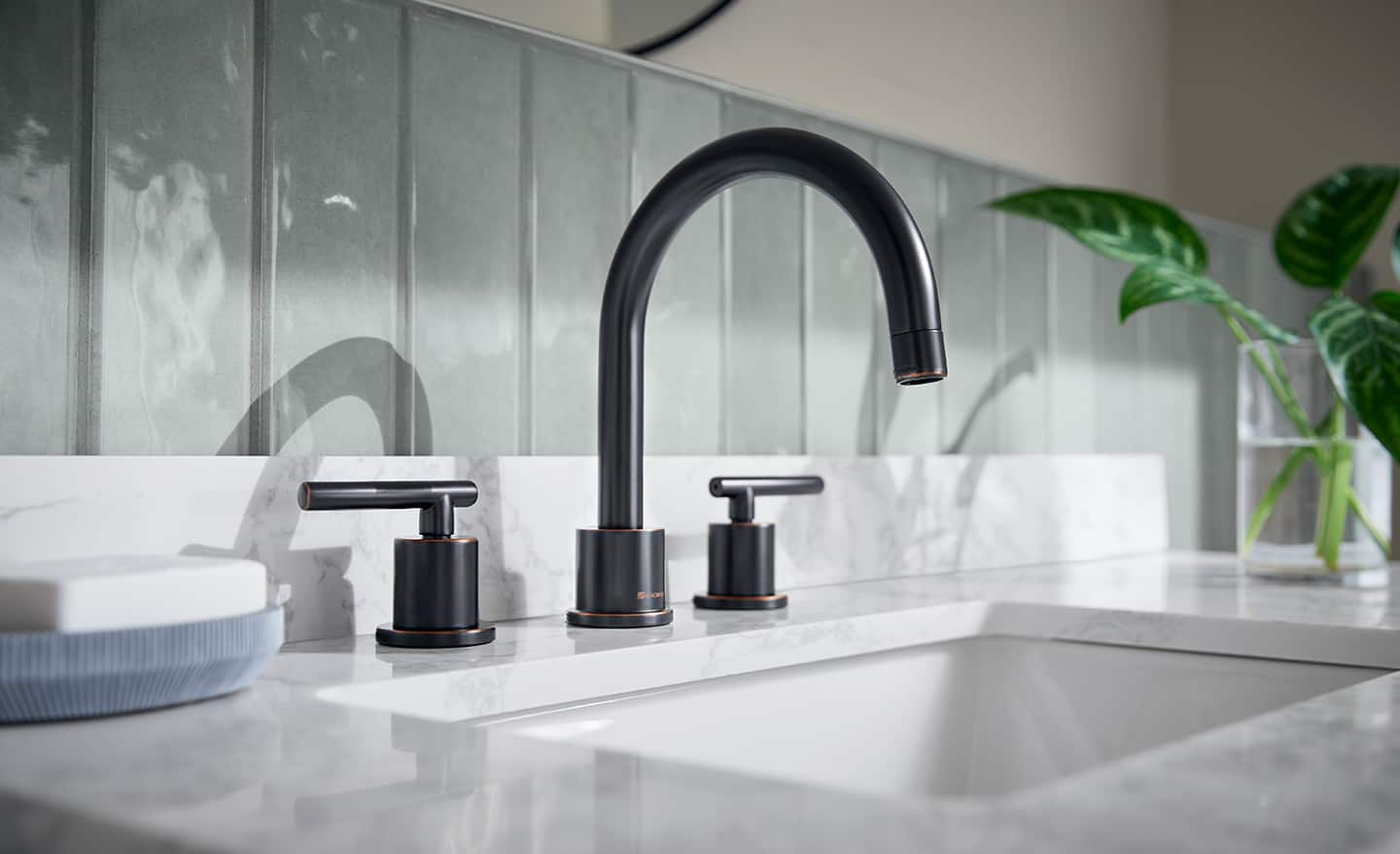 Under-mount sinks attach to the underside of the countertop. They are suitable for solid-surface or natural stone countertops.
Self-rimming or drop-in sinks rest on the top of the counter and are the easiest sinks to install.
Integral sinks are formed from the same materials as the countertop for a clean, customized look.
Vessel or deck-mounted sinks have a sink basin that sits on top of the countertop.
Console sinks are table-like fixtures with ornamental legs or brackets and resemble small vanity tables.
When you understand how you will use bathroom vanities and the options available, you can choose the best bathroom vanities for your home. With a wide selection of bathroom vanities along with bathroom installation services and tool and truck rentals, we're here to help. 
Explore More on homedepot.com