Corded drills can do a wide variety of tasks around your home. Able to drive in screws, drill holes in concrete, and even mix paint, a drill is one of the most useful tools in your toolbox. Often more powerful than their cordless counterparts, drills with a cord are ideal for use in a workshop or on any job where you have access to an electrical outlet or power generator.
This buying guide highlights the different uses and sizes of corded drills, plus operating tips and compatible drill bits.
Power Drill Uses
Learn what tasks you can do with a drill, plus how much speed and torque are best for your jobs.
Corded drills can be used to drill holes and drive screws into wood, metal and concrete.
Hammer drills pound as they rotate to make driving holes into masonry easier.
Rotary hammers use rotation and hammering motion to drill and chisel through concrete.
Drill/drivers give you the ability to adjust the clutch, making them ideal for driving screws into consistent depths without overdriving or leaving them short.
With the right attachment, drills can also be used for sanding and buffing.
Heavy-duty right angle drills and corresponding drill bits allow you to drill large holes into wood, metal, steel, concrete and cement.
Power Drill Specifications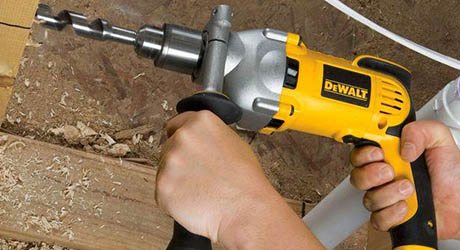 Corded drills are available in ¼-, 3/8- and ½- inch chuck sizes.
¼-inch bits are ideal for drilling small holes and other light tasks.
Keyless chucks make bit changes quick and easy.
Keyed chucks require a key in order to lock bits securely in place.
Lower amp drills are good for soft woods while higher amp drills are better for hardwoods and metals.
Power Drill Operating Tips and Maintenance
Proper care must be taken when operating drills. Among other safety measures, be sure to wear protective eyewear.
When drilling metal, keep the bit and metal well-lubricated with oil as you go.
Drive at an angle that is perpendicular to the surface to ensure the fasteners are drilled straight.
If the drill begins to feel hot, stop work immediately and allow the drill to cool.
Use lower torque to avoid stripping screws.
Use bits that are smaller than the screw to avoid creating too large of a hole.
If you see smoke rising from a hole you're drilling that's a sign that either your bit is dull or you're working the drill too hard.
Pull the bit out of a hole regularly to clear chips especially when drilling hard material like maple or wet wood.
Plan ahead and stock up on spare bits when starting an important project that requires repeated use of the same bits.
Throw out drill bits at the first sign of wear to ensure safety and effectiveness.
Always use an extension cord that will supply enough power to your drill without causing a drop in power or damage to the motor.
Explore More on homedepot.com