Find the best exterior wood sealers and masonry sealers to keep your outdoor spaces looking clean and new. Exterior sealers create a topcoat that protects, waterproofs and refreshes porous surfaces like decks, fences, driveways, patios and walkways. When learning how to seal wood and other materials, you'll have to choose between stains, colored sealants, waterproofers and other types of exterior sealers. This guide highlights all the different types of exterior sealers available so you can pick the right one for your job.    
Why Should I Seal Wood?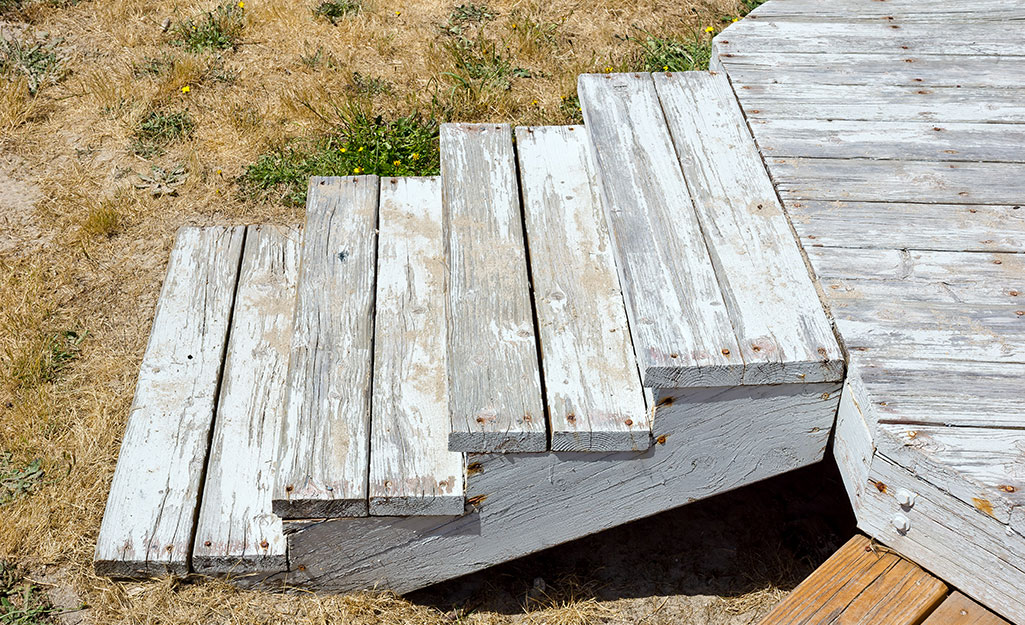 Natural wood looks beautiful, but if you want to maintain its beauty outdoors, you need to seal it. Wood is porous, so it readily absorbs water, which can damage it over time. Wood damaged from rainwater and humidity will swell, warp, peel and even rot. Sealing the wood will extend the life of your deck, fencing and outdoor furniture, so you don't have to replace or repair them after a humid summer.  

Plus, exterior wood sealers double as a way of changing the look of the wood. Many stains and paints waterproof and protect wood from natural wear and tear. Use wood stains to stylize new wood to match your home, or enhance the appearance of old wood, making it look new again. If you aren't using a combination exterior stain and sealer, taking the time to seal the wood beforehand will help the look of a new paint or stain job last.
Types of Exterior Wood Sealers
Stain Colors & Transparency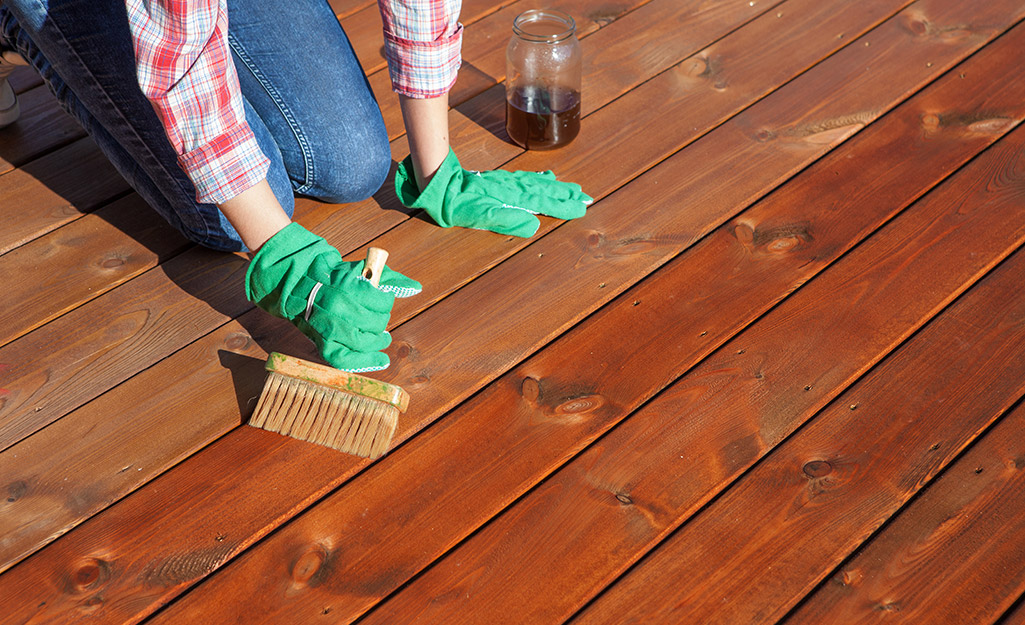 When choosing a stain or stain and sealer combo, you'll have many colors and transparency levels to choose from. Which color and transparency you choose comes down to the age and appearance of your wood and personal preference.  

Stain Colors  
Stains can help you make inexpensive wood look like high-quality, luxury wood. Whether you need a water-based sealer or an oil-based sealer, there is a color that matches your style. 
Clear stains show and emphasize the natural color and texture of the wood. Clear stains work best with new woods or already-stained woods that need to be refreshed. Wood toners are often categorized with clear stains. 
Cedar stains are a light brown color with yellow tones that resemble the natural color of cedar wood. This color stain is great for creating a natural, rustic appearance. 
Redwood stains are red-toned stains that vary from bright barn reds to muted red-browns. Use these stains to add a distinct pop of color to your woods. 
Brown/Tan stains mimic the natural color of dark woods. These stains create an understated yet refined effect.  
Gray stains can create either a washed-out driftwood color that suits seaside homes or a clean, opaque gray that serves as a beautiful neutral. 
White stains brighten woods by making them look almost painted white, while still maintaining the natural wood texture. Additionally, white stains penetrate the wood so the color will not peel away as white paint would. 

Stain Transparency 
The transparency of a stain determines how much the stain covers up the wood's natural grain and color. Stains can range from entirely transparent to solid.
Transparent stains have little to no pigment and are usually combined with a sealer. Transparent stains show off the wood's natural color and texture, making them a good choice for new, high-quality wood. 
Semi-transparent stains add just a hint of color and still clearly reveal the natural wood grain. These stains are best for well-maintained wood that have little to no defects but need a new or refreshed color. 
Semi-solid stains change the color of the wood, but they still reveal some of the wood grain and texture. These stains are best for aging wood that is 5 to 10 years old. 
Solid stains completely hide the original wood color and texture, making it the best choice for damaged wood that is over 10 years old. Solid stains create a long-lasting, uniform appearance that can disguise discoloration and repairs. 
Tip: Solid wood stains and pigmented sealers are better at protecting against UV rays and tend to last longer than transparent stains and sealers. 
Tips for Waterproofing Wood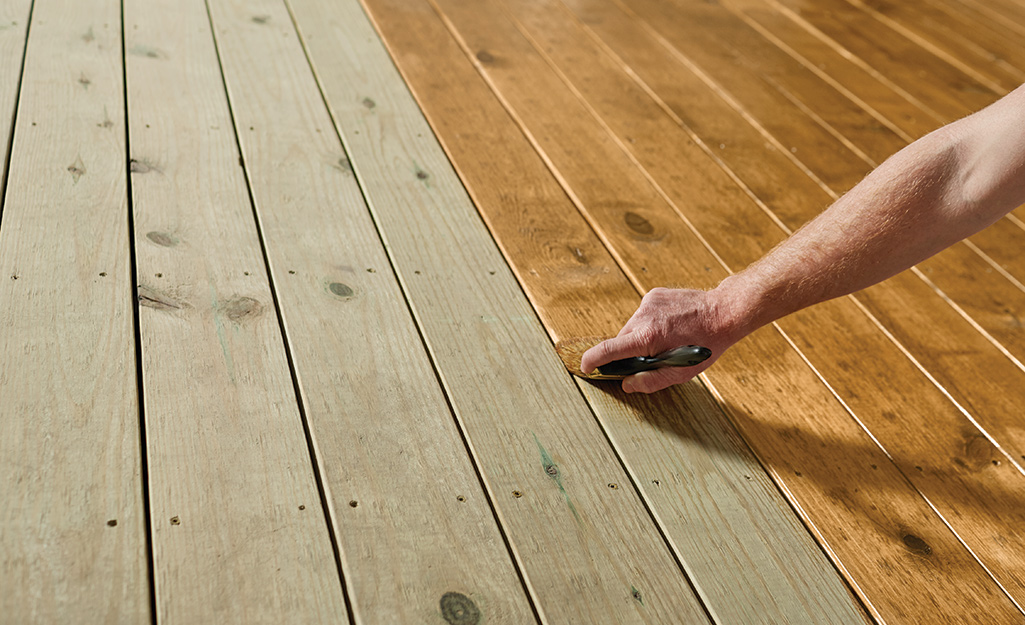 When learning how to waterproof wood, keep these tips in mind: 
Before applying a sealer, make sure your work surface is clean and free of loose wood or fibers. 
If your wood surface has been treated previously, use a scraper to remove paint, sealers or solid stain and sand away other stains down to the bare wood. 
Determine if your deck is sealed by conducting a water drop test. Pour a few drops of water onto a deck board. If the water beads, the wood is sealed. If the board absorbs the water, it needs re-treating. 
Some manufacturers combine the primer and sealer to save time during application. 
If you plan to paint over the sealer, look for a variety that says it can be painted, otherwise the paint may not adhere correctly. 
Follow manufacturer's instructions for the best applicators for your sealer and when to reapply. 
For more information on how to seal wood and how to waterproof wood, read our guide on how to maintain your deck. 
Why Should I Seal Concrete?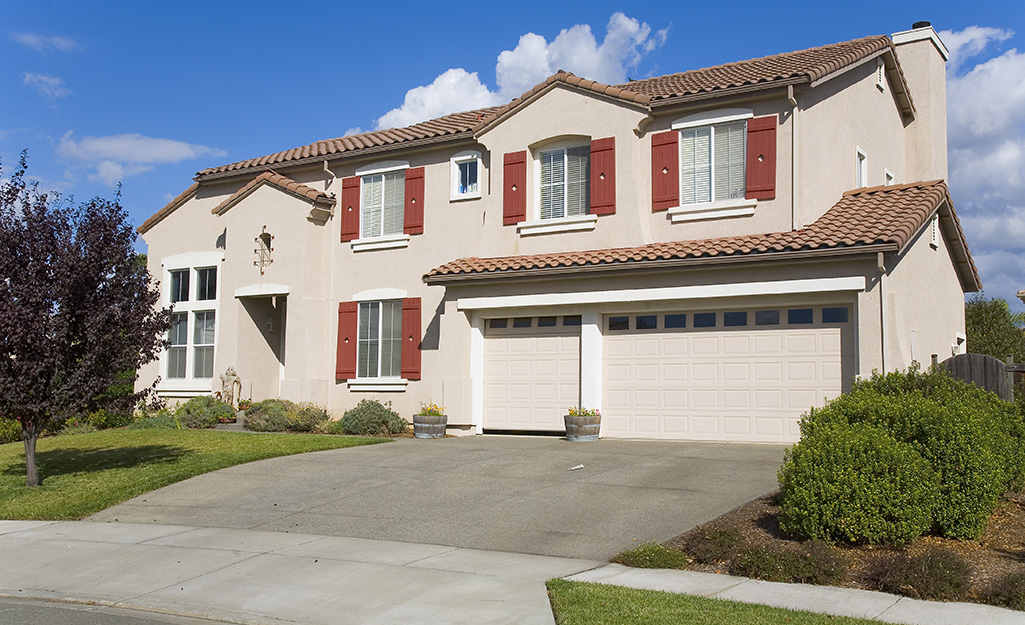 Like wood, concrete and other types of masonry are porous, which causes complications when they are continually exposed to the weather. Without proper protection from a concrete sealer, concrete and masonry can crack, chip, become discolored and become coated in an unsightly salt layer known as efflorescence. A sealer, waterproofer or coat of concrete paint can prevent these problems. Plus, sealing your concrete or masonry will enhance its color and luster. 
Types of Exterior Concrete & Masonry Sealers
Tips for Waterproofing Concrete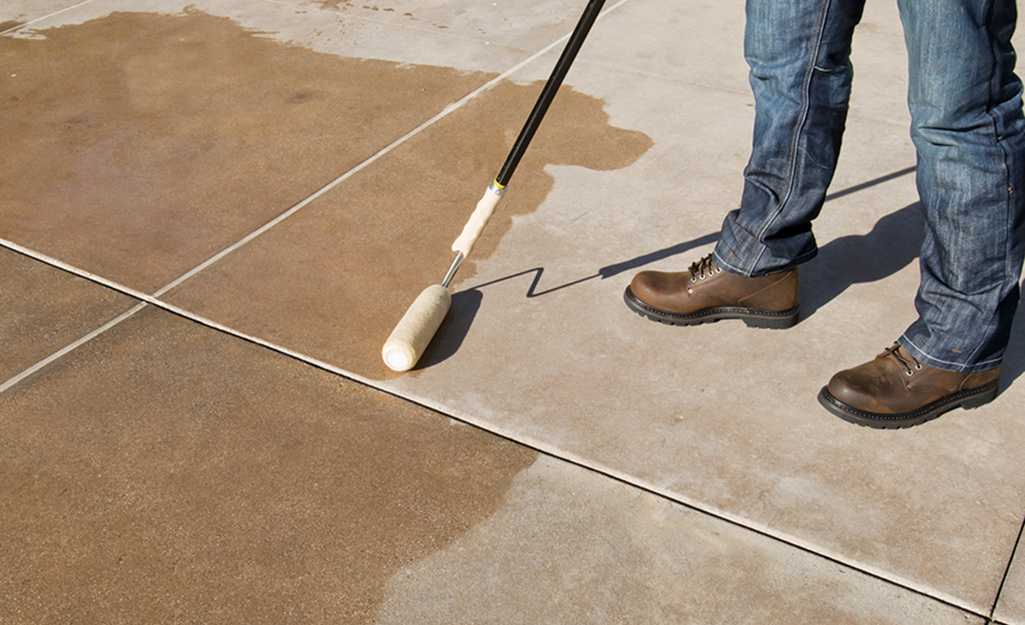 Before you waterproof your concrete or masonry, consider these tips: 
Do not apply sealer to new concrete. Wait at least a month so that the concrete can properly cure. 
Concrete sealers can be topical, penetrating or integral. Topical sealers create a protective barrier on the surface of the concrete. Concrete paints are usually topical sealers. Penetrating sealers are absorbed into the concrete to protect against water damage. Integral sealers are combined with the concrete mix before the concrete is laid.  
Repair any existing cracks with a concrete crack filler before sealing or painting. 
Ensure your concrete sealer or waterproofer is compatible with paint if you plan to paint after sealing. 
Concrete stains and dyes are somewhat water-repellent but should be sealed with a concrete sealer after application for extra protection. 
Use a concrete primer before painting or use a self-priming concrete paint. 
As you begin learning how to waterproof wood, concrete and masonry, first find the best exterior wood sealers and concrete sealers for your project. Sealing exterior wood and concrete is an important step in ensuring your outdoor spaces stay clean, long-lasting and beautiful. Refer to this guide whenever you start a new sealing project and need to find the exterior sealer that will make the work easy and rewarding. 
Ready to find the best exterior wood sealers and concrete sealers for you? Shop over one million products online and find the info you need most with The Home Depot Mobile app. 
Explore More on homedepot.com