Buying Guide
Best Grills for Your Yard
Few things compare to the taste of fresh-grilled meats, prepared outside on a gas or charcoal barbeque grill. Made from cast aluminum, sheet metal, cast iron or stainless steel, grills come in different types: charcoal grills, electric grills, gas grills, smokers and more. This Home Depot guide will walk you through the different designs, fuel types and features of outdoor grills so you'll know how to choose a grill for all your outdoor cooking.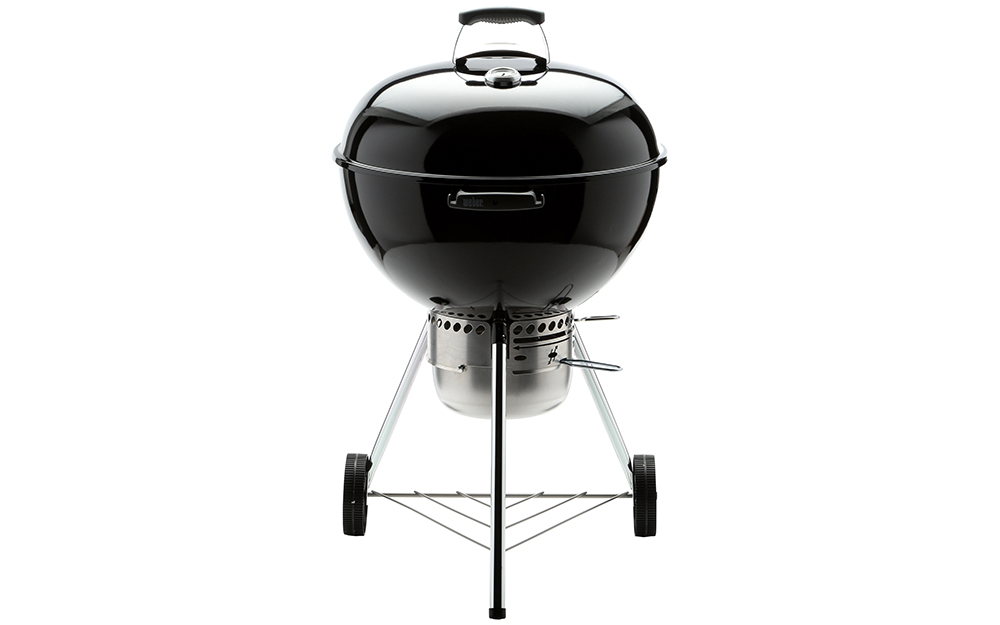 Charcoal grills or kettle grills are an easy way to serve up chargrilled flavor, whether you're camping out, serving hotdogs while tailgating or simply entertaining in your backyard. A charcoal grill has a hot, direct heat zone on the grill surface for browning and searing, and a cooler indirect heat zone where food can cook more slowly by convection airflow.
Most inexpensive outdoor grill
Uses charcoal briquettes as fuel
Cooks at a temperature around 700°F, no temperature control knobs
Enriches flavor of food with smoky, barbecue taste
Use with a charcoal chimney to light fuel quicker
Slower to heat up than gas or electric grills
More clean-up required – charcoal ash must be cleaned out after each use
Tip: Learn more about using charcoal grills here.
Gas Grill: Propane or Natural Gas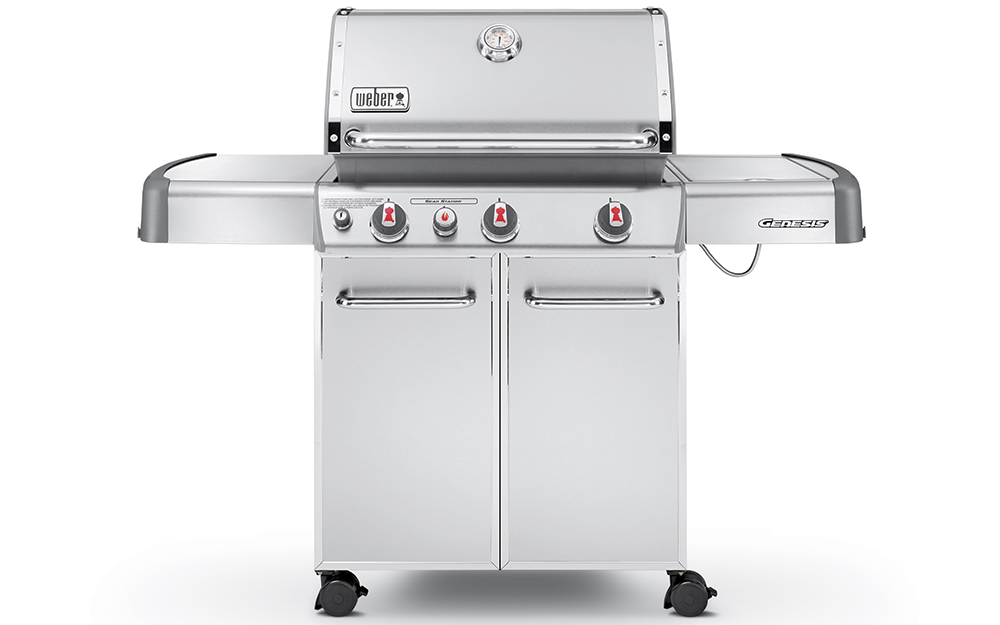 Gas grills are the most popular type of barbeque grills. They can use propane or natural gas as fuel. A 20-pound propane tank provides about 25 hours of grilling time and can be easily refilled. Natural gas is less expensive, but it requires installing a natural gas line from your house to the grill. Make sure you're happy with the location of your outdoor kitchen if you decide to use natural gas.
Heats up quickly, easy to use, requires very little cleanup
Reaches temperatures between 400°- 600°F
Temperature control knobs regulate heat
Create different heat zones for searing, cooking or warming foods on the grill
Add charcoal or wood pellets for flavor
Burners, valves, vents and heat shields may need maintenance and sometimes replacement
Stainless steel gas grills are a good choice for durability, low maintenance and high-performance
Tip: Learn more about using gas grills here.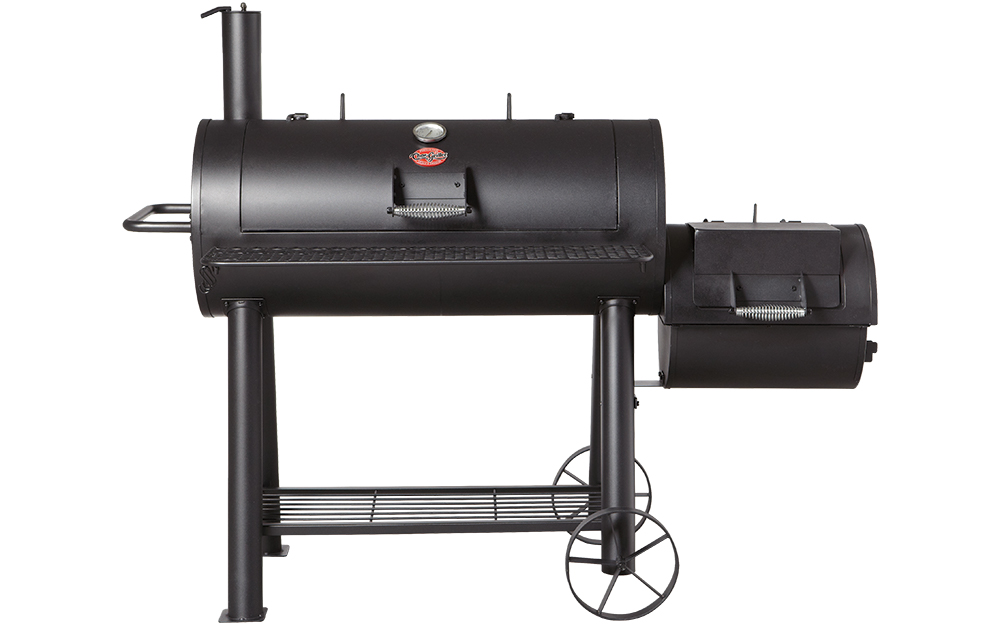 The best grill for you could be a smoker. Smokers bring out all the chargrilled and smoky flavor barbequed meats and vegetables are known for. Smokers slow-cook foods at lower temperatures over longer periods of time – think of them as the slow-cooker versions of grills. A charcoal or wood smoker creates the richest, most authentic flavor.
Charcoal or wood smokers - more traditional, burn charcoal or wood pellets
Electric and propane smokers - more convenient, some have computer-controlled cooking times
Pellet smokers – best of both worlds, electrically powered but burn wood pellets for heat and smoke
Tip: Learn about smokers here.
Electric and Other Grills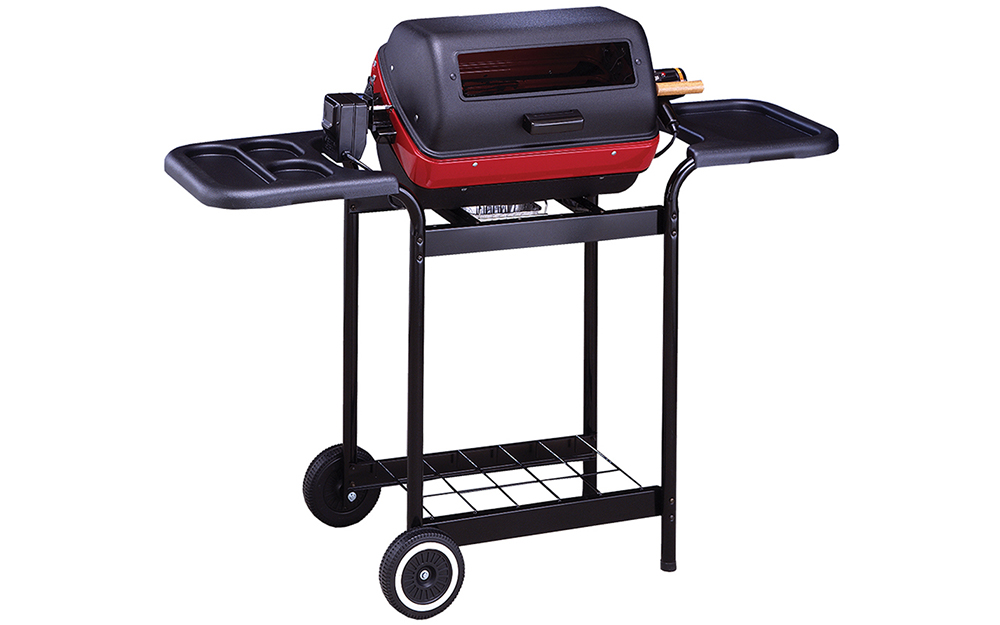 Electric grills are a great choice if you live in an apartment or condo where gas or charcoal grilling is not allowed. These require nothing more than a nearby electrical outlet. Electric grills are typically the smallest grill sizes and include portable and tabletop models.
· No fuel is needed
· Heats up quickly, cooks food evenly
· No flavor added during cooking, consider using marinades or liquid smoke
· No prep required, easy cleanup
Hybrid Grills let you to cook using either charcoal or gas
Pellet Grills operate like a charcoal grill, but use hickory, mesquite, pecan and apple wood chips instead of charcoal
Portable Grills are ideal for tailgating, camping and more, available in charcoal, gas and electric models
Picking the Right Size Grill
Grills come in a variety of sizes. Consider the number of people you ordinarily cook for to determine how much available grilling space you will need.
200" of cooking area is enough for 1-2 people (most portable grills are about this size)
450" to 500" of cooking area is usually sufficient for an average size family
550" to 650" of cooking area is large enough for larger families or frequent entertaining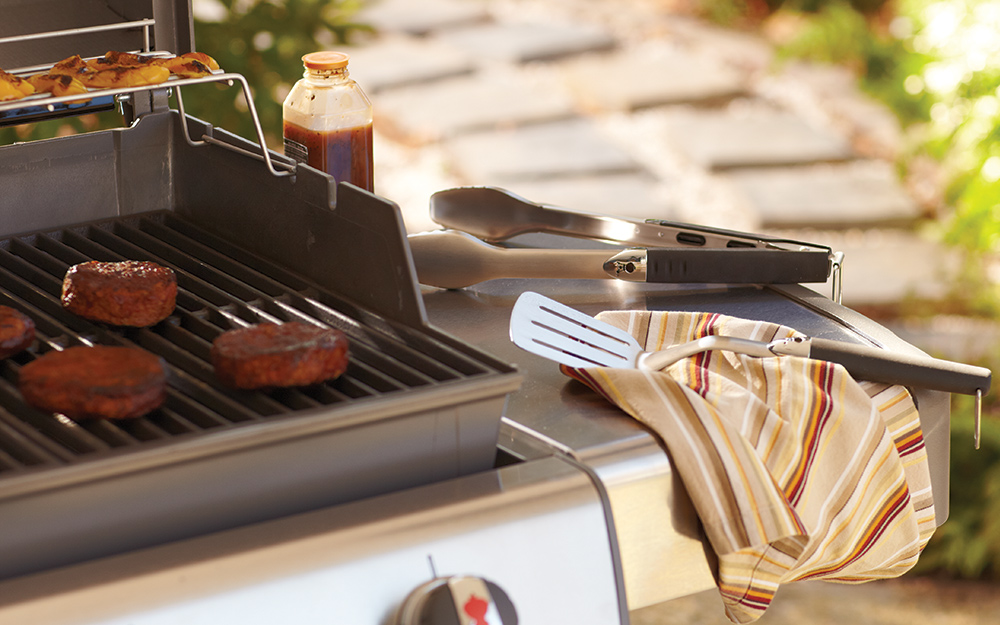 Enjoy cooking in your outdoor space more with grilling accessories like grill baskets, grilling tongs, flavored wood chips and grill covers
Grill toppers and grill baskets allow you to cook veggies, meats and seafood with ease
Flavored wood chips can be used with any type of grill to add a rich, smoky taste and flavor to your meats and vegetables
Grill side shelves allow you to cook meat and vegetables at the same time but at different temperatures
Grill thermometers monitor the internal cooking temperature so meat is cooks at the correct temperature
Built-in grill thermometers let you monitor without lifting the lid and losing heat
Grill cleaning tools like steel brushes and cleaning blocks make cleanup much easier and your grill safer.
Heavy-duty work gloves come in handy when you have to lift a hot grate or rearrange coals
Grill covers protect your grill from the weather