A home sauna allows you to relax as if you were at a spa. As you're thinking about buying a sauna for the home, you may be wondering, "Should I install a traditional sauna or an infrared sauna?" While the traditional sauna still has fans, for most modern homes, an infrared sauna is the better choice.
With a traditional sauna, wood is burned to heat a space up to a high temperature. Electric heater saunas heat up with an electric heater. Infrared saunas operate with infrared heaters that use light to produce heat. They are easy to operate, heat up quickly and don't require any plumbing. 
This guide will help you find the best home saunas. It includes an overview of the different sizes and types of infrared saunas so you can decide which one best fits your needs.
Infrared Sauna Sizes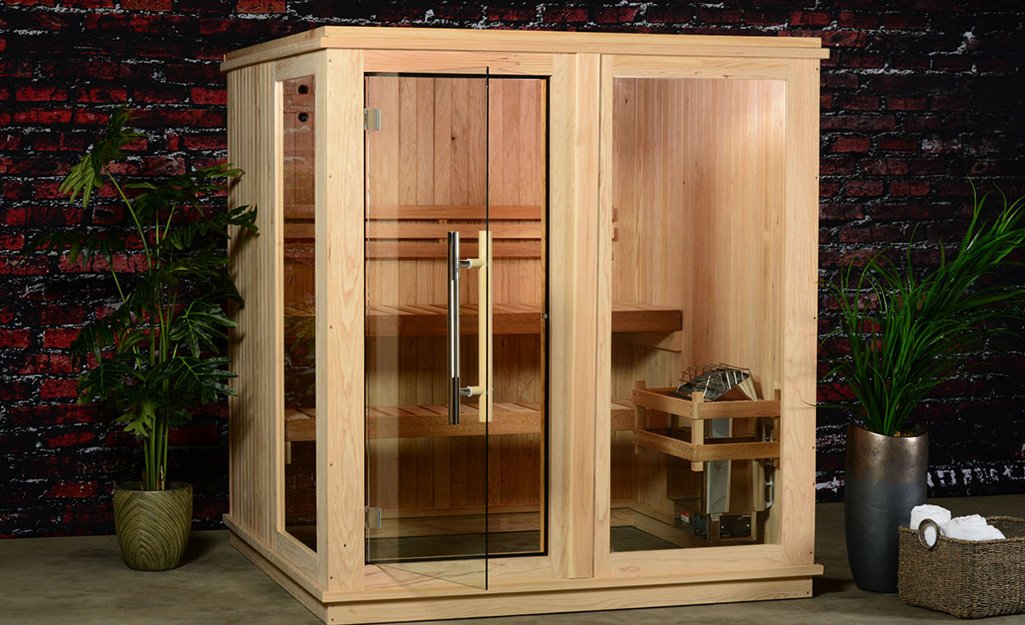 As you look for the best home saunas, think about what size you want. The size of a sauna describes the number of people who can fit in it and how many it is equipped to heat. 
Consider how many people will want to use the sauna at the same time. Most home saunas are made to fit one to five people. Larger options are also available. 
Infrared saunas usually have a smaller square footage and weigh less than traditional saunas. They're a good choice for indoor use. A room should have enough space to accommodate the sauna you select.
Indoor infrared saunas should be placed on a level spot with a tile, stone, concrete, laminate or wood floor. Some infrared saunas can be set up on carpeted floors. Check the manufacturer's guidelines for specific information. 
Most saunas are at least seven feet tall. Typically, they have at least one wooden bench. Saunas with benches of different heights allow the user to choose the temperature level they find most comfortable. Because heat rises, lower benches offer slightly lower temperatures.
How much does a sauna cost to run? The costs vary, depending on the size of your sauna and how often you use it. 
When buying a sauna for the home, you can save money by getting a smaller one. Saunas for only one or two people are less costly and save energy. The bigger a sauna is, the more it costs to operate.
Prefabricated sauna kits have made home saunas more common. With these kits, you don't need to hire a carpenter to build a full sauna at your house.
Infrared Sauna Heater Types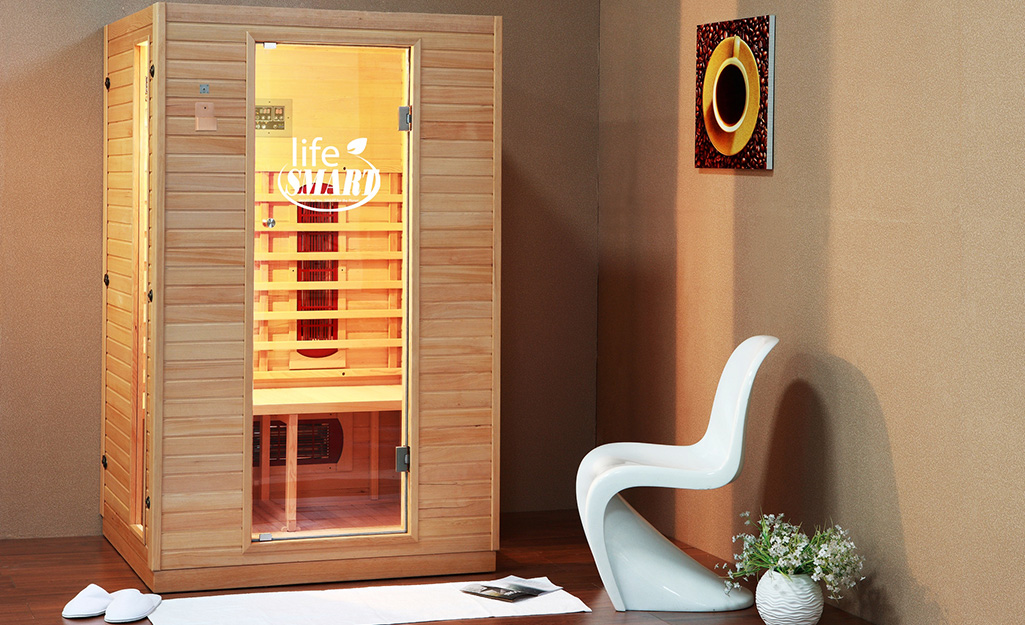 Infrared home saunas use ceramic or carbon heaters. As you shop, you may hear the terms carbon far infrared saunas or ceramic far infrared saunas. Far infrared refers to the wavelength of the infrared light used in some saunas. This light warms up the skin directly. In traditional saunas, wood fires or electric heaters are used to raise the temperature of the air, which then transfers heat to the body.
Ceramic infrared heaters produce heat across smaller surfaces most efficiently. While they are often the hottest heaters, they are available in smaller sizes. 
Ceramic infrared heaters: 
Have lower upfront costs
Heat up faster than carbon heaters
Produce heat that is concentrated in the spots closest to the heaters
Carbon infrared heaters are larger than ceramic infrared heaters. They don't produce temperatures as high or as quickly. However, they heat a larger surface area. 
Carbon infrared heaters:
Offer even heat distribution throughout whole sauna, not just near heaters
Heat up more slowly than ceramic heaters
Are slightly more durable and energy efficient than ceramic heaters
Infrared Sauna Features & Accessories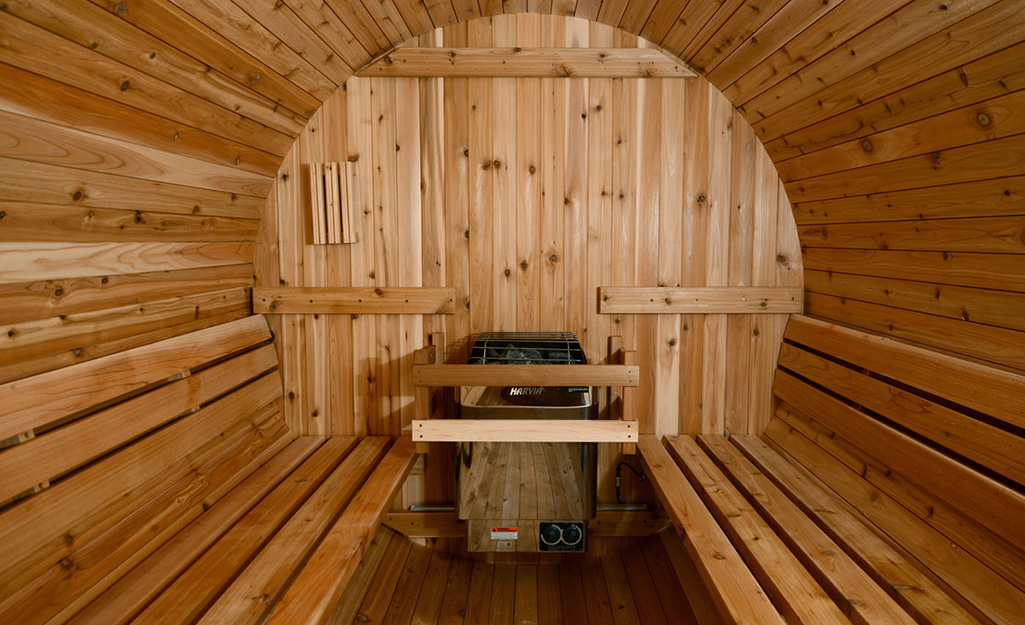 Available features and sauna accessories can enhance your at-home spa treatment.
Windows: If you dislike small spaces, a window in your sauna may keep it from feeling so confined. Look for energy-saving windows that prevent heat from leaking out. A leaky sauna window can raise your electric bill.
Porches: Some saunas come with attached porches or exterior benches. This extension of the sauna space offers a place to rest before or after you enjoy your at-home spa treatment. It can also add seating space if the number of guests you have exceeds your home sauna's interior capacity. 
Barrel-Shaped Saunas: Due to their curved walls, barrel-shaped saunas allow for heat to flow constantly. The shape offers maximum capacity, while cutting down on the total cubic feet, which means a barrel-shaped sauna can heat up quickly. Many of these saunas can be placed indoors or outdoors. Supports keep the bottom of these eye-catching round saunas from touching the floor or ground directly. Some barrel-shaped saunas come with glass doors or with wooden doors that have glass windows. 
Plug-in operation: Most infrared saunas are 110V. They can be plugged into an existing home outlet. Because these saunas are not hardwired, you won't have to call an electrician for assistance during installation.
Depending on its size, an electric home sauna may require a dedicated power source. You may need to hire an electrician to install special wiring before the sauna can be used.
Heating Time: Infrared saunas offer only a dry heat, but get hot faster than electric saunas. Users can sit in an infrared sauna as it heats up, though they can also wait until the space has reached a higher temperature to enter. An electric sauna needs time to heat up before use. Electric saunas may include the option of creating a moist heat by pouring water on hot rocks to make steam.
Wood Saunas: Different types of wood can be used to make saunas. Cedar saunas have an appealing reddish tone and may retain the wood's distinctive scent. This type of wood serves as an excellent insulator and holds in heat. Hemlock saunas provide insulation and resist scratching. 
People who are allergic to certain types of wood or wood dust should see how they react to wood saunas before buying one. 
Wood Accessories: Some saunas come with wooden accessories that provide small but significant improvements to your sauna. These include back rests, leg lifts, drink shelves, magazine racks and robe hooks. 
Touchscreen controls: With an easy-to-use touchscreen, you can adjust the temperature of each heater with no trouble.
Music players: Some saunas feature a built-in radio or other music players. Listening to music can be a great way to enrich effects of a sauna. 
Chromotherapy: Like music, therapeutic lights, known as chromotherapy, can add another dimension to a sauna experience. 
With a home sauna, you get the benefits of spa relaxation without making an appointment or even leaving your house. Saunas for the home also give you extreme privacy. When you get ready to move, having the best home sauna could add value and appeal to your house.
The best infrared home saunas are available in different shapes and sizes. The right sauna for your home will match your space and capacity needs.
Ready to find the best home sauna for you? The Home Depot has a wide selection and delivers online orders when and where you need them.
Explore More on homedepot.com