Concrete outdoor surfaces can face a lot of wear and tear over time. A fresh coat of paint can provide a welcome makeover. The best concrete paint or stain conceals discolorations and signs of damage. It also provides a protective coating that extends the life of the surface. Read on to learn about the best paint for concrete and patios. Plus, find out about the different types of coatings for concrete and their applications.
Safety Tip: Fumes and debris may be associated with any of the supplies needed to complete this project. Please take the appropriate safety measures.
What Kind of Paint Can Be Used on Concrete?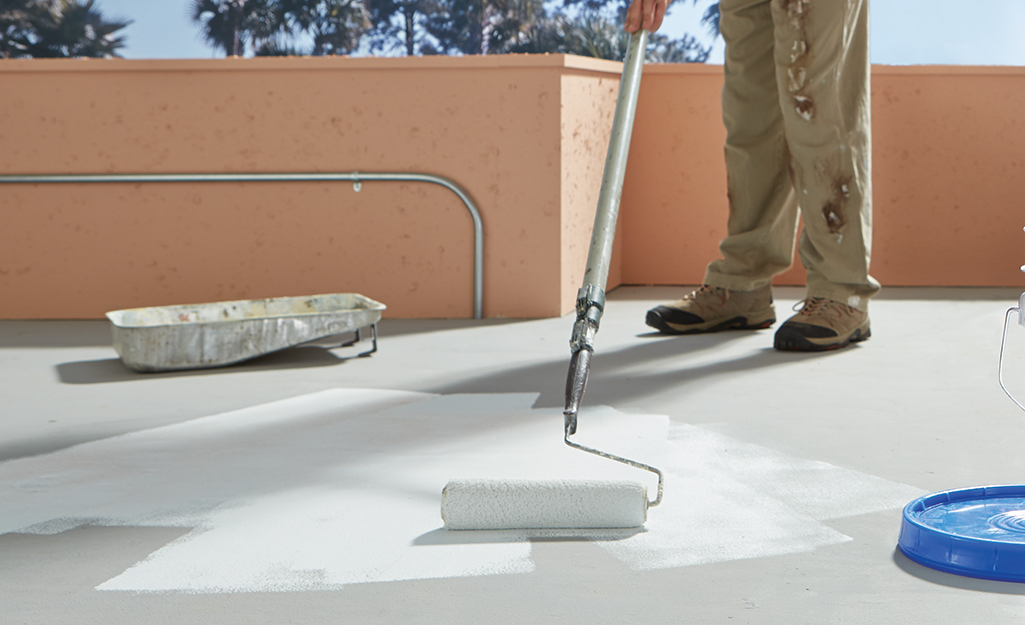 Not every type of paint is suitable for concrete and patios. The best paints for concrete contain binders that allow the coating to contract and expand with concrete as it cools and warms.
Concrete porch and patio paints are frequently low-luster acrylic latex paints designed to conceal imperfections and resist fading, scuffing, cracking and UV damage.
Epoxy-based paints provide high durability and stain resistance, making them ideal for garage or patio floors.
Masonry paints are designed for brick and other masonry applications, but also provide effective coatings for concrete.
Tip: Avoid using exterior house paints on concrete as they tend to crack and peel.
Best Concrete Paint for Patios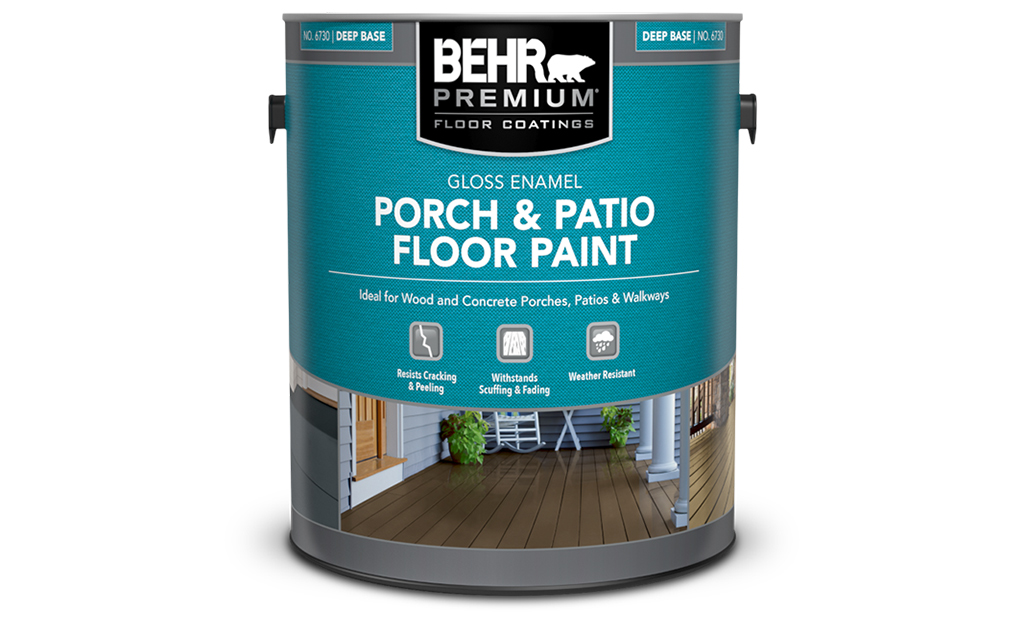 If your concrete porch and walkways are showing wear and tear, apply an acrylic latex porch and floor paint with a paint roller. 
Low-luster acrylic latex paint is designed for high durability that resists peeling, fading and other damage while hiding imperfections.
The best concrete paint for patios will feature an enamel finish that resists mold and mildew growth. It should maintain a pristine, stylish appearance despite wet or humid conditions.
Expect 1-gallon of acrylic latex porch paint to cover up to 400-square feet.
Best Paint for Concrete Floors
Concrete floors are often found in garages. Here, the surface regularly encounters tires, vehicles and outdoor power equipment. For concrete floors, choose a high-performance, epoxy-based floor paint that resists hot tire pickup and marring. 
The best paints for concrete floors have finishes designed to be highly resistant to chemicals, oil and gasoline. They can reduce the need for maintenance on floors that are hard to clean.
The durable satin finish of epoxy paintresists scuffing, fading, cracking, peeling and blistering, making it ideal for garage floors, driveways, basements, porches and shed foundations.
Epoxy-based floor paint can be more expensive than other types and offer fewer color options.
It may be best suited for garage floors that see higher levels of wear, tear and heat.
Expect 1-gallon of garage floor paint to cover 300- to 500-square feet.
Masonry Paint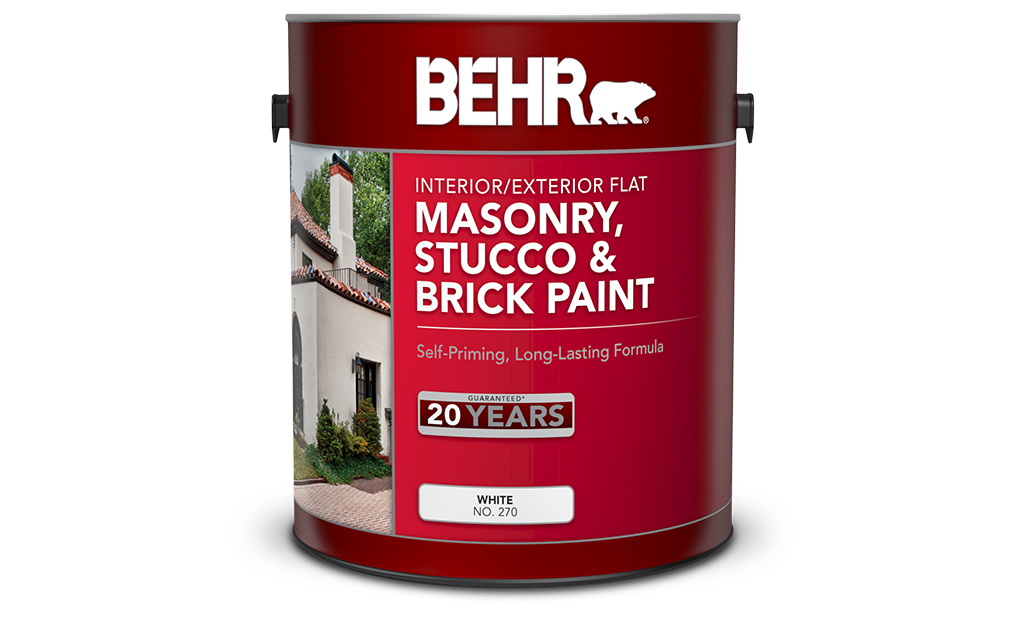 Masonry paints such as whitewashes are primarily designed for brick, stone and other masonry applications, but they also provide effective coatings for concrete.
Masonry paints contain binders and epoxies that bond well with concrete, but some may not offer protection against the elements.
Waterproofing masonry paints can be suitable for painting concrete walls.
Concrete Resurfacer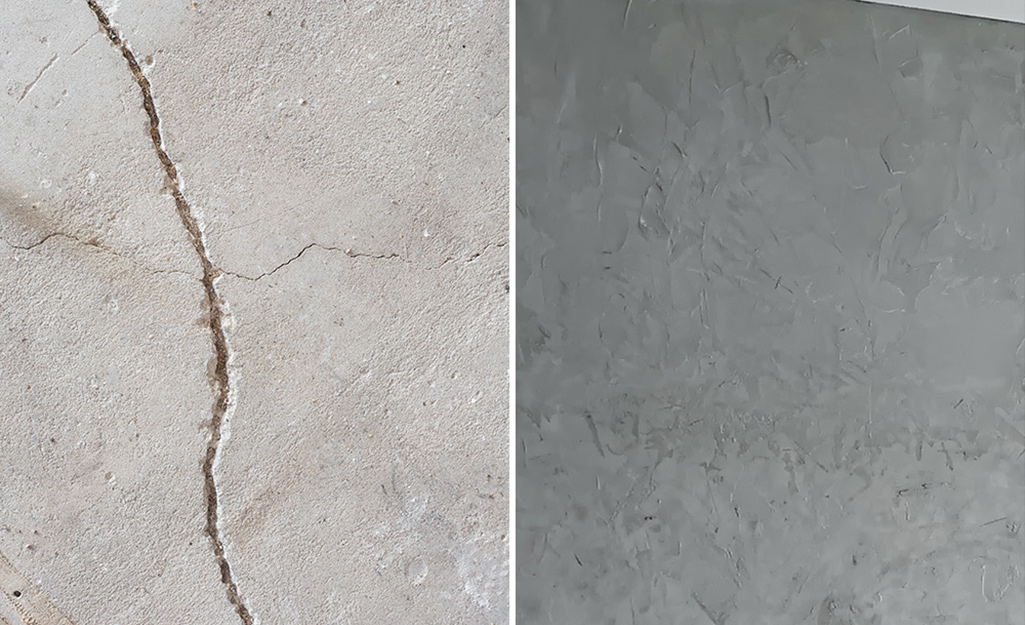 If your concrete floors or patios are developing cracks and looking tattered, concrete resurfacers can revitalize these surfaces. 
Concrete resurfacers can be up to 10 times thicker than paint or stain. They can fill cracks up to 1/4-inch thick.
Resurfacers are ideal for brushed concrete and synthetic decking that has been previously coated. They also provide excellent slip resistance and are durable, with each new application lasting up to 12 years. They offer lasting protection against moisture build-up.
Expect 1-gallon of resurfacer product to cover up to 100-square feet.
Concrete Stain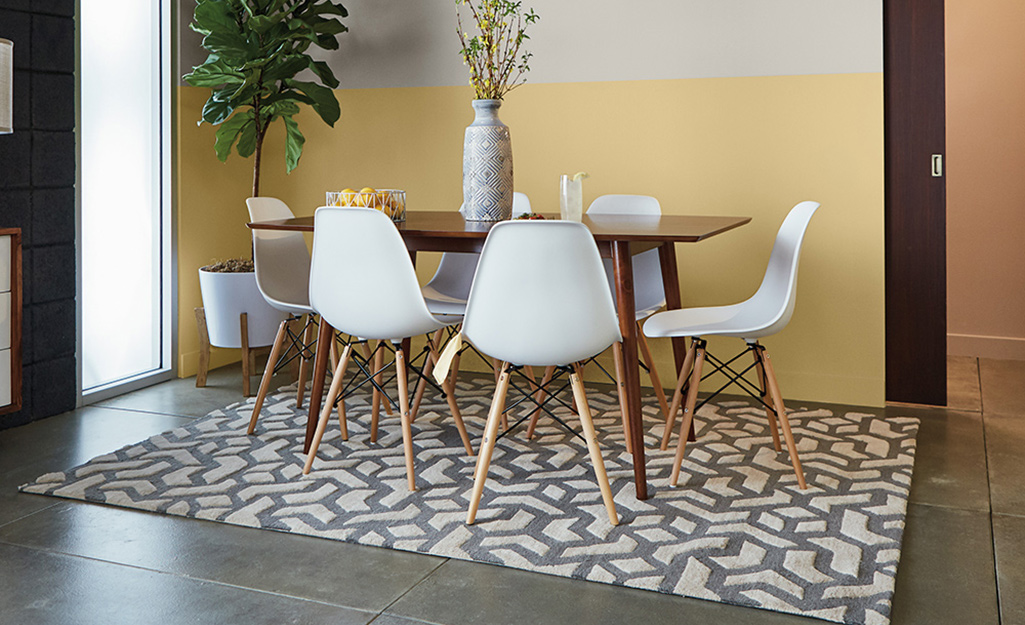 Concrete stains are durable, water-repellent and typically come in solid colors designed to protect and enhance exterior and interior concrete surfaces. 
Concrete stains are often made of acrylic resins reinforced with silicone. Concrete stains form a strong, long-lasting and opaque film on properly prepared surfaces.
Concrete stains resist scuffing, fading, cracking and peeling and can stand up to household chemicals.
Proper use can extend the life of such surfaces as concrete, masonry walls, basements, patios, sidewalks, driveways, garage floors and pool decks.
Concrete stains generally can be applied more quickly, dry faster and require less prep work than concrete paints.
Expect 1-gallon of concrete stain to cover up to 600-square feet.
Application and Care of Outdoor Concrete Paint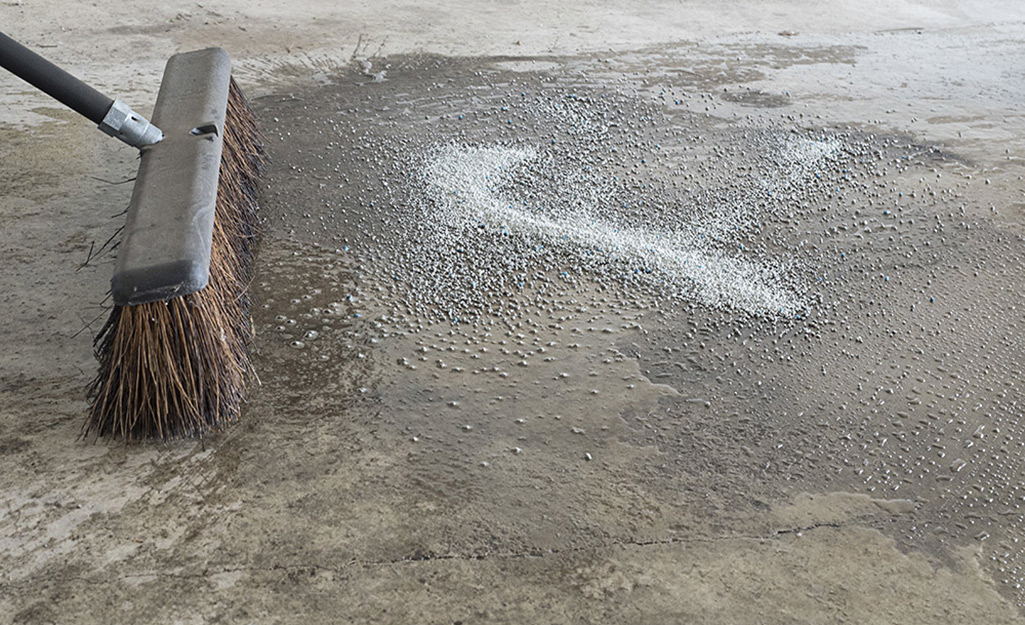 The best concrete paint results come from careful preparation and concrete repair, followed by application. For best results, do not paint straight onto concrete. Always use concrete primer before painting.
Sand off any splatter, residue, lumps or uneven areas on the concrete floor. Hardened residue may require a scraper.
Use a degreasing cleaner and a scrub brush with water to remove any dirt and grease from the concrete floor.
Allow the concrete to completely dry, then vacuum any leftover debris and residue off the concrete floor.
Use a masonry sealer or concrete filler to fill any cracks or holes in the concrete. This patching process may require more than one coat.
Allow the filler to dry completely.
Always prime before painting concrete. Begin applying concrete primer by using a paint brush on the corners and edges of the concrete floor or surface.
Use a paint roller to apply primer throughout the floor. Two coats of primer are recommended for best results.
Allow the primer to dry for at least two hours after each coat.
Repeat the same method above to paint the concrete floor.
Using a paint brush, apply sealant to the floor edges.
Using a paint roller, apply the sealant across the concrete floor. Multiple coats are necessary.
Allow sealant to dry between coats.
When the coated surface begins to look worn over time, clean it with a heavy-duty cleaner. Let the soap sit for 20 to 30 minutes, then rinse off with a hose.
Safety Tip: To avoid fumes and debris, always use a paint respirator mask when sanding or coating a surface with your project's best paint for concrete floors.
The right outdoor paint for concrete and patios will go on great and last long. The different types of outdoor paint for concrete and patios are specialty paints that are made to protect your exterior surfaces while making them look their best. Finding the ideal paint for your concrete, patio or other outdoor surface starts by comparing the different durable coatings available. Make sure you choose the correct coating for the surface you want to restore. Concrete restorers will not work on wood decks. Deck restorers will not work on concrete.
Ready to start on your painting project? Use The Home Depot Mobile App to locate products and check inventory. We'll take you to the exact aisle and bay.
Explore More on homedepot.com