Keeping your yard mown and neat can be a demanding task if your property is a more than half an acre. Fortunately, riding mowers and garden tractors spare some of the legwork. By cutting wider swaths than push mowers, they cover ground more quickly and reduce the amount of time you spend working on your yard.  This guide reviews how to choose the best riding lawn mowers for your property based on lawn size, engine type and other factors.
Choosing the Best Riding Lawn Mowers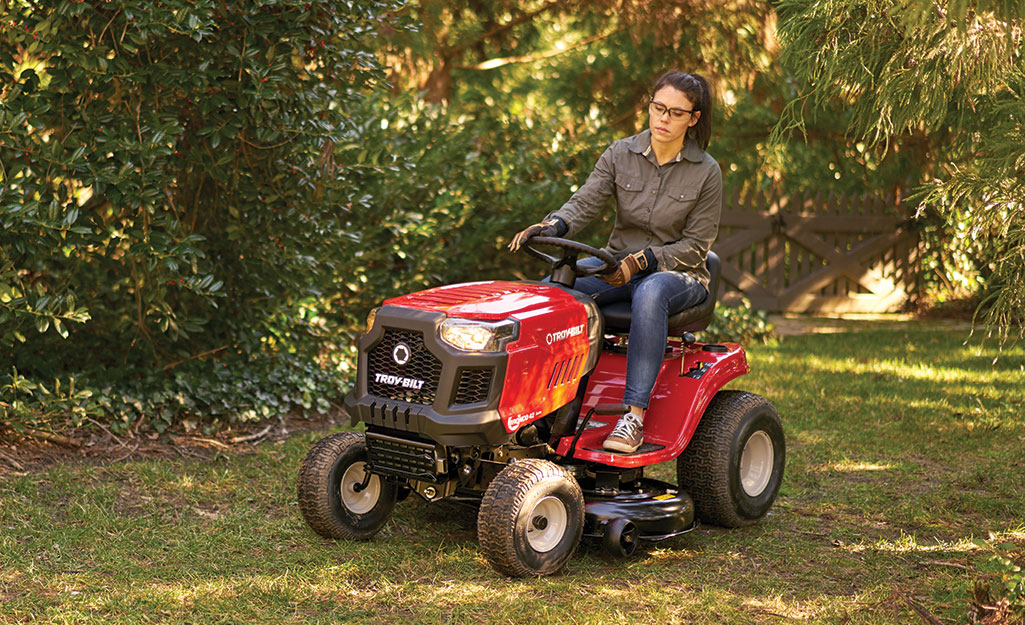 The best riding lawn mowers offer comfortable rides while demanding less labor to operate than a push mower or reel mower. 
Options can include a multi-task workhorse lawn tractor for a large yard or a zero-turn radius mower for professional-style landscaping. 
They cut, bag and mulch cleanly and mow closely around obstacles faster than traditional lawn mowers. 
Some models even include smart safety features. 
When choosing which riding mower is best for you, consider such factors as the size of your yard, the type of transmission you prefer and any riding mower and tractor attachments that you may need.
Types of Riding Lawn Mowers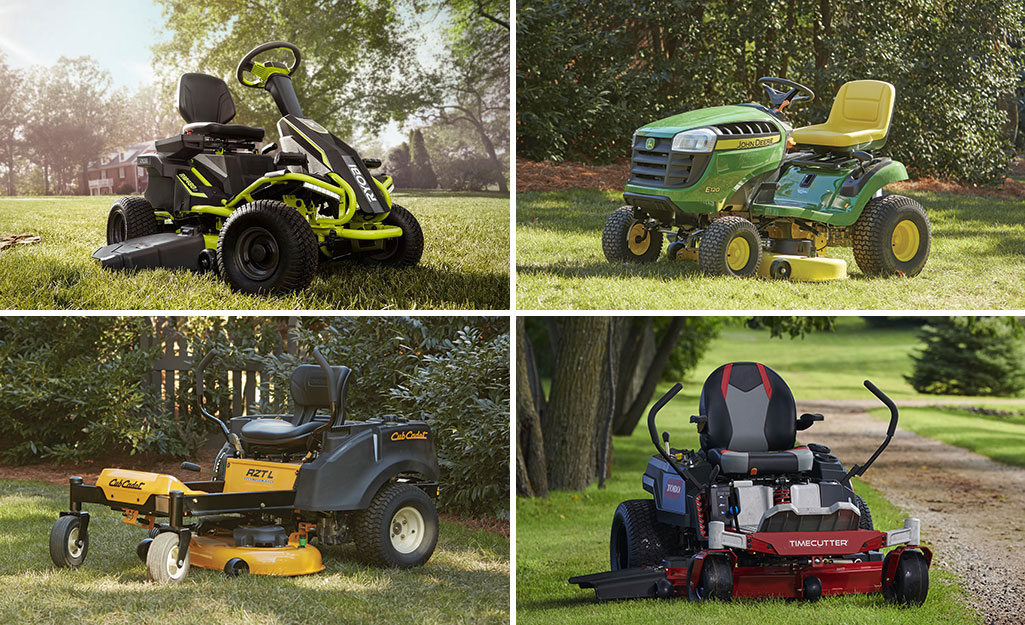 The types of riding lawn mowers are designed for different tasks.
Standard riding lawn mowers are designed with steering wheels and are best for lawns of more than 1 acre.
Lawn tractors are meant to mow large lawns and pull lightweight attachments such as rear baggers and carts. They can also help you seed and fertilize a large lawn.
Garden tractors are ideal for big yards and heavy-duty tasks. They have heavy-duty transmissions and can handle attachments like aerators and tillers.
Zero-turn mowers provide superior maneuverability, speed and control for large, flat lawns. They have dual-lever controls and can reduce lawn maintenance time compared to standard tractors.
Rear engine mowers are more compact and can suit homes with limited storage space. They cut well on medium- to larger-sized lawns.
Special features can include high-backed, adjustable seats, rubber foot pads or floor mats, motion-control levers and padded steering wheels.
Tip: If your yard has rough terrain, you may want to consider a riding mower with a more powerful engine.
Riding Lawn Mowers and Lawn Tractors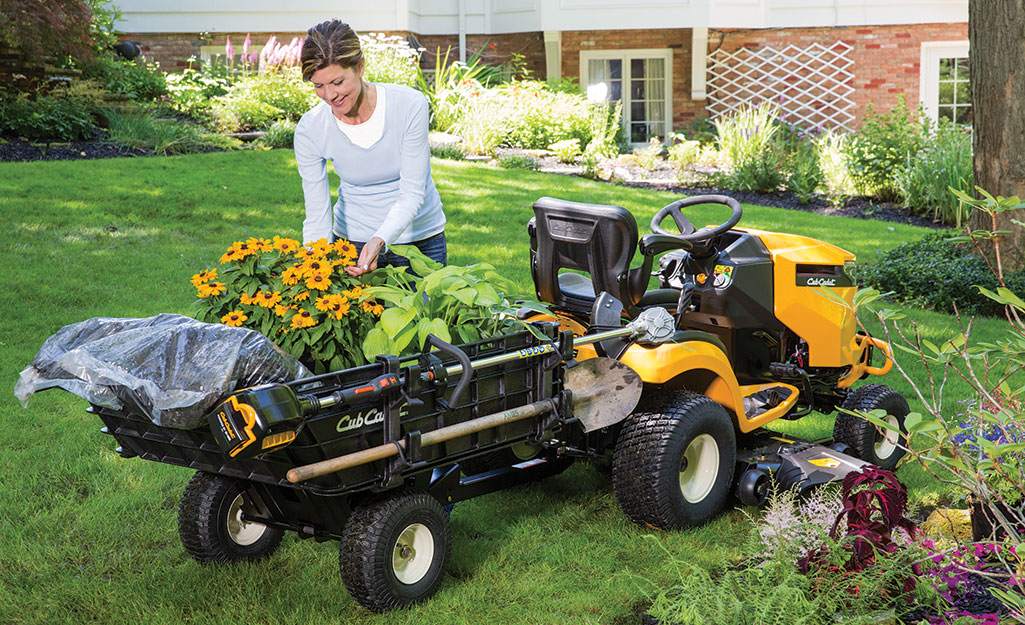 Standard riding mowers and lawn tractors are recommended for property of 1/2 to 3 or more acres.
They have a cutting deck size of 38 to 54-inches.
Multiple speeds allow you to adjust for different terrain in the yard.
Lawn tractors are designed to mow and assist with other yard maintenance tasks.
Lawn tractors have a brake pedal that makes it easier to stop than a zero-turn mower.
Mowers with a mulching kit eliminate the need to clean up grass clippings.
Garden Tractors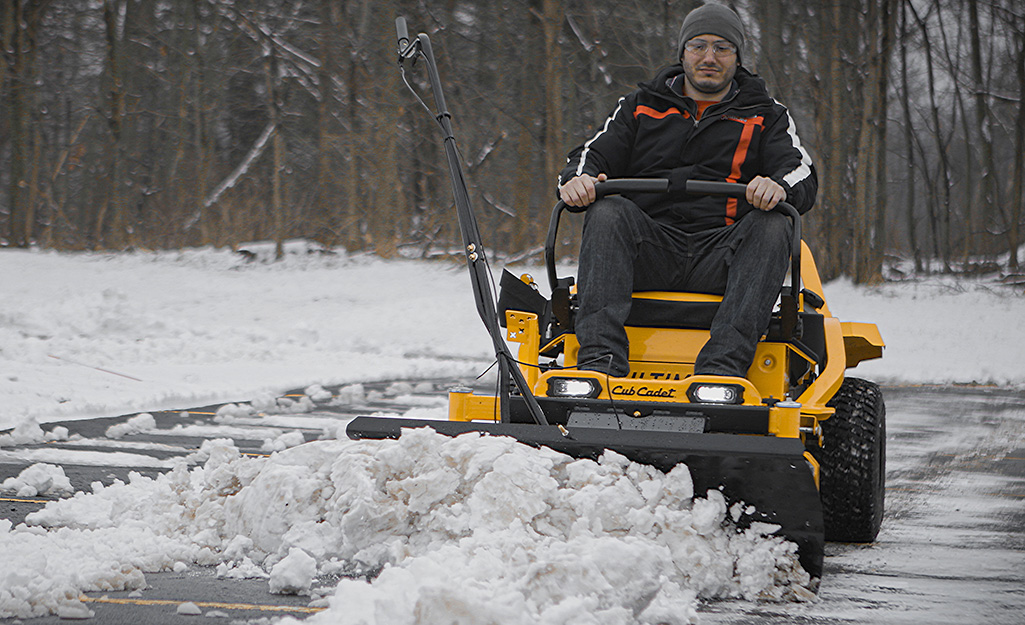 Garden tractors are a specialized type of lawn tractor for yards of 1 to 3 acres or more. 
A garden tractor can be used with attachments and accessories to plow and cultivate gardens in spring and summer as well as remove snow in winter.
Many garden tractors have larger engines and stronger frames than lawn tractors.
Zero-Turn Radius Mowers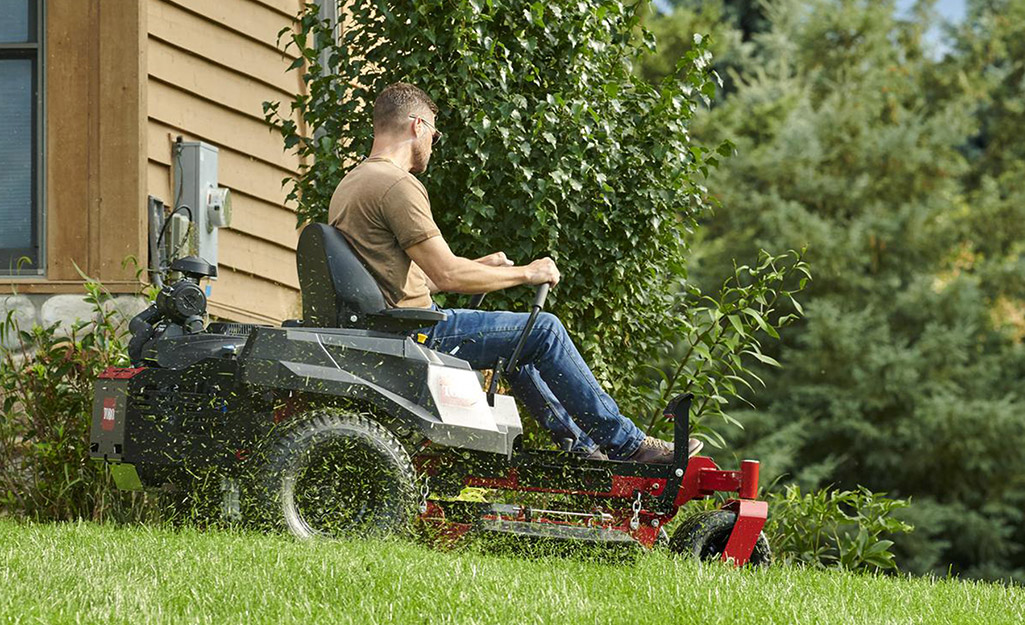 Zero-turn radius mowers or "ZTR mowers," are designed with a tight turning radius for lawns of 1 to 3 acres or more. They are also one of the best riding lawn mowers for rough terrains. 
A zero-turn mower provides more control and increased efficiency on large, mostly flat lawns.
They have deck sizes of 34 inches and up. Most are designed to be controlled with levers or lap bars rather than steering wheels.
Maneuverability makes it easier to cut lawn in smaller spaces as well around plants and bushes. 
Faster ground speed with ZTR mowers means less time cutting the lawn. 
A ZTR mower can be more difficult to steer on steep slopes than other riding mowers.
Rear Engine Riding Mowers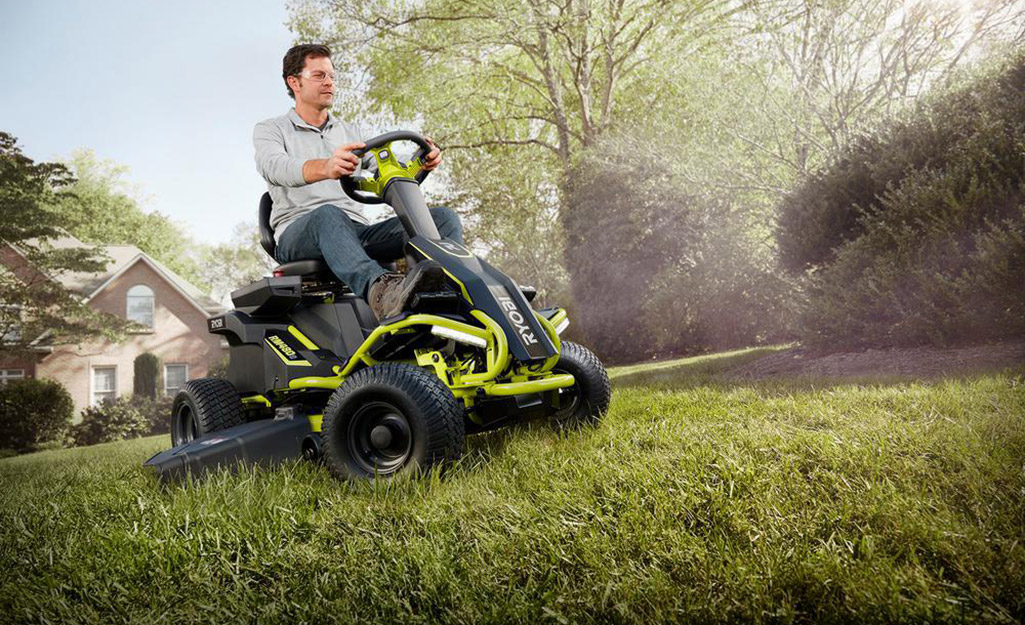 Rear engine riding mowers can be the best riding mowers for hills in many cases.
Rear engine mowers have a low center of gravity, which makes them less likely to tip over on hills than traditional riding mowers.
They also tend to be smaller and slower than other types of riding mowers, making them preferable for smaller or medium-sized yards.
They tend to be less expensive than other types of riding mowers.
Riding Mower Engines and Transmissions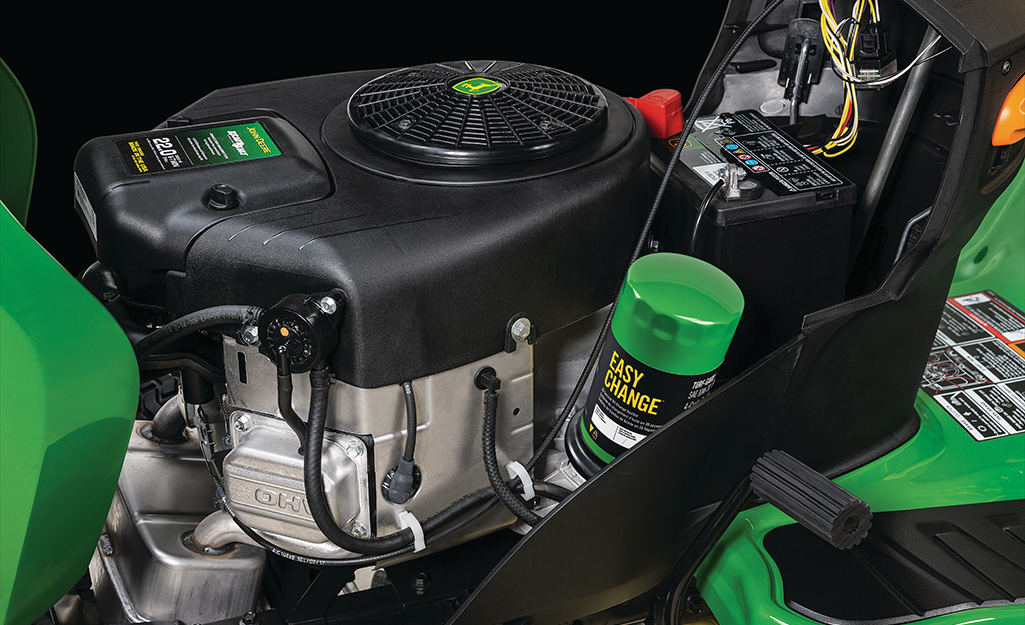 Consider the power and performance of engines and transmissions when trying to choose the best riding lawn mowers.
Engines that offer twin cylinders, overhead valve design and precision governor controls can provide smoother operation, higher efficiency and quicker response in high load conditions.
Mowers with manual transmissions require you to shift gears, much like cars with manual transmissions.
Mowers with an automatic and hydrostatic transmission allow for continuously adjustable speed control without shifting. 
Hydrostatic and automatic transmission models feature hand or foot operation via a pedal or lever.
Mowers with automatic or hydrostatic transmissions also tend to cost less.
Riding Lawn Mower Safety Considerations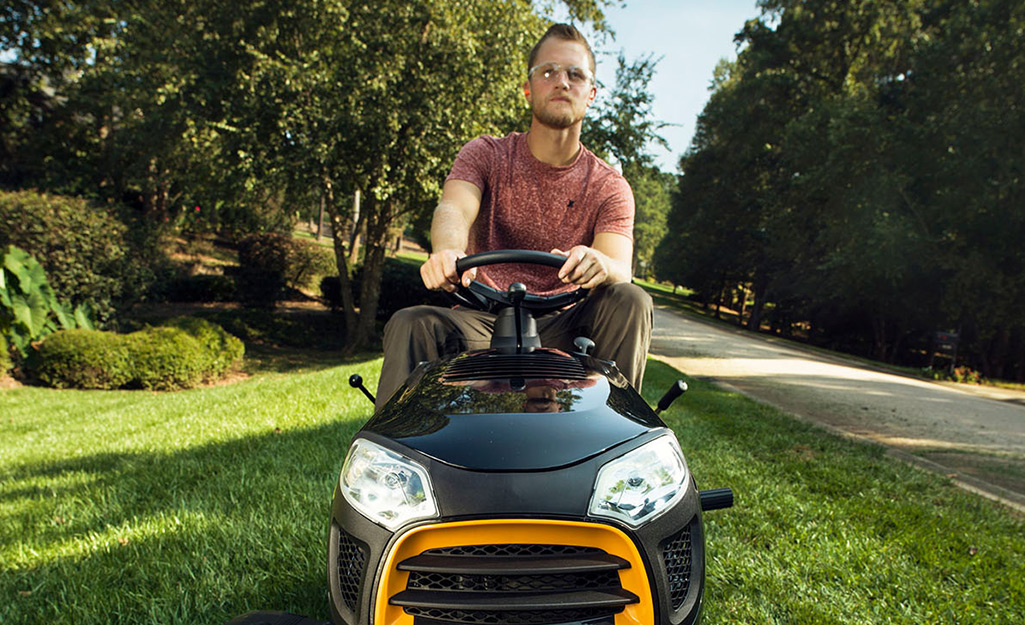 Make sure you take the following precautions while operating your rider or tractor.
Look for mowers that automatically stop the blade from spinning as soon as you stand up to minimize the potential for accidents.
Avoid wearing loose clothing or jewelry that may get tangled in moving parts.
Clear debris from your yard prior to mowing to avoid damaging the mower and blades and eliminate possible projectiles.
Make sure you're wearing the proper safety gear for hearing and eye protection.
Consider a mower that provides safeguards that must be disengaged before you can mow in reverse, allowing you to pause and check behind you to make sure there are no kids or pets in your path.
Riding Lawn Mower Delivery Options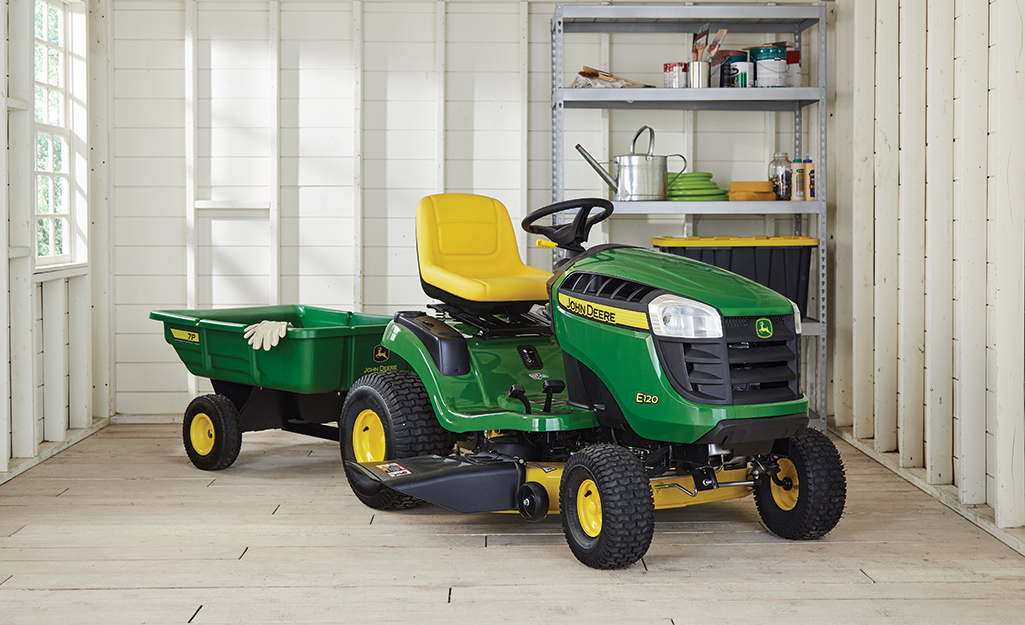 Riding lawn mowers and other types of outdoor power equipment can be a challenge to transport, but our delivery services remove the hassle.
Free White Glove Delivery: Have your equipment assembled and delivered to your home with a tutorial. For John Deere®, Toro® and select Ariens® brands. 
Curbside delivery: The mower will be dropped off at the curb, or to the receiving area/dock for a business. The delivery carrier will contact you to provide a 4-hour delivery window once the items have arrived in your area.
Ramps and trailers: Bring it home yourself and haul it anywhere you need it with our large selection of products. 
Riding Mower Accessories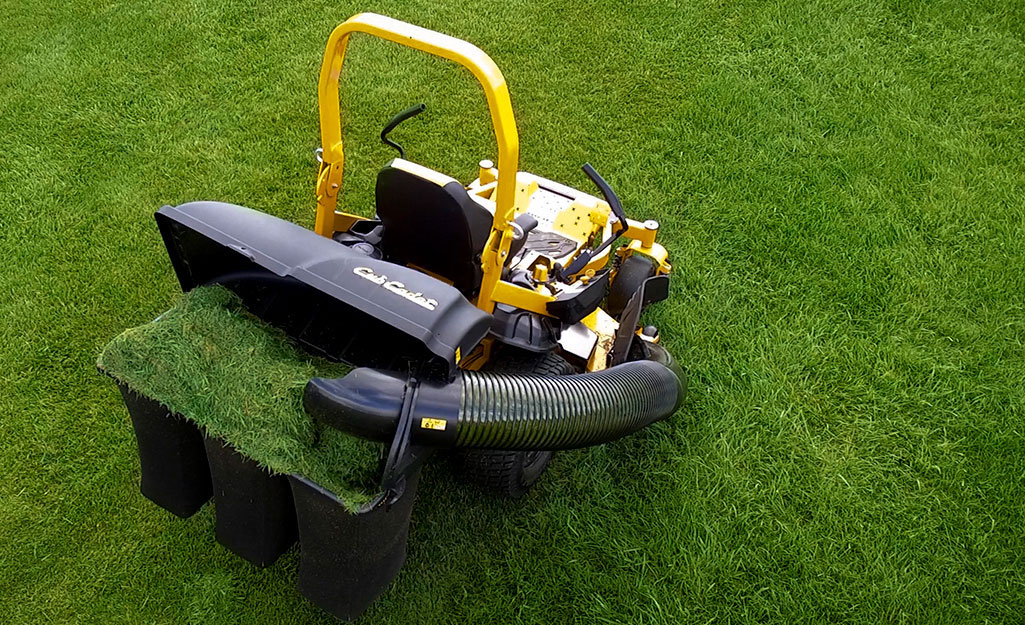 A great feature of riding lawn mowers is that they allow you connect riding mower and lawn tractor attachments
Winter attachments may include snow plows and snow blowers while summer attachments may include lawn striping tools, sprayers, dump carts or mower bags. These attachments can save you time while making tasks like planting new shrubs and gathering leaves much easier. 
Learning the different types of riding mower can help you determine the best riding lawn mower for hills and other needs you may find on your property. When transportation of a riding lawn mower is a challenge, our truck rental services can help. From pickups and vans to moving trucks, we've got you covered.
Need help identifying lawn mowers? Find products fast with image search in The Home Depot Mobile App. If you need some extra help mowing your lawn, consider renting a z-mower with our lawn mower rental to get your project done. Use once, then bring it back - no maintenance required.
Explore More on homedepot.com