Installing a new shower head is an easy way to make your bath more pleasant and eco-friendly. Upgrade from a traditional fixed shower water spray and explore a wide range of showerheads. From a low-flow shower to conserve water, to advanced models with LED lights and temperature indicators, or features like detachable heads and body spa systems, there are various ways to make your showering experience better every day.
This guide will help you understand different types of shower heads and explore the features and options available to you.
Types of Shower Heads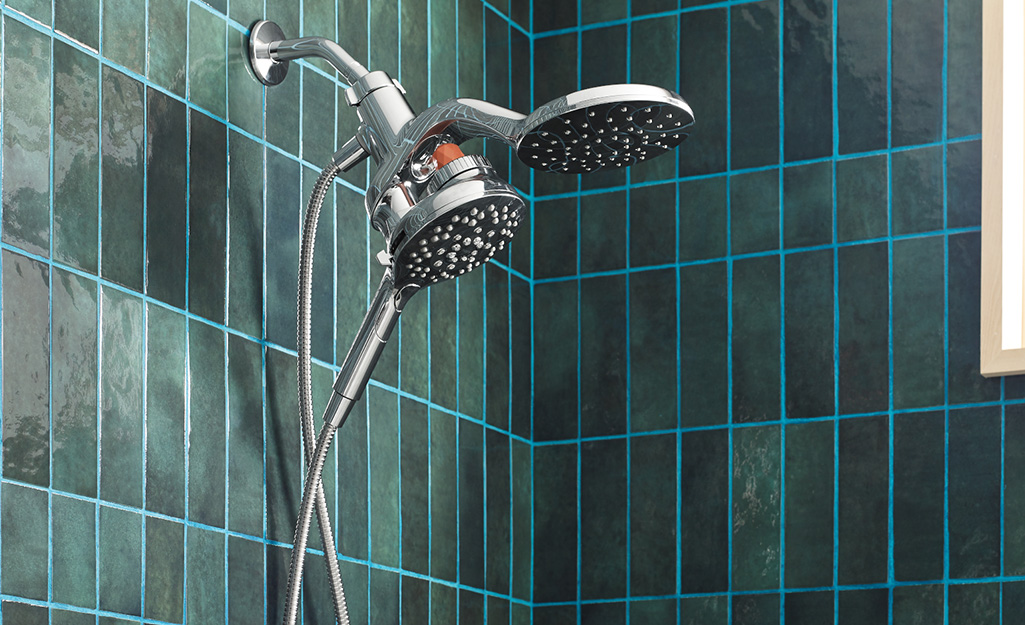 The two basic types of shower heads are fixed and hand-held. Shower heads are available in a wide variety of configurations, many with anywhere from one to eight or more adjustable settings.
Fixed shower heads are attached to a shower arm and mounted permanently to the shower wall. Some styles, including rain, can be mounted directly to the ceiling. 
Handheld showerheads are connected to a flexible hose that detaches easily from a mount for showering variety and to better control the direction of water spraying from a shower head. 
Dual showerheads, the most popular type of shower head, is a combination of a handheld and a standard fixed shower head. 
Tip: Handheld showerheads are ideal for washing children and pets and make cleaning the shower easier. Hoses 84 inches or longer meet ADA compliance. 
Styles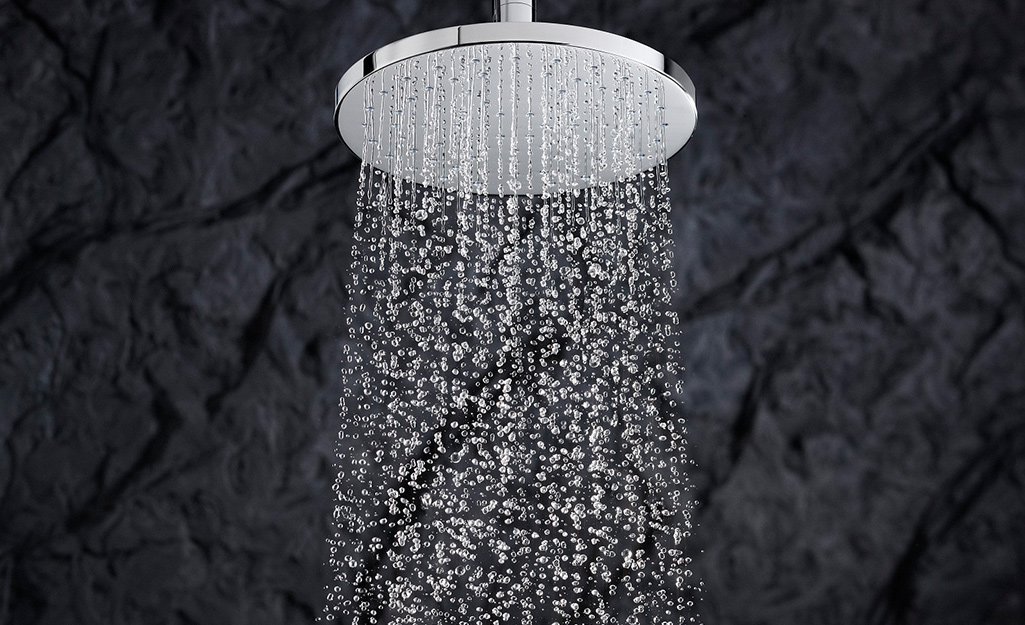 There is a wide selection of shower heads to choose from depending on the setup of your shower and your household needs. 
Traditional/fixed shower heads:
Low entry-level cost.
Offer a wide range of spray patterns and streams that vary from strong to a fine mist.
Wide selection of spray patterns, materials and shapes, including round and square showerheads.      
Two shower heads running from a single pipe.
The best shower heads for a wider water flow over a larger area at multiple angles.
Features include independent adjustable flow rate and massaging heads.
Some configurations offer two sprays on one unit, an overhead with a side spray, or a traditional head and a hand shower.
Use strips of jets or misters to create a soothing, massaging spray with body coverage from head to toe.
Used primarily in custom showers.  
Larger up-front investment.
May have special installation and plumbing requirement.
Also known as top-mount shower heads.
Cascade water directly from above for light, even distribution.
Low flow rate.
Often only have one setting. Some models feature a more high-powered rinse setting.
Feature a movable mount on a vertical bar that can be moved up and down to the ideal height for various members of the family.
Make it easier to shower without getting hair wet.                       
Things to Consider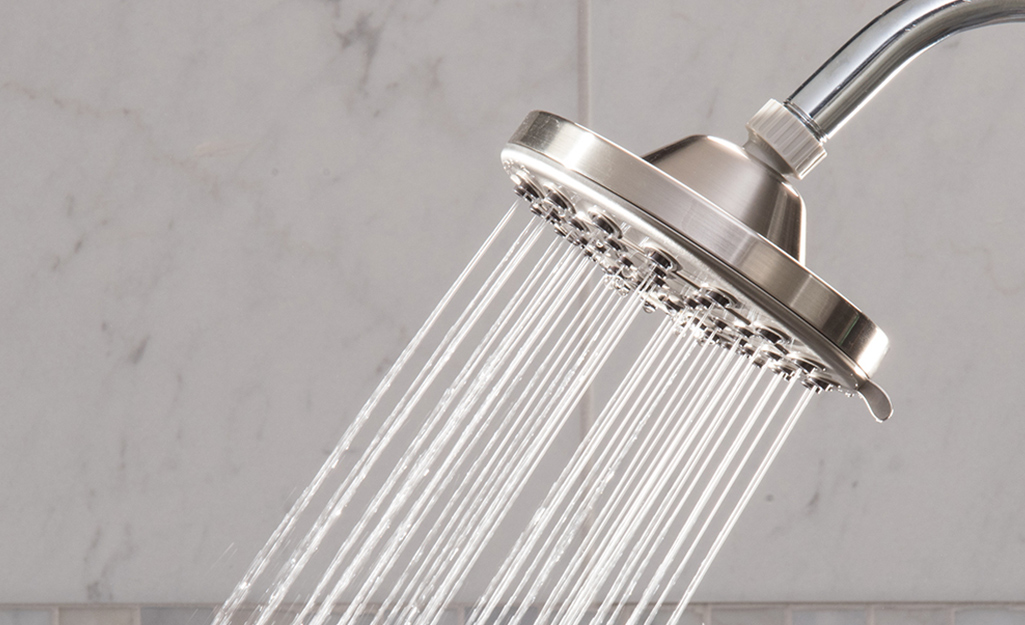 When choosing the right shower head, there are a few other things to keep in mind aside from style and design. Spray pattern as well as your home's water pressure are key components in the shower head you choose. 
Water pressure and volume:
The volume of water delivered by a shower head is measured in gallons per minute (GPM) and is affected by the water pressure in your home.
Not every home has water pressure this high or can accommodate a high-pressure shower head, and lower levels of water pressure can make a difference in the effectiveness of your shower. 
If you have low water pressure, look for a showerhead specifically designed for low water pressure use. While they use less water, they still provide a full shower experience without sacrificing water pressure. 
Some shower heads also allow you to adjust the nozzle for stronger flow when needed.
Since 1992, U.S. government regulation has mandated showerhead models be manufactured for a maximum flow rate of 2.5 GPM. Pre-1992 shower head models still in use may flow as much as 3.5 GPM. Upgrading to a new model showerhead will not only conserve water but reduce your water cost. 
The standard GPM of 2.5 since 1992 can vary according to an individual state's regulation:
In Colorado, and within the five boroughs of New York City, the maximum GPM allowed for showerheads is 2.0.
In California, the maximum GPM allowed for showerheads is currently 1.8.
Spray Patterns: 
The type of spray pattern you choose will depend on your preference. For instance, shower heads that offer a pause feature allow you to stop the flow of water while shampooing, reducing the amount of water used. Some other types include full body, massaging, pause, drenching, rain and combo. 
Finishes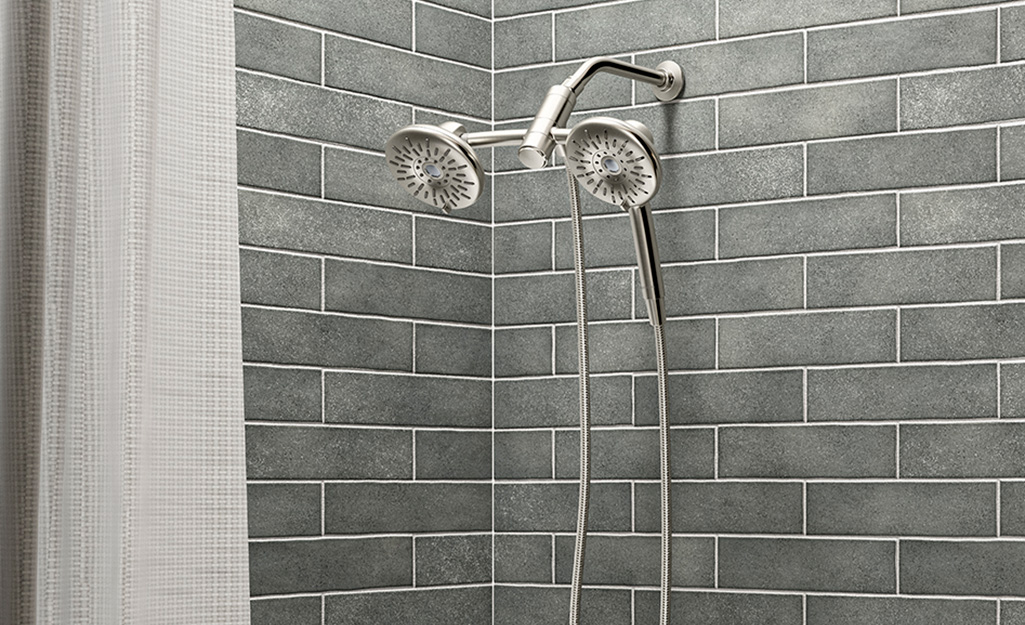 When selecting your shower head, consider the material it is made of and select a color and finish that matches the other fixtures in your bathroom.
Chrome may have a polished, brushed or matte finish. Durable, economical and easy to clean, it resists oxidation but does show water marks more than some other finishes.
Nickel may have a brushed or satin look and is stylish, durable and easy to clean. Look for units with a titanium finish to better resist scratching and tarnish.
Solid color finishes may be composed of epoxy or baked-on enamel and clean easily. While the most common colors are black and white, you can also choose from a wide selection of deep, rich colors. The finish may chip or fade more easily than other finishes.
Brass may have a high gloss, satin or antique finish and is ideal for traditional decor. Shower heads with lifetime finishes resist damage and wear.
Bronze complements neutral color palettes and is a popular choice for a rustic look. It may have a polished, brushed or darker oil-rubbed look with highlights and resists scratches, tarnishing and corrosion.
Mixed colors and metallic tones can be matched to your bathroom's color scheme. Striking combinations include satin nickel and polished brass, brushed nickel and polished chrome, satin nickel and white, and more.
Stainless steel has an attractive, modern appearance and doesn't show water spots.
Additional Features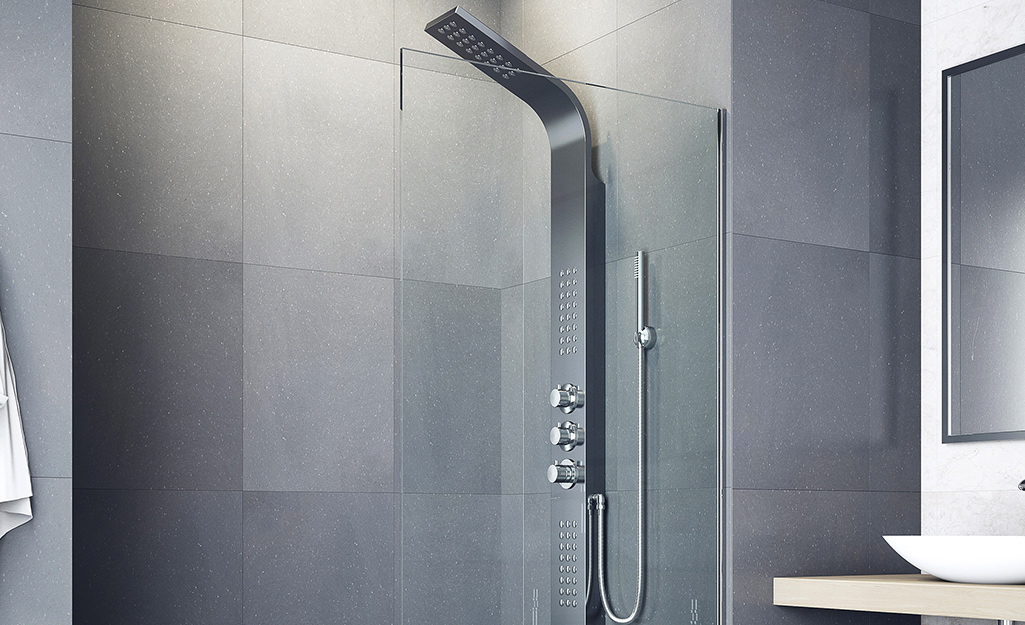 Personalize your shower with a range of optional features, including deluxe heads, bendable nozzles, cut-off valves and more.
Deluxe heads shower systems may feature electronic control panels that put you in complete control of spray intensity, frequency, pattern and even water temperature.
Self-cleaning heads help prevent limescale buildup. Simply swivel the nozzle from time to time to shake bits and particles of lime scale loose.
The best handheld showerheads come with a rubber grip. This makes it easier to hold, particularly when it's wet, and an arm extender will allow taller people to raise the head to make showering easier.
Diverters allow handheld and traditional showerheads to be used together in the same shower, providing you with multiple configuration options.
A shower arm extender attaches to a standard arm, allowing the showerhead to be positioned higher.
Shower head filters remove chlorine and other contaminants and skin irritants to help reduce damage to skin and hair.
Shower faucets are also available with adjustable streams and flow rates for a customizable shower experience.
If you need a convenient place to store all of your shower accessories, look for a head that provides a soap dish, shower basket and shelves. Some even include no-fog mirrors to make shaving or brushing your teeth easier.
Complete shower systems provide a more relaxing shower experience using a combination of showerheads, configuration designs and features. These systems may range from an economical multifunction showerhead to easy-to-install tower showers and panels that connect to existing plumbing. 
For a more personalized shower experience, custom shower designs offer higher-end systems with multiple valves, sprays and patterns in virtually limitless combinations. These systems are designed to your specifications and are a popular option in new construction due to the often unique requirements for plumbing, water pressure, drainage, hot water and ventilation.
With so many options available, we can help you find the best shower heads for your bathroom based on your lifestyle, budget and needs. Ready to start your bathroom project? We have options to deliver online orders when and where you need them.
Explore More on homedepot.com