Buying Guide
Best Snow Blowers to Get the Job Done
Spend less time shoveling snow and more time inside where it's warm with the help of a snow blower. If you live in an area that receives moderate to heavy snowfall, snow blowers help you quickly clear walkways, driveways and more – with much less physical effort.
This guide will help you sort through the different types of snow blowers and their features so you can pick the best snow thrower to meet your needs.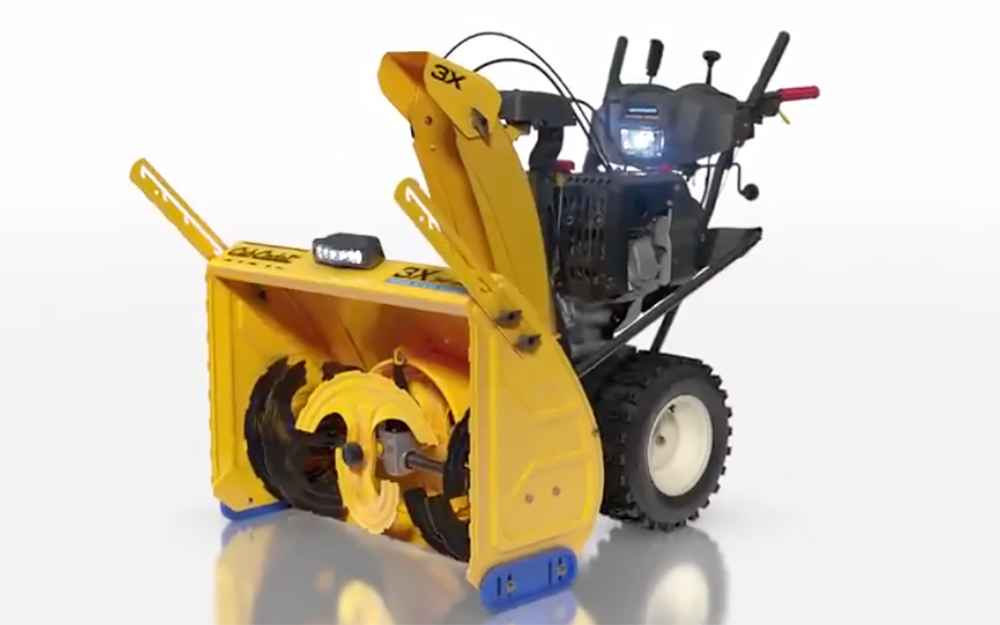 There are several types of snow blowers available. Here are some of the features and benefits of each type:
Source of Power
Gas snow blowers provide plenty of power and are available in single-, two- and three-stage models. Gas-type blowers require more maintenance and need access to fuel. Since they are heavier, a gas snow thrower can be more difficult to maneuver. Gas models are more typically seen used in commercial applications.
Electric snow blowers are perfect for clearing patios, porches, walkways and small-to-medium-sized driveways. These types of snow blowers are corded and are a smart, eco-friendly choice for the average homeowner. They handle light to moderate snow well and work best when used on smooth, paved surfaces. Electric models don't require regular maintenance, are generally more economical and weigh less than their gas-powered counterparts. They also have the added advantage of running much more quietly than a gas model.
Cordless snow blowers are high-voltage battery-powered snow blowers that perform comparably to single-stage gas-powered snow blowers. They are effective on light, moderate and heavy snow. Great for use on walkways and driveways, battery-powered models weigh less than their gas-powered counterparts, making them easy to maneuver. As an added advantage, you'll never have to worry about running over a cord.
Multi-stage Snow Blowers
Single-stage: Features an auger that breaks up snow and then lifts and tosses it aside. Do not to use this blower on gravel, as the auger touches the ground, everything it collects will be thrown to the side.
Two-stage: Features an auger that lifts snow and an impeller that blows it, allowing them to clear a wider path with more power.
Three-stage: Collects snow and ice, chops it up and then propels it away. It can chop through thick snow and ice, making it the strongest blower available.
Tip: Consider the amount of consistent snowfall or extreme winter weather in your area when choosing between a corded or cordless electric snow blower or a single-, two- or three-stage gas snow blower.
| | | |
| --- | --- | --- |
| | Feature/Benefits | Recommended For |
| single-stage snow blowers | Use on smooth, paved surfaces. Clears paths up to 22-inches wide. | 6-to 12-inches of light snow. |
| two-stage snow blowers | Can be used on gravel or paved surfaces. Additional impeller creates more powerful throwing capacity. | Up to 2 -feet of moderate to heavy snow. Note: Three-stage snow blowers can handle up to 2 feet of wet, heavy snow and ice |
| electric snow blowers | Lightweight, easy to use for paved surfaces. Economical with quiet operation. | Ideal for light to heavy snow up to 12-inches. |
| cordless snow blowers | Portable and lightweight. Economical with quiet operation. | Ideal for light snow and small areas. |
| gas snow blowers | Various stage types available. Greater clearing width availability. | Can handle light to heavy snow up to 2-feet deep. |
| Three-Stage Snow Blower - Snow Blowers | An accelerator forces impelled snow and ice at high speed. Most powerful variety. Useful on on gravel or paved surfaces. | Best for heavy snow, ice and slush up to 2-feet deep. |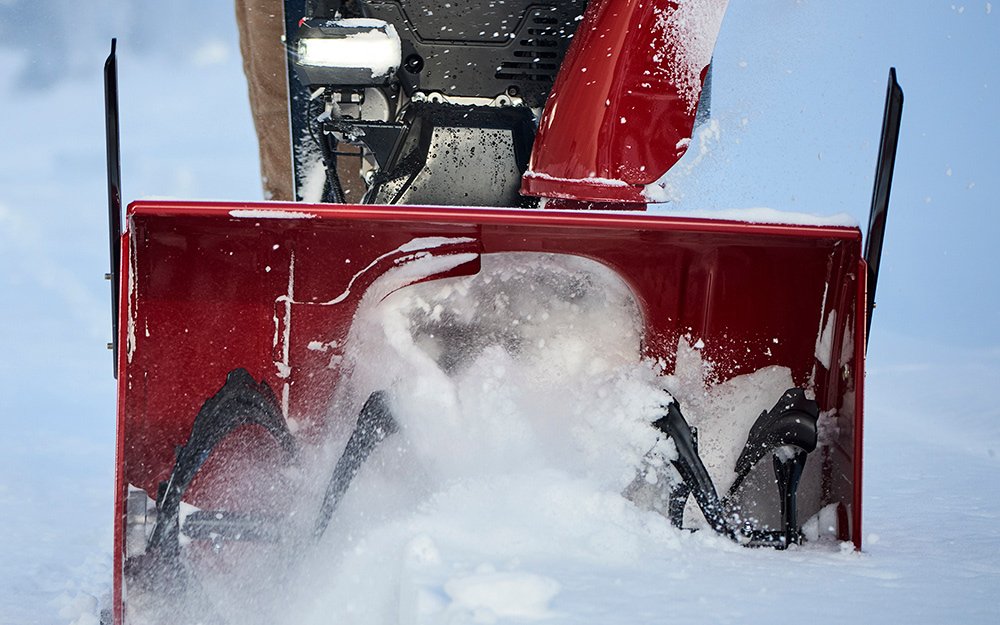 Look for snow blowers with features such as hand warmers, headlights, speed control and more to personalize your blower for your exact snow removal needs.
Heated handles: Though gloves will protect your hands against the cold, they don't always keep them warm. Look for blowers that feature hand warmers to keep your fingers comfortable no matter how windy and snowy it gets.
Headlights: Blowers with headlights make it easy to see when darkness sets in early on those short winter days.
Electric start: Many gas-powered blowers now feature electric start mechanisms which replace pull cords and enable you to get started with the touch of a button.
Chute control: Rotates the direction of the chute from the dash, allowing you to precisely direct the snow as you maneuver curves.
Drift cutters: Features narrow steel bands on the sides of the auger that knife through hard-packed, icy snowdrifts, making it easier to power your way through and clear walkways more efficiently.
Speed control: Units with this feature include multiple speeds in both forward and reverse to ensure comfortable use.
Snow Blower Accessories & Attachments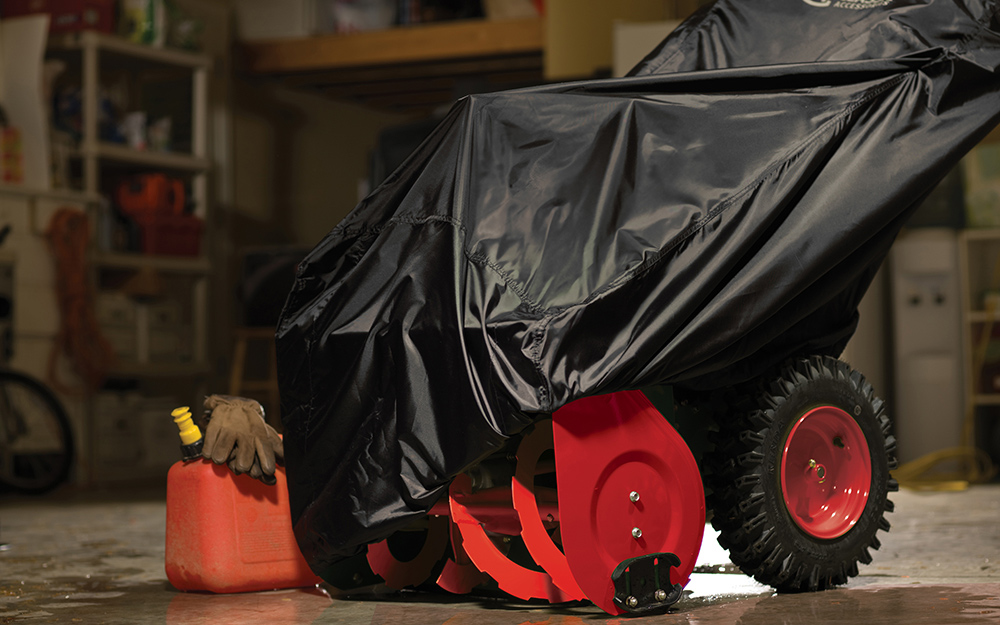 Although these snow blower accessories are optional, they do help make snow cleaning more comfortable and protects your machine for longevity.
Cab: Usually a small shelter that attaches to the snow thrower to prevent the user from getting soaked with snow as it flies out of the path of the auger. There are cabs to fit walk-behind and ride-on snow blowers and many have the added benefit of a headlamp that helps light the path as your work.
Covers: Durable weatherproof fabric drape used to protect the snow blower when not in use. Generic versions are available, but it is usually advised to purchase one made specifically for your brand and model if possible.
Tractor attachments: An attachment that can mount to a tractor to temporarily transform it into a snow blower.
Skid shoes: Metal or composite attachments that act as a spacer that keeps the bottom of your snow blower from touching the surface of your driveway. This keeps the concrete from being scratched and also ensure greater safety by keeping stones or gravel out of the path of your snow blower.
Don't let winter catch you off guard. Shop The Home Depot for snow removal equipment including ice melt and spreaders, traction control, shovels and more.