String trimmers help you put the finishing touches on your lawn. The best string trimmers can tackle hard-to-reach areas where lawn mowers can't navigate, like around trees, fence posts, mailboxes, shrubs, walkways and more. 
This guide highlights the different types of string trimmers and includes information on shaft styles, trimmer lines, attachments and safety considerations. 
Safety Tip: When using a string trimmer, use personal protective equipment. Wear safety goggles to shield your eyes from debris and ear plugs or headphones to protect your hearing. 
Types of String Trimmers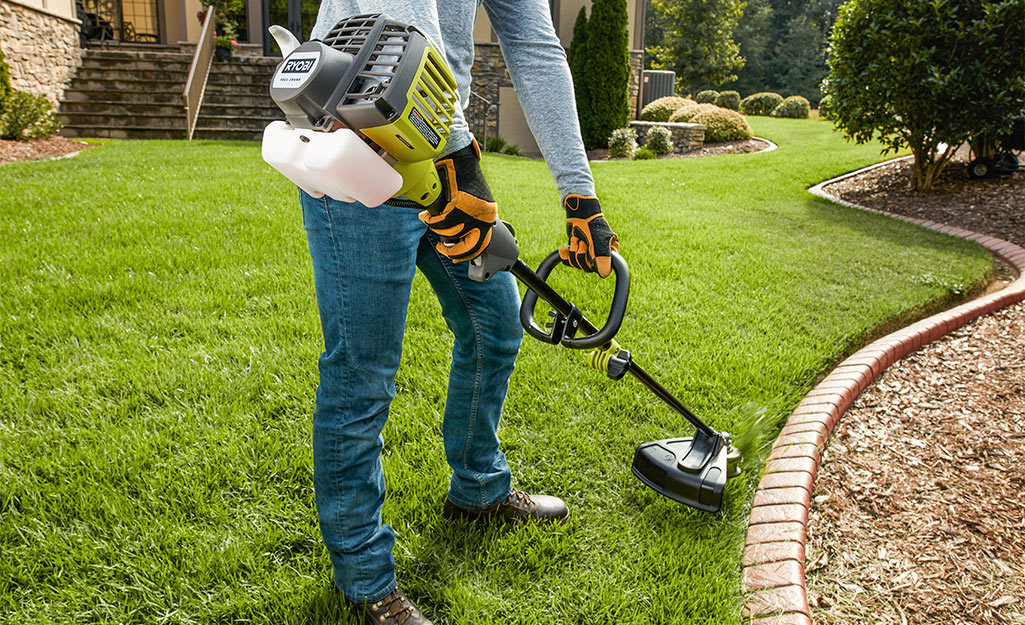 The two main types of string trimmers are gas-powered and electric.  
Gas string trimmers are cordless, powerful, have two-cycle engines and require a mix of gas and oil to operate. These are often considered the best string trimmers for grass. They work especially well for large lawns. Some models feature a four-cycle engine that runs quieter and more smoothly and starts easier than their two-cycle engine counterparts. Plus, they do not require you to premix the oil and gas. However, the heftier four-cycle engine makes the gas trimmer noticeably heavier than a two-cycle gas trimmer, which can affect its overall maneuverability for some users. 
Electric string trimmers can be either corded or cordless and are easily turned on via a switch, rather than by pulling a rip cord like you would for a gas trimmer. Since they are lightweight and less high-powered than gas trimmers, electric trimmers are considered best weed trimmers for smaller yards. Battery-powered cordless string trimmers are a good low-maintenance option for small to mid-sized yards. They are more maneuverable than corded trimmers, which may require extension cords to reach every corner of your lawn. 
Tip: Some trimmer models can convert into edgers by rotating the head and putting it in a vertical position to cut precise, uniform lines.
Straight Shaft vs Curved Shaft String Trimmer Styles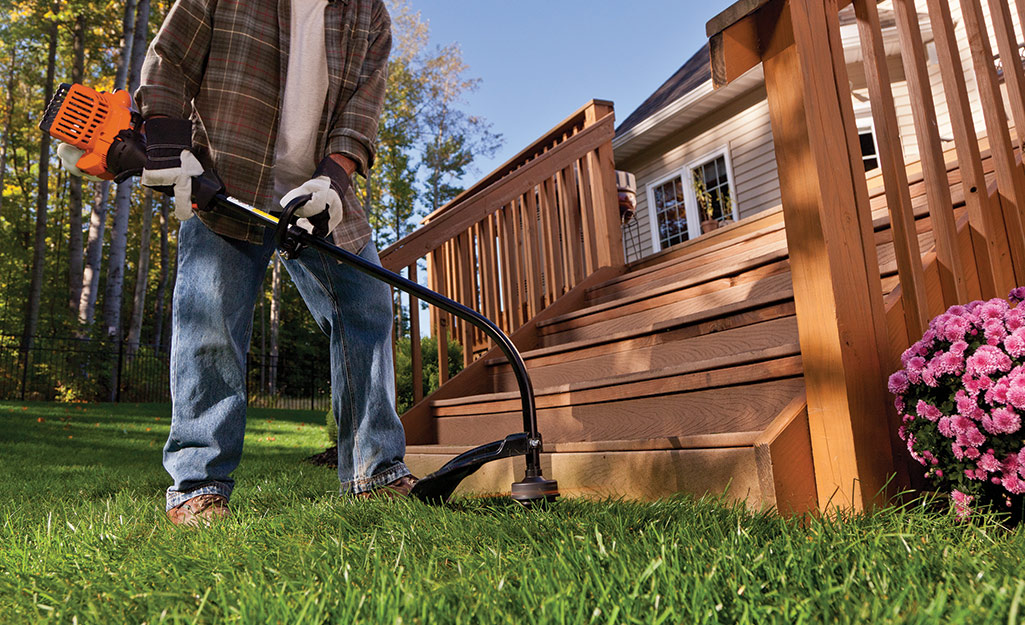 Trimmer shafts, sometimes called shanks, can be straight or curved. Wondering about straight shaft vs. curved shaft string trimmers? Each type of string trimmer offers its own set of benefits.  
Straight shafts tend to provide better weight balance and longer drive shaft life. A straight shaft trimmer can tackle a wide variety of tasks. If you have a big yard, a straight shaft might be the best string trimmer for you, as they tend to be more durable.
They provide safer operation by keeping the head farther away from you during use. The further you can stay away from the head of the trimmer, the less likely you are to get hit by airborne pieces of what you're cutting
Curved shafts use a flexible-cable drive shaft to provide power to the head and generally require a lower initial investment. They are great for trimming around flower beds and other squared-off areas. Curved shafts are also easier to maneuver and often weigh less for more comfortable use.  
Tip: Longer shafts are ideal for trimming under fences, hedges and bushes.
Trimmer Lines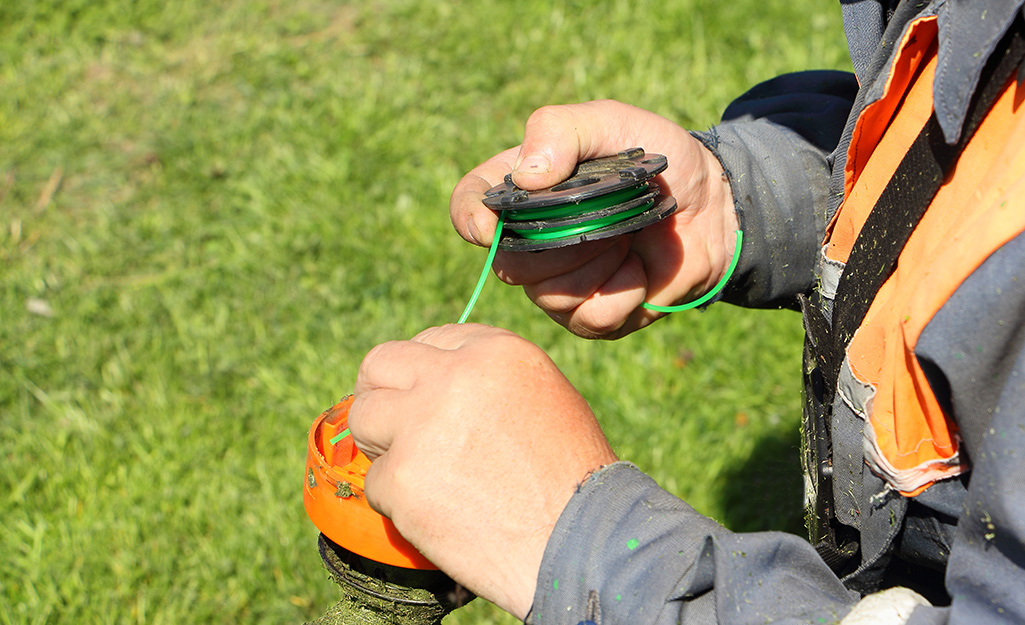 Using the right string trimmer line will go a long way toward making sure your trimmer works efficiently. 
Standard-grade line is economical and best for low intensity trimming in smaller yards. Commercial-grade line is ideal for use on a heavy-duty gas trimmer and in larger yards where there are heavier patches of grass and troublesome weeds. 
Tip: When pruning hedges, let the tip of the line do the cutting to avoid premature wear. Always keep an extra spool of line handy so you never run out.
String Trimmer Attachments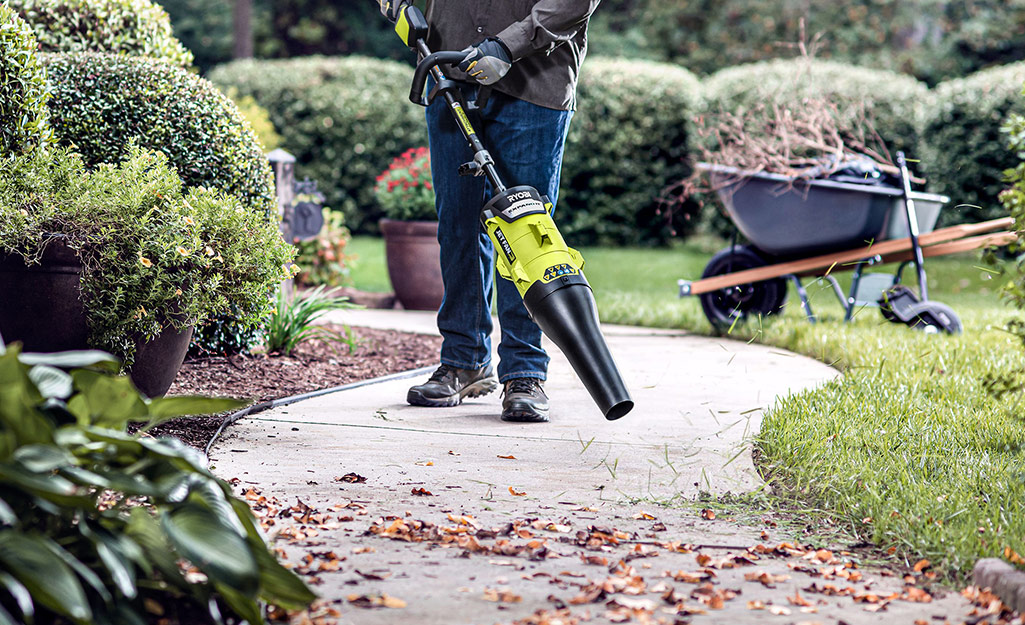 If you have an attachment-capable string trimmer, its uses can be expanded with add-ons. 
Pole Saw Attachment: Turn your string trimmer into a pruner that can cut limbs up to 6 inches thick. Pole saw attachments with an extension shaft can allow you to reach up into a tree to cut dead branches or limbs up to 12 feet off the ground. 
Hedge Trimmer Attachment: Use your string trimmer to cut bushes with branches up to 3/8 inches thick with this attachment.  
Leaf Blower Attachment: With the power of a fan, your string trimmer can blow leaves and other debris off driveways, sidewalks and grassy areas. 
Power Sweeper Attachment: Using the heavy bristles of this attachment, you can clean dirt off hard-to-reach spots on a range of surfaces. 
Battery Chargers: Rapid chargers can recharge the battery of a string trimmer in as little as an hour.   
Operation Tips and Safety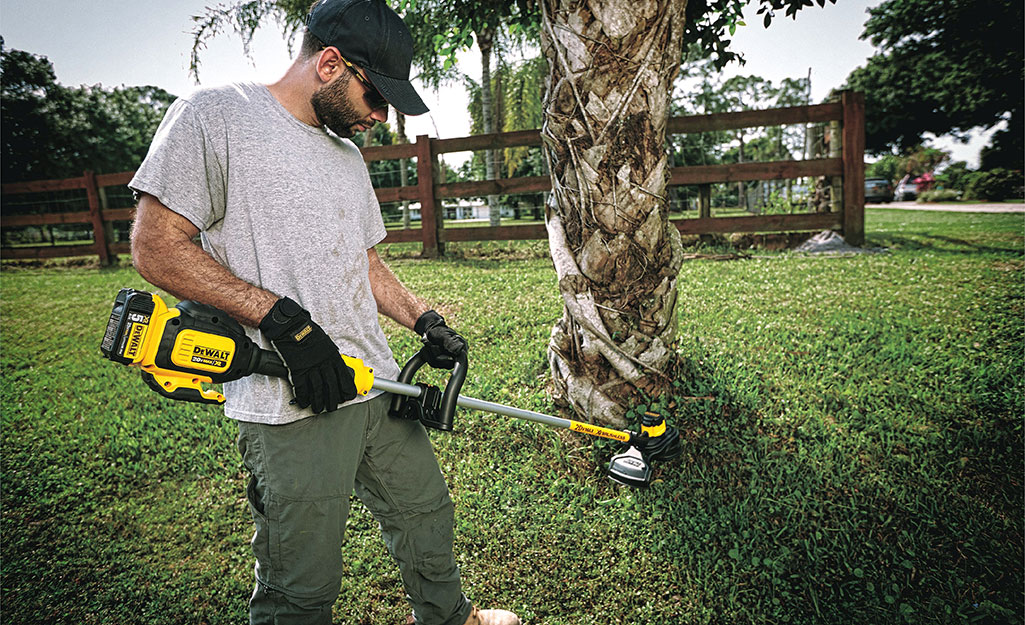 Always use the trimmer manufacturer's recommended line size, since a heavier line will put extra stress on the motor. 
Some string trimmer models have a tap line feature. A button on the bottom of the head lets out extra line when you tap it on the ground. 
More advanced trimmer models have automatic line-advanced systems that sense when the line is worn and will automatically release more. 
Be careful when trimming around trees. Flying tree bark can be dangerous, and trimmers can damage young saplings. 
Wear sturdy shoes or boots to protect your feet. 
If vibrations bother you or if your hands tend to blister, wear heavy-duty gloves while operating your trimmer.
Electric String Trimmers vs. Gas String Trimmers
Finding the best string trimmer for your needs will make short work of many of your lawn chores. If you need more line or need to buy a new string trimmer, The Home Depot delivers online orders when and where you need them. 
If you only need a string trimmer for a one-time landscaping project or want to try different models before you buy, consider The Home Depot's string trimmer rental. Use the string trimmer once, then bring it back, no maintenance required.
Explore More on homedepot.com