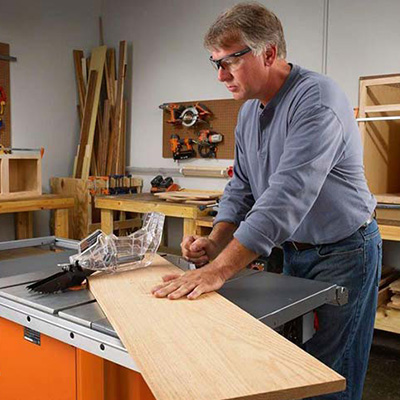 Table saws are the traditional center of most home and professional woodworking shops. They handle a wide range of cuts – from compound cuts to dado cuts. And table saws can chew through a variety of materials when equipped with the right blades. 
This guide will teach you about the different types of table saws and their features.
Type, Power and Capabilities
There are several different types of table saws: stationary/cabinet, contractor's or portable/bench-top saw. Each offers different degrees of mobility, power, performance and capacity, along with a range of price options.
Table Saw Features
Personalize your table saw to meet your exact needs using features such as anti-kickback pawls, a miter gauge or an electric brake. 
Anti-kickback pawls: These jagged teeth prevent the work piece from kicking back at you, so they need to stay sharp and bite at the right angle. 
Bevel capability: Most table saws allow you to tilt the blade to the left for angled cuts, though some right-tilt models are available to accommodate personal preferences. Look for easy adjustment and positive stops at common angles, so you can make fast, accurate bevel cuts. 
Blades: To get high-quality cuts, consider a premium blade. A "combination" blade combines the fast cutting characteristics of a rip blade with a reasonably smooth surface on crosscuts. Choose a combination blade with 40 to 60 carbide teeth. For the smoothest crosscuts, select a blade with 80 carbide teeth. If you try to use this blade for rip cuts, it may not eject the chips fast enough, so you'll get slow results and possibly a burned cut. 
Dado blades: If you need to make grooved cuts for inserting shelves or joining pieces of wood, look for a table saw that accepts dado blades. Many table saws accept dado blades with a maximum width of 13/16 inches. 
Dust port: Table saws produce a lot of sawdust, but table saws with cabinets keep dust fairly well-contained. On all types of table saws, look for a dust port if you want to connect to a dust collection system as you cut. 
Easy-change blade system: Some saws offer one-step blade changes, either with or without a tool. If you switch blades frequently, an easy-change system helps minimize downtime.
Electric brake: An electric brake stops the blade quickly after each cut, enhancing safety and helping you get ready for the next cut quickly. 
High-quality controls: Look for smooth, precise adjustment and a durable design. All controls should be easy to access and comfortable to grip, particularly if you use your table saw frequently. 
Magnetic switch: If a table saw with a magnetic switch is left on during a power outage, it won't start back up when the power is restored, preventing the work piece from shooting back out of the saw. This could be particularly important for high-powered models that may potentially blow fuses. 
Miter gauge: The miter gauge is a removable guide used for fast, accurate miter cuts and crosscuts. Look for one with positive stops at 45 and 90 degrees. If a gauge isn't included with your saw or you need to upgrade, you can purchase one separately. Also, check the miter gauge slot on the saw table; it must be perfectly parallel to the blade, or your miter cuts won't be accurate. 
Mobility: You can purchase casters or a mobile base made specifically for your contractor's saw. Make sure that the base grips the floor securely so the saw doesn't scoot while you're feeding wood into the blade. Some jobsite saws also make folding mobile bases that bolt beneath the tool. To transport your saw, you simply lower the frame to fold it, then roll it on large-diameter wheels that will handle steps or rough terrain. 
Rip fence: A rip fence is a guide for cutting parallel to the edge of the work piece. Longer fences offer better control. The fence should fit snuggly, slide freely, lock down solidly and be perfectly parallel with the blade at every setting. You can purchase rip fences separately for upgrade or replacement. 
Splitter (riving knife): A splitter is an important anti-kickback feature that separates the wood after it has been cut to prevent binding. Look for a splitter with adjustable kerf to accommodate different blades and materials. 
Wings: Most contractor's saws allow you to expand the surface by bolting on auxiliary side tables called wings. Wings are sometimes an extra-cost accessory, and they may be cast iron, sheet steel or made from plywood.
We have the tools to make your job easier. For one-off projects and quick home renovations, consider our table saw rentals. 
We have the tools to make your job easier. 
Explore More on homedepot.com