Today's vinyl flooring types look almost identical to the more expensive options like ceramic, marble or stone. Affordable, durable and water-resistant, vinyl floors are a great option for just about every interior living space. This Home Depot buying guide highlights popular types of vinyl flooring, explains why the wear layer you choose is important and describes the different finishes. Plus, you'll get tips on vinyl flooring installation and maintenance.
Tip: Lighter colors open up smaller rooms while darker ones make larger rooms feel cozier.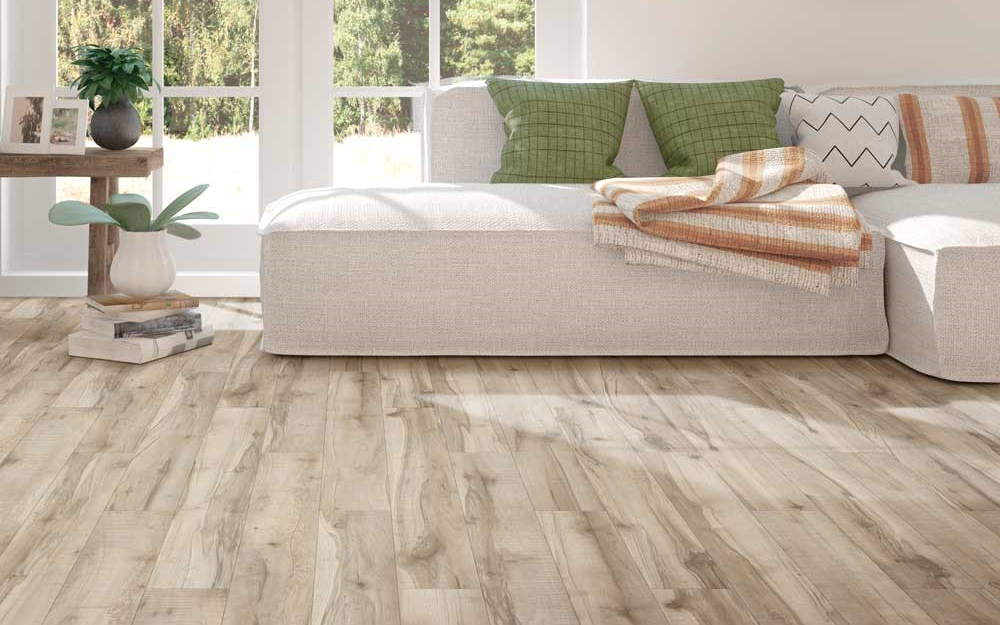 Popular vinyl flooring types include plank, sheet and tile. With everything from realistic wood-look embossed planks to ceramic-look tiles, you can buy it in a wide range of colors and designs. It is resistant to moisture and endures daily wear and tear. It works well in rooms with a lot of foot traffic.
Vinyl planks have the richness, deep texture and feel of real hardwood flooring without the high cost.
Vinyl sheet flooring works well in large spaces and is easy to maintain.
Peel-and-stick removable vinyl flooring is quick and easy to install, especially in small spaces.
Tip: Choose sheet vinyl for installing in large spaces and use tiles for bathroom vinyl flooring.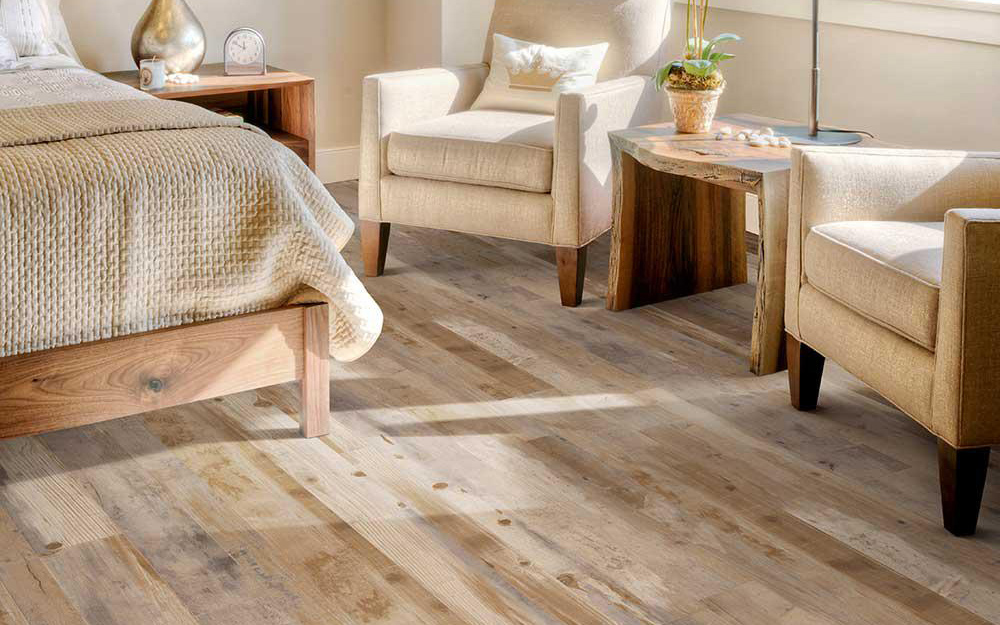 Most floating vinyl plank floors have a foam core that delivers rigidity and strength. Vinyl planks are lightweight and easy to install. Click vinyl flooring can be installed over existing surfaces including concrete, tile, wood, and vinyl with an easy click-lock technique.
Add the warm, comfortable style of real wood to interior living spaces.
Some luxury vinyl flooring types are 100% waterproof.
An attached underlayment minimizes sound, absorbs shocks and enhances comfort.
Great for use in high-traffic areas like kitchens and bathrooms.
Also the ideal basement vinyl flooring option
Tip: Waterproof vinyl flooring and non-slip vinyl flooring is a great option for mudrooms and bathrooms.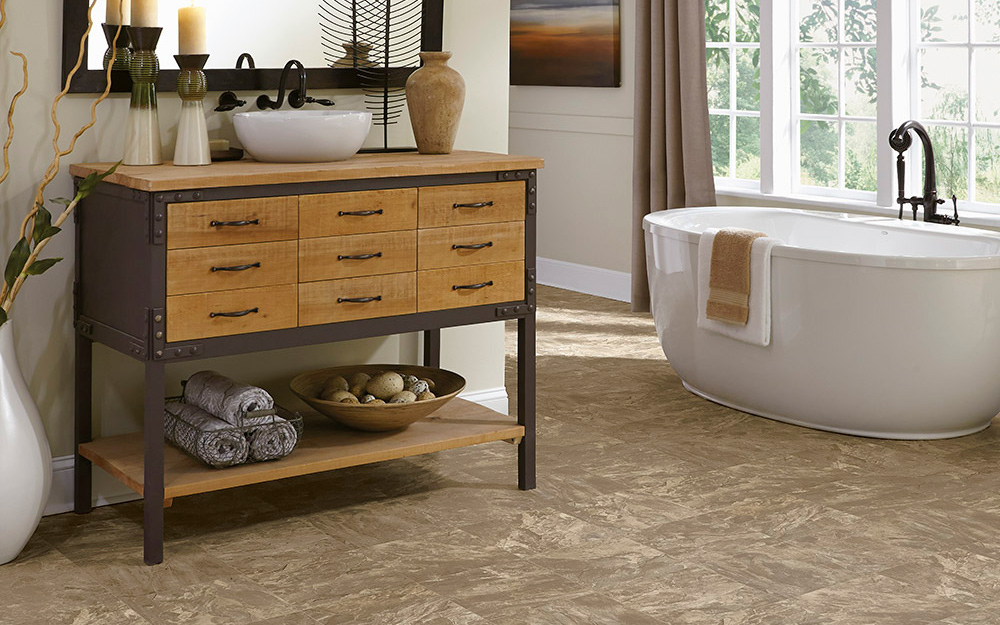 Sheet vinyl comes in rolls measuring 6 feet or 12 feet wide and is available in a variety of colors and designs. It has a fiberglass core that will not crack, curl, expand or contract, allowing it to be installed in anywhere in the home, including high moisture areas.

The two different kinds of sheet vinyl are inlaid and rotogravure. Inlaid vinyl is thicker, more durable, hides scratches and has color inside the sheet. Rotogravure is softer, more economical and has color that is printed on top of the sheet.
Vinyl sheet flooring has three different backings with different installation requirements.
Adhesive vinyl flooring typically has a felt-backed vinyl sheet, and the entire floor be covered with adhesive or glue.
A modified loose-lay vinyl sheet has a fiberglass backing and doesn't require adhesive.
A vinyl-backed sheet is usually only glued at the edges and should be professionally installed.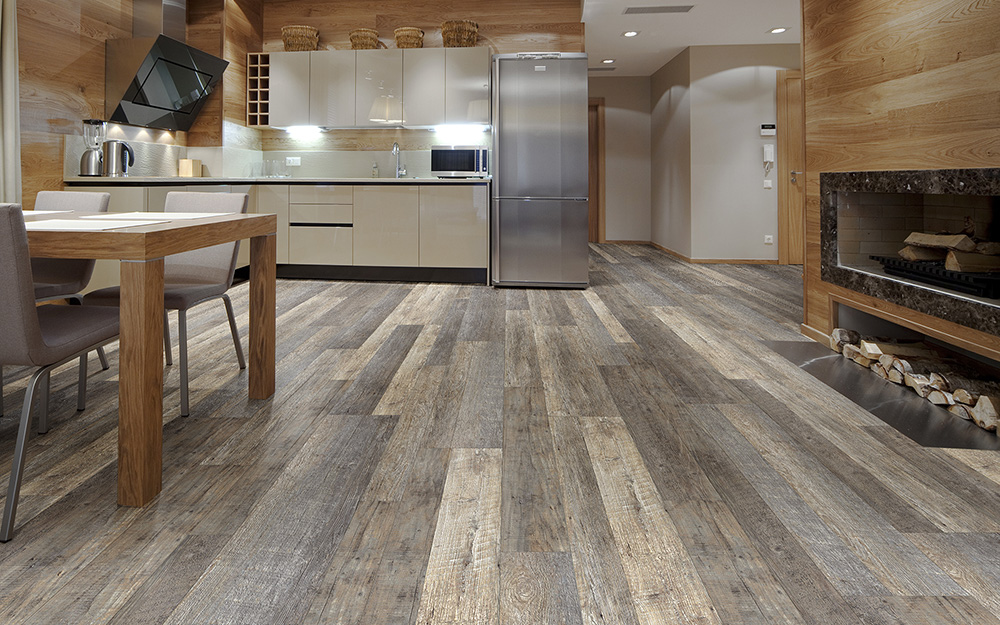 Peel-and-stick vinyl flooring tile is purchased in 12-inch squares and has an adhesive backing. Installing tile is an ideal DIY project, particularly in smaller rooms. Install by lining up tiles at room edges. Make precise cuts to ensure proper fit.
Groutable vinyl flooring tile is a cost-effective and moisture-resistant product that's great for bathrooms and kitchens.
Tile is appropriate for both residential and commercial uses.
Tile has a low-gloss textured finish that is easy to clean and maintain.
Choose a sturdy wear layer if tile is being installed into a high-traffic area.
VCT tile is an ideal choice for indoor use in commercial spaces.
Tip: Purchase all the vinyl tiles for the same project from the same lot. Even if they are labeled the same pattern and color, slight differences in shade may occur between lots.
Vinyl Flooring Wear Layer Choices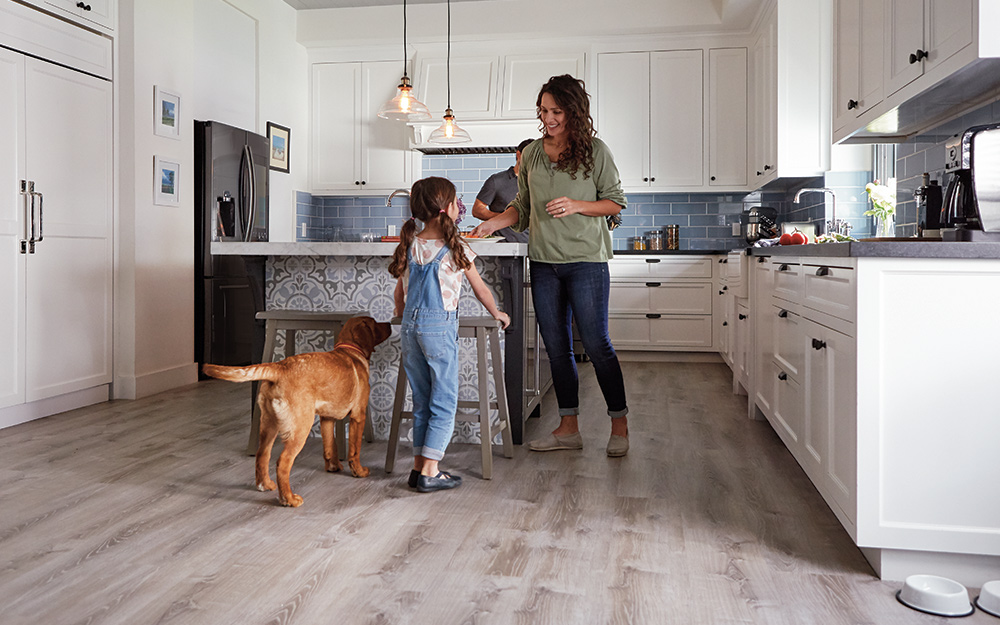 The wear layer of vinyl flooring is the urethane-based top coat and finish that prevents scuffs, dents, scrapes and stains. The thicker the wear layer, the more durable and long-lasting your vinyl flooring will be. Thickness is measured in mils, with 1 mil being about as thick as a human hair.
No-Wax Vinyl
Stain-resistant
Remains shiny without polishing or buffing
Economical
Urethane
Stain-resistant
Remains shiny without polishing or buffing
Easy to clean
Durable
More resistant to scuffing
Enhanced Urethane
Resists scuffs and scratches
Stain-resistant
Easy to clean
Greatest durability
Retains shine longest without buffing or polish
Vinyl Flooring Installation Tips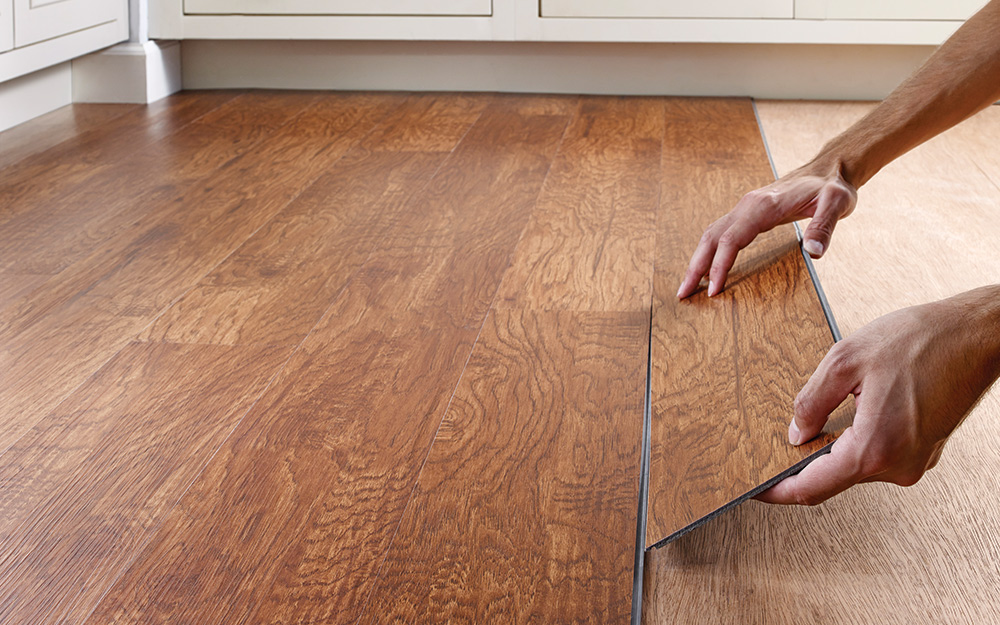 You can usually install floating vinyl planks, sheet vinyl and peel-and-stick vinyl products over your existing concrete, wood, vinyl and tile flooring with minimal subfloor prep. Refer to the manufacturer's installation guide for a complete list of tools and complete directions.
Make sure floor beneath the vinyl is level by filling in holes, smoothing out rough areas or installing an underlayment.
Mop or wipe up excess adhesive or glue during installation.
Take proper safety precautions, such as wearing gloves and working with proper ventilation.
Sweep frequently to prevent scratches.
Save extra tiles after installation in case you need to repair a broken tile later
Tip: Not ready to DIY your vinyl flooring project? Get a professional in-home vinyl floor measure and installation from the Home Depot here.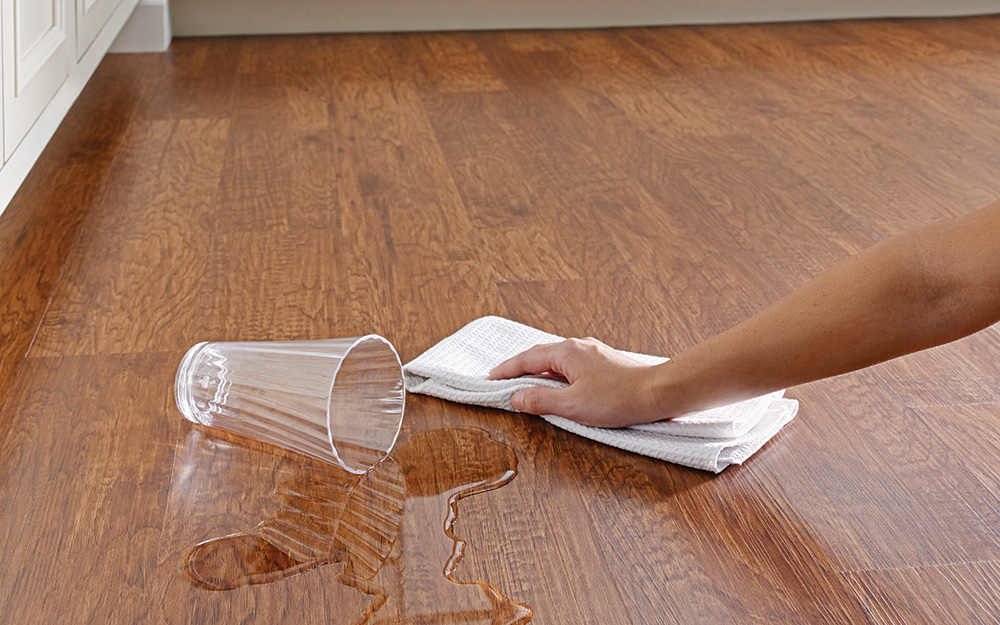 Vinyl flooring is easy to maintain and requires no polish or wax. Most have a clear wear layer that protects against standard household stains, but some vinyl floor brands also guard against permanent markers, ketchup, mustard and other tough stains.
Regularly sweep, dust, damp mop, or vacuum your floor to prevent scratches.
Use a pH neutral floor cleaner and avoid cleaning agents containing wax, oil, or polish.
Promptly remove any standing water, pet urine, or other liquids, even on water-resistant vinyl flooring.
Do not use a steam cleaner or vacuum with a beater bar.
Use flat floor protectors (nylon or felt) on all furniture legs.
Keep pet's nails trimmed.