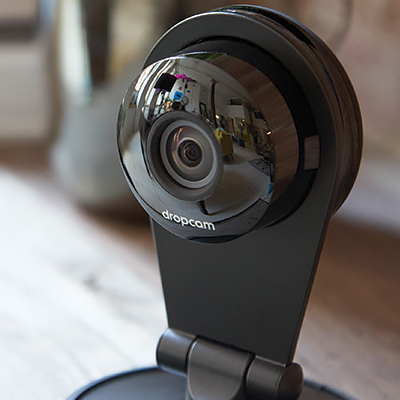 Residential surveillance equipment ranges from a single camera for monitoring one room to larger, multi-camera arrangements designed as part of a comprehensive, whole-house security system. 
This guide explains the different components and systems available, so you can feel confident you're selecting the best kit to protect your home and family.
System Components
The essential parts of a surveillance system, whether for one room or a whole house, wired or wireless, are cameras and a recording device. All components are available separately or in kits.
Surveillance Cameras

Different types of home security cameras are available to cover a variety of locations, both indoors and out.
Indoor cameras can be useful for monitoring a child's room, keeping an eye on people who are working in your home, or just checking to see what the pet does while you're away.These cameras can be purchased as single units if you want to monitor one room, or as part of a complete surveillance system. Software often comes with the camera that allows you to see what your camera sees from any computer or mobile phone with Internet access.
Outdoor cameras can be displayed prominently on your property to deter intruders or installed unobtrusively for discrete monitoring. Contained in housing to protect them from the elements, some outdoor cameras can transmit images in low or no light.
Hidden cameras fit in ordinary objects such as a clock or potted plant and allow you to record activity in a home or business without detection.
Simulated cameras are an inexpensive alternative to actual security cameras and can act as a deterrent to would-be intruders. Keep in mind that if something happens, these are fake cameras that will not record the event.
Recording Device
Cameras only do part of the security job – without a device to record what the cameras see, someone would have to monitor the cameras 24 hours a day. 
Digital video recorders (DVR) are the most popular option for recording information from home security cameras. They are easy to install and provide clear images with a dedicated hard drive for storing recorded information and long recording times.
DVRs allow flexibility to add cameras as your system grows, and offer remote access from any Internet-connected device and the option of connecting to a dedicated monitor, TV or PC for viewing.
Wired vs. Wireless
Most single-camera setups, such as nanny cams, are wireless. If you are considering a whole-house surveillance system, you can choose from wired or wireless systems.
Wired home surveillance systems are a good choice for new home construction. The surveillance system can be installed as part of a complete home security system or structured wiring network, with wires inside your walls from the control panel to cameras throughout your home and outside.
Wireless home surveillance systems are ideal for existing homes. The cameras install easily without the need to run wires through your walls and are simple to relocate when needed. Be aware that the term wireless refers to the signals transmitted by the cameras. Most systems require a power supply or batteries for cameras and the receivers.
Explore More on homedepot.com