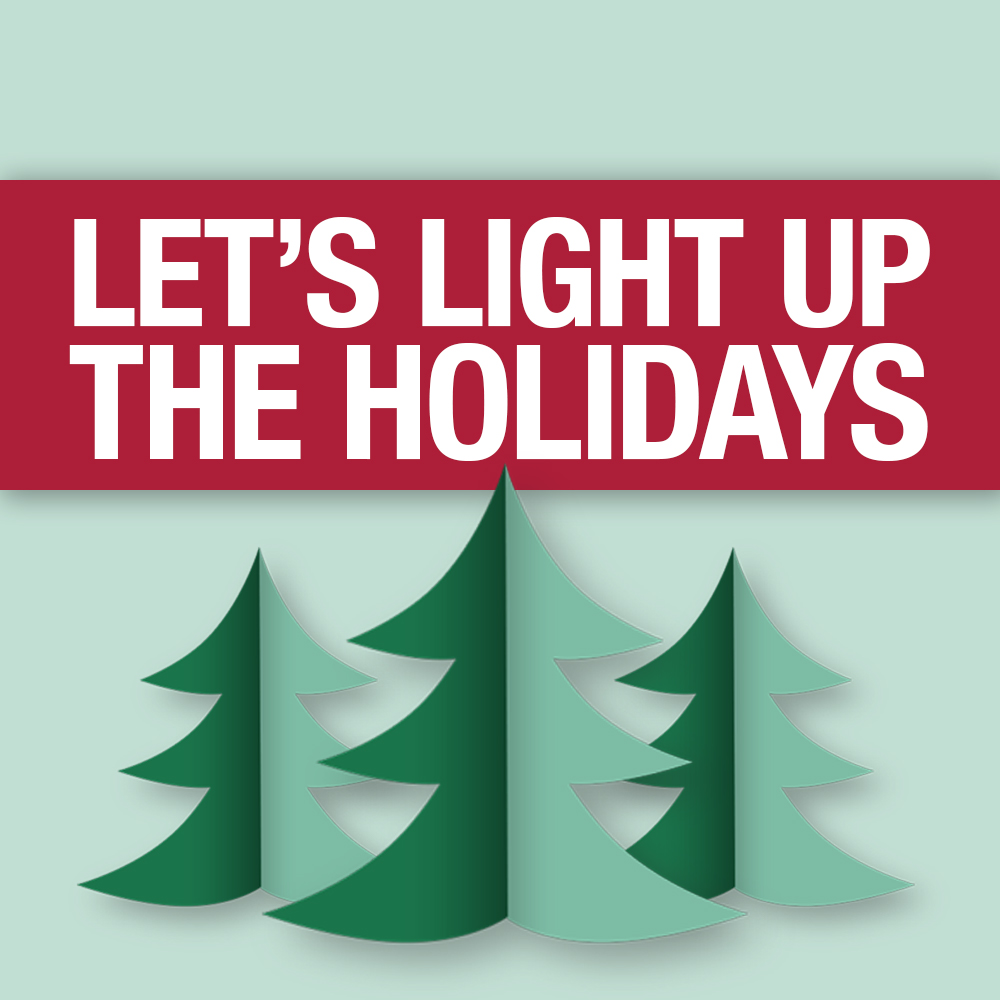 Nothing ignites the Christmas spirit faster than seeing homes and trees decked out in twinkling lights. This season, buying and putting up your holiday lights can be quick and easy. This guide will help you decide which lights will work best for your decorating needs and calculate how many you need ahead of time. 
Read on to get your home fully lit and decorated in record time.
How Many Lights Do I Need?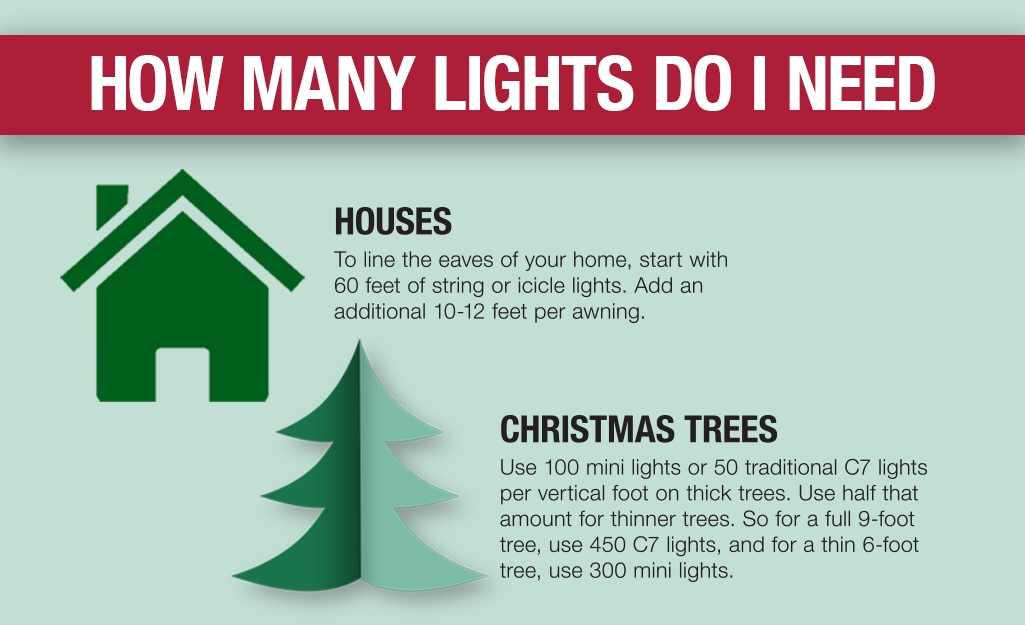 When decorating your house eaves, a simple rule is to start with at least 60-feet of string lights. Add another 10- to 12-feet for every awning you plan to light. If you have the time and patience, you can measure your eaves and awnings with a measuring tape to get the most precise necessary length of string lights. 
Tip: Whether you plan to hang lights from your home's gutters, rooflines or shingles, find the right type of light clips for the hanging surface.  
For live trees and shrubs, use 100 mini lights or 50 C7 lights for every vertical foot. On thin trees, you can use half that number of lights per vertical foot. Depending on your preferences, you may want a brighter tree, in which case you can double the number of recommended lights. 
Tip: When trying to match Christmas lights, use the same brand of strand lights, since color and brightness may vary between brands. If you want more variety, however, consider mixing mini lights with the larger, vintage-look C6 or C7 lights. 
Bulb Styles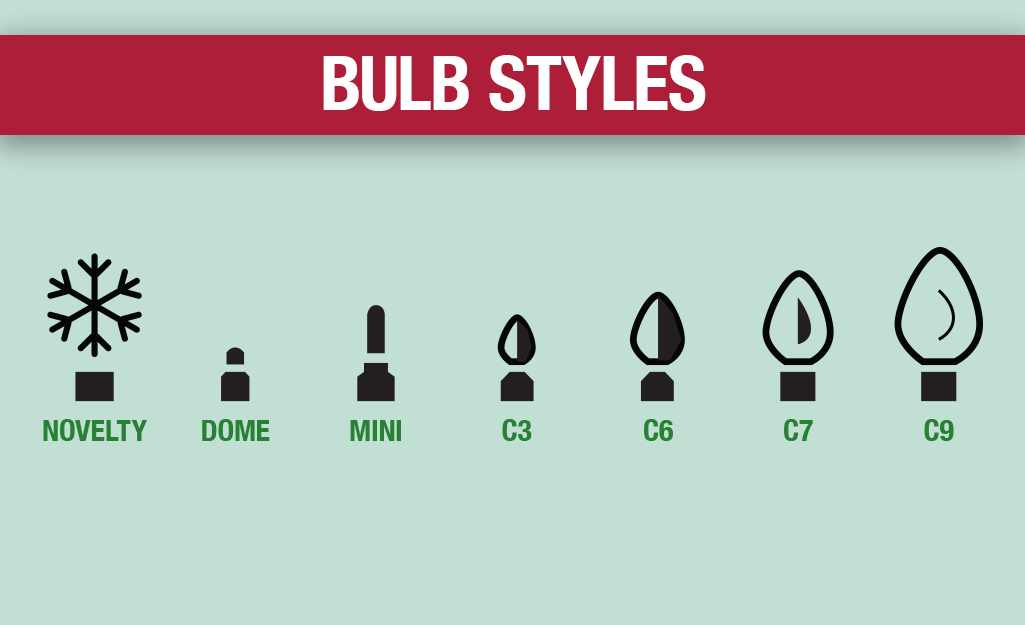 Novelty bulbs come in festive shapes such as snowflakes, stars and more. These specialty lights are best used as focal pieces hung over porches and entryways. 
Dome bulbs are the common style of bulb used for LED string lights. Despite being a fraction of the size of traditional mini lights, these bulbs still shine brightly. 
Mini bulbs are the most frequently used shape for incandescent string lights. A staple of the holidays, mini string lights are a popular, inexpensive choice for both indoor and outdoor decorating. 
C3 bulbs are a particular size of what are considered "cone bulbs." Cone bulbs are strawberry-shaped bulbs that have a vintage appearance and can have either a smooth or faceted surface. C3 bulbs are the smallest of this bulb style, measuring approximately 1/2-inch in diameter and 4/5-inch tall. 
C6 bulbs are slightly larger and more commonly used than C3 bulbs. Measuring 3/4-inch in diameter and 1-1/8-inches tall, C6 bulbs are a great size for bushes and trees, either indoors or outdoors. 
C7 bulbs are the next size up of this bulb style. They are more rounded than C3 and C6 bulbs and measure 1-inch in diameter and 1-1/2 inches tall. 
C9 bulbs are the largest of this bulb style. They measure 1-1/4-inches in diameter and 2-1/2-inches tall. 
Light Styles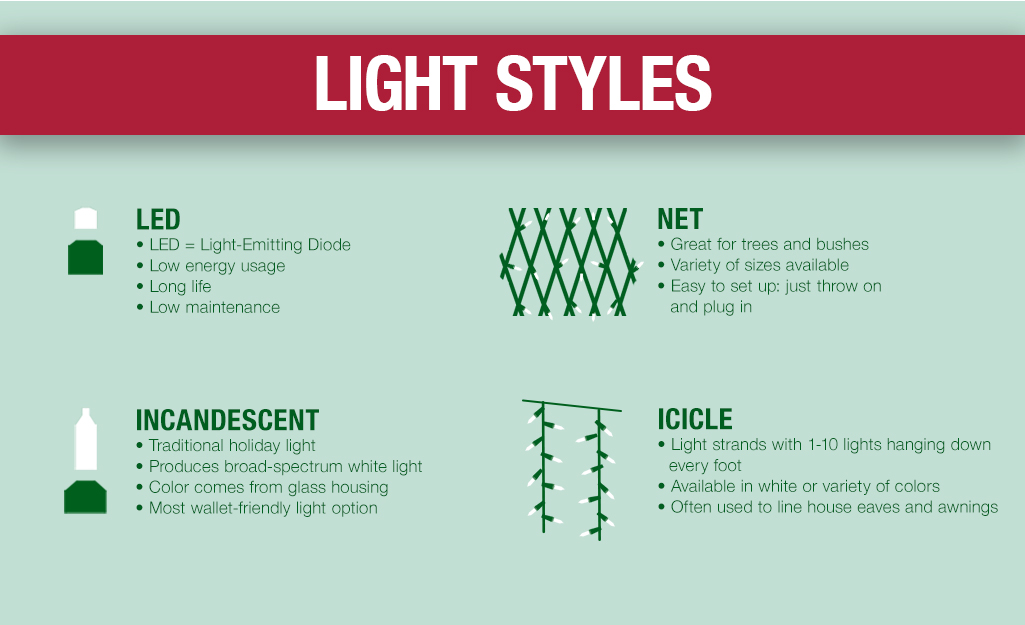 LED string lights are energy-efficient and longer-lasting alternatives to incandescent string lights. LED bulbs have no filament and can last up to ten times longer than traditional lights. 
Incandescent lights make up the majority of traditional Christmas lights. They produce broad-spectrum white light, so the color of the bulb's glass determines the color of your Christmas lights. Incandescent string lights usually last for two to three holiday seasons or approximately 1000 to 1500 hours. 
Net lights are woven string lights that are designed to be easily placed over trees or shrubs. This design prevents tangling and makes decorating trees significantly faster. 
Icicle lights have draping extensions spaced a foot apart on which up to ten light bulbs hang. Icicle lights are used primarily as outdoor lights on eaves and awnings.
Explore More on homedepot.com