Buying Guide
Creative Garage Storage Ideas
Your garage can serve as a workshop, hobby center, tool storage hub and occasionally a place to park your car. Innovative storage solutions will help clear the clutter and increase the efficiency of your space. This guide will teach you which garage cabinets, workbenches, garage shelves, hooks and baskets you need to organize your garage chaos. Keep reading for some garage storage ideas.
Garage Storage Cabinets and Workbenches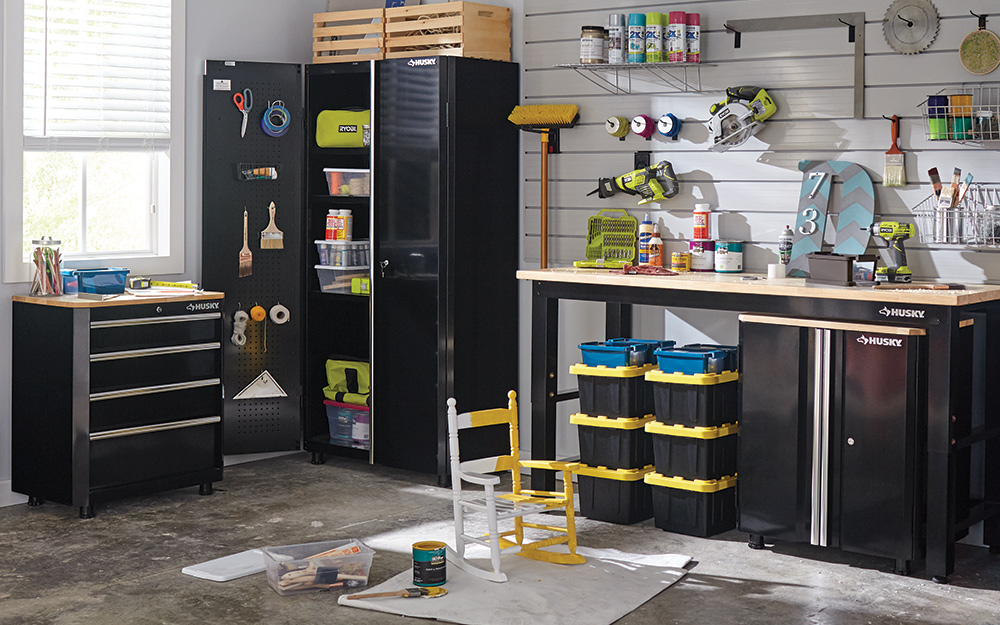 Garage storage cabinets are available in both freestanding and wall-hanging units, while work benches sometimes incorporate cabinets or pegboard space. These options present some of the best garage storage ideas.
Work benches offer storage through cabinets, pegboard space, back walls with hooks and even storage potential in the legs. They offer one of the most versatile garage storage solutions.
While you may not have considered the upper walls and ceiling of your garage for storage, you can easily reach them and the items stored there with ladders, pulleys and hydraulic lifts.
Here are a few other items to consider:
Adjustable feet allow cabinets and workbenches to stay level on uneven floors.
Casters allow easy movement of cabinets.
Workbench lights make it easier to see what you're working on.
Tip: Consider the weight of what you will store in your cabinets. Make sure your cabinet can hold that weight. Certain cabinets feature zero-tolerance doors that allow you to fit them into tighter spaces, hanger hooks for extra storage and removable or adjustable shelving for maximum versatility.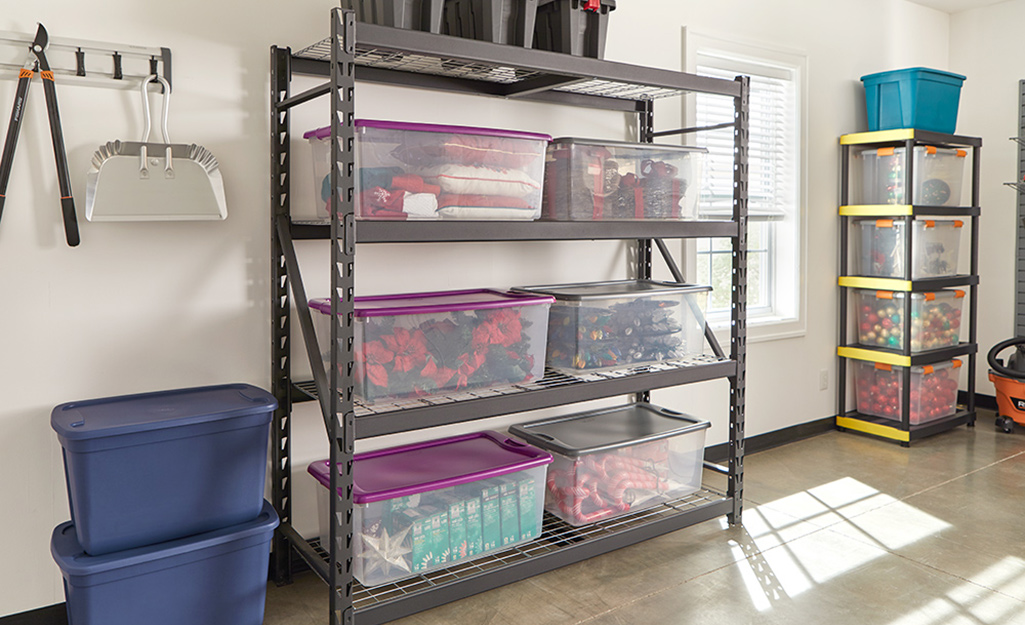 Shelves can be freestanding units, anchored to the wall, or attached to the ceiling to maximize every available inch of potential storage.
Store frequently used items in accessible areas, and seasonal items such as holiday decorations or camping equipment in higher, more remote spaces or shelving units.
Totes and baskets, hooks, racks and wall panels provide other storage options.
Tip: A wall towel and soap dispenser will come in handy if you do a lot of work in the garage.
Best Garage Storage Ideas for the Home
| | | |
| --- | --- | --- |
| | Description | Feature/Benefits |
| storage bins & totes | Bins and baskets are used to store a variety of items, including toys, seasonal decorations, camping gear and more. Typically made from plastic materials. | Lids help protect items from dust and moisture May hang on hooks or wall panels Look for stackable units to maximize space. |
| home storage hooks | Smaller hooks can hang tools, cords, keys and more. Larger hooks can hang bikes and other equipment. Typically constructed from metal or plastic-coated metal. | Used to hang objects from the wall. Types include cradle, scoop, tool, twin, utility and more. |
| ceiling mounted racks | Racks can configure to hold specific items or for more general use. | Bike racks lift bikes up off the floor to get them out of the way. Racks designed to hold sports equipment can keep skis, bats, balls, cleats and more all in one spot. Corner racks help save space. |
| garage shelving units | Shelves are constructed from wood, plastics, metal, wire and other materials. Available in freestanding and wall-mounted configurations. Ensure shelving can withstand the maximum load it will bear. | Allow for storage of a wide range of items. Adjustable shelves accommodate larger objects. Freestanding shelves can move if you need to reconfigure your garage. |
| slatwall panels & accessories | Wall panels may be used in conjunction with hooks, shelves, baskets, bins and more. Can easily reconfigure as storage needs change. | Designed for installation on your garage walls. Provide grooves or holes for a wide range of accessories. |
Additional Considerations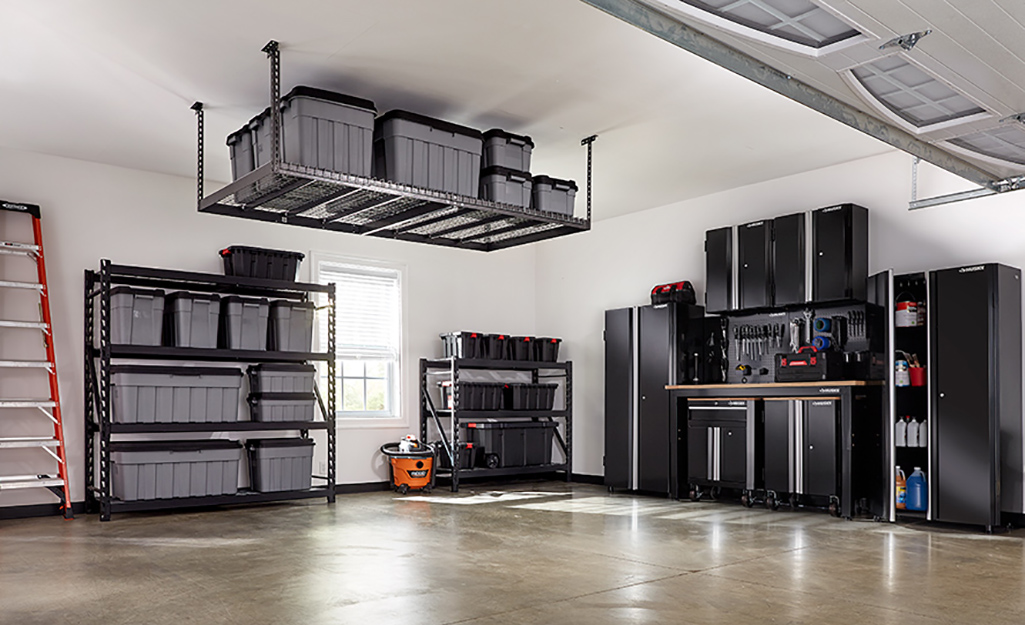 Add food storage in your garage with an extra fridge or freezer, and keep dangerous tools and chemicals safe from children with locks.
Refrigerators and freezers: If you have a large family, or like to buy in bulk, putting an extra refrigerator or freezer in your garage can provide the space you need to keep extra meat, juice and more on hand. Place the fridge or freezer away from windows to avoid sunlight shining directly on them and decreasing efficiency.
Locks: Some items stored in the garage, such as pesticides, cleaners and utility knives shouldn't be handled by children or people who haven't been instructed how to use them correctly. Make sure you have locks on drawers and cabinets that contain hazardous materials if you have little helpers running around the house.
Flooring: As you reorganize your garage, don't forget to pay attention to the floor. Storing items in shelves and cabinets will help get the floor clean and installing tile flooring or foam mats and strategically placing doormats around entryways can help you keep things neat and tidy.
Tip: If you regularly park your car, riding lawn mower, or any other large vehicles in your garage, measure the amount of space you have available for storage along the walls while the vehicles are in the garage. Allow yourself several feet of space so you can move easily between the walls and vehicles and avoid accidentally dropping anything from the wall onto your vehicle. Also, make sure you leave enough space to prevent damage from the garage door