Buying Guide
Dryer Buying Guide
A dryer is an essential partner for your washer. An American family will do over 300 loads of laundry a year on average, and an efficient dryer is crucial to complete the task quickly. Certain dryers can provide special care to fabrics, helping to reduce wear and tear on clothes so they can look their best for longer. For a lighter electric bill and environmental footprint, choose an energy-saving dryer.
This guide will help you choose a top-rated dryer for your home and demonstrate the features that will help you conquer your laundry day challenges.
Analyze Your Dryer Needs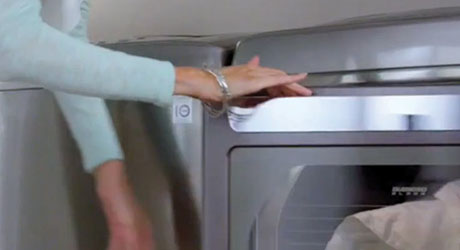 There are several things to consider before you begin shopping for a dryer. Determining your space constraints, budget and desired features ahead of time will make buying a dryer run more smoothly.
Space
Standard dryer dimensions are 27 inches wide, 36 inches high
Depth ranges from 25 to 32 inches, depending on cubic footage
Compact dryers measure 34-inch height x 24-inch width x 24- to 27-inch diameter
All dryers must have at least 1 inch of clearance on all sides for air circulation; add 6 or more inches to the depth measurement to accommodate door swing
Leave 3 to 5 inches of clearance at the back of the washer for venting materials
Capacity
Choose a dryer with approximately twice the capacity of the matching washer
Style
Top-down doors make loading the dryer easier; they require less bending and help keep wet items from falling on the floor
Some models have dual-opening doors allowing for side-swing or top-load usage
Certain dryer models are available in assorted colors; expect to pay up to $200 more for a color other than plain white
Washer and dryer combos have the functions of both machines in one and can be a space-saving alternative
Side-mount doors are reversible
Tip: Install side-mount doors to swing away from the washer to speed up laundry transfer
Price
Prices can range from $250 for a basic electric model to over $1,500 for a state-of-the-art, high-capacity dryer
Vented dryers are the more common type of dryer. They cost less upfront, have larger capacity and dry items faster. However, they require a proper ventilation system, and may not be accommodated in some apartments or condos. See our dryer venting guide for more information
Ventless dryers are easy to install, require no venting to the outside and produce greater energy savings over time. They are more expensive upfront and take longer to dry clothes than vented models
Gas Dryers vs. Electric Dryers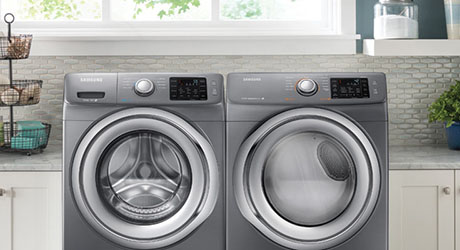 Dryers come in both gas and electric types and each has a range of benefits.
Electric Dryer Benefits
Lower initial cost
Wide range of models/price ranges
Most homes already have appropriate wiring in place
Less expensive to repair
Gas Dryer Benefits
Less expensive to operate over time
Dries in about half the time; produces less static cling
Dissipates heat more quickly after the end of cycle; keeps clothes from wrinkling
Long life span - up to 13 years or more
Installation Requirements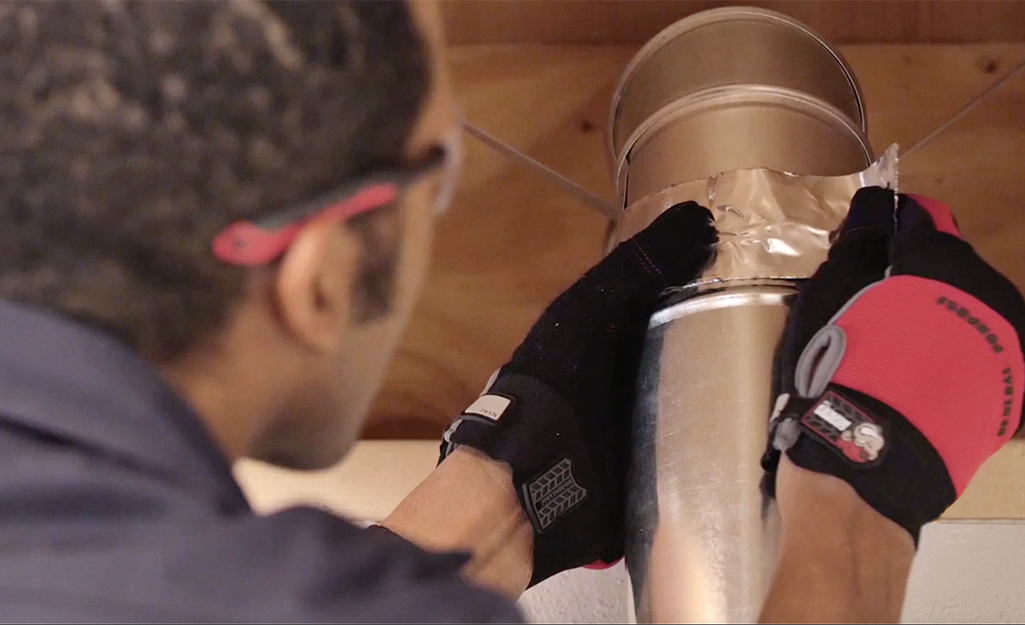 Delivery and installation of your new dryer will go much more smoothly if you've made sure in advance that the space you've selected has everything the machine needs to be supported and hooked up. For more details, visit The Home Depot Installation Services.
Electrical
Electric dryers need a dedicated 220-volt circuit to plug into. Gas dryers plug into a dedicated 120-volt outlet. If either needs to be installed in the intended laundry space, you'll need to hire a licensed electrician to complete the work prior to the dryer delivery and hook-up.
Tip: Don't forget to purchase a new 3- or 4-prong power cord when you purchase the new dryer.
Plumbing
Gas dryers need a gas line in to the laundry space. You must hire a licensed plumber to complete this installation.
Steam dryers must have water added to them. If your model requires a "Y" connection to route water from the washer to the dryer's steam chamber, the installer will typically make the connection. In some cases, you must have plumber complete that part of the installation separately.
Venting
Dryer vent installation can be completed as a DIY project, however, many opt to have the work handled by an HVAC contractor. Be sure your contractor of choice has experience in this type of work before you hire them.
Dryer Features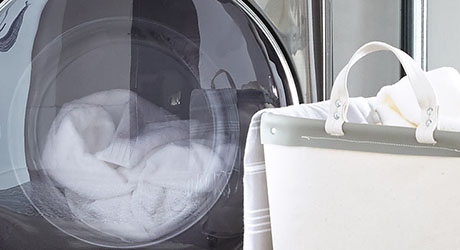 The more features you get in a dryer the higher the cost, but there are some you can look for that are fairly standard and extremely useful:
Stainless Steel Drum
Resists odors, discoloration and damage from warping. The smooth interior won't snag fabrics and also reduces static.
Moisture Sensors
Detects moisture levels inside the drum to determine how dry clothes are; when optimal levels are reached, it stops the cycle. This prevents damage to clothes and saves energy.
Extended Tumble
Periodically tumbles clothes for up to 30 minutes without heat to prevent wrinkles from setting in in case clothes can't be removed and folded right away.
Drying Rack
Some dryer models include a drying rack which rests inside the drum. This allows air to circulate without tumbling delicate clothing items.
Stackable
A stackable dryer can be mounted above the washer to save floor space in your laundry area. A separate stacking kit will have to be purchased along with the dryer. Not all laundry models are stackable washers and dryers, so check the compatibility of the washer to be sure it can be stacked with the dryer in question. To learn more about stacking kits, visit our Pedestals & Stacking Kits guide.
Tip: Most dryers come with a standard 1- or 2-year warranty. If you have purchased a more expensive model, it might be worth it to explore an extended warranty. Be sure the warranty includes in-home repair and that there are service technicians specifically qualified to repair your brand in the area.