New paint can breathe new life into homes, no matter the age or type of house. This guide will illustrate some of the most common types of homes and the mainstay colors and trim paint colors that give them pop.
Learn more about the different types of exterior paint with this buying guide.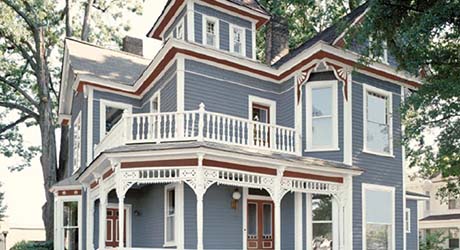 The first type of home presented above is a Victorian style home, painted with a blue-gray color. Victorian style homes are often painted a dark color with bright white trim, or with very bright colors like violets, blues, yellows or greens. The above image reflects a popular trend seen on homes of all types -- highlighted soffits, doors and window panes in the one color, and then selecting a third color for the trim that contrasts the main color of the house. The bold hue of the rust color really stands out and provides an eye-catching, dramatic look.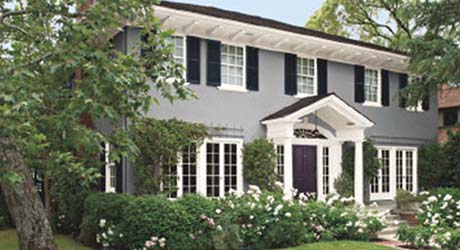 Colonial homes are often painted with a bold color scheme. Typically, these homes are painted in a dark color, in this case a medium gray, with black shutters and white trim. This style of house commonly has many windows in a row, so there can be a lot of shutters. Columns are also typical accents for a colonial style home that are usually painted white.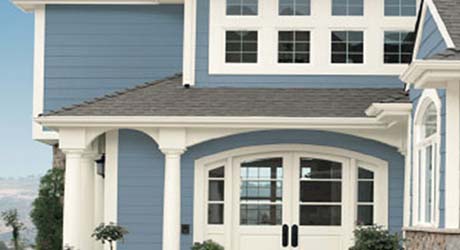 Cape Cod style is classic and timeless. Typically accented with white trim and stone, this style of house is a fixture in the mountains or by the sea. Dormers are a classic feature of this house. Cape Cods are often painted in colors typically seen in the mountains or coastal areas, such as evergreen, sand, rust and in this case, ocean blue.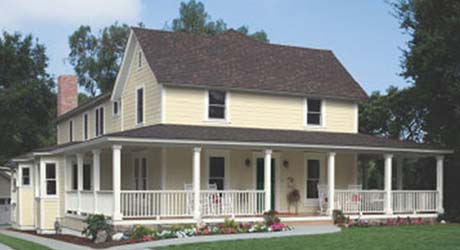 The Country home style is one of the most popular. They are typically painted with a soft, neutral color, in this example pale yellow with bright white trim. Planting colorful flowers along the bottom of the house adds to its curb appeal. The classic wrap-around porch is a grand feature of this style home, so choose furnishings that enhance the color of your trim.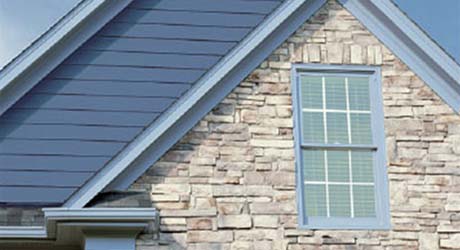 Craftsman style home is simple and elegant. As seen in this example, the natural stone fits in well with a wooded yard and allows the house to blend in to its surroundings. You can opt to paint the siding and trim in either a light or dark color to complement the stone accents.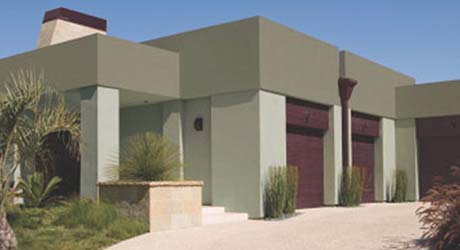 Contemporary style homes are marked by crisp corners and square features. Typically, they are painted a dark color with darker accents, in this case a dark desert sand and light gray accent.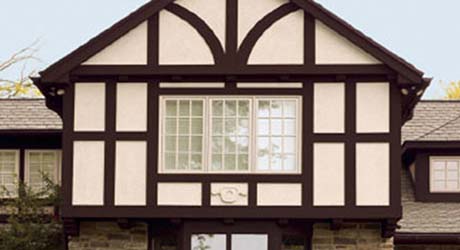 A Tudor style home is typically painted with brown, cream and white tones with brick, stone, concrete or slate accents. Contrasting dark trim is a common characteristic. This style is perfect for an open or wooded yard.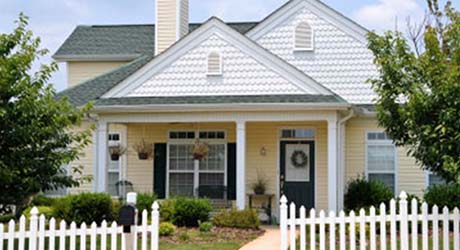 Cottage style homes are often painted pastel or cream colors, such as lavender or yellow with white trim, for a softer look.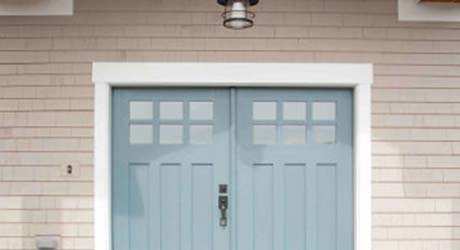 Matching your exterior door with a subtle color from your tile is a great way to make the tile and door pop. In this example, painting the exterior door an unique cool blue adds curb appeal. Painting your exterior trim an off white color to accent a light overall color adds warmth to your exterior decor. Matching your patio furniture with your trim color helps complete your patio.