Congratulations! You're moving into your first apartment. With everything you'll need to do to prepare, this milestone can feel daunting - but there's no reason it shouldn't be fun, too! Get organized before your first shopping trip to help minimize stress and stay within your budget. Check out our comprehensive first apartment checklist below for a breakdown of must-haves for your first apartment. 
Tip: Check out our printable first apartment checklist for a condensed version of things to get for a new apartment.
First Apartment Essentials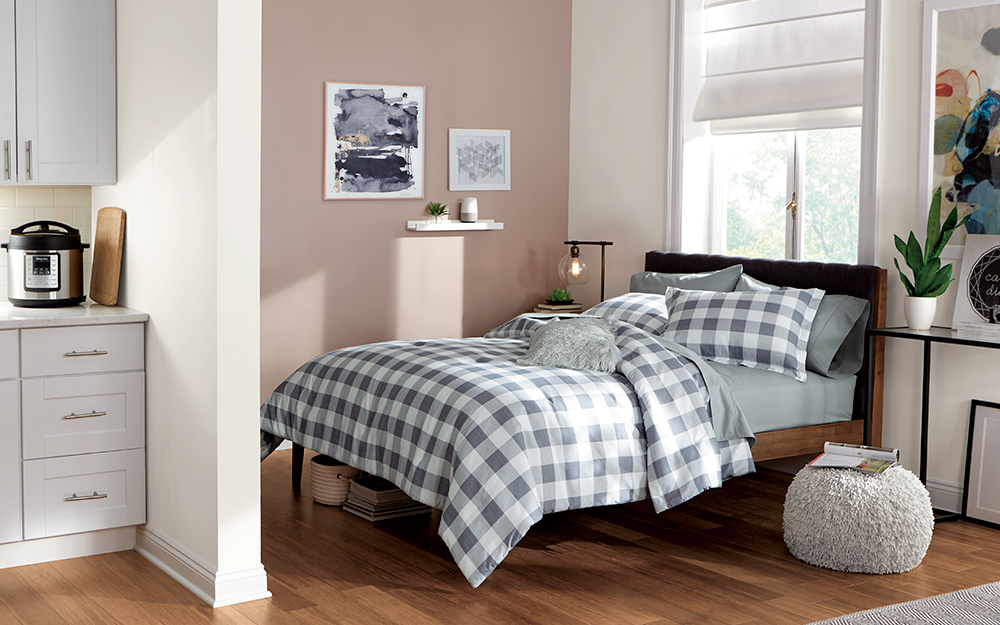 Before you begin, create a first apartment checklist for yourself, making sure to include these essentials:
Bed: Unless you're prepared to sleep on the floor, a bed is a must! Opt for a full-size bed to maximize space. A bed with deep drawers for storing clothes or bed linens is a great choice for those with limited closet space. If you select a platform bed or a bed with good-quality slats, you can skip purchasing a box spring to go under your mattress. 
Mattress: Whether you go for foam or spring, make sure you select the right mattress firmness for your sleep style to get a good night's rest. As noted above, check and see if your bed requires a box spring. Don't forget the mattress pad, pillows and bedding.
Nightstand: Even if you don't want a traditional nightstand, you'll need a place to put a reading lamp, glass of water and the book you're currently reading. On a budget? Opt for a simple stool, repurposed as a side table. 
Dresser: You'll need a place to store your clothes, so make sure you invest in a dresser. If you've got huge closets, or if you end up choosing a bed with drawers, you can get away with skipping this item.
Lamp: Whether it's a table lamp you place on your nightstand or your dresser, or a floor lamp for somewhere else in the room, it's nice to have a lighting option that's less aggressive than most apartment's overhead lighting – especially for your bedroom. Don't forget the light bulbs!
Closet Organizers: Set yourself up for tidiness with closet organizers and storage solutions. Baskets or cloth storage cubes are great for storing things like sheets, towels or even odds and ends you're not sure what to do with. A shoe rack will save you from searching through a giant shoe pile at the bottom of your closet. 
Desk and Chair: If you plan to do any work in your room, and the space allows, consider adding a small desk and office chair. If you don't want to splurge for the chair, find a simple stool or folding chair, which will do the trick.
Other apartment essentials include:
A set of basic tools with nails and wall hooks
Toilet paper
Kitchenware (more details in the section below) 
Clothes hangers
Batteries
Power strips
Extension cords
Don't forget the cleaning supplies! 
Trash bags
Paper towels
Vacuum
Broom with dust pan
Trash can
Laundry detergent
Toilet brush
Plunger
Multipurpose cleaner
Hand soap
Dish soap 
Sponges/cleaning cloths
Living Space Essentials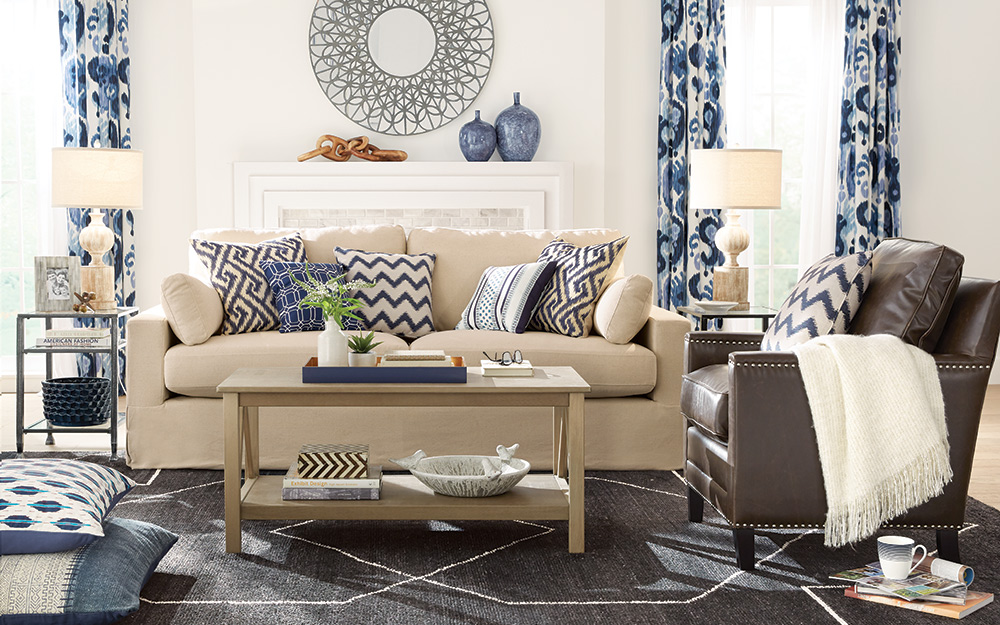 Sofa: The centerpiece of any comfy living room, a sofa is an essential. For bigger spaces, consider an L-shape sectional or a couch with a chaise on one side. For smaller spaces, a love seat or less bulky "apartment-style" couch with feet is still every bit as cozy. 
Coffee Table: A coffee table makes hanging out on the couch a lot more convenient. Think about the space before you decide on a shape – large square or round coffee tables are great for sectionals, while rectangles work well for smaller couches. If you want a multi-functional option, consider getting an ottoman in the same fabric as your couch; you can use it as extra seating when the occasion requires, and can add a large butler tray when you want to use it for eating or resting glasses. 
Side Tables: It can be nice to add a side table on either side of the couch, for placing drinks or even for lamps.   
Additional Seating: Space and budget allowing, you may want to add additional seating besides just the couch. Think accent chairs, ottomans, poufs, rocking chairs or armchairs. Arrange them opposite the couch if you like to entertain.   
Television: Even if you don't plan on getting cable, it's nice to have a TV for streaming movies and television shows. Small space? Consider using a bracket to install the TV on the wall, rather than purchasing a whole media table setup.   
Plants: An easy way to make any apartment feel like a home, plants will add a personal touch and improve air quality in your space. Whether you opt for hanging plants, small trees or tiny succulents, don't forget a planter and potting soil.  
Lightbulbs: Make sure you have enough for all your lamps, and the correct kind of any overhead lights if they aren't already provided.  
Bathroom Essentials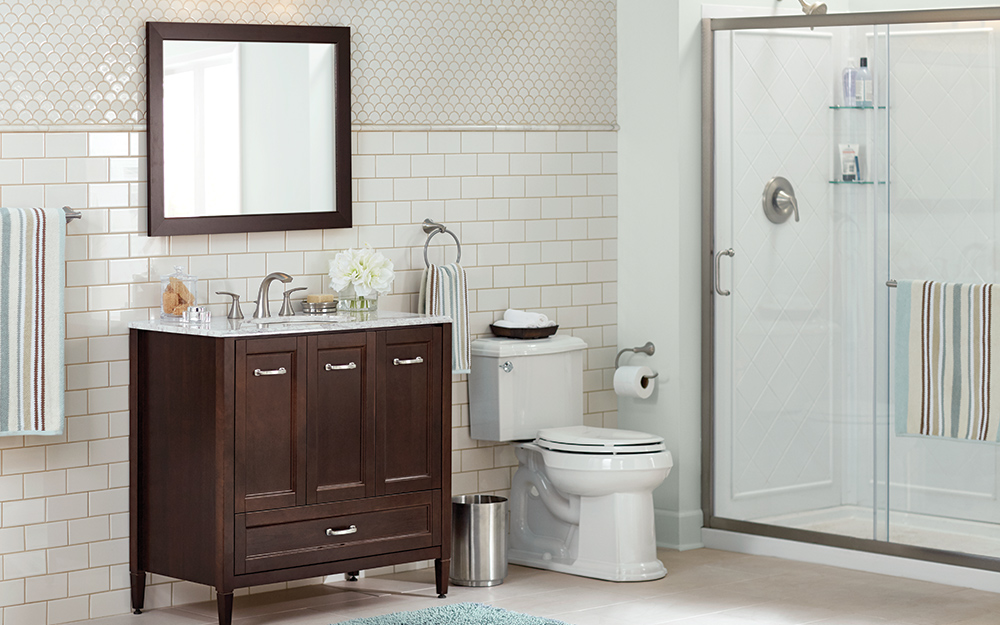 Towels: An easy thing to forget, it's nice to have a set of at least two or three towels – that way you won't be out of luck when it's in the laundry. 
Bath Mat: Sure, you can use an extra towel in a pinch, but it's much nicer to have a bath mat (or two) which are extra-absorbent and feel great under dripping-wet feet. 
Toilet Brush and Plunger: Easy to overlook, these are two things you don't want to be without!
Cleaning Supplies: A broom, mop, paper towels, glass cleaner, disinfectant wipes, multi-purpose cleaner and toilet bowl cleaner are all great things to have around the house, as are rubber gloves.
Other first apartment bathroom essentials include:
Hand soap
Toilet plunger
Toilet cleaner
Toilet paper 
Toilet paper holder
Storage solutions for toiletries
Countertop storage for toothbrushes, cotton swabs, etc.
Additional lighting
Kitchen Essentials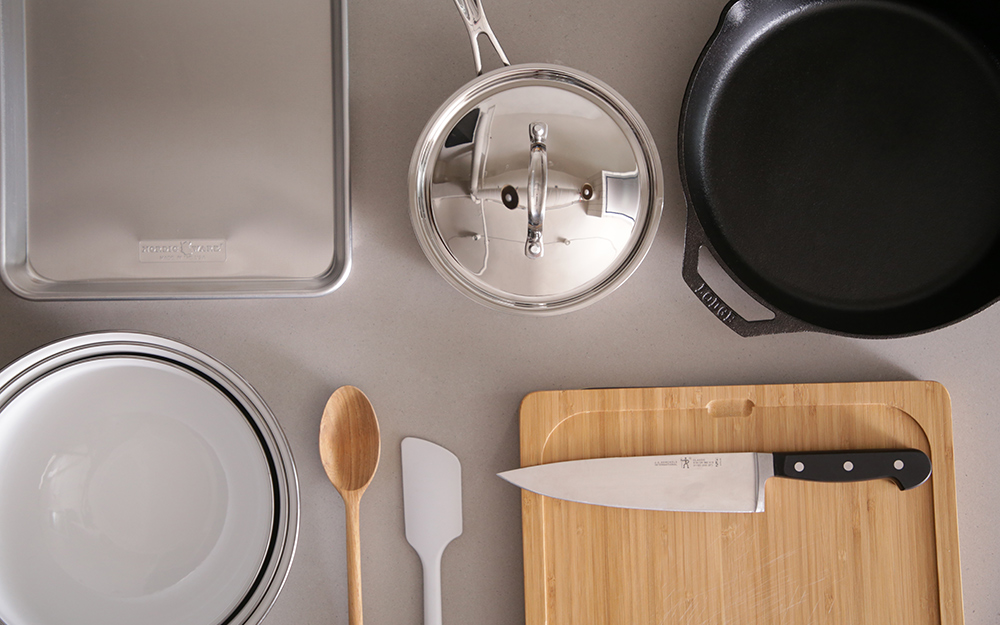 More so than any other room in the house, the kitchen requires quite a lot of tools to get set up properly. To help you check all the boxes on your first apartment checklist, we've made a category-by-category breakdown of all our top kitchen must-haves.  
One thing to note before you make your shopping list: We've divided this list up by "kitchen essentials" – the things you'll need to literally get cooking – and those items that are nice to have, but not necessarily essential. Start with group one and expand to the second category if your budget allows (or when you're ready for an upgrade). 
10-inch frying pan
Small sauce pan (1-2 quart)
Large (at least 5-quart) Dutch oven
At least 2 aluminum half-sheet pans
At least 2-3 wooden spoons
Wide spatula or turner (choose nylon or silicon if you have nonstick)
Silicone spatula
9 x 13 baking dish 
2 round 8-inch cake pans 
Loaf pan 
Rolling pin
7 or 8-inch chef's knife 
Paring knife 
Vegetable peeler 
Can opener 
Mixing/prep bowl set 
Measuring cups 
Measuring spoons 
Colander 
Large cutting board  
Microwave 
Blender or immersion blender 
Toaster
Plates 
Bowls 
Flatware 
Drinking glasses 
Mugs
Kettle 
French press 
Small electric coffee grinder
Nice to have, but not essential:
Muffin tin 
Springform pan 
Cookie cutters 
Waffle maker
Stock pot
Multiple sizes of saucepans; consider a full pan set from one brand
Nonstick frying pan or frying pan set
Small frying pan for single servings
Spoon rest 
Salad spinner 
Mixing bowl with spout 
Zester 
4 kitchen towels/tea towels 
Box grater 
Bread knife 
Mesh strainer  
Pressure cooker or electric multi-cooker 
Food processor and/or mini-prep processor 
Air fryer
Pitcher (or multiple) 
Cocktail shaker set 
Wine glasses 
Bar glasses (4-6 highball glasses, 4-6 rocks glasses) 
Platters (2x - large and small) 
Salad bowl 
Cloth napkins 
Electric coffee maker 
Food Essentials:
Spices
Basic seasonings
Sugar
Flour
Cooking oils
Condiments
Bedroom Essentials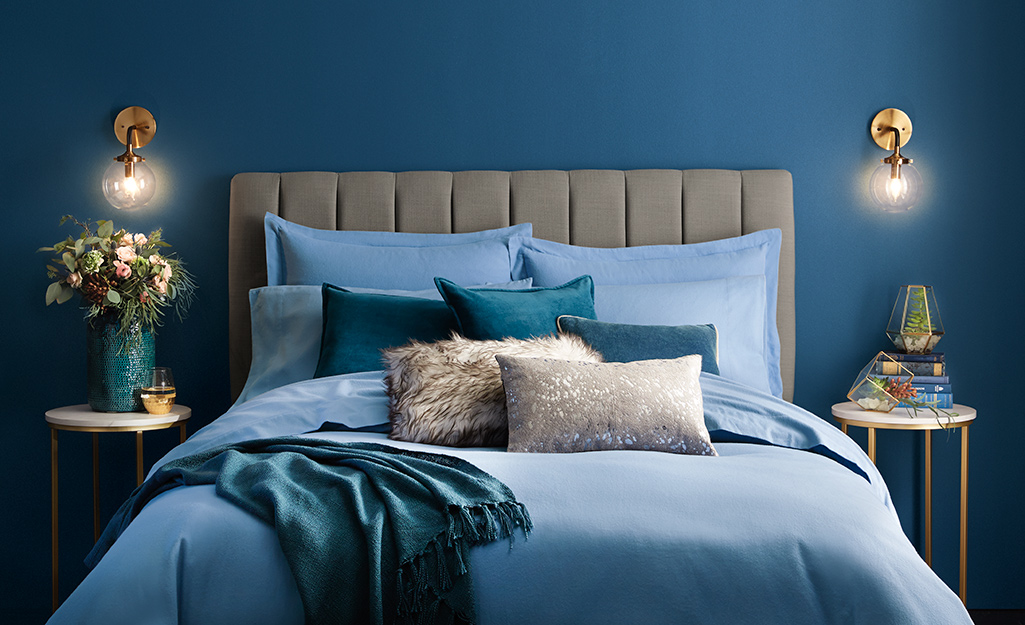 Mattress 
Box Springs
Bed frame 
Headboard
Closet storage solutions
Full length mirror
Window treatments
Laundry hamper
Trash can
Wall and home decor
Bedroom furniture (nightstand, dresser, vanity, desk, etc.)
Laundry Essentials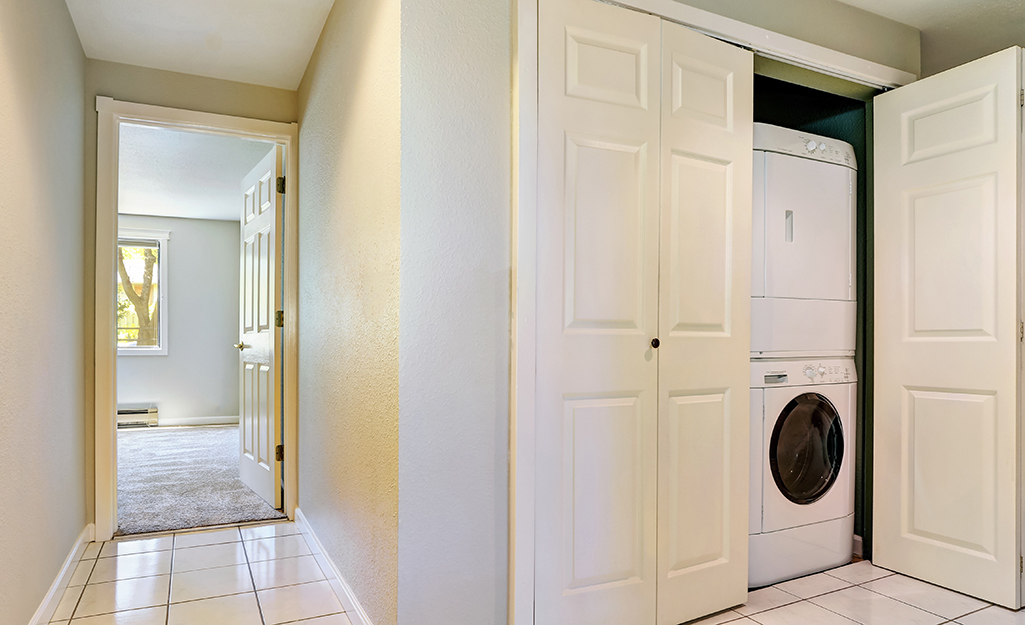 Washer 
Dryer (if apartment doesn't include)
Laundry detergent
Fabric softener
Stain remover
Dryer sheets
Laundry basket
Iron
Ironing board
Miscellaneous Supplies, Furniture and Organization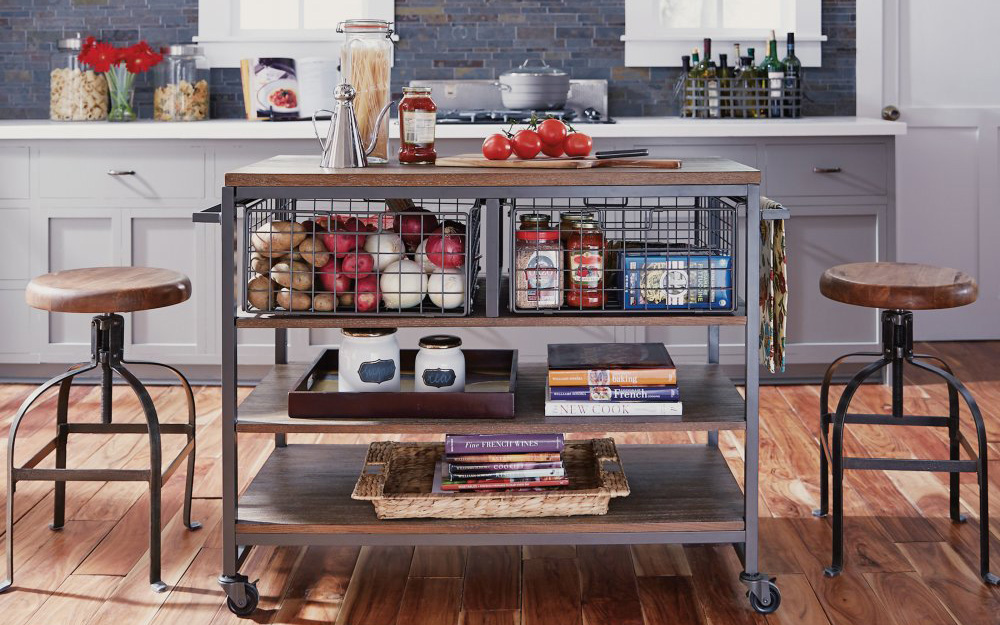 Kitchen table and chairs
Butcher block cart or island
Trash can
Kitchen mats
Dish drying rack
Canister for cooking utensils
Drawer organizers for utensils/junk drawer  
Nails and anchors
Welcome mat
Once you nail down the right moving supplies and a little help, you'll find that moving a mattress is a matter of preparation, proper wrapping and careful moving and storage practices. From the right box for a mattress to moving and lifting equipment rentals, The Home Depot has everything you need.
Explore More on homedepot.com