With an electric fireplace TV stand as your entertainment center, you can have the ambience of a crackling hearth right alongside your sleek flat screen, no longer being forced to choose between the TV or the fireplace as the focal point of your room.
Use this guide to learn how to choose a fireplace TV stand, the way to place it in your home and how a fireplace console can fit seamlessly into your current decor. SHOP ALL FIREPLACE TV STANDS
Functionality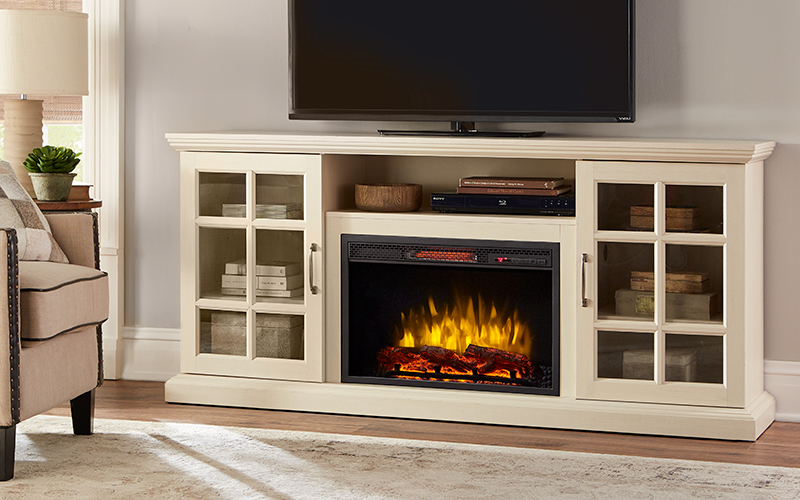 The most popular models of fireplace media centers typically feature an electric fireplace. They offer simple installation and safe operation in any size space. When in use, every easily-reached part of the unit will be cool to the touch and only the heating element and its containing area get hot. They plug into standard outlets and do not require any venting or fuel.
The two main types of heating elements are forced fan and infrared. A forced fan unit will efficiently heat rooms up to 400 square feet. Infrared heating is best for rooms up to 1,000 square feet. If your room has many windows or high ceilings, it will impact the efficiency of the electric fireplace.
Units can be operated with or without heat, and both the heat and the flame effects are adjustable in the most desirable models. For the most realistic appearance, look for features such as glowing embers, adjustable brightness and adjustable flame colors. LED technology in the newest models offers even more realistic flame appearance.
A remote control for your fireplace allows you to adjust the temperature or flame appearance from any comfortable spot in the room. Some models include the option to lock your desired settings.
Style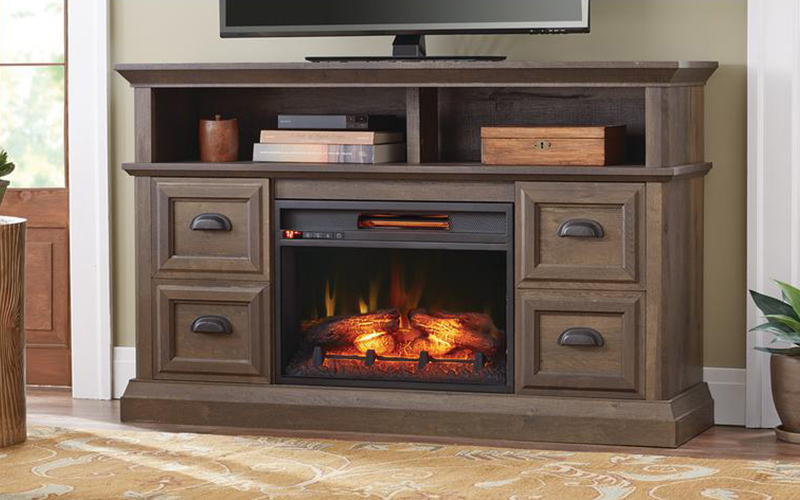 Fireplace TV stands usually have compartments to hide some small media components and doors to conceal bulky electronics. Open shelves can be used to add pieces of art or books.
A classic style fireplace TV stand features rich wood stains, solid wood framing and decorative accents that fit well within more traditional decor. If your home decor leans in a bolder direction, a modern style fireplace TV stand is likely a better choice. With sleek linear designed fireplace inserts, painted surfaces and high-gloss stains, these stand out in the room. Or you might opt for a transitional style TV fireplace stand that straddles styles, ultimately making it a piece with even more longevity.
Placement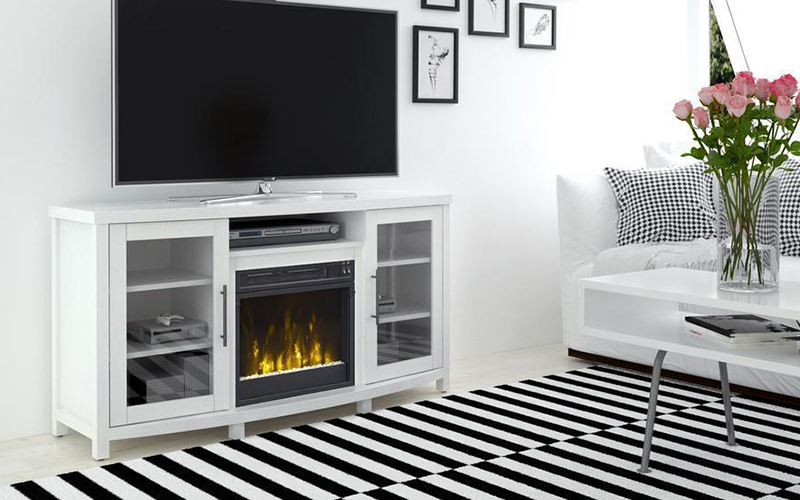 You will usually have a number of locations to choose from to set up your fireplace TV stand in a large room. The placement then becomes mostly about getting the best angle for the TV and making sure it is close to its power source.
A smaller space can present more challenges. A corner fireplace TV stand can take advantage of what is typically unused space and provide create visual interest in the room. However, if the TV is too large, it may not be able to fit within the space between the two walls.
Safety Considerations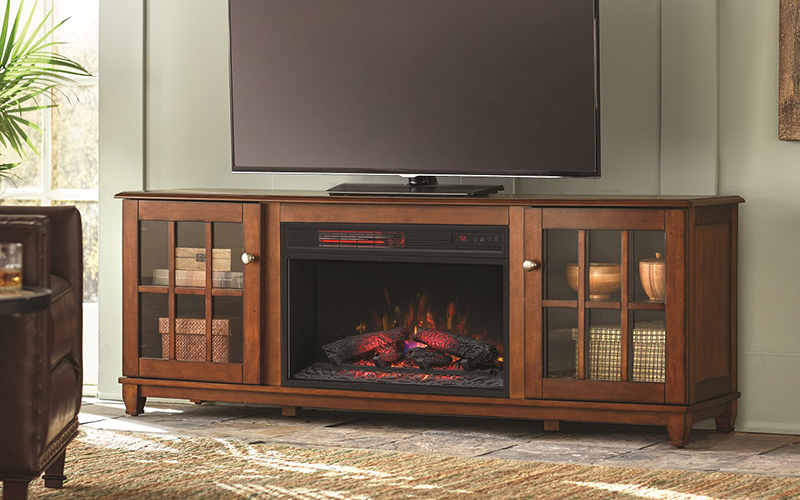 Check the weight rating of the TV stand you choose. Most have a weight limit up to 200 lbs.
Secure the TV stand to the wall to provide more support.
Keep a fire extinguisher near the fireplace TV stand.
Be sure any flammable materials are at least three feet away from the unit. 
Do not block the air intake or exhaust vents of the unit.
Be sure the heater is turned off when you leave the room. Unplug the unit before retiring for the night or leaving the home for any length of time.
Explore More on homedepot.com