Welding is a complex task that requires the proper safety equipment. Along with welding gloves, you'll need a special welding helmet to take on the smallest jobs. Safety is essential when welding, so a good welding is a must-have whether you're a novice or have been welding on the job for years. Use this guide to learn more about the best welding helmets for your unique needs. 
Welding Helmet Lenses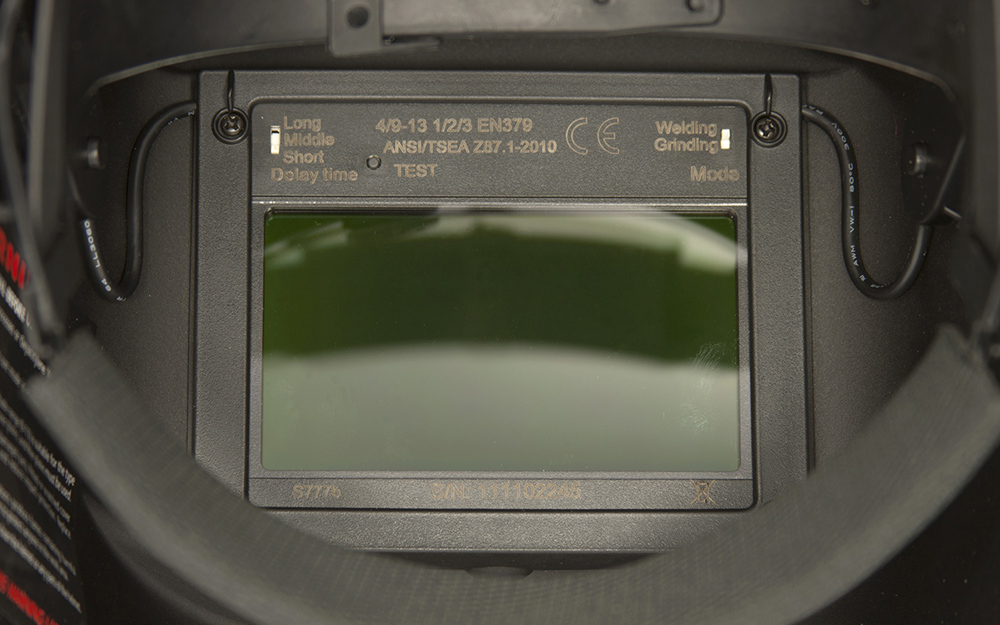 The best welding helmets are ones that are chosen for a specific task. Based on the type of welding you do and how often you weld, there are a few major factors to consider when comparing the top welding helmets. 
Auto Darkening Helmets vs. Passive Lens Helmets: 
Auto darkening welding helmets represent the latest and greatest technology when it comes to eye and head protection for welders of all skill levels. Designed to immediately darken the lens when fitted sensors recognize a welding arc, auto darkening helmets are generally easy to use. 
Here are a few benefits of auto darkening welding helmets over passive lens models:
You can use one helmet throughout the whole process. Unlike a passive lens model, you can wear an auto darkening helmet during setup, while you weld and during slag removal.
Using an auto darkening helmet is easy for beginners because they don't need to be snapped in place. Snapping a helmet in place while starting a weld can create a poor start.
Tack welding and short welds are more difficult since a passive lens helmet will need to be repeatedly lifted and lowered.
Repeatedly flipping your passive lens helmet up and down can strain your neck. Since auto darkening helmets stay in place the whole time, neck pain is less of an issue.
Despite all the benefits of auto-darkening lenses, passive lenses tend to be more lightweight. Passive lenses are also cheaper than auto-darkening lenses, and don't require batteries. They may be a good fit for hobbyists who don't do a lot of welding.
Welding Shades Explained

All welding helmets are fitted with welding shades designed to provide the right amount of eye protection for the task at hand. The best welding helmets for each individual job will vary because of the particular shade and light control offered. 
When it comes to eye protection, understanding the amps generated during the weld process and what lens darkness rating is ideal for your style and base material are a must. Use the welding helmet shade chart to learn more about what you'll need based on your particular welding style.

Fixed vs. Variable Shades: 

When choosing a welding helmet, there are two main options for a shade. The most economical is a fixed shade option, but variable models give users more control. Here's how they break down:
Fixed Shade: Most fixed shade models start at a #10 lens when they sense an arc. From there, a different shade can be selected by the wearer based on the chart and amperage. If you mostly work with one style of welding and material, this can be a budget-friendly option that provides ample protection for your work.
Variable shade: Designed to give more control to the user by offering variable control with #9 through #13 lenses, these are ideal if you work with mixed materials or tackle more than one type of welding. They're best if you weld regularly as a profession or hobby. 

Lens Reaction Time:
Lens reaction time is another important consideration when looking for the best welding helmets. On basic models, most helmets are rated to darken around 1/3,600 of a second. Professional models are often rated as high as 1/20,000 of a second. 
While these are both very fast, longer reaction times can result in eye strain or fatigue if you're welding all day or for long periods of time. Look for the fastest model you can afford, and if you're working in a professional capacity, seek out industrial grade welding helmets.
Viewing size is also a major consideration when you're choosing a good welding helmet. While much of it is due to personal preference, individuals who work out of position on a regular basis tend to prefer a wider viewing angle. 
Tip: For standard work, a 6 sq. in. to 9 sq. in. viewing angle is a great starting point.
How Welding Helmets Should Fit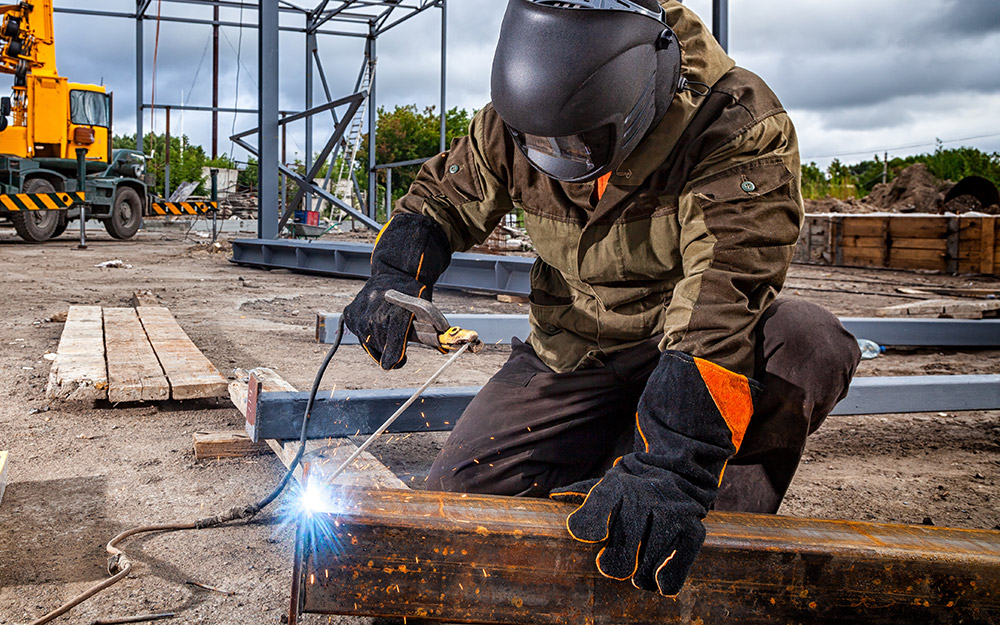 The best welding helmets on the planet can't do their job efficiently if they don't fit correctly. Here are a few tips to help you get the right fit when you're selecting between the top welding helmets for your needs:
Wear a welding bandana when you try on any helmet. A welding bandana is made of a flame retardant material that will protect your head and ears. Have yours on when you fit your helmet to make sure the fit is snug, but not too tight.
Make sure your welding helmet can be properly secured to your head. The helmet should tighten securely around the circumference, but not put excess pressure at the base or top of your head.
You don't want unnecessary movement in the helmet when tightened comfortably. Your helmet should move with your head only, so lean your head back and forward to check for a stable fit.
Ensure there's ample room between your face and the front of the helmet. Getting too close to the lens can make you uncomfortable and lead to perspiration and moisture-related issues.
Choose the lightest helmet possible. A lightweight helmet that meets all of your specifications for use will provide the most comfort and least neck strain. This is especially important if you weld for long periods of time.
Welding Goggles and Glasses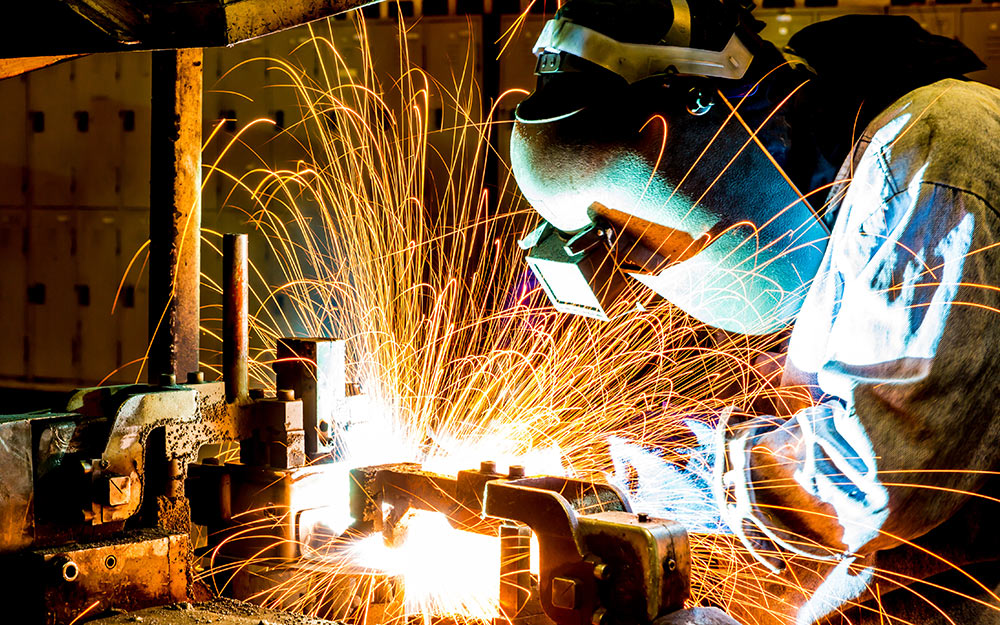 Welding goggles and glasses provide minimal protection for your eyes when working with different styles of welding. However, they are not a replacement for a welding helmet. 
Instead, wear safety glasses under your welding helmet if you use a standard flip-style version instead of an auto darkening model. This will help ensure your eyes are protected when your shade is up. 
Welding goggles and glasses can also be used when you're working in a welding environment, but not actually performing the weld yourself.
Take safety seriously by discovering the best rated welding helmets. Once you have the right helmet, browse our selection of welding safety apparel like aprons, glasses, gloves and more. Download The Home Depot Mobile App to view our wide variety of welding helmets.
Explore More on homedepot.com