Relying on cable TV for your programming picks can be an expensive choice. Learn how to cut the cord once and for all and move away from cable TV. This cord cutting guide will help you understand the options available and exactly what's needed to make the switch. 
Tip: You don't have to choose a specific method. These cord cutting options can be used in tandem or in different rooms of the home. 
Using an Antenna
Transitioning to a TV antenna is a great option. There are many different channels you can enjoy without a monthly bill if you invest in a quality antenna. Today's antennas aren't the traditional telescoping bunny ears from the 20th century. They are digital versions designed to deliver a clear and crisp picture.
The number of channels received by your antenna can vary based on your location. If you live close to the city where the signal is the strongest, you can count on receiving a good number of channels. The farther away from the city you live, the fewer channels you may have access to. Signals are the strongest if you are within 20-miles of the broadcasting towers.
If you live farther from the broadcasting tower, selecting an amplified antenna will help you pick up clearer signals in your home. They will also help ensure you receive a signal in inclement weather conditions. 
WHAT YOU'LL NEED:
HD Antenna: The digital antenna provides high-definition viewing of network television stations for free. Indoor antennas are connected to your TV using a traditional coaxial cable. Outdoor antennas are larger and draw in a better signal; they should be installed on the roof or in the attic. Make sure to have a cable long enough to reach from the antenna to the television. Placing the antenna near a window will help boost the signal as well.
Television: Any TV used for cable can be outfitted for use with an antenna; they simply connect with a standard coaxial cable. You may notice that a higher-quality television will produce a better picture.
Tip: Grab a universal remote if you lost the one that came with your TV.
DVR Recorder (optional): If you aren't around to watch your shows live via the antenna, watch them later at your convenience with the help of a DVR recorder.
Using a Streaming Device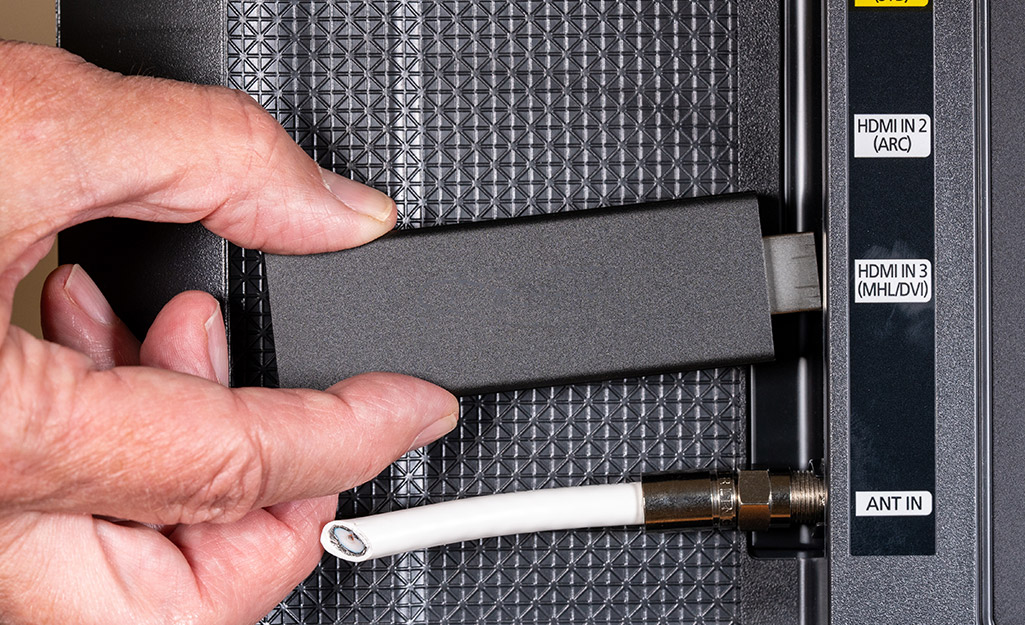 When you want more programming options than those offered by a digital antenna, trading out your traditional cable package for a streaming service is a great option. Many streaming services will still carry some cost. Some charge a monthly membership fee, while others are fully ad-supported and available for free to users. Either way, they are typically much less than you would pay for traditional cable. 
Most services let you stream the programs to multiple televisions and devices. However, you will need to have a streaming device device hooked up to every TV in your home (unless you have a Smart TV). 
WHAT YOU'LL NEED:
Television: If you are planning on using a streaming service, investing in a Smart TV with streaming service apps built in is a fantastic option. This eliminates the need to purchase a separate device and connect it to your TV, although that is also a valid option. 
Streaming Device: There are a variety of different streaming devices to choose from, and the apps they offer can vary from one brand to another. Some devices plug right into the TV's HDMI port, while others require separate HDMI cables. Make sure to look at the individual product and purchase any adapters needed. Once your streaming devices are connected, simply sign up or log into the streaming service(s) you've chosen. Keep in mind that many gaming consoles also double as streaming devices. If you have a gaming console connected to a TV, there is likely no need for an additional streaming device on that television.
Internet: Whether you connect via ethernet cables or Wi-Fi, all streaming services require the internet. Making sure you have a high-speed internet connection and a strong modem will keep things running smoothly. For larger homes, it may be necessary to have a Wi-Fi router booster to extend the signal throughout the home. Choose an internet service that offers at least 15-megabytes per second (Mbps) for each device you plan to connect. Think about how many TVs, tablets and computers will be using the internet simultaneously, and multiply that number by 15 to determine how many Mbps you'll require.
CHOOSING A STREAMING SERVICE
When it comes to the best streaming device to replace cable, it really comes down to the streaming service you choose. As mentioned above, some are entirely free, and others charge more of a premium. Think about what channels and programs you enjoy.
Before signing up for any streaming service, check out their current offerings. See which plans cover your needs. Many providers offer on-demand plans for a low monthly rate. If you want to stream live sports, consider subscribing to your favorite sports channel. 
If you aren't sure where to begin, start with a free or low-cost option and see if you are missing out on anything. You can always boost your programming to the next level or switch service providers entirely, as many services do not require a long-term commitment. 
Cord Cutting Recommendations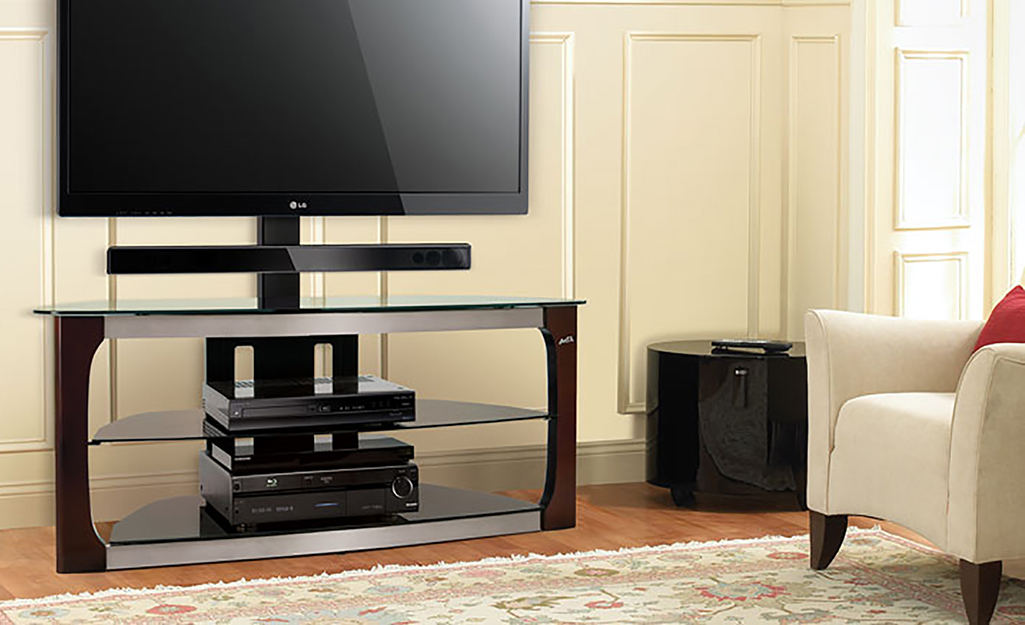 Adding a sound bar to your living room TV will offer increased sound quality. This is especially impressive when you're watching sports or movies. 
Take that to the next level by choosing a surround sound speaker system. These units can be hard-wired into your living room or strategically placed to make it feel like you're in your favorite movie theater.
Keeping a DVD player on hand for an impromptu movie night is always a great option. 
With so many alternatives to cable TV available, there's no need to bog down your monthly budget with hefty cable TV fees. Getting rid of cable requires a few supplies and the willingness to adapt to a new television-watching strategy. Once you understand how to watch TV without cable, you too can avoid those high monthly payments without sacrificing the programs you love.
Explore More on homedepot.com