Maintaining your chef's knife is an important kitchen task. In fact, the skill of how to sharpen a kitchen knife is a basic one in most professional cooking programs. Professional chefs will often hone their edges using a sharpening steel — that rod that comes with most knife sets — every time they take out their knives. A home cook might not sharpen kitchen knives daily, but it is a great skill to have in your apron pocket! 
Know When to Sharpen a Kitchen Knife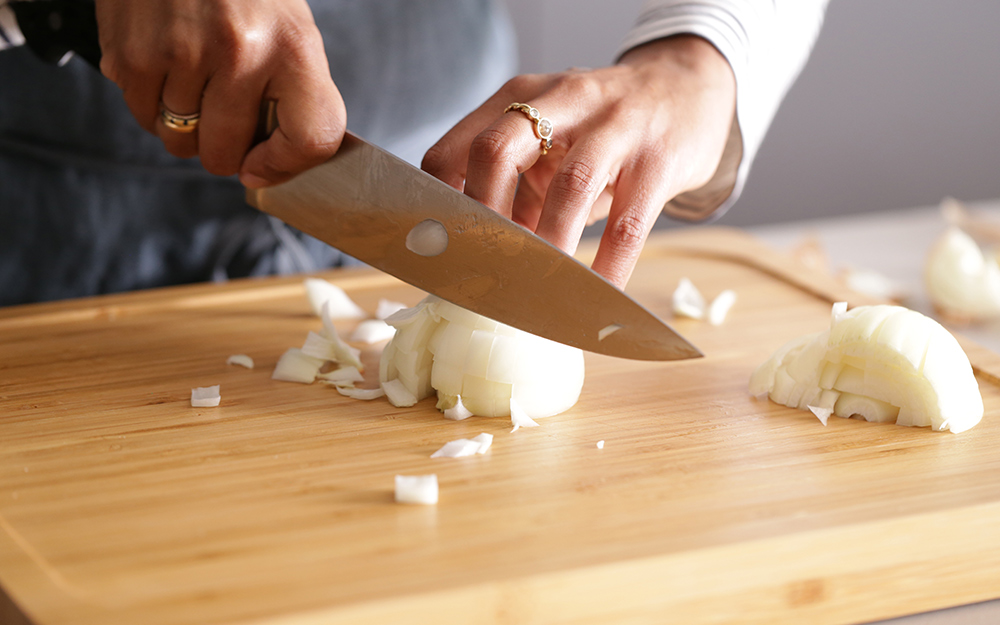 Some cooking pros may use touch to tell if their blades need a touch up, either by gently inspecting the edge with a finger or running the knife up their upper arm to see if it produces a close shave. However, a much safer and easier way to see if it's time to sharpen kitchen knives is to put them to the tomato test.
Just grab a round, ripe, red one and give it a slice. If the blade slices cleanly through, your knife is in good shape. If the blade snags the tomato skin or if the knife pushes down on the flesh, then your knife needs some attention.
How to Sharpen a Kitchen Knife With a Whetstone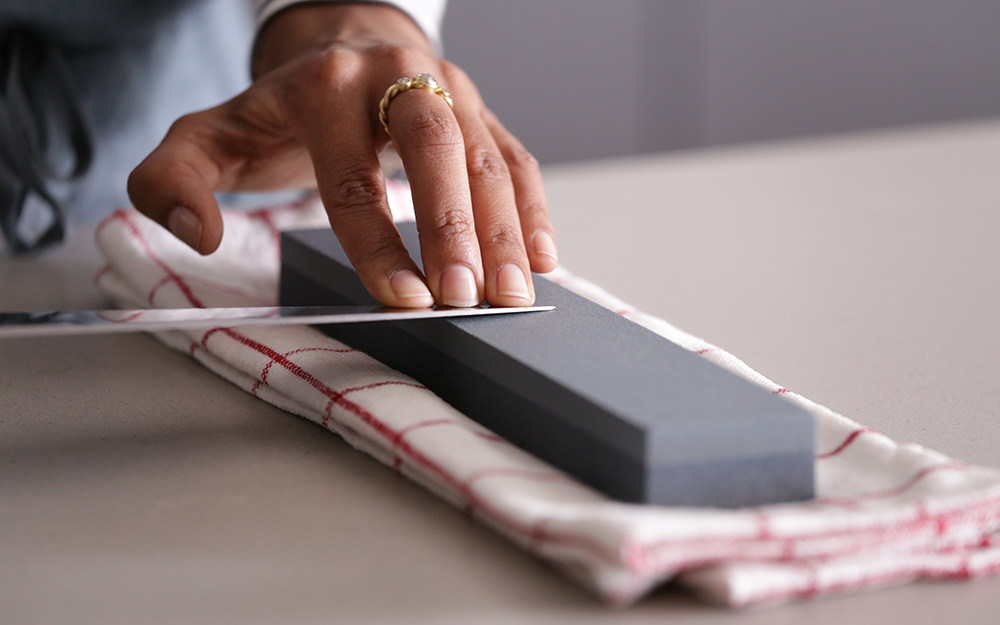 If you get to the point where you can no longer slice through a tomato, it's time to realign your blades. This requires breaking out a whetstone. While electric knife sharpeners are just fine for everyday knife sets, they can damage high-end knives. Double-sided sharpening stones produce the best results. They have a coarse side for removing dings and sharpening your blade, and a less coarse side for edge refinement and polishing.

Soak the whetstone for about 5 to 10 minutes in a sink or other container filled with water. When you don't see any more bubbles, the whetstone has absorbed the right amount of water. Read the instructions that came with the stone in case it requires a longer soak or another liquid; some recommend using mineral oil.

Place a towel on the countertop and the whetstone on top to hold it securely. 
Lay the blade against the stone with its sharp edge pointing away from you. With one hand on the hilt and the other guiding the tip, draw your knife up the stone slowly, maintaining a 22-degree angle, or about two pennies'-distance from the stone. 
Move across the blade from left to right with minimal pressure, and repeat this movement a dozen times or more. Then, turn the knife over, and with the tip at 2 o'clock, repeat the same movement from right to left.

Turn the stone over to the side with the finer grit and repeat the process. Then, use a sharpening steel and draw the blade against it a few times. 
Clean the knife with a damp towel to remove any excess metal or grit before using it.
How to Hone Your Knife With a Sharpening Steel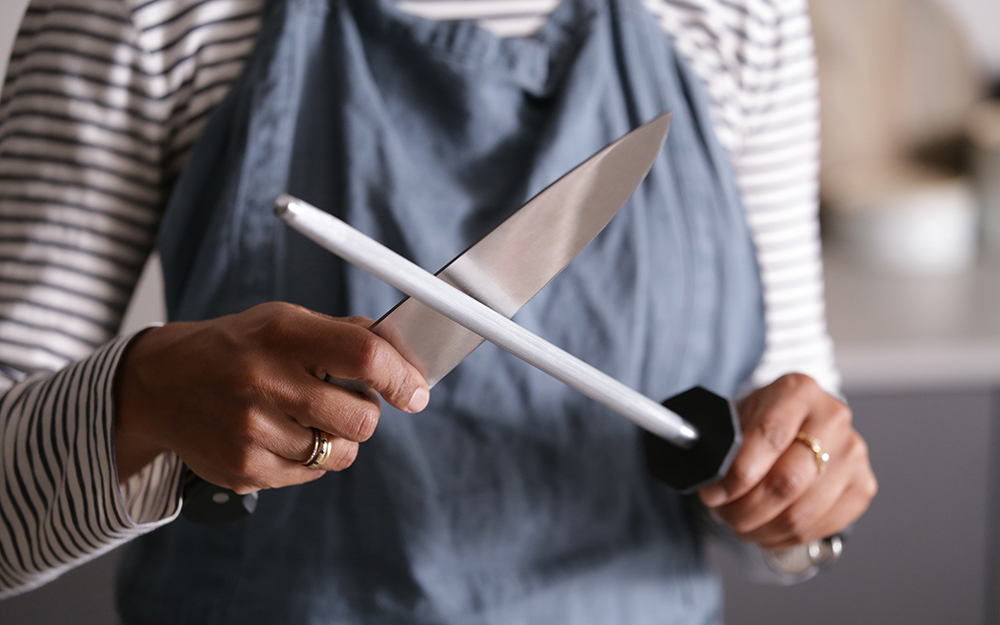 A sharpening steel will help maintain the knife edge between whetstone sessions. Use the following method:
Hold the knife in your dominant hand.
Lay the blade against the steel at 22 degrees, then draw it across the steel 10 times on each side.
How to Sharpen a Kitchen Knife With an Electric Sharpener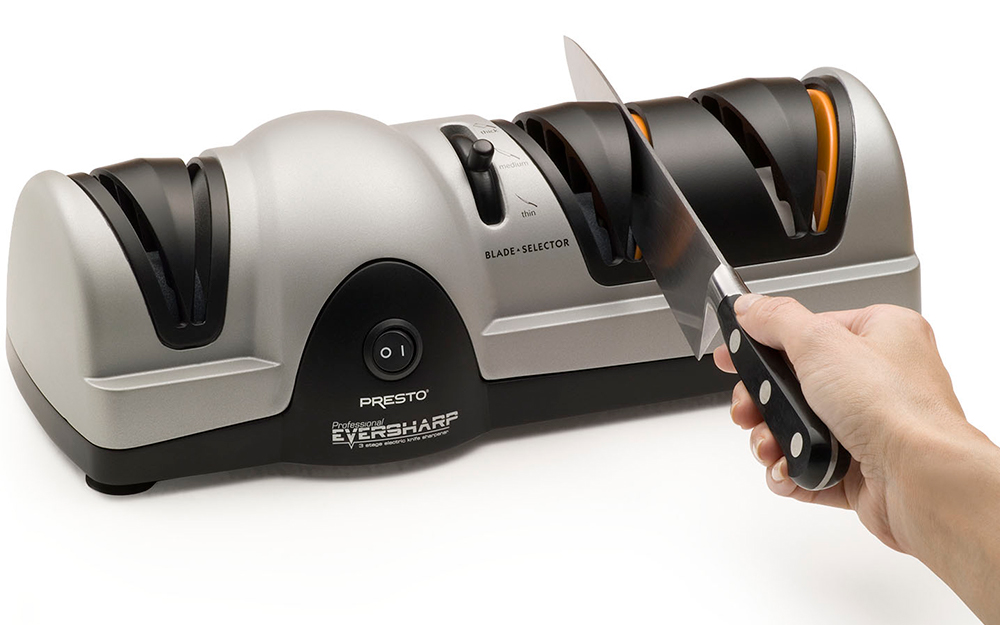 An electric knife sharpener can do wonders for your everyday kitchen knives. The best electric knife sharpeners will use a diamond abrasive inside the mechanism to resurface the blade. This material edges out both ceramic and carbide abrasives when it comes to durability and creates a clean cutting surface on the knife edge. 
The design of the sharpening chamber is important. The knife has to be held steady throughout each pass in the sharpening process. If the knife is allowed any wiggle room, you can easily come up with a jagged edge instead of a smooth, sharp one.
The best knife sharpeners will have high-sided guides that control the faces of the knife and keep it in place as you pass the edge over the grinders.
Manual Knife Sharpeners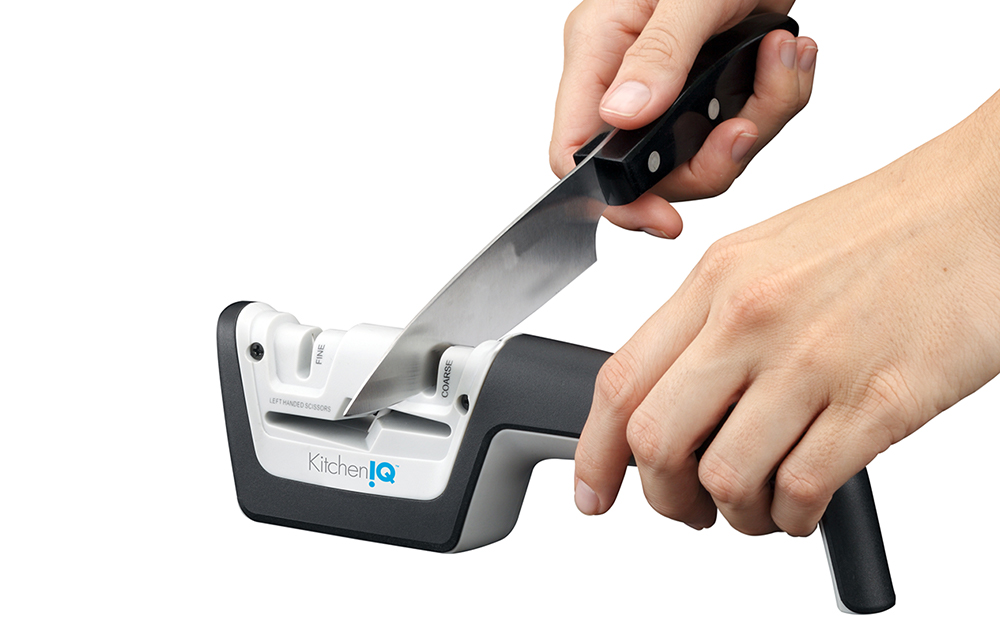 Manual knife sharpeners are a lower-cost option than electric models, and their compact size makes them easy to use for quick blade touch-ups. Look for one with similar features as the electric model – high edge guides, diamond grinders – but you should also add a wide, stable base and comfortable grip to your list of features to look for. 
Be aware, however, that the manual model will not restore the edge like an electric model can. Very damaged knives should either be sharpened with an electric sharpener or taken out to be professionally sharpened.
One mark of a great kitchen is razor-sharp knives and blades properly stored and ready. So, whether you need to whip up a fast salsa for guests, a colorful sliced fruit plate or a chopped salad on the run, learn how to sharpen knives, and you'll have the tools you need to slice your prep time and produce a perfect plate.
Explore More on homedepot.com