Buying Guide
Kitchen Sink Buying Guide
Before shopping for your next kitchen sink, it's important to figure out which one is right for you.
Finding the right sink will depend on your budget, your kitchen layout and your style. This guide explains the materials and configurations available so you can be confident you're selecting the sink that provides the perfect balance of form and function in your kitchen.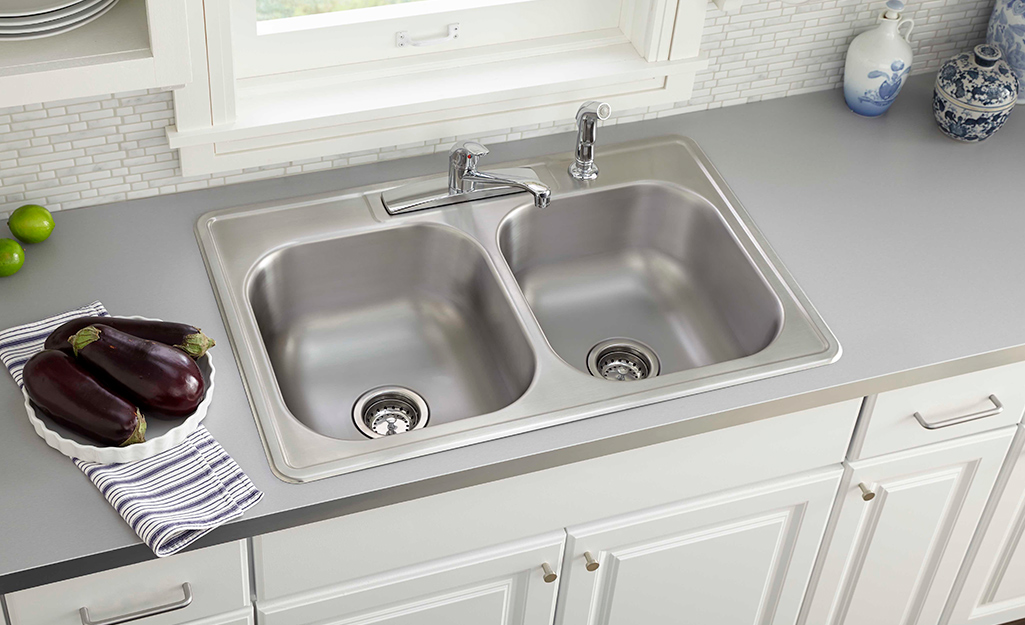 With so many options available, there is a sink for every style and budget. It's important to determine how often and for which purposes you will use the sink.
Material
Are you looking for a more natural material that can resist bacteria?
Do you need something that saves time when it comes to cleaning?
Size
How large of a sink will you need?
Do you have the cabinet space for the sink you have your mind set on?
Configuration
Where will your sink live in relation to your dishwasher?
Do you have the right amount of holes and do they match up?
Will this new sink work with your current disposal? Or will you need to update your disposal?
Is your drain right for the sink you want?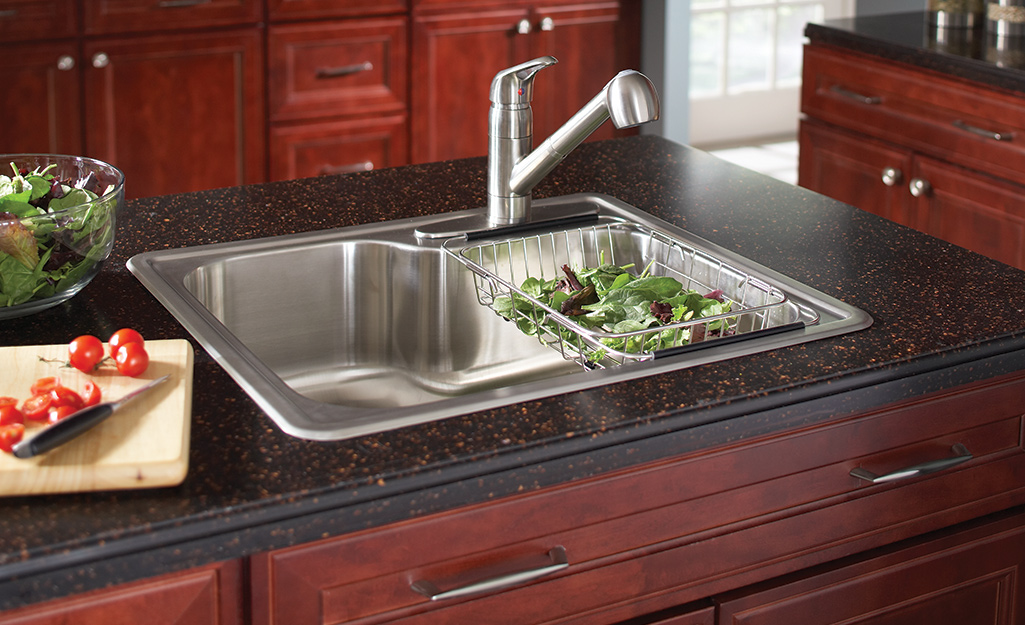 Kitchen sinks come in five mounting styles. How your countertop is constructed and the material your sink is made of play large roles in which type you choose and how your sink is installed.
Drop-In/Topmount
Undermount
Farmhouse/Apron
All-in-One
Workstation
When shopping for a new kitchen sink, consider how it will be used. Does your family accumulate a lot of dishes? Will you need a deeper basin to hold larger items? Do you have time to take care of a special surface? Do you need something that is durable and can withstand deep cleaning?
Tip: Be sure to pick a sink that complements the rest of your kitchen style and fixtures.
The most popular kitchen sink material, stainless is available in a wide variety of styles, including drop-in and undermount.
It provides an excellent balance of cost, durability and ease of cleaning.
Higher quality stainless steel sinks are made of 18-16 gauge or thicker steel to prevent dents and scratches.
Look for vibration-damping foam insulation on the underside of the bowls to deaden water drumming.
Brushed satin finishes tend to hide water spots and scratches.
This type of sink is made of cast iron and coated in porcelain enamel to provide a hard, durable surface with a smooth, glass-like finish that makes it easy to clean.
Cast iron is guaranteed not to chip, crack or burn.
Because this is a heavier material, it will require two people to install.
This type of sink is made with 80 percent recycled materials.
Cast iron sinks can last for generations.
Made of a mixture of materials to provide a sturdy, low-maintenance surface.
Scratch, stain and heat resistant; available in drop-in and undermount.
Available in a range of colors and prices.
Withstands hot cookware.
Composites with high granite content are especially durable.
Plastic-like material molded into the shape of the sink and reinforced with fiberglass.
Cost-effective.
Stain and impact resistant, easy to clean and easy to install.
Works with nearly every sink type.
Available in multiple colors.
Surface is easy to clean and maintain.
Highly durable metal that does not rust or tarnish; requires little maintenance.
Surface takes on an aged patina over time.
Each sink is individually handcrafted and unique.
Copper's anti-microbial properties kill bacteria and viruses, including E. coli.
Before you buy, consider the number of sink bowls, how they are oriented, and the depth and number of holes your sink requires for fixtures.

Tip: Keep your dishwasher location in mind when shopping for a new sink. The ideal dishwasher location depends on whether you're right-handed or left-handed. The key is to be able to hold dirty dishes with one hand while rinsing with the other, then place them easily in the dishwasher. For double sinks, having the garbage disposal installed on the same side as the dishwasher increases efficiency.

Size
The interior width of the sink's cabinet determines the maximum dimensions for your sink.
Most base cabinets are 36 to 42 inches high and 25-1/4 to 26 inches wide. A typical 33-by-22-inch sink will fill a 36-inch base cabinet.

Tip: If you are replacing a sink, make sure it fits the existing cutout. If the cabinet allows, you may be able to install a larger sink by expanding the cutout. An apron or farmhouse style sink will require a special cabinet size.
Number of Bowls
Deciding how many bowls you need is best determined by the size of your kitchen and what you type of activities you use your sink for most often.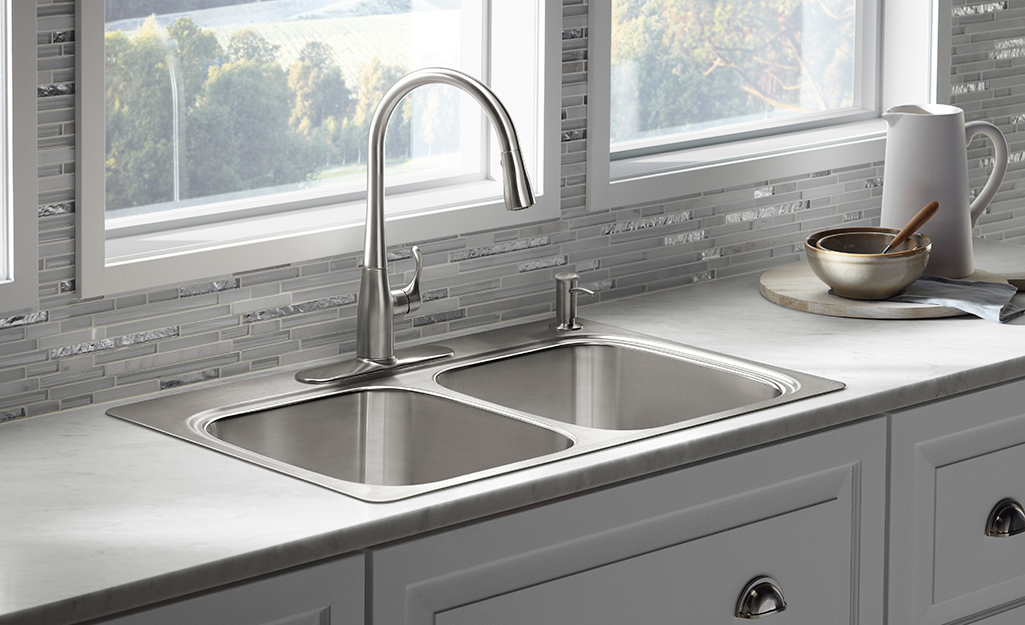 Single bowl sinks offer plenty of space for large-diameter dishes and oversized pots.
Takes up less space than other bowls.
Can be as wide as 33 inches.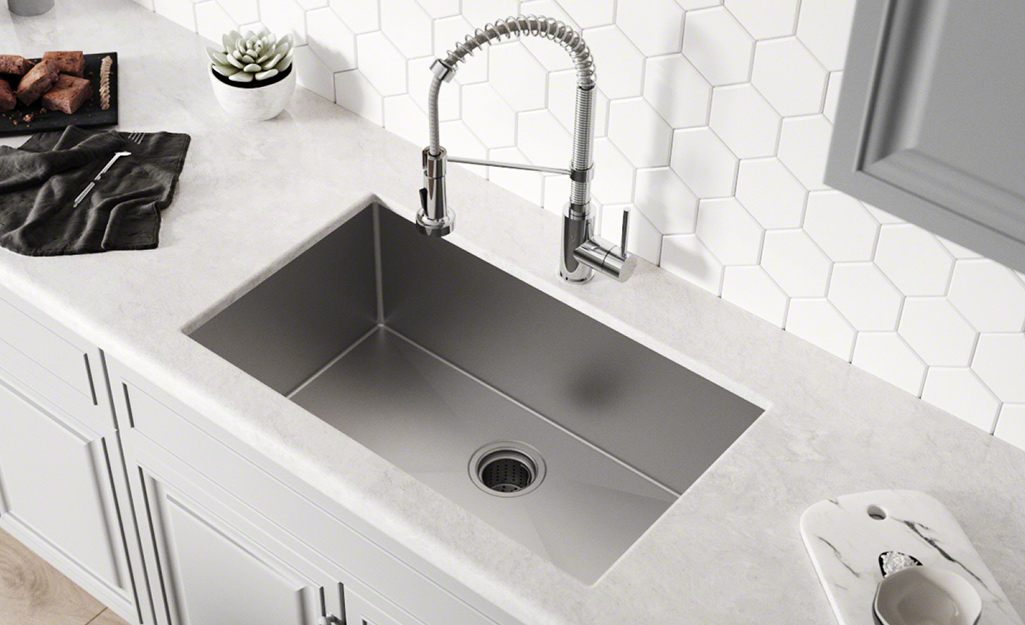 Double bowl sinks provide room for separate tasks such as washing and rinsing dishes, food preparation and cleanup.
Most configurations are 50/50, 60/40 or 70/30 in terms of bowl size.
Can be as wide as 48 inches.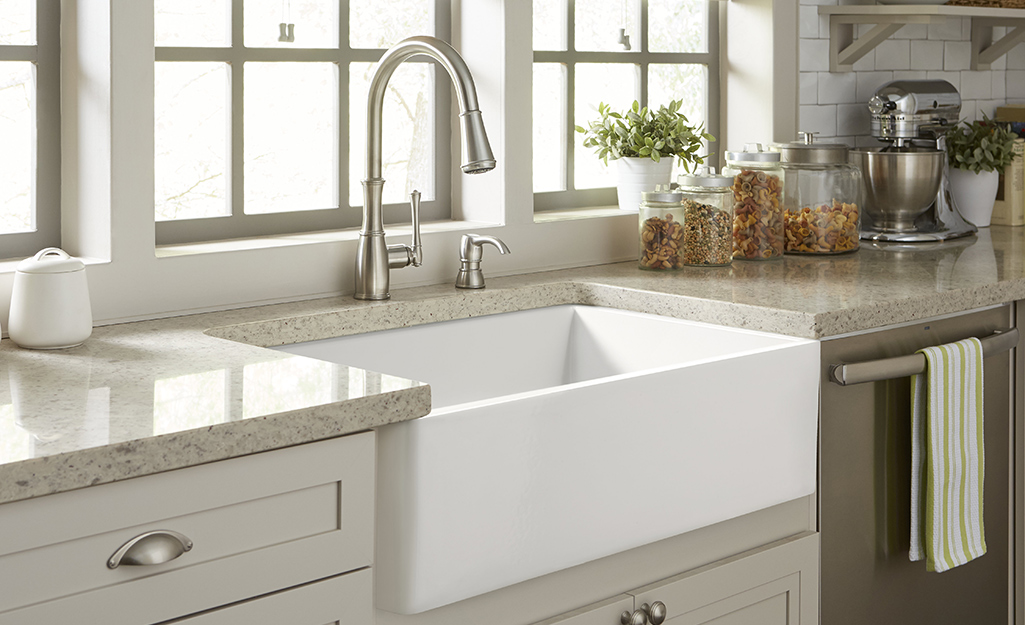 Triple bowl sinks feature a small third bowl for use as a prep sink.
The full unit can be as wide as 60 inches.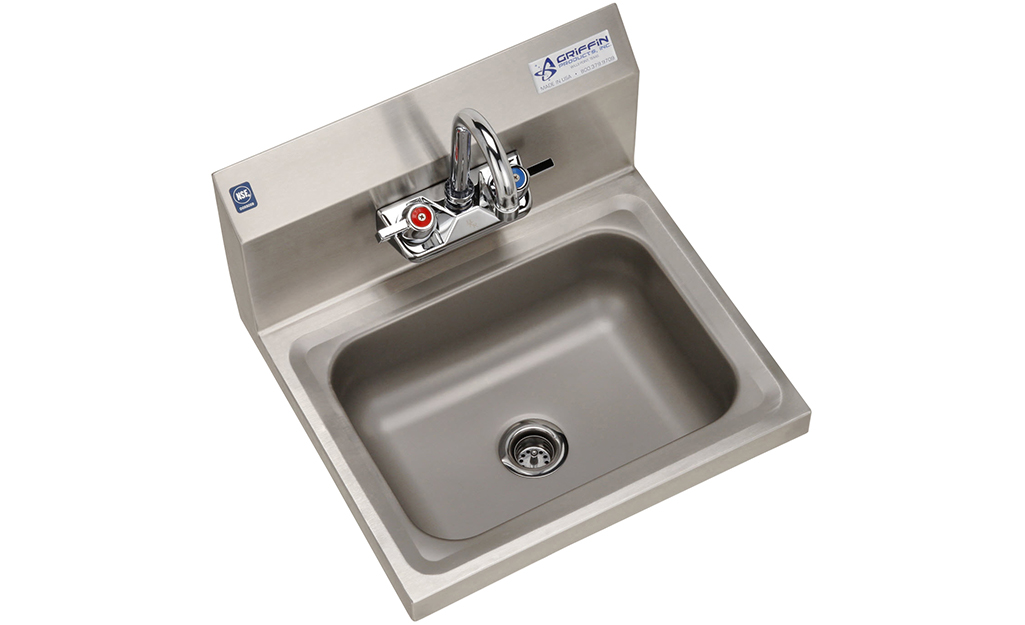 Sinks typically have between one and five holes, or tappings, on the deck behind the bowls for accessories like faucets, soap dispensers, spray hoses and hot filtered water.
The sink you choose should be able to accommodate the number and configuration of items you want.
The standard configuration for most sinks is four holes, but you can purchase a sink with five or six holes, depending on the manufacturer.
If the sink you want has more holes than are needed, decorative covers are available to conceal them.