Ladders are one of the most important tools you can have as a homeowner. They come in quite handy for reaching things up high and reaching areas above 7 feet high for cleaning, painting or maintenance.
This buying guide highlights the different types of ladders available and what they are most suited for in and around your home.
There are four primary types of ladders, and many homeowners opt for more than one.
Step ladders are one of the most common types. They are self-supporting and can be used anywhere and are handy for most common household tasks.
Straight ladders and extension ladders are not self-supporting and must lean up against a stable support surface. They are most often used outdoors for painting, accessing the roof or reaching high places.
The adjustable ladder features a number of movable sections that can be reconfigured. Depending on how you adjust it, you can set it as a step ladder, extension ladder, scaffolding, saw horse and more.
Basic step stools can help reach high cupboards and shelves, and some are foldable for easy storage.
Fire and rescue ladders can be rolled up and stored in bedrooms to help escape in the event of a fire or other hazards.
Most ladders are constructed of aluminum, fiberglass or wood.
Aluminum ladders are lightweight, making them easy to transport and are non-corrosive. They should not be used near power lines or electrical wiring.
Fiberglass is non-conductive, so it is safe to use them near power lines and electrical wiring. They are also durable and will last many years.
Wood ladders are also non-conductive, but some are made with metal fasteners, making them unsuitable for power lines or electrical work. It is best to leave them unpainted, so that any defects won't go unnoticed.
Each year, thousands of people are injured in falls and other accidents involving ladders. Take every precaution by following these safety guidelines.
Always face the ladder using both hands when climbing.
Carry tools and materials in a belt, apron or pouch.
Use a rope and bucket to pull up large, heavy or awkward items.
Do not lean off the side of the ladder.
Never use a ladder in high winds.
Make sure step ladders are completely open with hinges locked.
Double check that locks are secured on adjustable and extension ladders.
Regularly inspect ladders for loose rungs, dents, cracks or sharp edges.
Never use a ladder that has been damaged or appears unsafe.
Only use a ladder on a solid, level surface.
Do not use ladders on ice or snow, or if they are wet.
Observe weight limits that are posted on the ladder.
Every ladder is designed to support a certain amount of weight and level of usage. The duty rating provides this information and is posted on the ladder.
Look for the following information posted directly on the ladder to ensure it is a good match for your needs.
Duty Rating: Household Duty (general household use)
Type: 3, Maximum Weight: 200 lbs
Duty Rating: Professional Duty (commercial painter, handyman, etc.)
Type: 2, Maximum Weight: 225 lbs
Duty Rating: Commercial Duty (industrial applications)
Type: 1, Maximum Weight: 250 lbs
Duty Rating: Industrial Duty (industrial applications)
Type: 1A, Maximum Weight: 300 lbs
Duty Rating: Special Duty (high-impact industrial/professional use)
Type: 1AA, Maximum Weight: 375 lbs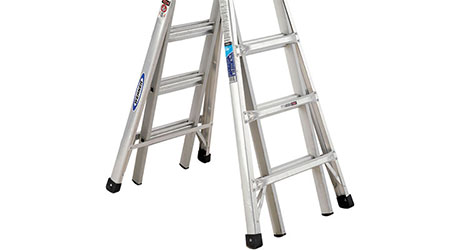 Ladders with a flared base offer extra support and stability.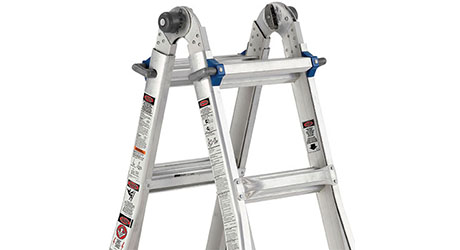 Look for adjustable and extension ladders with simple operation and solid locks.
Features-Slip-resistant rungs or steps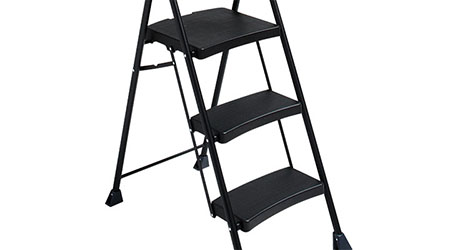 Purchase ladders with slip-resistant rungs or steps to help prevent accidents.
Features-Telescoping construction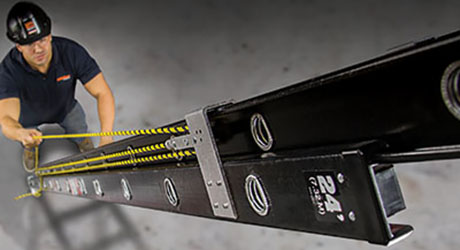 A telescoping ladder features a system that extends to full height when needed and retracts back into a compact form for storage.