When you're planning for a move, keep in mind that almost everything will take longer to do than you expect. The best way to keep on track is to plan ahead and stay organized. This moving guide has helpful resources that will help you with your move. It includes a moving cost calculator, moving checklist and moving supply list.
How to Prepare for a Move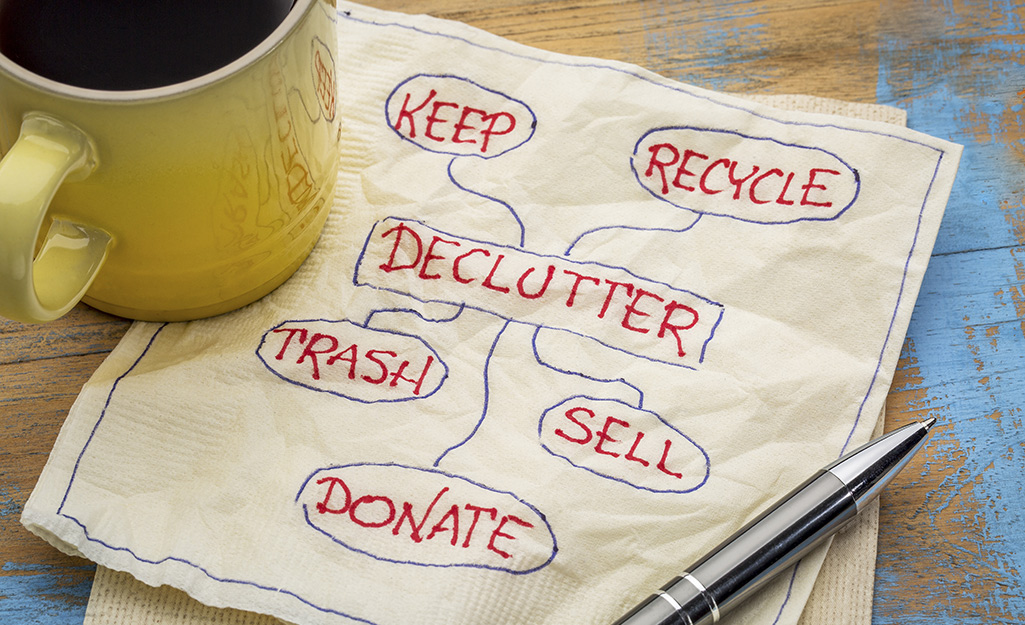 The key to a successful move is preparation. The entire moving process can be stressful. Breaking down the move in smaller, easy-to-do steps will help with the big move. This moving to-do list will show you how to prepare for a move.
8 Weeks Before
Research movers. You may want to consider this option if moving long distance or if you lack the time.
If you are planning a DIY move, start researching truck rental companies. Reserve a moving truck through The Home Depot.
Make an inventory of all your household goods.
Make a list of the packing materials you will need.
6 Weeks Before
Declutter. Get rid of anything you do not plan to use in your new home.
Have a yard sale or donate the items you no longer use.
Transfer your children's academic records to their new school.
Transfer medical records to your new doctor.
4 Weeks Before
If you are moving yourself, set up a truck rental. Make sure you select the right size truck that will hold all your belongings. You should also consider dolly rental for larger objects and appliances.
Confirm the booking with your moving company, if hiring movers.
If you are using a packing service, arrange to have the movers come over two days before moving day.
Get boxes, packing tape, plastic bags and other moving supplies if you are doing it yourself.
Start with packing up out-of-season clothing and other things you won't need right away.
Fill out change-of-address cards at the post office.
Notify friends, family, your bank and insurance agent of your new address.
Pre-order any new appliances, furnishings, dishes and cutlery.
Send a change-of-address email to any magazines you subscribe to.
Make copies of important papers (birth certificates, passports, medical and dental records). Also, consider investing in a home safe for these documents.
3 Weeks Before
Arrange to have the utilities disconnected a few days after the move.
Get the utilities set up at your new house.
Start packing room by room, labeling each box with the room name.
Arrange for a babysitter or pet sitter on moving day if you need one.
If necessary, reserve the freight elevator in your building for moving day.
Create a moving-out checklist. This will make sure you cover any requirements mandated by your local area or landlord.
2 Weeks Before
Arrange to move plants and pets.
Dispose of items you're not allowed to move, such as gasoline and propane.
Keep packing.
Line up helpers to assist with loading your rental truck.
Consider hiring a plumber or electrician to disconnect appliances you plan to move.
1 Week Before
Open your new bank accounts if you're making a long-distance move.
Make sure you have enough medication to last through the move.
Have your doctor write a new prescription you can fill after you move.
Defrost the refrigerator two days before you move.
How to Pack a Moving Truck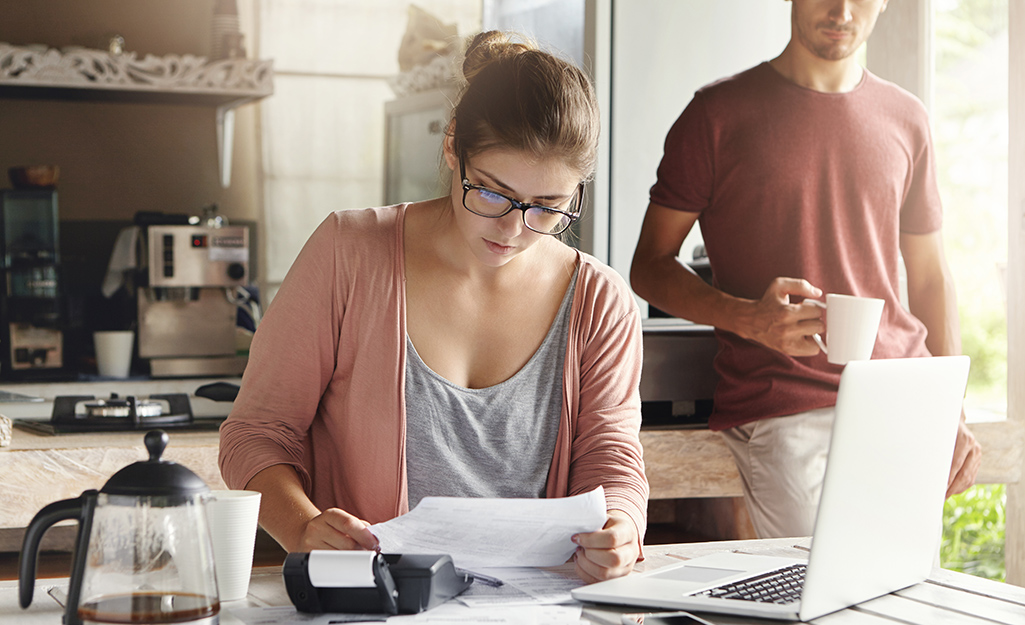 There are multiple ways to maximize space on a truck. Efficiently utilizing the space in a moving truck will save you time and money. A well-packed truck will have evenly distributed weight. This will help prevent damage to your property.
Select the right size truck. Trunk rental companies will provide you with tools to help you choose the correct size.
Disassemble all the furniture you can to save space in the truck.
Pack other household goods like a pro with these packing tips.
Load the largest and heaviest objects first (appliances, mattresses, bed frames and sofas).
Load large objects upright to save space. Be sure to protect all furnishings with plastic wraps, pads or blankets.
Roll up large area rugs and secure them with plastic wrap. Load them upright in the truck.
After loading all the heavy and large objects, load the smaller and lighter things on top of, inside of and around the larger items.
Lighter objects need to be put on the very top of heavier items and in the front of the truck.
As you pack in your things, use moving straps to hold them in place.
If you are hiring movers, make sure you are present as they pack. Point out anything that needs handling with care and go over any paperwork.
Ask the movers for their contact information so you can reach them, if needed.
Be ready to pay the movers. Don't forget that tipping professional movers is acceptable.
Before leaving your old home, check through it one last time to make sure nothing is left behind.
How to Make Moving Less Stressful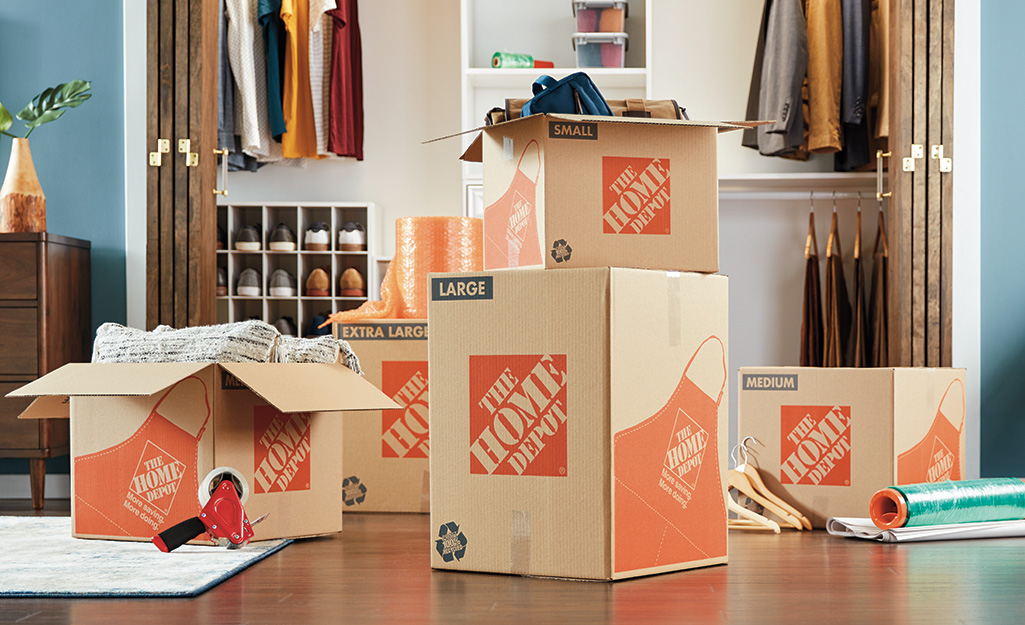 The whole moving process can be a stressful time in your life. However, with patience and planning, you can ease the stress of moving. These tips will get you through the process and into your new home in no time.
Be Safe. Know your limits. Be cautious when using utility knives and attempting to lift heavy objects.
Use dollies and hand trucks for heavier boxes. Keep floors, walkways and stairways clear of debris to help prevent accidents.
Use the right tools for the job. Keep important and delicate items safe with appropriate packing supplies.
Plan for more than you think. Determine the amount of supplies you'll need with our easy-to-use moving cost calculator.
Start packing as soon as possible to cut the need for a frantic rush when the big day arrives.
Pack items by group:
Clothing – Use easy-to-assemble wardrobe boxes to make packing clothing quick and frustration free by allowing clothing to stay on hangers.
Furniture – Use stretch wrap to prevent damage.
Kitchen – Use heavy-duty boxes and glass-packing kits for delicate kitchen items and small appliances to prevent damage. When transporting food that may leak, line your box with a plastic trash bag in case of spillage.
Electronics – Anti-static bubble cushion and foam protects large electronics from damage, and provides static protection. Use special box systems designed for the packing and storage of large-screen televisions.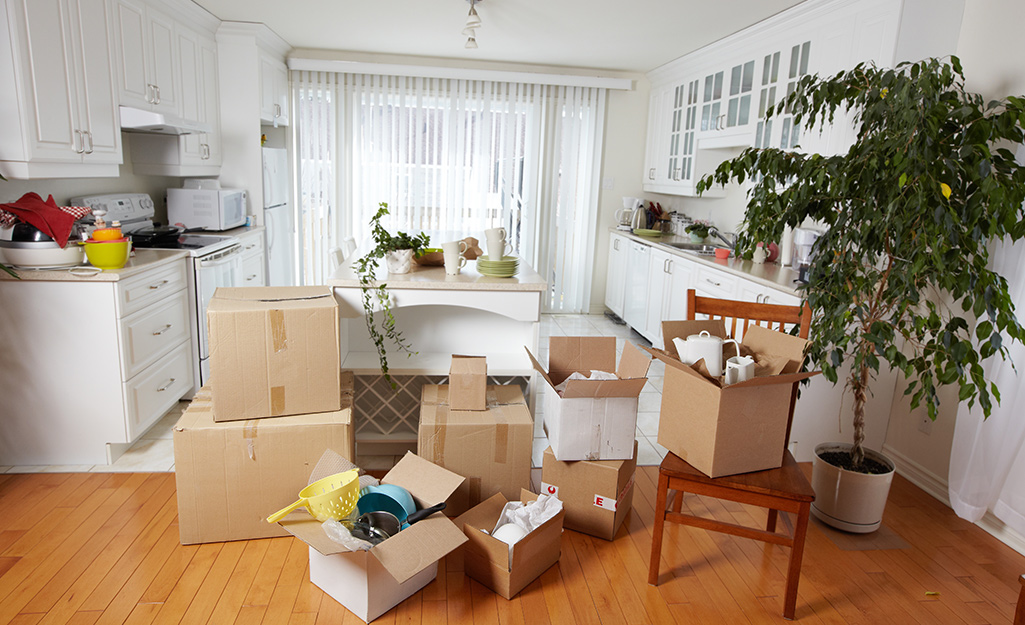 The right moving supplies will make your whole moving process a breeze. Here are the basic moving and packing supplies you will need to pack your belongings.
Boxes of various sizes, including specialty boxes like wardrobe, electronic and file boxes
Packing tape and sticker labels or masking tape (for labeling boxes)
Scissors and box cutters
Permanent markers for labeling
Packing supplies: bubble wrap for fragile items, stretch wrap, packing paper, moving blankets, moving bags, mattress bags, cartons and foam pouches and cushions
Moving and lifting equipment such as a hand truck or dolly, moving carts and lifting straps
Gloves to protect your hands while moving
Rope, twine, tie-downs and bungee cords to keep boxes and objects in place
Use pads or glides to protect floors while moving large furniture
Basic cleaning supplies
Using this moving planner and following these simple tips for moving can help make your move go smoothly, leaving you with more time to enjoy your new home.