Patio furniture lets you turn your outdoor space into an extension of your living room. With a wide variety of colors and styles to choose from, the right patio furniture will provide long-lasting enjoyment and a place to entertain comfortably when the weather is nice.
This guide will help you choose the best outdoor furniture for your patio, deck or pool area.
Things to Consider in Outdoor Furniture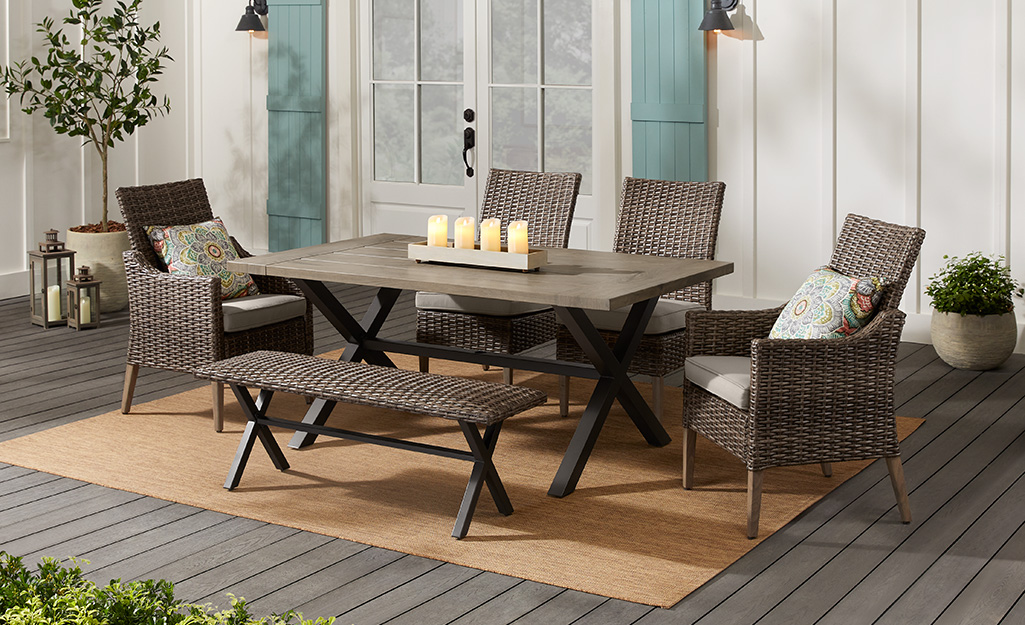 From full furniture sets to patio chairs, there are many types of patio furniture available. With so many options, the best time to select outdoor furniture is well before you need it. Sketch a layout of your outdoor living space on grid paper and experiment with styles and placements so you can get the best combination to serve your needs.
Size of Your Space: 
The best patio furniture doesn't necessarily mean the biggest pieces. Think about how much room you have for patio furniture and accessories. Do you have a smaller balcony that can only hold a small bistro set? Does your backyard have ample space for entertaining?
Style: 
With so many choices, it can be difficult to find the patio furniture that matches your home's style. Our selection lets you create a custom patio furniture collection. Even the most durable outdoor furniture can be attractive.
Use: 
Consider how often you'll use your space. Are you planning to host a lot of outdoor parties on the patio? Do you need versatile patio furniture like stackable chairs and tables for extra guests, or are you looking for a larger, comfortable set for relaxing? Look for durability in all outdoor furniture, especially if the pieces will be in an uncovered area and exposed to the elements.
Outdoor Chairs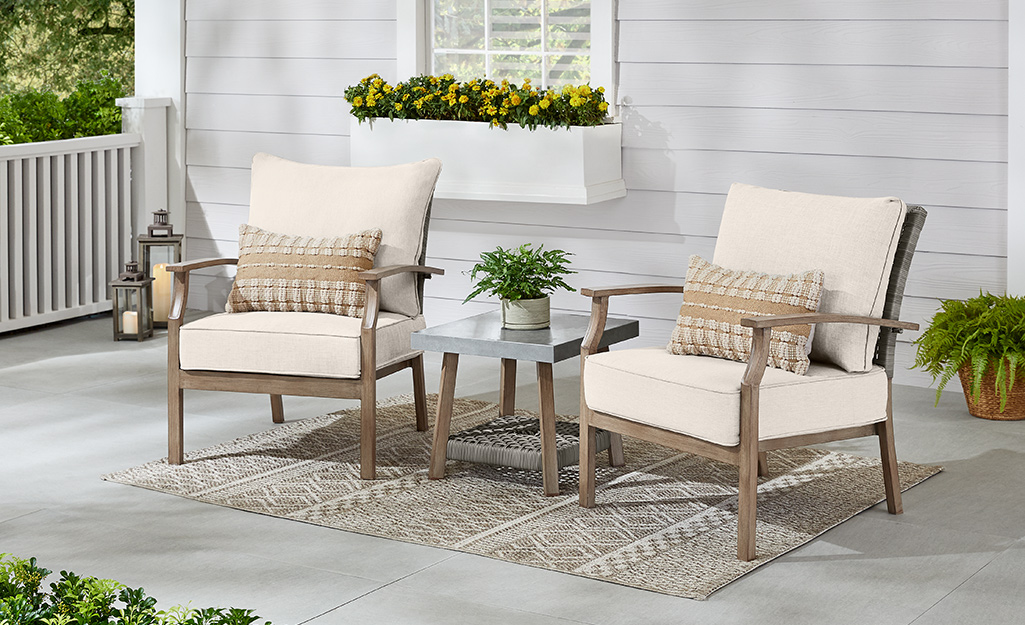 The most common types of outdoor chairs are sling chairs, cushion chairs and caned or woven chairs. 
Sling Chairs:
Constructed with a back and seat of soft material looped around a frame, sling chairs have the advantage of being lightweight and easy to move around, and are usually the least expensive type of patio chair.
Cushion Chairs: 
Cushion chairs have more substantial bases and are sold with back and seat cushions and, occasionally, a decorative cushion in coordinating colors.
Woven Chairs:
Woven chairs, such as wicker or cane, are traditionally made of natural plant fibers, but now can also be made of plastic or paper-wrapped wire. Woven chairs are noted for their beauty and are often a choice for outdoor furnishings in the South. All-weather wicker is considered by many to be the best outdoor furniture for rainy weather.
Patio Sofas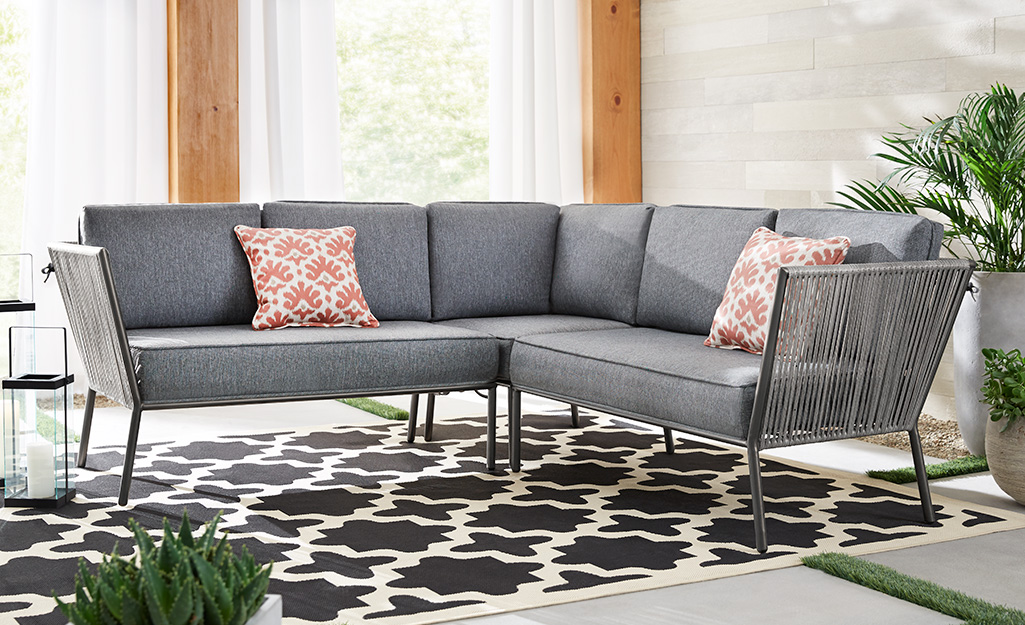 If the size of your family or your social group requires more seating, rather than add more chairs, consider outdoor lounge furniture such as sofas or large format seating. A loveseat for two or a three or four-seat sofa takes up more physical space, but you'll need less pieces to accommodate everyone comfortably. A larger outdoor seating option also serves as a visual anchor for your setup the same way it does indoors.
Tip: When transportation is a challenge, The Home Depot truck rental can help. From pickups and vans to moving trucks, we've got you covered.
Accessory Seating for Your Patio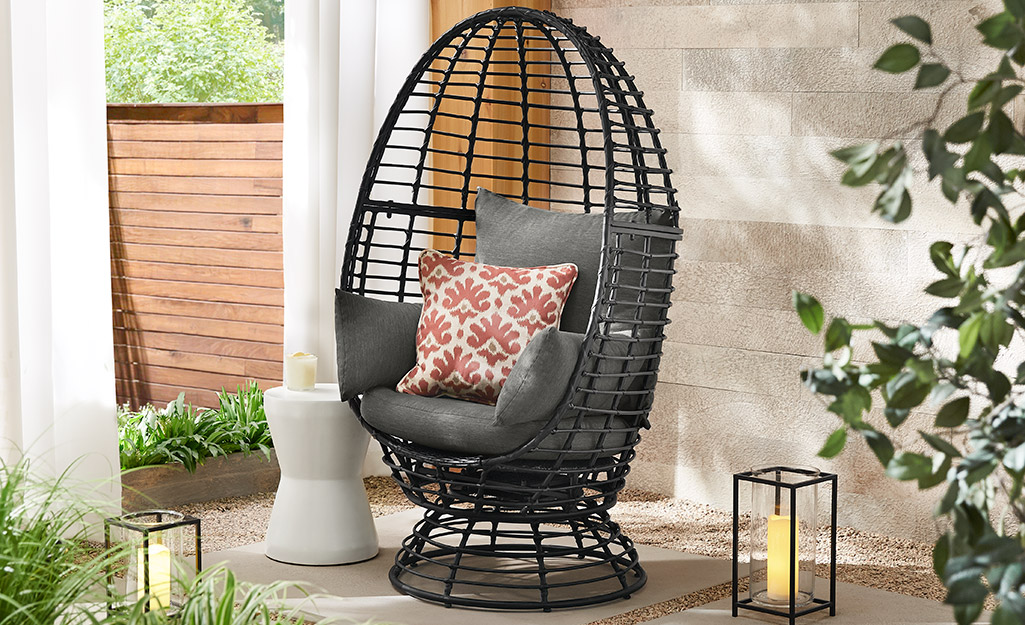 Non-traditional seating options like benches and swings can provide fun variety to your outdoor decor.
Bench Seating: 
Usually available in wood or metal, bench seating offers years of durability.
Glider or Swings: 
Gliders or swings add homey charm to your decor. A porch or patio swing will need a spot where it can be hung, either from a sturdy beam or its own frame. A glider is a better choice for small spaces and open-air patios.
Chaise Lounge:
Comfortable and versatile, a long chaise lounge adds a dramatic look to your outdoor set.
Garden Stools:
Before selecting a garden stool to serve as seating, be sure to check the weight rating. Some are not meant to be used as seats, only as decor or occasional tables.
Outdoor Tables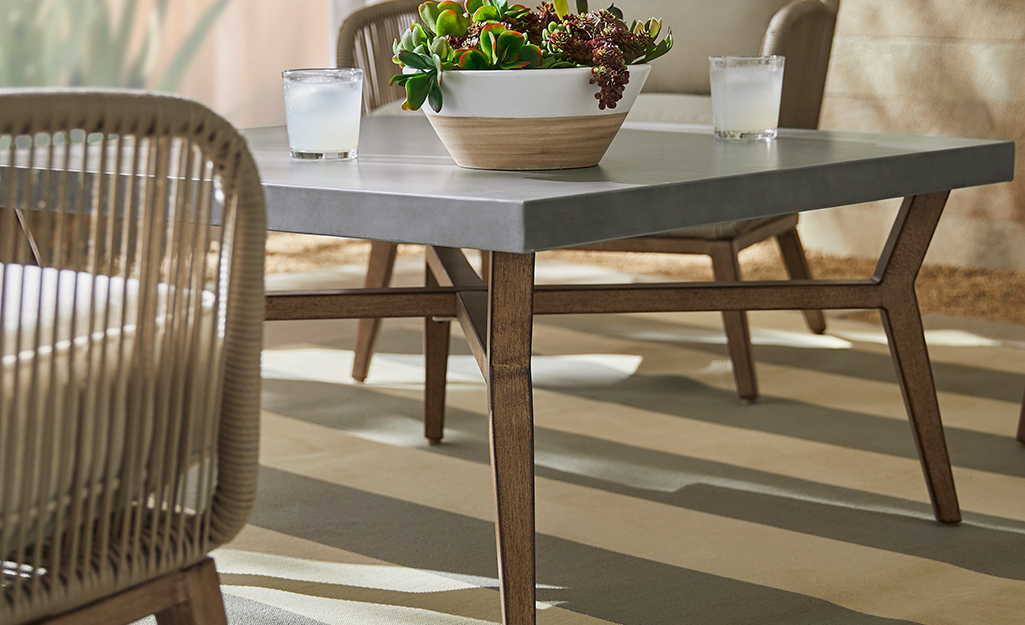 Your patio tables should harmonize with your seating, but they should also be functional. Think about how you'll use the outdoor space most often and design around it. 
Provide at least one side table for every two chairs.
Large format seating may look better with an outdoor coffee table in the mix.
Bar-height tables make excellent buffet spaces, allowing guests at outdoor gatherings to easily help themselves.
Patio dining sets can be large enough to accommodate a family and guests when eating outdoors. Select a smaller and stylish bistro set for al fresco dining with a friend.
Patio Sets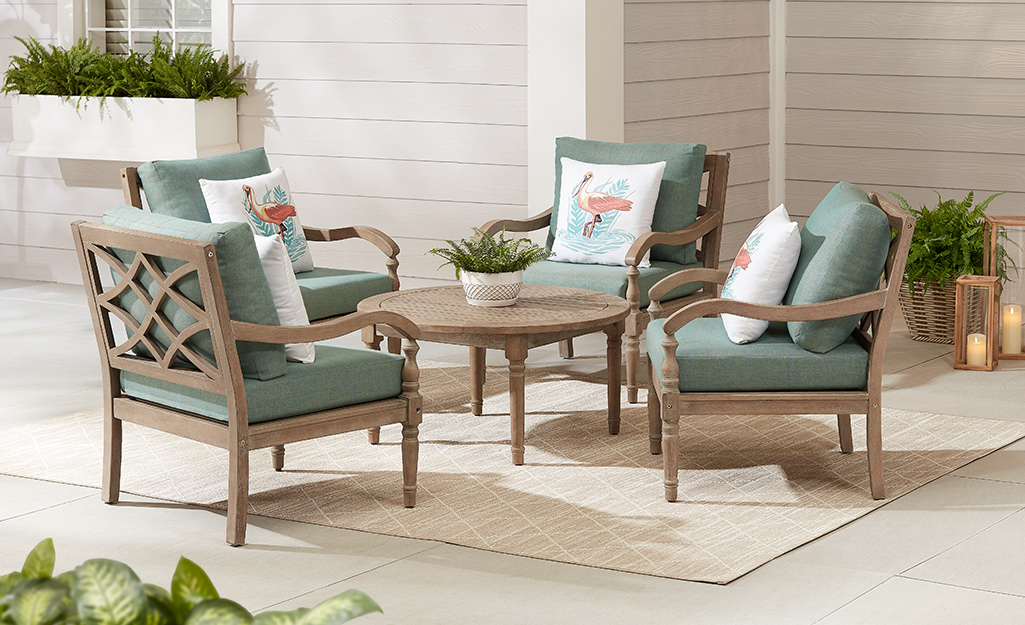 Patio sets will come in all kinds of styles and sizes, from a simple bistro set with two chairs and a matching table to a dining set with seating for six to eight.
The advantage of buying in sets is that you can easily outfit an entire patio for one price and all the furniture will be perfectly matched. However, you are limited to a single style. If you prefer a more eclectic style, purchasing a set as your sole outdoor decor may be less satisfying.
Use accessories to introduce additional color and texture into a patio furniture set and personalize it.
Fire pit patio sets are available that include seating and a coordinating fire pit to warm up your conversation area.
Patio Furniture Materials
One of the most important choices you will make when buying new patio furniture is the type of material you need. Think about durability, use and how it will fit with your lifestyle when deciding on the best material for outdoor furniture.
Aluminum: 
Lightweight
Doesn't rust or fade
Low maintenance
Available in a variety of colors
Powder-coat finish provides durability
Use car wax or mineral oil to protect surface
Wash with soapy water and rinse
Plastic: 
Lightweight
Often stackable
May be made of recycled materials
Apply cleaners that prevent mildew
Rinse with water
PVC (poly-vinyl chloride):
Lightweight
Low maintenance
Available in many colors
Wash with soapy water and rinse
Steel: 
Sturdy and durable
Requires little to no assembly
Comfortable
Apply protective finish to prevent rust
Wash with mild soap and rinse
Wicker and Rattan: 
Lightweight and flexible
Durable and comfortable
Available in a variety of colors
Dust occasionally
Use all-weather fabrics for cushions and pillows, unless furniture is protected
Wash with mild detergent and rinse
Wood:
Types available include teak, cedar, cypress, pine and more
Teak provides an ideal combination of beauty and durability
Solid and sturdy
Use paint with UV filters to prevent fading
May require a preservative
Wash with soapy water and rinse
Use brightener and oil to maintain original appearance
Wrought Iron: 
Sturdy and durable
May be mounted on wheels
Available in a wide range of designs
Use paint to touch up cracks
Apply rust protection
Wash with mild soap and rinse
Fabric Types for Outdoor Furniture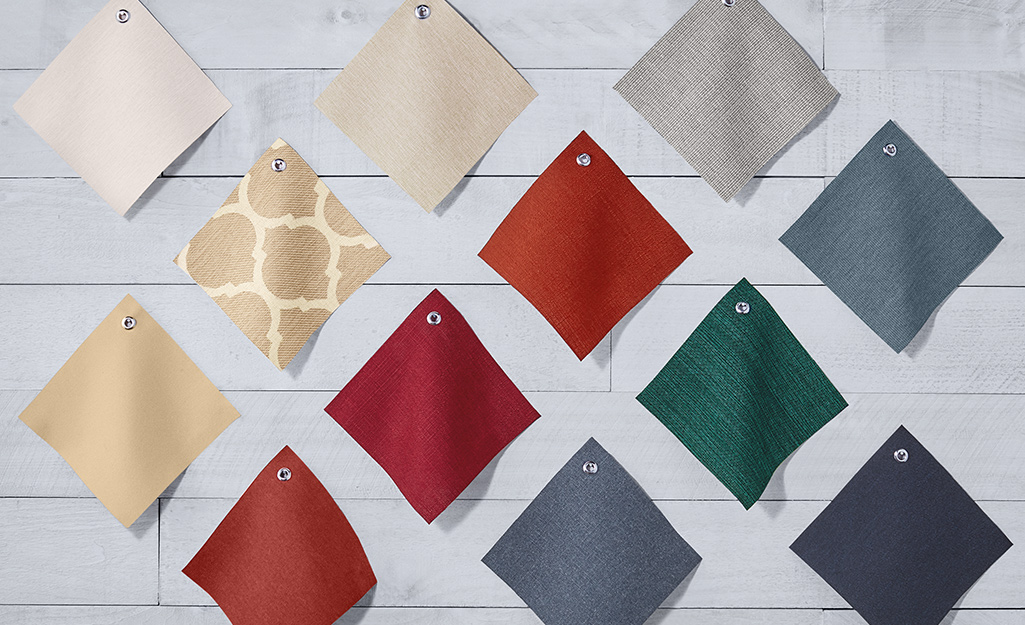 The type of fabric on outdoor furniture is an important consideration. Durability and fade resistance are qualities to look for, especially when the outdoor space isn't covered. If you entertain frequently or have children who are prone to spilling things, stain resistance and ease of cleaning should be considered. The best material for outdoor furniture should be attractive, long-lasting and easy to clean.
Acrylic, Cotton Blend, Olefin and Others:
See manufacturer's label for warranty details
Weather resistant
Typically most inexpensive option
3-year limited warranty
Water repellent
Fade resistant
Stain resistant
Exclusive to The Home Depot
5-year limited warranty
Water resistant
Fade resistant
Clean with mild soap and warm water
Highest upfront investment
Tip: Consider UV and weather-resistant fabric for cushions to provide your patio furniture with built-in sun protection and increased durability.
Patio Accessories to Complete Your Space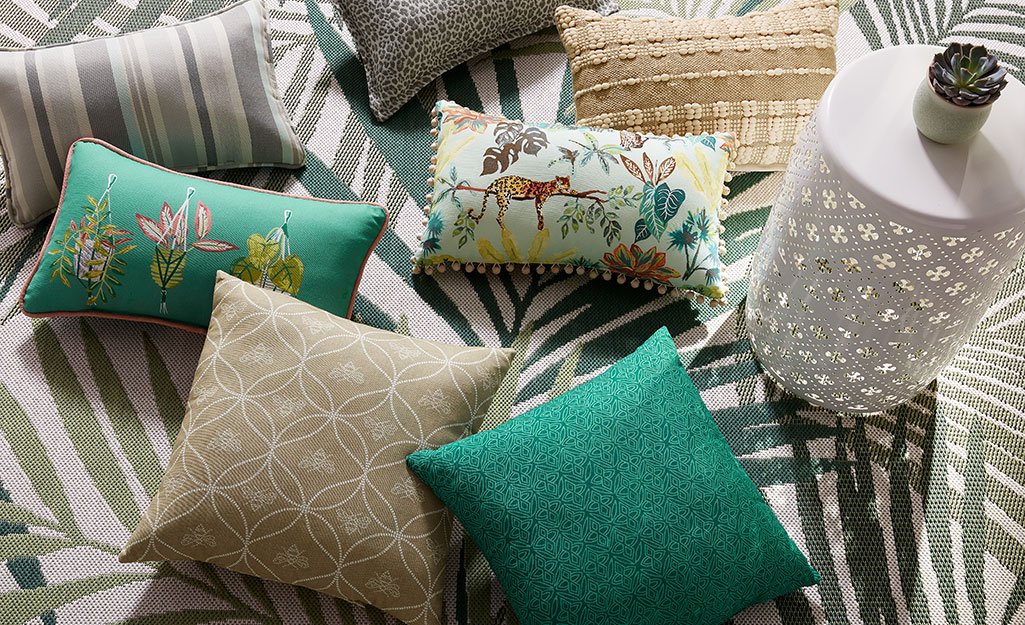 Patio accessories can add functionality or bring another element of style. Changing outdoor throw pillows or outdoor rugs is an easy way to refresh the look of your outdoor living space.
Decor:
Accessories like lanterns, rugs and pillows add color and style while helping you create an outdoor space that is truly your own.
Umbrellas and Awnings: 
If your patio or deck has direct exposure to the sun, consider adding patio umbrellas or a retractable awning to create some shade. This will protect seating areas from the heat and harsh light. Plus, it reduces exposure to the sun's rays that can cause outdoor furniture to fade.
Accordion Tables: 
Accordion tables expand and collapse as needed to create extra space or save room. They make great additions if you want to have enough table space for occasional parties but prefer to have more room to move around the rest of the time.
Carts:
Carts are mounted on wheels and provide convenient storage and extra surface space in one stylish package.
Wheels/Casters:
Some items come mounted on wheels or casters for easier mobility. This is especially desirable in items constructed of heavier materials such as wrought iron or steel.
Collapsible/Modular Design:
Some pieces of outdoor furniture are designed to collapse or come apart for easier storage and/or transport.
There are many factors involved with how to choose patio furniture that's right for your outdoor space. In addition to appearance, consider durability and comfort. See something that catches your eye when shopping for the best patio furniture? Find products fast with image search in The Home Depot Mobile App. Snap a picture of an item you like and we'll show you similar products.
Explore More on homedepot.com