Toasters are a staple kitchen appliance and in the same family as toaster ovens. Typically built with two slots, pop-up toasters brown your favorite bread products like bagels, sandwich bread, waffles or English muffins. When deciding on the best toaster for your small kitchen appliances, The Home Depot has several options to keep your breakfast robust. 
Featured benefits of a 2-slice toaster or 4-slice toaster include light-weight, precise browning, convenient and quick cleanup and some with digital controls. 
This guide will help you choose the from among top-rated toasters for your kitchen and explain the types of toasters available at The Home Depot. 
Toaster Finishes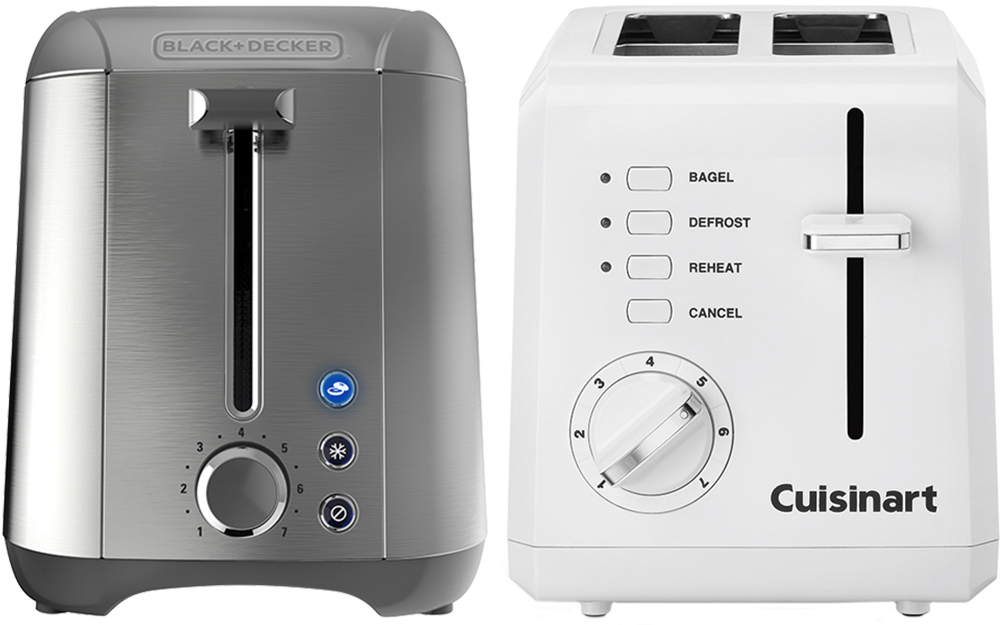 The finish does not affect the ability to toast as much as it will maintain the standard you're looking to meet in your kitchen. 
Pop-up toasters with a stainless steel finish are a lovely appliance that reflects throughout the kitchen. You'll love the finish material because it is cool to the touch when in use and has an easy-to-clean exterior.
Pop-up toasters with a brushed stainless steel are typically made from plastic materials. This classic finish will add luxury to your kitchen counter while maintaining a lightweight design and still simplifies cleaning because of the sleek acrylic surface.
A basic, inexpensive front-facing pop-up toaster with a plastic finish fits any kitchen countertop and is convenient to toast bread. These are extremely lightweight with compact designs fit for any kitchen size.
2-Slice Toaster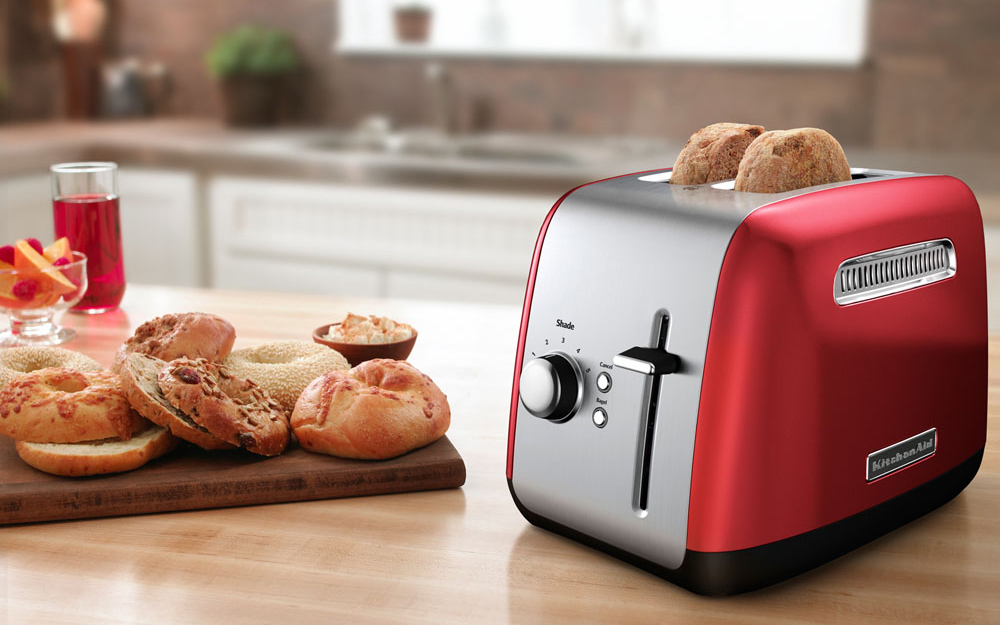 The best 2-slice toaster is a lightweight, common kitchen counter item to brown breakfast items or sliced bread products. These types of pop-up toasters are often plastic or stainless steel like and not as durable or long-lasting than more expensive toasters.
Small toaster appliance with great value
Toasts bread up to 2 slices
Simple knobs for time and temperature
Easy cooking and cleaning functions
Inexpensive, generally under $30
4-Slice Toaster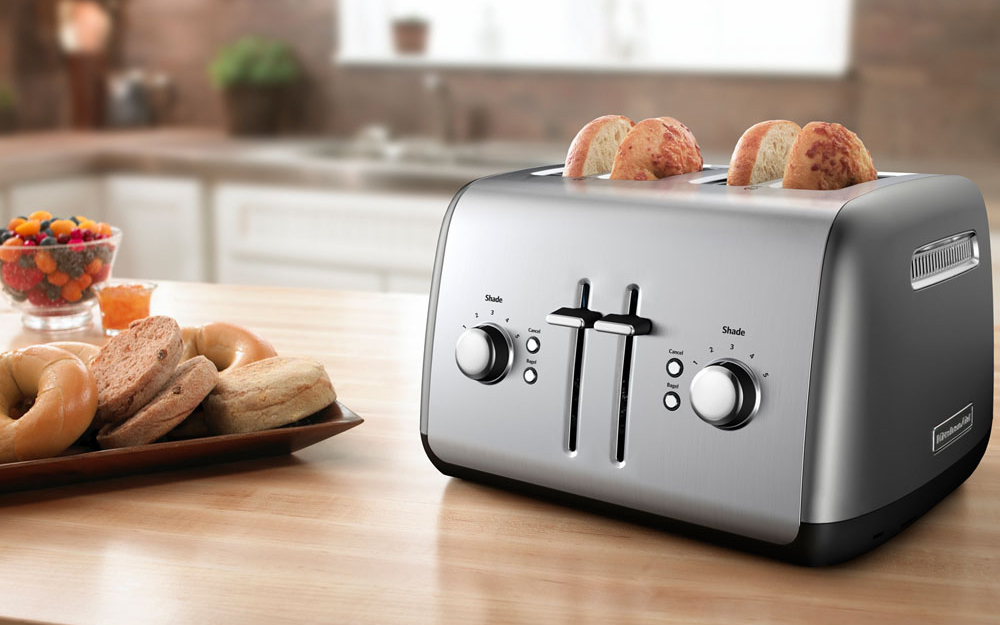 The best 4-slice toaster is a longer, more efficient kitchen appliance for browning bread; however, it is bulkier in size and does not always toast bread evenly.
Longer and/or extra-wide 4 slot design
Toasts bread up to 4 slices
Multiple knobs and buttons for different slots and features
More expensive, generally over $30
Digital Toaster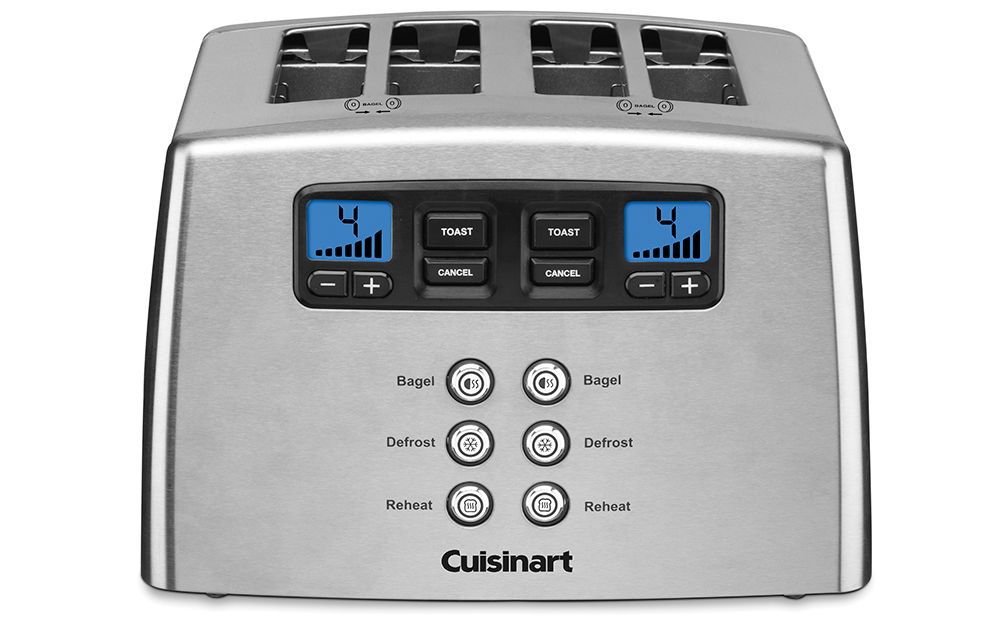 Adding this smart toaster to your morning routine can transform your toasting and taste.
Backlit LCD or touch screen displays 
Automatic lift and shutoff
Enhanced browning settings
Features and Accessories
Keep Warm Setting or Attachment: Heating elements that allow for longevity after browning.
Slot Adjustment: As you slide slices in the toaster, slots widen to fit the bread product.
Rapid Toast Technology: This technology quickly and precisely makes the perfect toast every time, even the edges. 
Drip and Crumb Tray: This feature is a metal tray seamlessly attached to the bottom of the pop-up toaster to capture bread debris. It either slides out or unhooks to empty crumbs into trash and allow for cleaning.
Defrost Setting: High-tech pop-up toasters have this function that frees bread products of frozen or ice. 
Explore More on homedepot.com