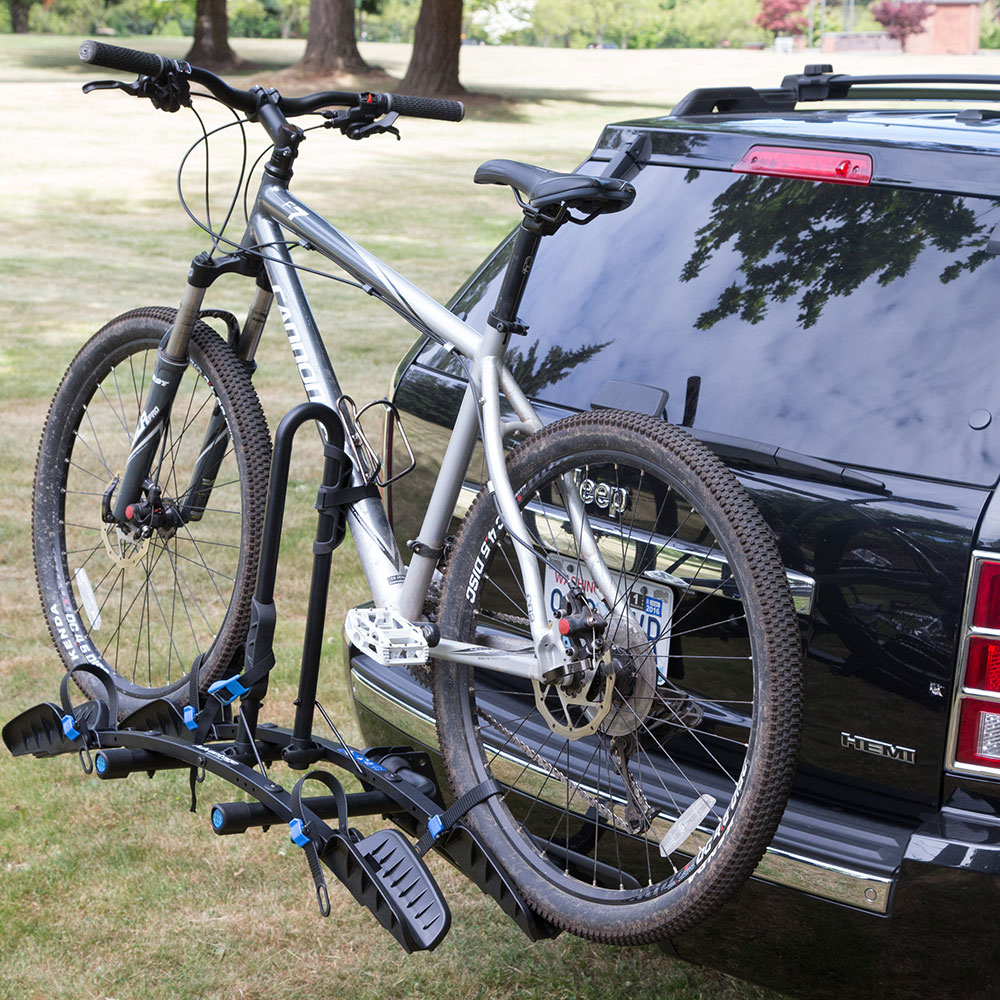 Designed to keep up with the busiest of lifestyles, SUVs offer rows of comfortable seating and plenty of interior cargo room for suitcases, coolers and more. When the desire for adventure hits, your interior storage capacity may not be enough. Adding a bike rack or carrier to your SUV makes it easy to take your mountain bike or beach cruiser along with you. 
Whether you're an avid cyclist or a weekend adventurer, a bike rack may be an essential addition to your SUV. Read on to learn about the different types of bike racks available for SUVs, and discover the best choice for your next vacation.
Know Before You Shop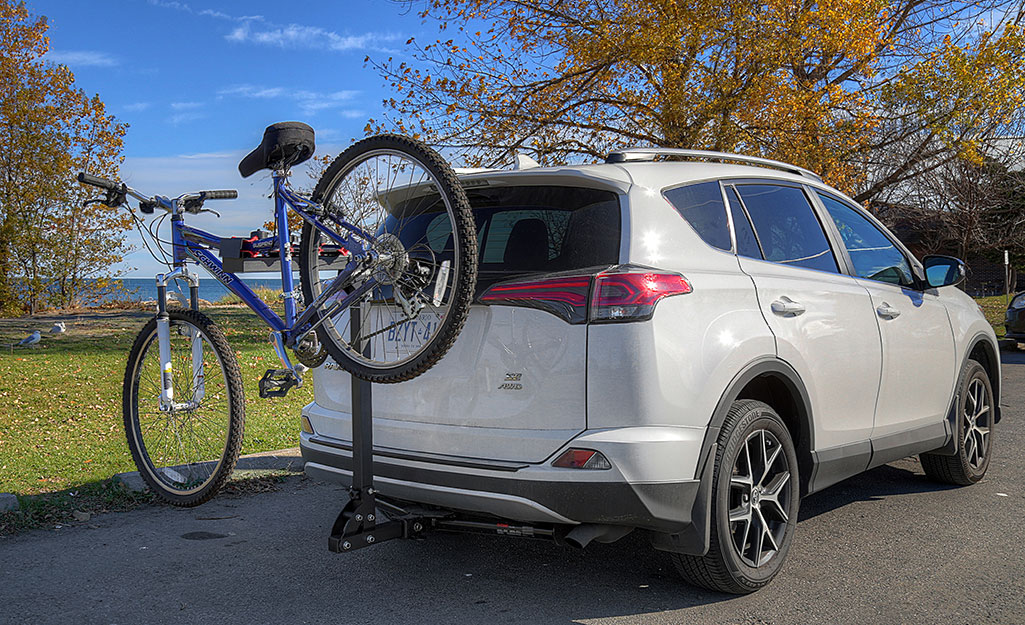 Before you start shopping for the best bike rack for your SUV, it's important to gather some information and establish your needs. There's a bike rack designed to accommodate all the equipment that makes your biking experience special. Take a few moments to ask yourself a few key questions: 
How many bikes will you store? 
What type of bikes do you own?
How much can you invest in a bike rack?
What is the weight capacity for the roof storage according to your SUV owner's manual?
How frequently will you be transporting your bikes?
How far do you have to transport your bike?
Hitch-Mounted Bike Racks (2-to-5 Bikes)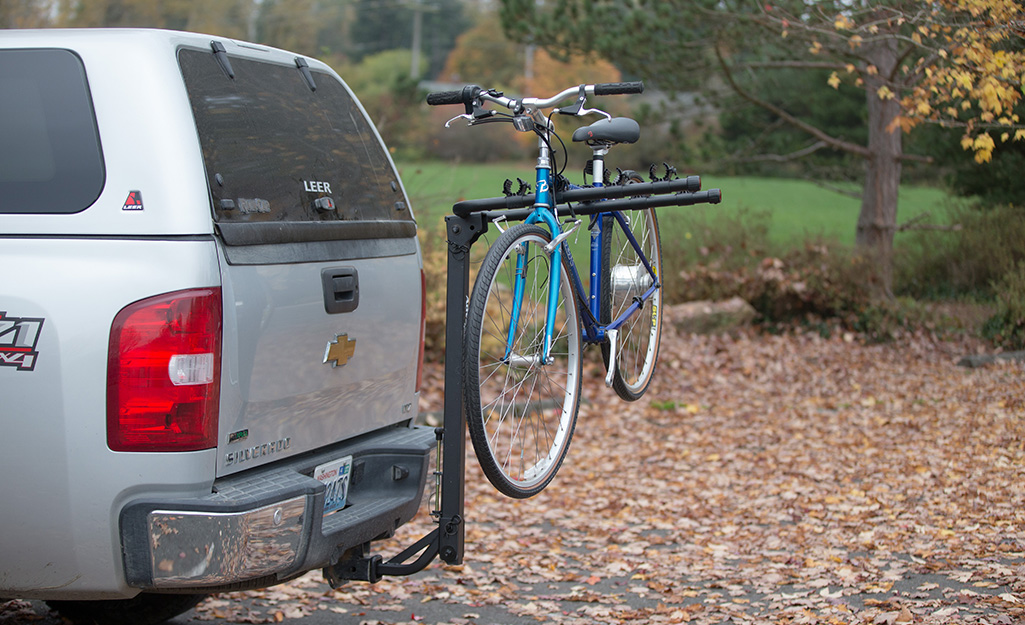 Hitch-mounted bike racks are a great choice for SUVs and pickup trucks. They are designed to be an add-on for existing tow hitches. These are one of the most popular options because their height makes it easy to load and unload bikes.
Platform Hitch Racks: Platform hitch racks feature a long, low platform that attaches to the hitch. The wheels of the bike(s) nestle into the platform, allowing them to stand upright. Platforms are available that support a single bike or multiple bikes stacked one behind the other.
Swing-Away Hitch Racks: Swing-away hitch racks are very similar to platform hitch racks, except they swing out of the way, providing easy access to the items you have stored in your trunk. 

With so many different hitch-mounted bike rack designs available, it is easy to find a model that carries anywhere from 2 to 5 bikes, making it an ideal solution for a family. Since they are suspended right behind the back hatch, the bikes remain protected from wind damage. For this reason, they are a great solution for long road trips. When you aren't traveling, this bike rack is easy to remove and store in the garage, keeping your SUV free and clear for daily errands.


Considerations: 
This type of bike rack is not suitable for Jeeps or any other SUV that features a rear-mounted spare tire. 
Before purchasing, make sure to check what size hitch you have. The most popular sizes are 1.25-inch and 2-inch hitches.
Keep in mind that your license plate and all brake lights must remain fully visible as you travel. Be sure to choose a model that will not obscure these parts of your vehicle.
This design can make it challenging to see through the rear window, which can be frustrating during a long road trip.
Strap-On Trunk Racks (1-to-3 Bikes)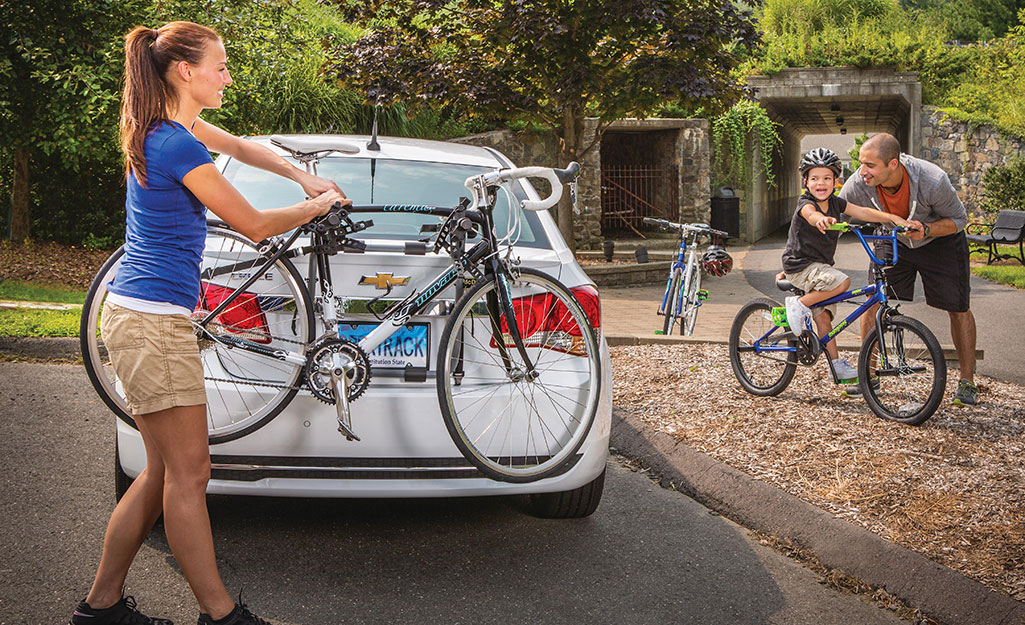 When you don't want to invest in a tow hitch, a strap-on trunk bike rack is another option. These racks typically arrive with everything you need to complete the fast and easy installation process. Most of the racks within this design carry either a single bike or two bikes at maximum. 

They are often the best bike rack for hatchback SUVs and sedans because they are lightweight and compact. Additionally, they are one of the least expensive options, making them perfect for limited use. An avid cyclist may want to invest in a heavier-duty option.
Compact Folding Bike Racks: When you don't want the bike rack to remain on your car all the time, a compact bike rack with a folding design helps minimize the space needed to store the rack when it isn't in use. 
Stationary Bike Racks: Some of the larger strap-on bike racks don't fold up, but they do accommodate more bikes.  The stationary design is a bit more stable and secure and supports anywhere from one to three bikes with ease.


Considerations:
Strap-on trunk racks typically make it impossible to access the rear door of the vehicle until you take the bikes off. This makes them a poor choice if you need to open the trunk during your travels.
This style frequently blocks part of the rear window, making it difficult to see behind you.
Since they mount directly to the back hatch or trunk, scratches may occur in transit, especially if you hit a rough patch of road or a pothole.
Spare Tire Bike Racks (1-to-2 Bikes)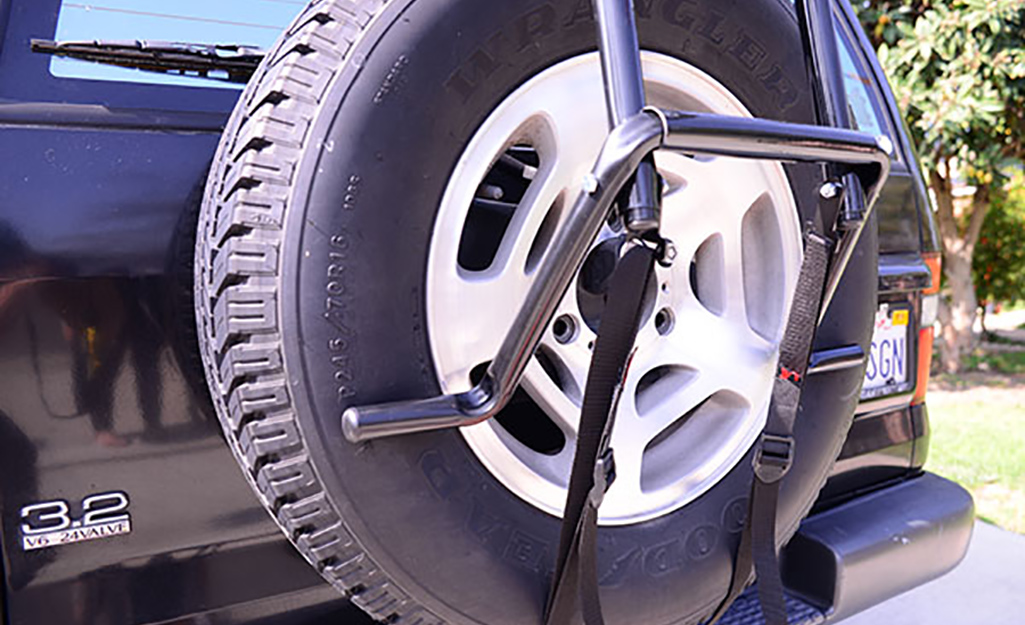 If you already have a spare tire on the back of your SUV, a spare tire bike rack is a fantastic option. These are particularly popular among jeep owners because you can tow bikes without removing the spare tire, and it offers easy access to the trunk. 

Since they mount directly to the spare tire or on the spare tire mount, they pose no threat to your paint job. These racks are the same height as the tire itself, which makes them very easy to add and remove bikes from the rack.


Considerations:
These are not the most theft-resistant racks on the market, so they should be used when you will be within sight of the vehicle or in conjunction with bike locks for added security.
When installing this type of rack, make sure all taillights and the license plate remain visible.
Tire covers should be removed prior to the installation of spare tire bike racks.
Roof-Mounted Bike Racks (1-to-5 Bikes)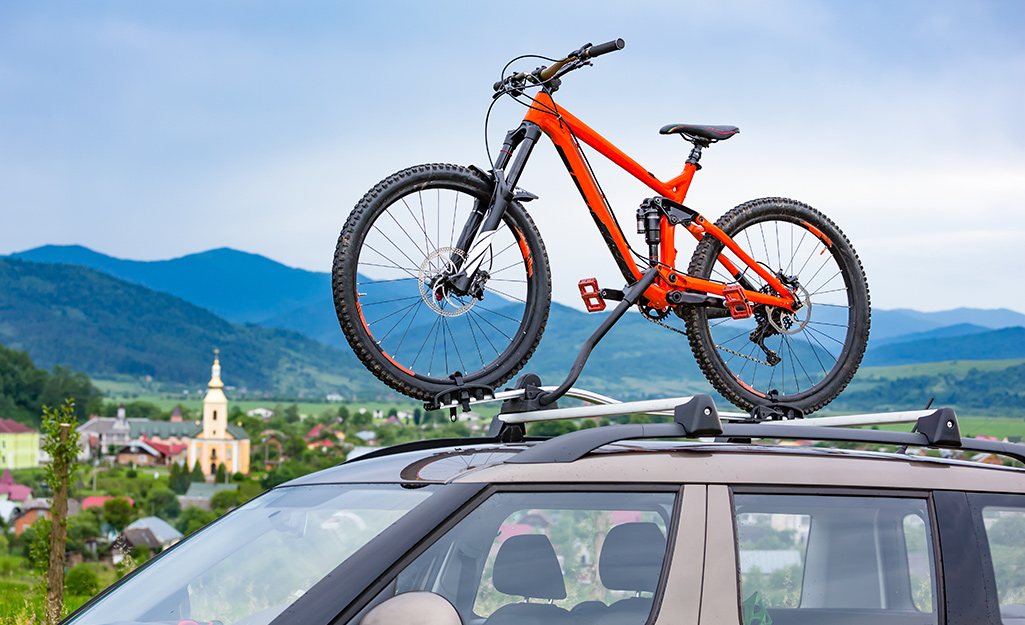 When you're an avid cyclist, consider a roof rack. Roof racks for SUVs are designed to mount on top of the vehicle and allow the bikes to stand upright. When you aren't hauling bikes, the design makes it easy to secure kayaks or even cargo boxes. If you can't decide between a bike rack or cargo carrier, this option may be a good fit for you. 

Loading and unloading a roof-mounted bike rack is much easier job if you have help. Since they are mounted above and not behind, this style of rack keeps your rear window and door free and clear. These come in many designs, some of which can accommodate as many as five bikes.

Considerations: 
Before leaving for a road trip, make sure to measure from the road to the top of the tallest bike. This will be your height limit for any low bridges or overpasses.
There will be extra wind resistance, making your vehicle less aerodynamic and increasing fuel consumption.
Roof-mounted bike racks are not always suitable for vehicles that have a curved roof design.
Which Type is Right for You?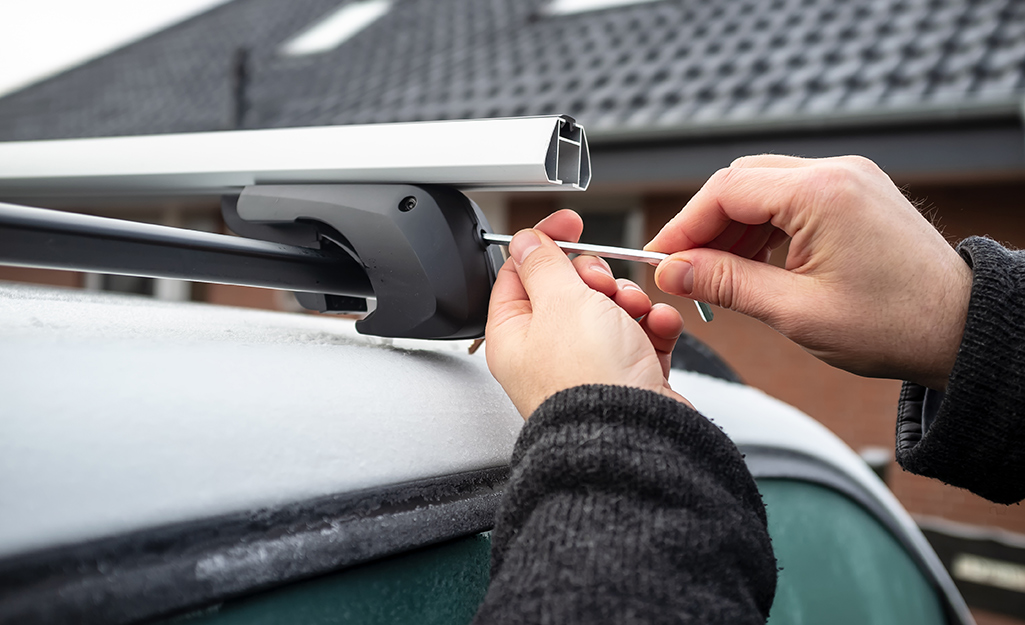 When it comes down to it, all of these styles fit on SUVs and provide incredible functionality. Narrowing it down to the best one for you is easier when you take a quick look at a the highlights of each design.
Hitch-Mounted Bike Rack  
Helps prevent your SUV from getting scratched
Fast and easy to mount
Easy to load and unload, making them perfect for frequent use
Carries up to 5 bikes safely  
Can potentially block access to your trunk
One of the most expensive bike mount designs
Can be larger to store in the garage when they aren't in use
Strap-On Bike Rack  
Mount on virtually any SUV design without the need for roof rails or a hitch
Easy to load and unload the bikes
Easily transitions from one vehicle to another  
They often block access to the trunk
They can take time to install and be a little cumbersome
Can potentially scratch or mark up the car
Only suitable for 1 to 2 bikes
Spare Tire Mounted Bike Rack  
Designed for easy loading and unloading
Makes it easy to access your trunk without taking off the bike rack
Temporary design you can transfer to other vehicles  
Carries only one to two bikes, making it a poor choice for families
Less stable and secure than other bike rack styles
Only suitable for 1 to 2 bikes
Roof-Mounted Bike Rack  
Keeps the back of your car free and clear for easy access to your trunk
Allows for full visibility out of the front and rear windows
Designs are often versatile, making them suitable for carrying other items
Carries up to 5 bikes safely  
Not all styles fit the rails on the top of all SUVs - make sure the model you select fits your vehicle
Holds a limited number of bikes
Overhead clearance can become an issue
Can be difficult to reach the bikes and items you store on the racks
Cause more wind resistance
Other Ways to Use Bike Racks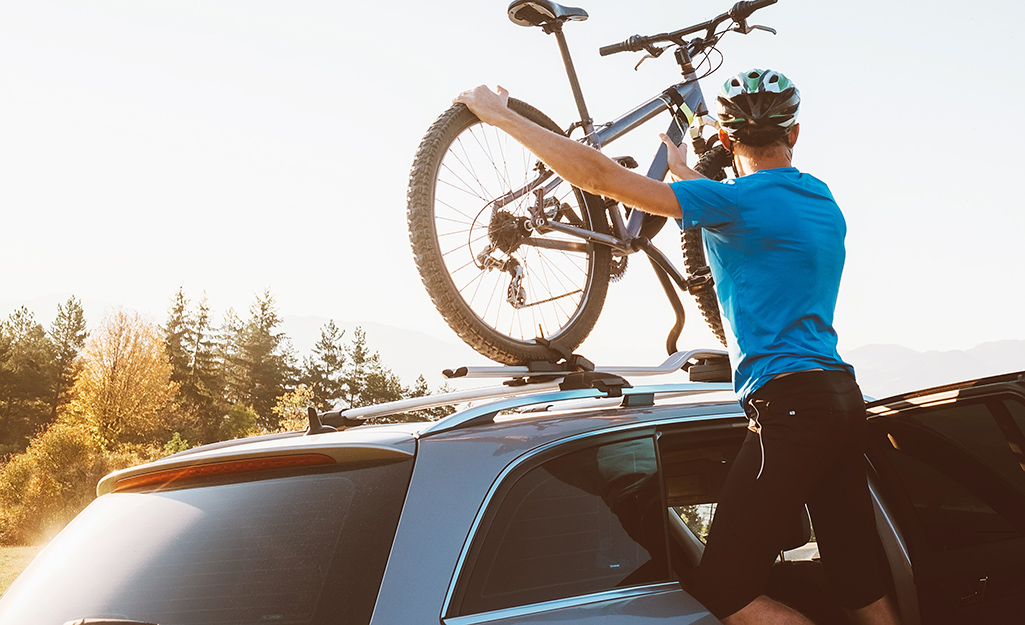 Bike racks aren't just a great way to tow bikes around town, many of the designs are incredibly versatile. If you're an avid adventurer, start with a roof-mounted bike rack and use it to carry anything the day calls for. Many of them are also designed to carry kayaks, surfboards, skis, snowboards, paddle boards and even cargo boxes. 
Some of the nicer hitch racks can also be adapted to carry a few of these extra outdoor toys as well. Think about the items you like to tow, and choose a bike rack that offers safe transportation for all those items.
With so many different styles available, the best bike racks for SUVs will depend on your specific model. Consider how frequently you'll use the rack and how many bikes you need to tow when making your selections. Will you always use the rack on the same vehicle, or will it switch back and forth between family vehicles? Once you consider your needs and look at the attributes of the four basic styles of bike carriers, shop The Home Depot Mobile App to find a bike rack that best suits your needs.
Explore More on homedepot.com