No interior construction project is complete without drywall. Commonly referred to as wallboard or gypsum board, this lightweight material comes in panels and attaches easily to studs to create walls. We'll help you understand the different types of drywall and the correct uses of each. 
What is Drywall?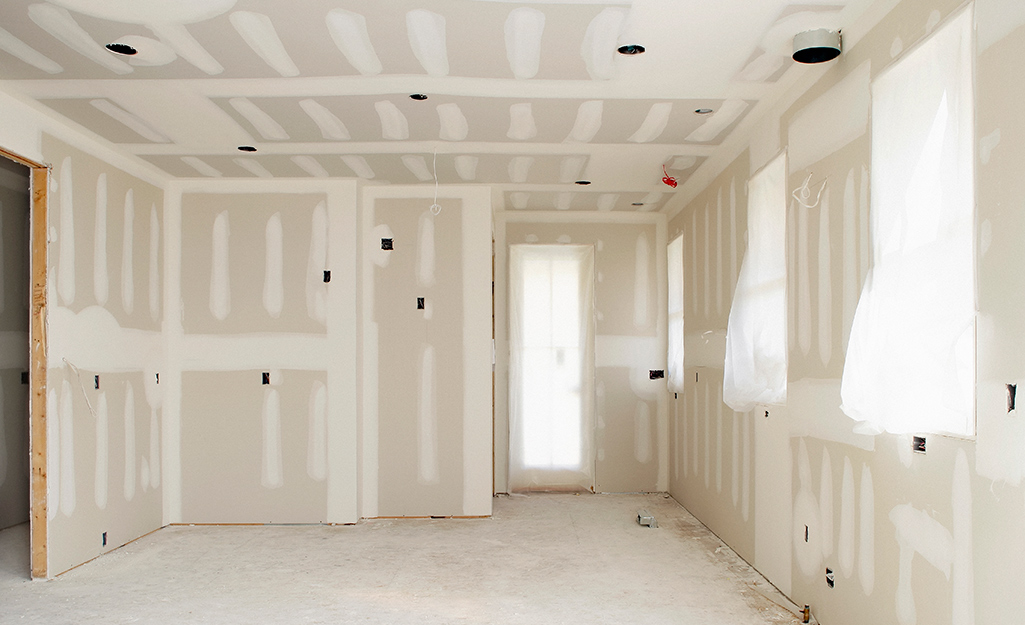 Drywall is a flat panel made of gypsum plaster sandwiched in between two sheets of thick paper. It adheres to metal or wood studs using nails or screws.
Types of Drywall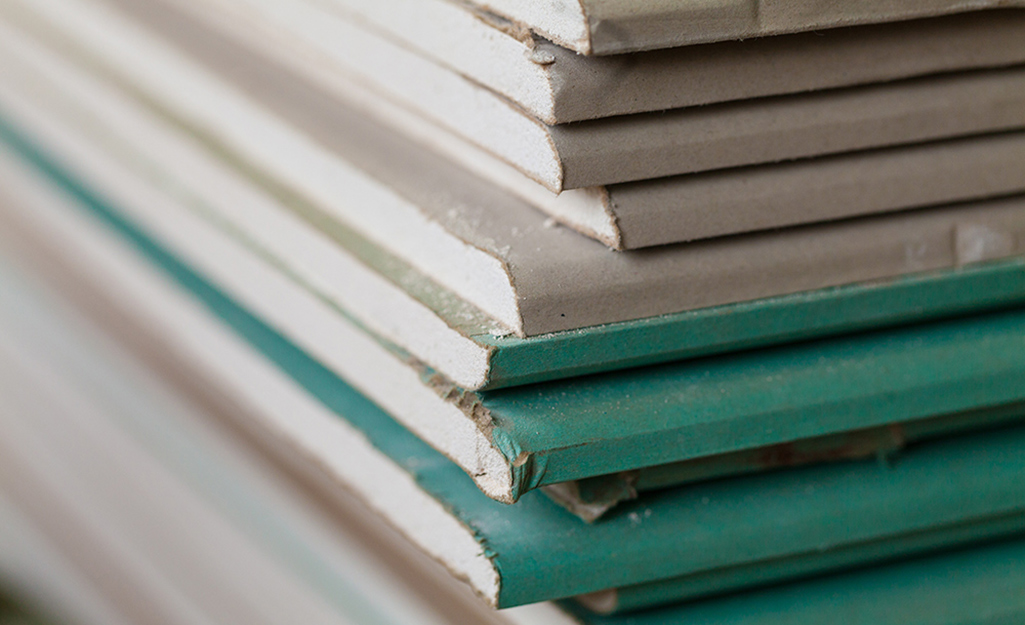 To make drywall last for many years, choose the right type of drywall for the project. There are four basic categories of drywall to choose from, each offering its own benefits. 
Standard: 
Standard drywall doesn't have any special features added to the design. It is popular inside residential construction.
Suitable for walls and ceilings.
Suitable for finishing basements.
Mold Resistant: 
This drywall features a paperless backing and special coating to help prevent the build-up of mold in moist or humid areas.
Helps extend the appearance of interior surfaces in wet or humid areas.
Great choice for bathrooms and kitchens.
Moisture Resistant: 
Areas prone to moisture and humidity are ideal for moisture-resistant drywall. This drywall features a special paperless backing and an additional coating to prevent mold and moisture.
Ideal for bathrooms, basements, kitchens, laundry rooms and utility rooms.
In high-moisture shower areas, such as shower enclosures, use cement backer board.
Fire Resistant: 
Fire resistant drywall is made with glass fibers in an extra-thick design. This makes them ideal for use in utility rooms, garages and areas near a furnace or wood stove.
Prevents the spread and speed of fire.
Generates less smoke than traditional drywall.
Provides better room-to-room sound control than standard drywall.
Required by many building codes.
Soundproof: 
Soundproof drywall is designed to reduce noise from traveling between walls. It's thicker than most standard drywall sheets and often has two gypsum layers that are glued together with a special noise-dampening adhesive.
Helps prevent noise from traveling between walls and ceilings.
Has a noise-dampening core.
Can be as thin as 1/2-inch and as thick as 5/8-inch.
Can be replaced with two sheets of drywall you adhere together yourself. Note that two sheets of drywall will be thicker and take up more space than a single sheet of soundproof drywall.
For best soundproofing, combine soundproof drywall with fiberglass insulation.
Drywall Sizes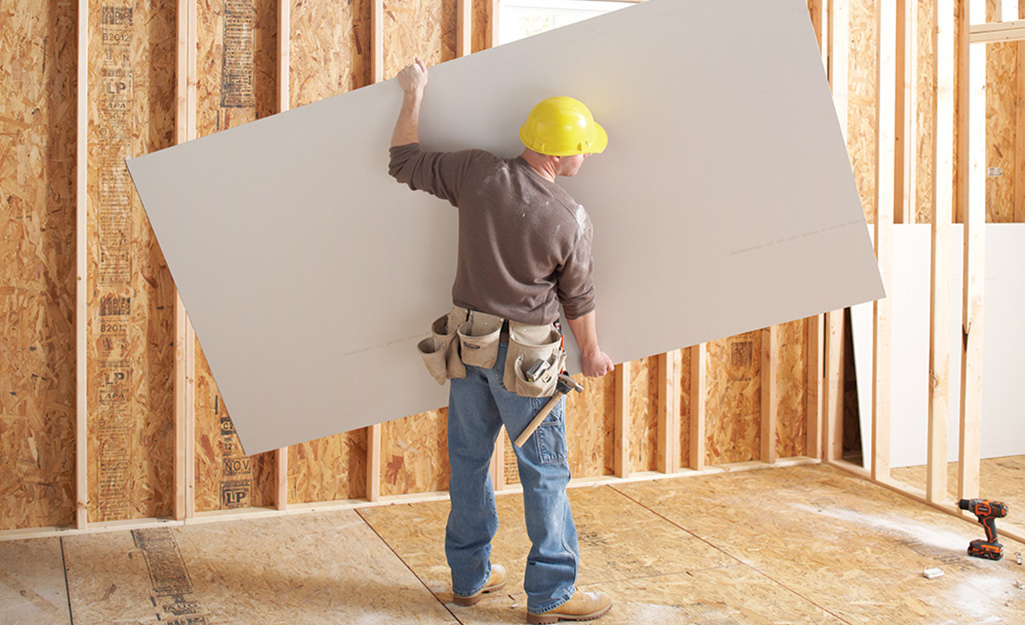 As you shop for drywall, you'll find three common size options:
The most common and versatile of all drywall sizes.
Allows for either vertical or horizontal installation.
Provides a smoother surface on tall walls and expansive ceilings.
The longest length available.
Ideal for great rooms and areas with high ceilings. It covers more area in fewer panels.
Tip: Small and medium construction projects are ideal for 4 x 8-foot standard drywall. It provides the best value per sheet and weighs just over 50 pounds per panel.
Choosing a Drywall Thickness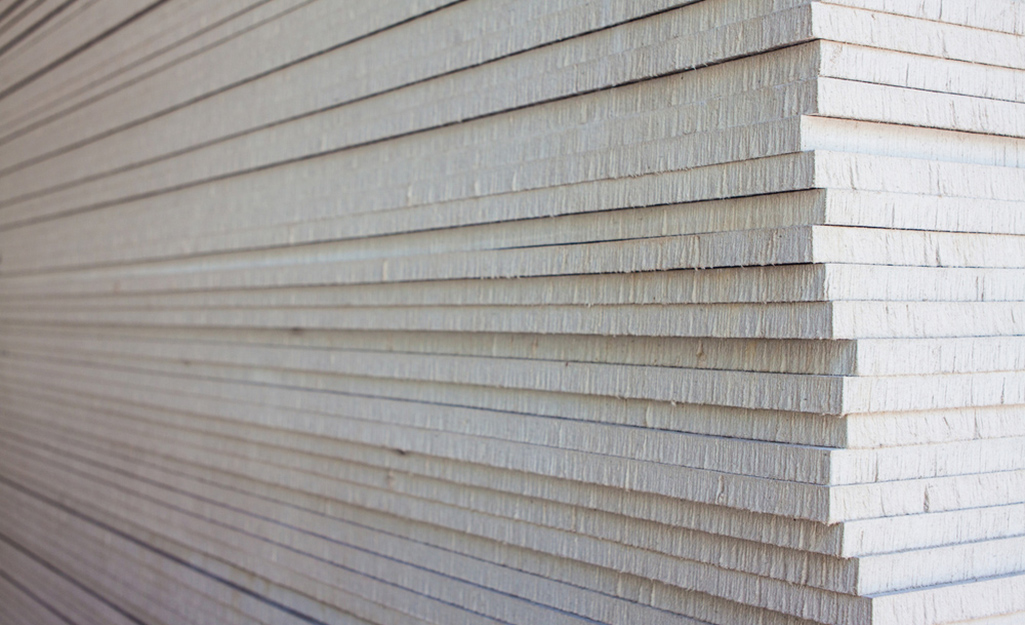 Drywall comes in four common thicknesses, each offering a specific use and purpose. 
The thinnest of all the options, 1/4-inch drywall is most commonly used as a skimming material. Mount it over an existing layer of wall to refresh the look and hide old blemishes. It's ideal for walls with a subtle curve to them. The thin design makes it easier to manipulate the material. 
Just slightly thicker than 1/4-inch drywall, 3/8-inch drywall is also a good choice for curved walls. This thickness is most often used to repair existing drywall that needs patching.  
Most drywall measures 1/2-inch thick. It's the most common choice for interior walls because they are easy to carry and hang. If weight is a concern, consider ultra-light half-inch drywall. It's 13 pounds lighter than other varieties for the same size and thickness. 
The thickest of all the types of drywall, 5/8-inch drywall is often fire-resistant and is the best choice for soundproofing rooms. It makes a great choice for ceiling applications because it helps to prevent sagging over time. 
Determining How Much Drywall You Need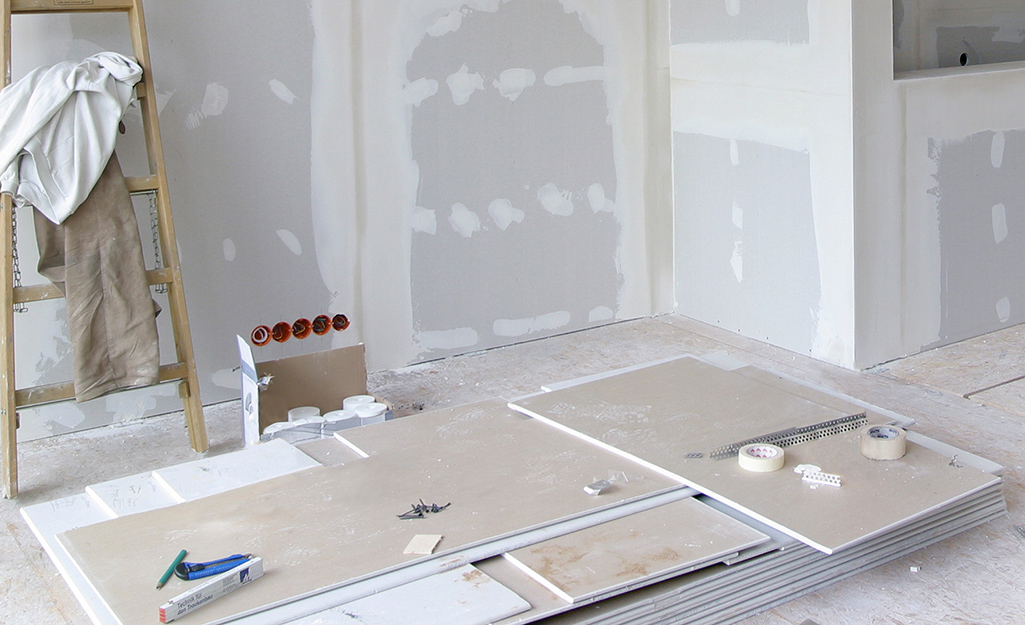 Once you've determined which type of drywall is best for your project, it's time to decide how much drywall you need. Our handy project calculators make it easy to know just how much material you'll need.
Of all the different types of drywall, 4-foot by 8-foot drywall that measures one half-inch thick is the most common option. Other drywall thicknesses, sizes and specialty boards may be available by special order. Get everything you need to finish your drywall project. Shop our selection for all your supplies, including joint compound, screws and more.
When transporting drywall is a challenge, The Home Depot truck rental can help. From pickups and vans to moving trucks, we've got you covered.
Explore More on homedepot.com