Electrical boxes, also known as junction boxes, enclose wire connections. They help protect against short circuits, which can cause fires. This guide describes the different types of electrical boxes, their materials and their applications. They come in many shapes and sizes to fit wherever you need them. Learn about the differences so you can feel confident that you're choosing the right box for your project.
IMPORTANT: The National Electrical Code (NEC) and local building codes regulate the types of electrical boxes allowed in certain applications, as well as how they're installed. Per their requirements, electrical boxes must be covered with matching electrical box covers. You can't cover them with drywall, paneling or other wall coverings. The box also needs to have enough space for the conductors inside. 
Check with your local building inspector before you start any electrical project and obtain the required permits. When you're done, always have your work inspected for compliance with local codes. This is to ensure that the electrical boxes have been safely installed.
Types of Electrical Boxes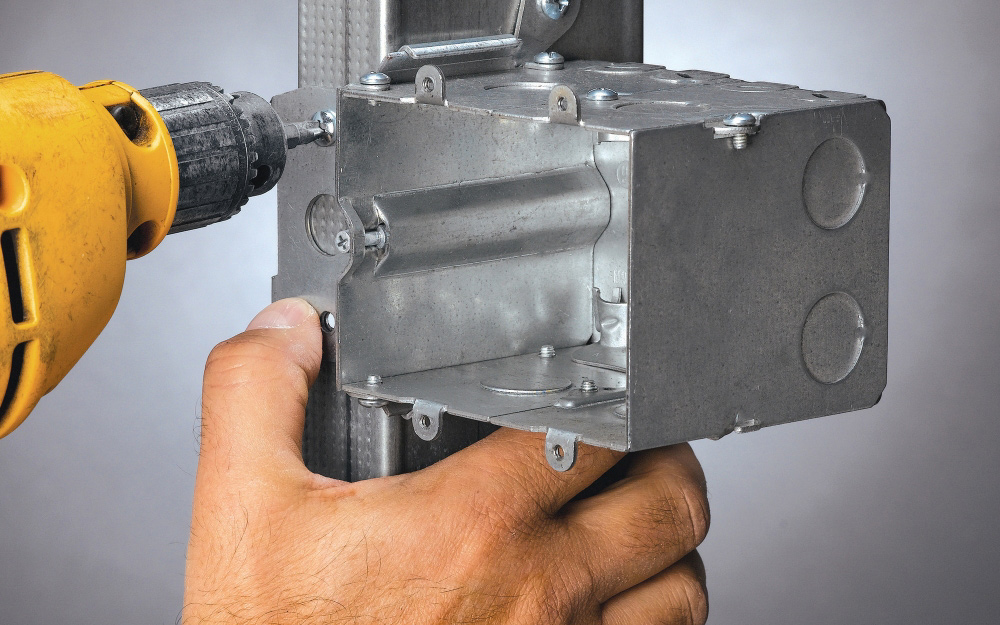 Specific boxes are designed for indoor or outdoor use, while others are made for installation behind or outside of walls. They can contain light switches, wires or outlets.
Tip: Electrical code requires that all electrical boxes are fitted with box covers. Exterior covers must be watertight.
Electrical Box Sizes and Shapes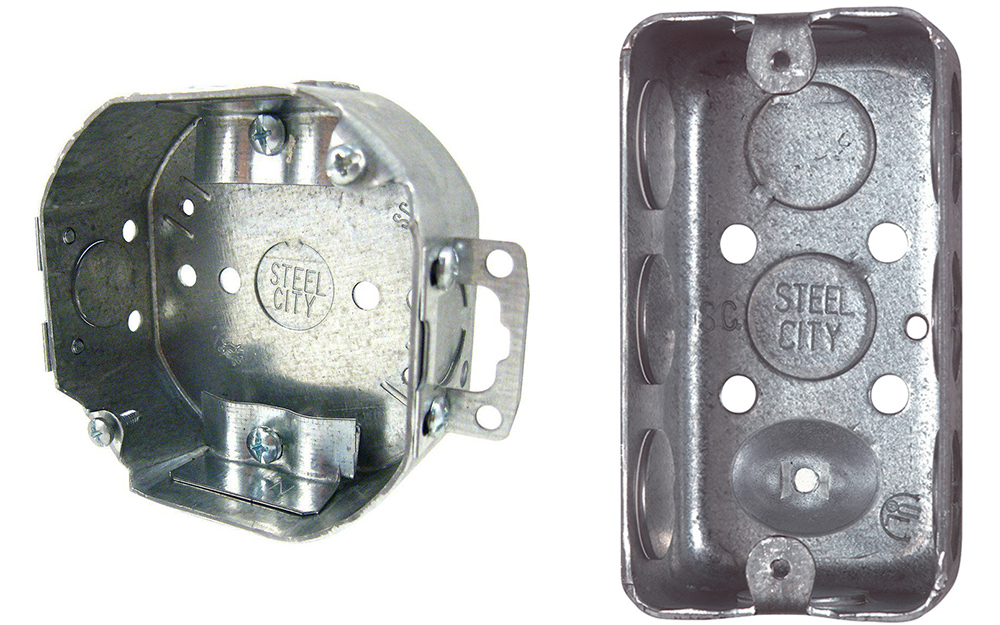 The shape of an electrical box can help you identify its purpose. Different electrical box sizes fit varying installation needs.
A standard rectangular shape is the most common electrical box. It houses a single electrical switch or outlet and comes in metal or nonmetallic units. These boxes protect wiring from the elements with gaskets, sealed seams and watertight covers.
A square electrical box, also known as a "double-gang box," houses two devices. They'll have a combination outlet/switch or a pair of outlets/switches inside.
The round or octagonal box houses lightweight fixtures or safety devices in the ceiling. These are used for lights or smoke and carbon monoxide alarms.
A ceiling box is for heavier fixtures, such as ceiling fans or chandeliers. Be sure to choose a ceiling box that is made to support extra weight.
Electrical Box Materials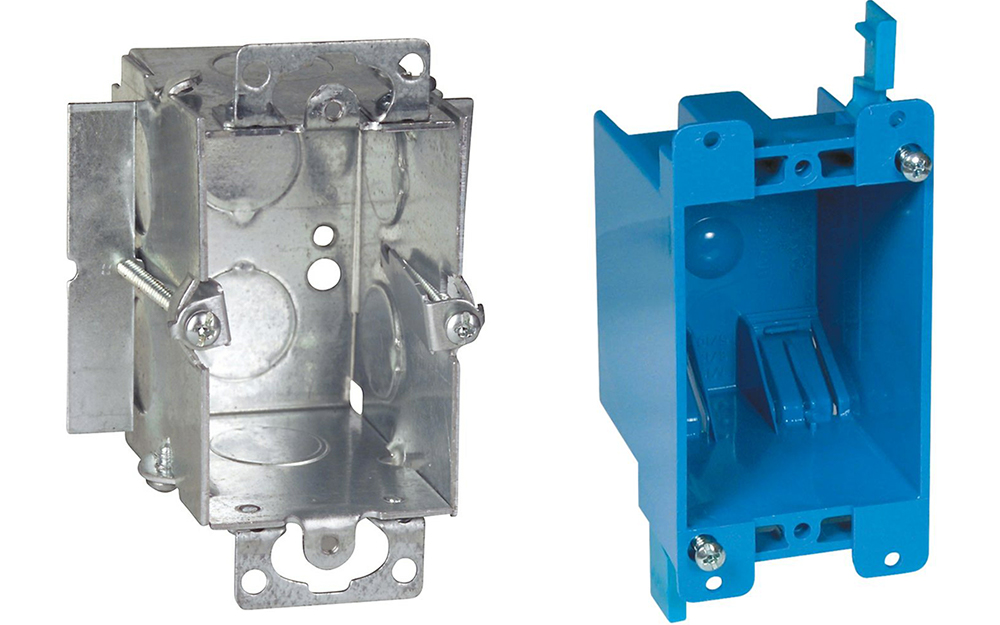 Electrical boxes are constructed of metallic or nonmetallic material. Metal boxes are usually made of aluminum, steel or cast iron. The boxes made without metal are PVC or plastic. 
Metal Boxes: 
Many local building codes require metal junction boxes because they are durable and ensure long-lasting performance.
Choose from many junction box sizes to find the one that best suits your project.
Use for exposed indoor applications, such as with conduit in an unfinished basement.
Plastic or PVC Boxes: 
These boxes are inexpensive and easy to install.
Plastic electrical boxes can be placed behind drywall.
Use only with nonmetallic cable.
Electrical Box Installation Tips and Tricks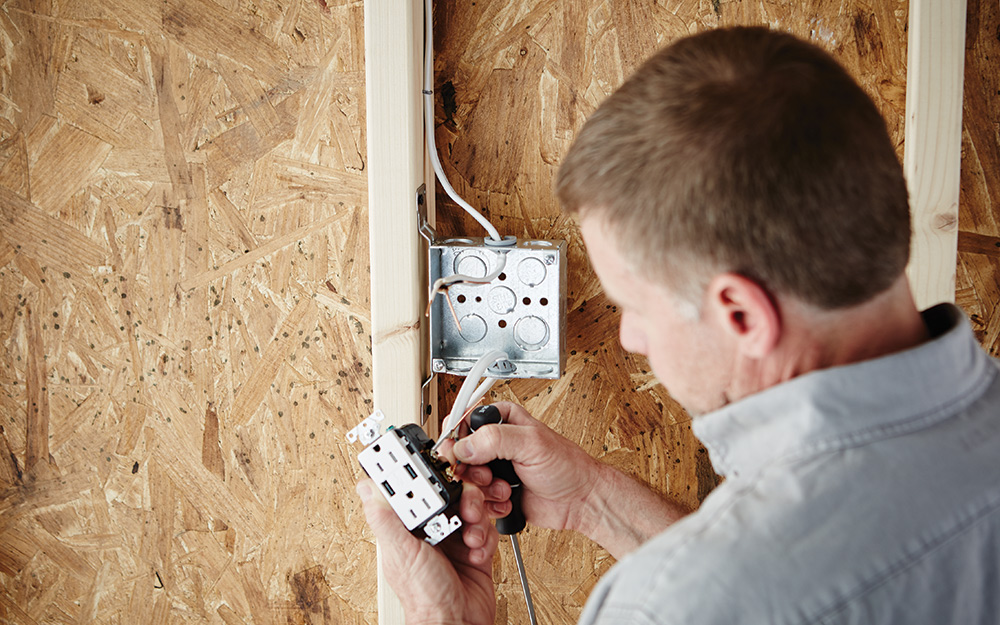 Always check with your local building inspector before starting any electrical project. They'll ensure that you are following code. 
For new construction installations, diagram the room and be sure you have enough electrical boxes to accommodate all the light switches, outlets and fixtures you need. Assure that the electrical box sizes you chose match the locations where you need them.
When working in finished areas, use a stud finder to locate studs. Make sure they don't interfere with the placement of a new box.
Trace an outline of the box on the wall where it will be installed to mark cutting lines. Utility knives work well for cutting holes in drywall, and keyhole saws are good for plaster. Try using a saber saw for wood.
Light switches are generally installed about 42 inches from the floor.
Power outlets are generally installed 12 inches from the floor.
Plan for future changes by clearly labeling all wires.
With a bit of preparation, you can add electrical boxes to your home. Just decide on the location and choose the right junction box for the job. Once you have power available where you need it, you can update your living space. Add new lights, ceiling fans or other appliances to enhance your decor. 
Ready to get started? We're here for you. Shop online to get the supplies you need for your project. The Home Depot delivers online orders when and where you need them.
Explore More on homedepot.com