Few things compare to the taste of freshly grilled foods prepared on a barbeque grill, no matter what season it is. There are many different types of grills to boost your outdoor cooking to smoky perfection. This guide outlines the various types of outdoor cookers, including designs, features and fuel, to help you select the best grill for your space.
Factors to Consider When Grill Shopping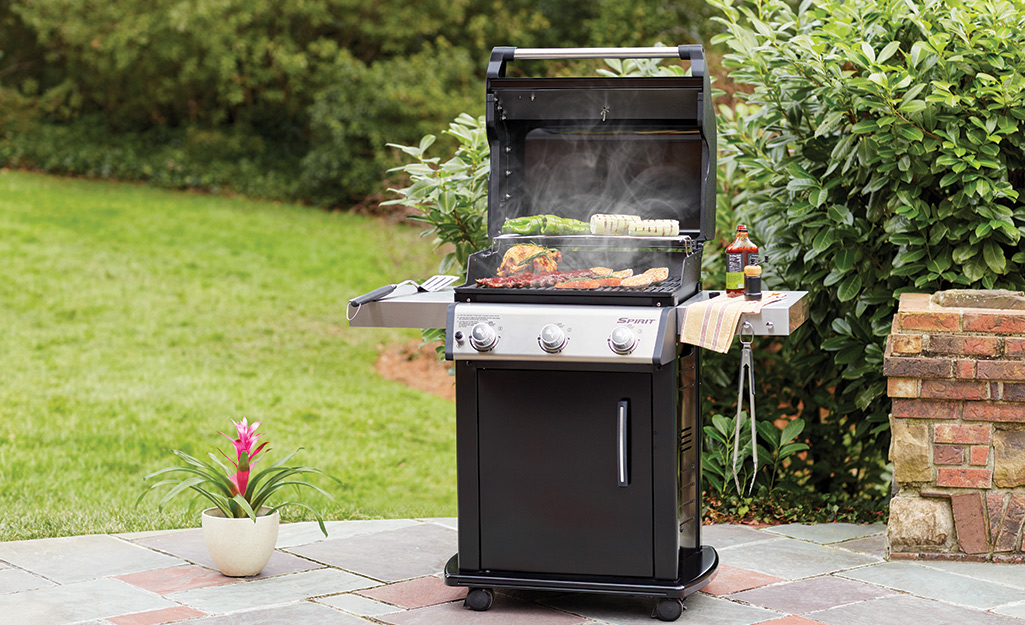 Outdoor chefs have a lot to consider when shopping for the best grills. Gas or charcoal? Propane or wood pellets? Direct grilling or smoking?
All types of bbq grills have their pros and cons. The fuel used to cook the food is the primary difference between grills. Finding the cooker that's right for you is a matter of personal preference for speed, efficiency, convenience and flavor. 
Many grilling enthusiasts have multiple grills or select combo models that can use charcoal for traditional smoky flavor but also have the convenience of fast heat-up times from gas grills.
As you weigh advantages and disadvantages of types of grills, be sure you're shopping for the size that's right for your outdoor area. Along with the unit's overall footprint on your deck or patio, also think about the cooking surface of the grill. Having a large grill will help ensure there's enough room to cook a variety of meats and vegetables for your family.
Charcoal Grills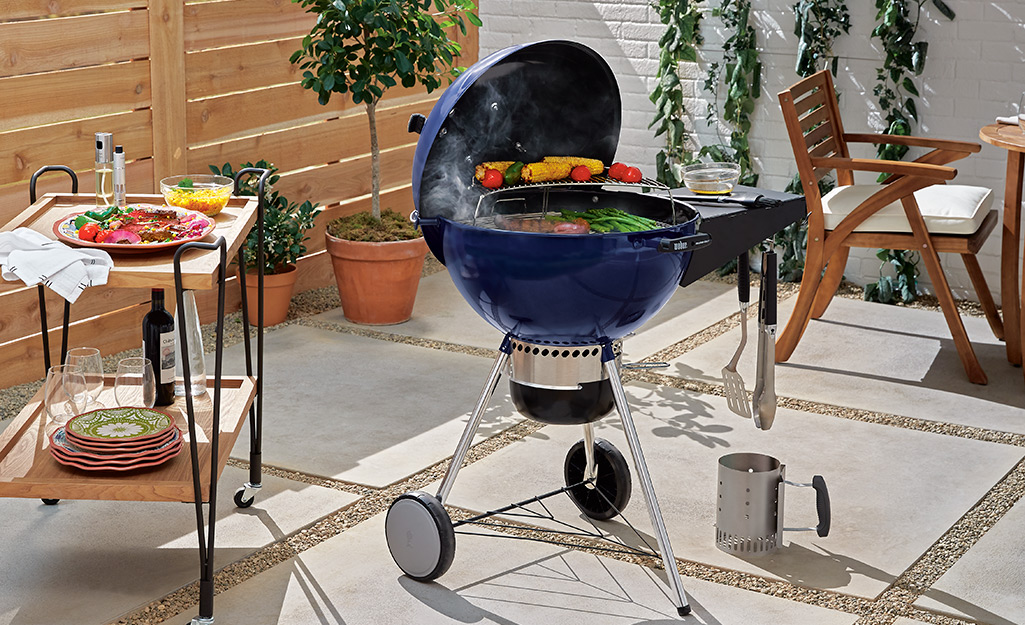 Covered charcoal grills offer an easy way to serve up chargrilled flavor, whether you're camping out, tailgating or simply cooking out in your backyard. Heat distribution is designed for a hot, direct zone on the grill surface for browning and searing. Push the hot coals to one side to create a cooler, indirect zone where food can cook more slowly by convection airflow. In addition to indirect grilling, the tall lid of a covered grill enables you to smoke foods.
Here are some key things to note about charcoal grills:
Least expensive outdoor grill. 
Uses charcoal briquettes as fuel. More charcoal means more heat.
Cooks at a temperature up to around 700 degress Fahrenheit, with no temperature control knobs.
Dampers on the grill base and on the lid regulate airflow to control the heat.
Enriches the flavor of food with the charcoal's smoky taste. 
Lights fuel more quickly when used with a charcoal chimney starter. 
Heats up more slowly than gas or electric grills. 
Requires more clean-up, as charcoal ash must be removed after each use. 
Like most other types of grills, charcoal grills are made from cast aluminum, sheet metal or stainless steel. Kettle grills have a removeable lids that are lifted to access the grilling surface. Barrel grills and cart-style grills have hinged lids and often feature side shelves.
Grill grates can be made from cast iron, chrome- or porcelain-coated steel. Depending on the model, a trap door in the grate allows backyard chefs to add more charcoal to the fire when needed.
Kamado Grills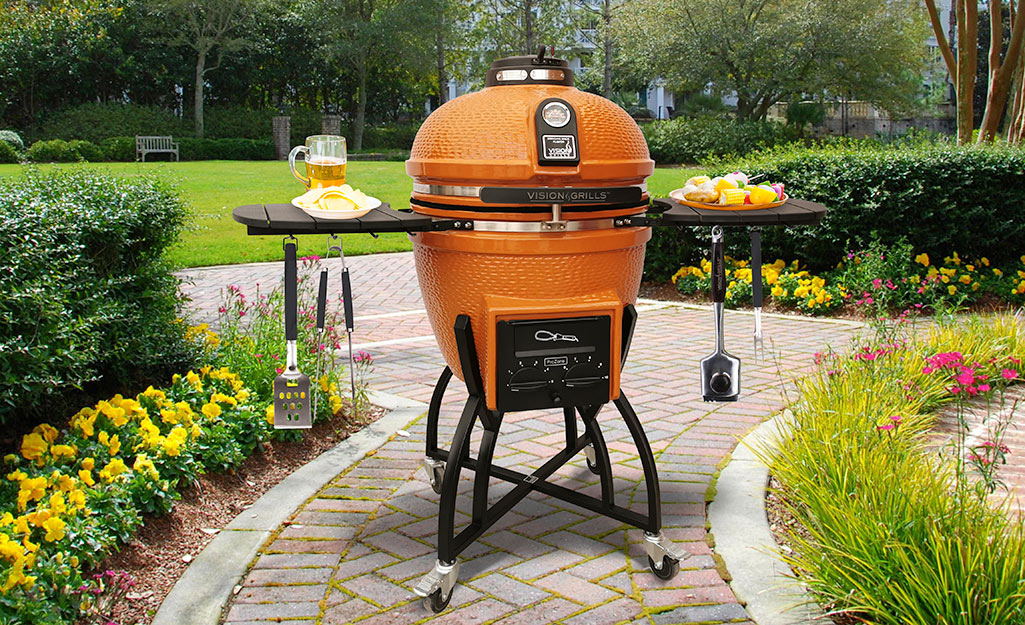 Kamado grills are types of charcoal grills that have become popular for their versatility. The elongated body of a kamado enables excellent heat circulation to cook food evenly. Its thick ceramic construction tolerates high temperatures – even in cold weather – and also maintains low heat for slow cooking.
Use it as a grill for steak and other traditional cookout fare, or a smoker for a pork shoulder and other slow-cooked meats. Because of the consistent convection heat produced inside a kamado grill, it can also serve as an outdoor oven for baked favorites, such as thin-crust pizza.
Gas Grills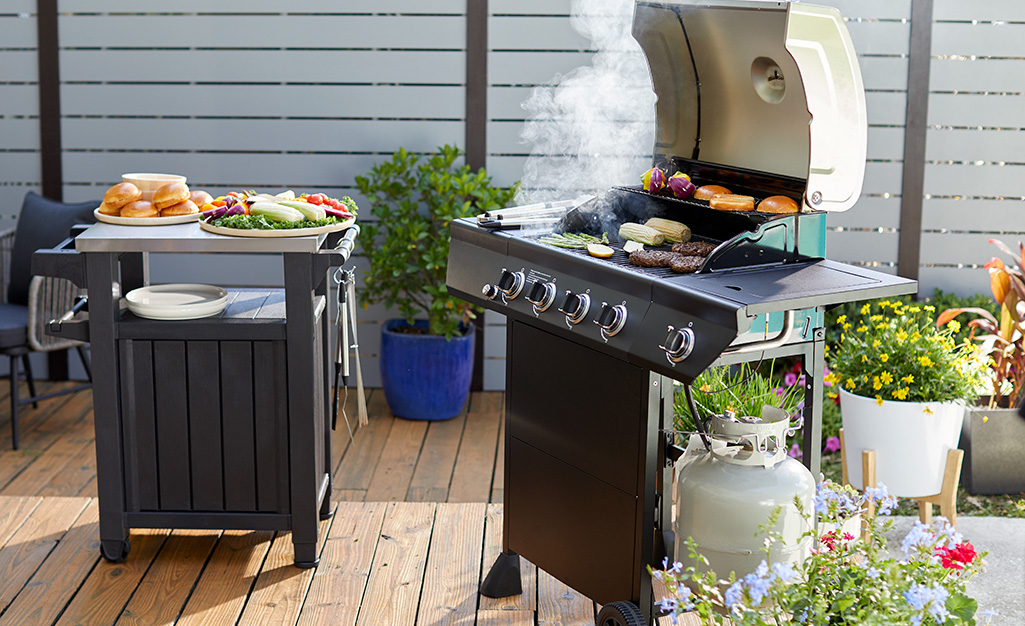 Gas grills are the most popular type of outdoor barbecue grills, primarily for the convenience they provide for fast meals cooked outdoors.
Propane grills use a 20-pound propane tank that gives about 25 hours of grilling time before needing to be replaced. Most propane grills can accept natural gas after a conversion kit is properly installed.
Natural gas grills have uninterrupted fuel supply, so you won't need to worry about running out of fuel while barbecuing. One trade-off to using this type of fuel is that it requires installing a natural gas line from your house to the grill, which limits the mobility of the grill.
Here are some key things to note about gas grills:
Heats up quickly and is easy to use, requiring very little cleanup. 
Push-button start provides hassle-free lighting.
Reaches temperatures between 400 and 600 degrees Fahrenheit. 
Regulates heat with temperature control knobs. 
Multiple burners can create different heat zones for searing, cooking or warming foods on the grill. 
Some models can be used with charcoal or wood chips for added flavor. 
May require maintenance or replacement for burners, valves, vents and heat shields. 
Gas grills are typically cart-style with a hinged lid and side shelves. Built-in grills are a more permanent solution for outdoor kitchens and can use either natural gas or propane for fuel. Other options for outdoor cooking in your backyard or campsite include gas-fueled flat top grills that have a Hibachi-style griddle. These are perfect for a variety of smaller items and breakfast fare, such as pancakes and bacon.
Pellet Grills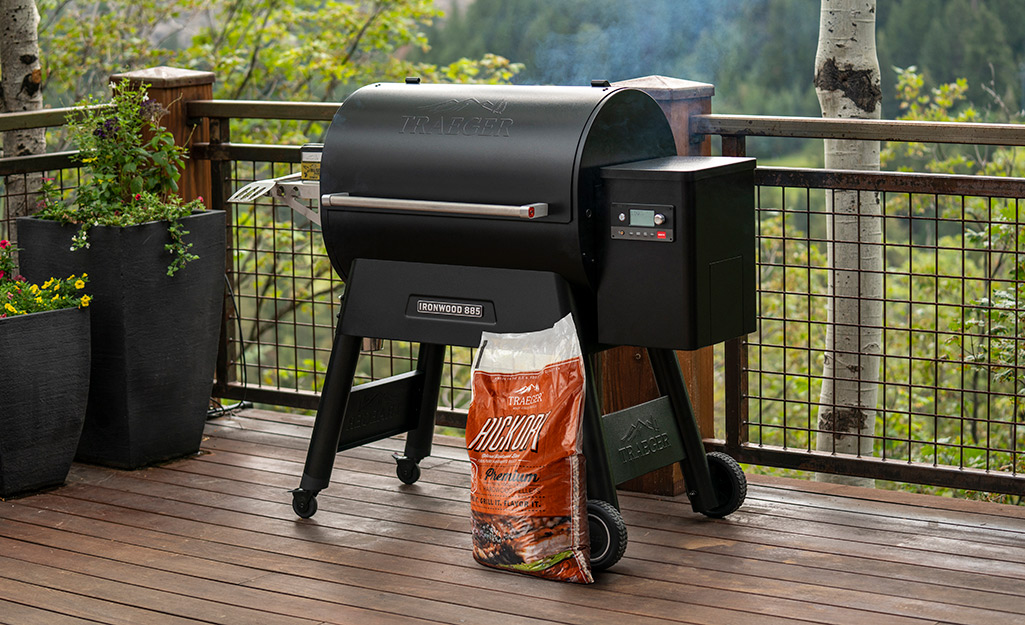 Wood pellet grills are popular for providing the best qualities of both charcoal grills and the best gas grills. They can be used like convection ovens at a variety of temperatures – from about 160 to 600 degrees Fahrenheit – making them ideal for grilling, smoking, baking, roasting and braising.
Pellet grills are electrically powered, but burn hardwood pellets for heat and smoke. A hopper dispenses food-safe pellets into the grill as needed to maintain a preset temperature. This allows for precise, digital heat control to evenly cook at a consistent temperature like an oven. Plus, the food takes on the distinct wood-smoked flavor of pellets made from woods such as hickory, mesquite, pecan and apple.
Some models enable you to adjust the temperature of the grill and monitor your food using your smartphone. This feature allows you to tend the fire even when you aren't right next to the grill. This could be from inside your home in cold weather or anytime you can't be tethered to your grill for low-and-slow cooking.
Smokers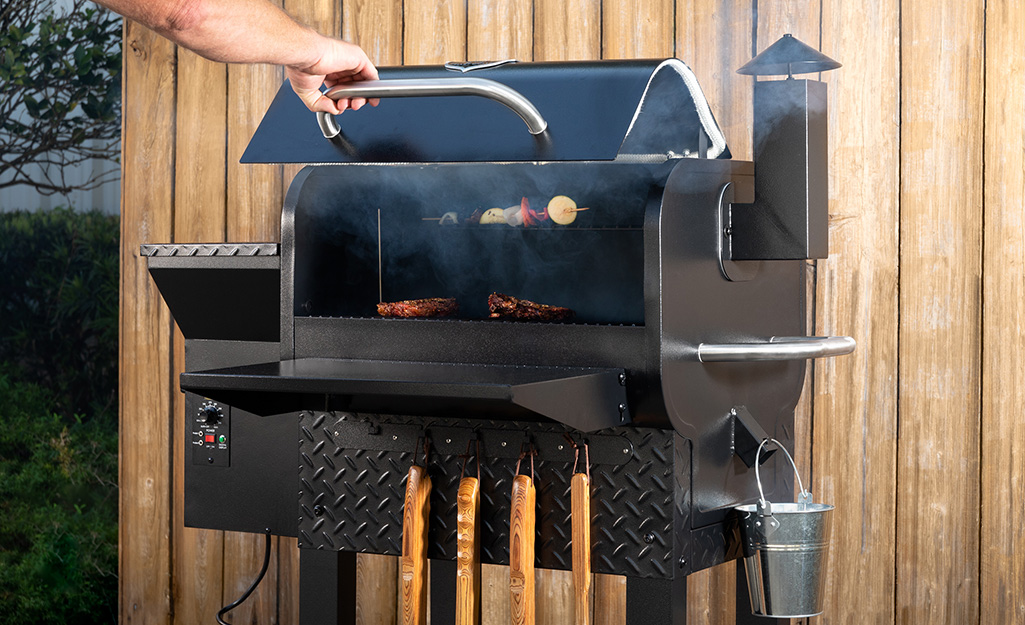 Charcoal grills and pellet grills can be used for smoking meat and vegetables but for those who love deep smoky flavor, a dedicated standalone smoker might be the best choice. Smokers cook foods at lower temperatures over longer periods of time – think of them as the slow-cooker versions of grills.
Heat for vertical smokers can be provided by charcoal, electricity or propane. Chips, chunks or pellets of aromatic wood of your choice provide rich, authentic flavors.
Charcoal smokers are more traditional. Propane and electric smokers can be more convenient and require less hands-on time and monitoring. Some models have electronic push-button controls for temperature and cooking times as well as integrated thermometers to help you achieve falling-off-the-bone tenderness.
Electric Grills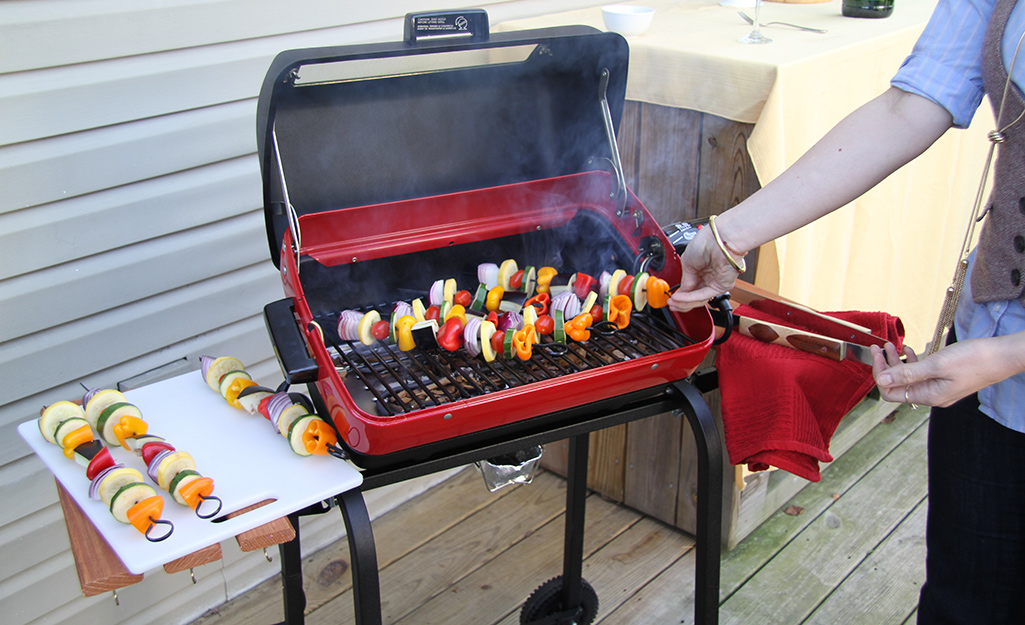 Electric grills are a great choice if you live in an apartment or condo where gas or charcoal grilling is not permitted. Requiring nothing more than a nearby electrical outlet, electric grills are typically the smallest grill sizes and include portable and tabletop models. Marinades or liquid smoke can make up for the absence of cooking flavors provided by grills that use other fuels.
There are benefits to an electric grill:
Needs no fuel. 
Heats up quickly and cooks food evenly. 
Requires no prep and provides easy cleanup.
Portable Grills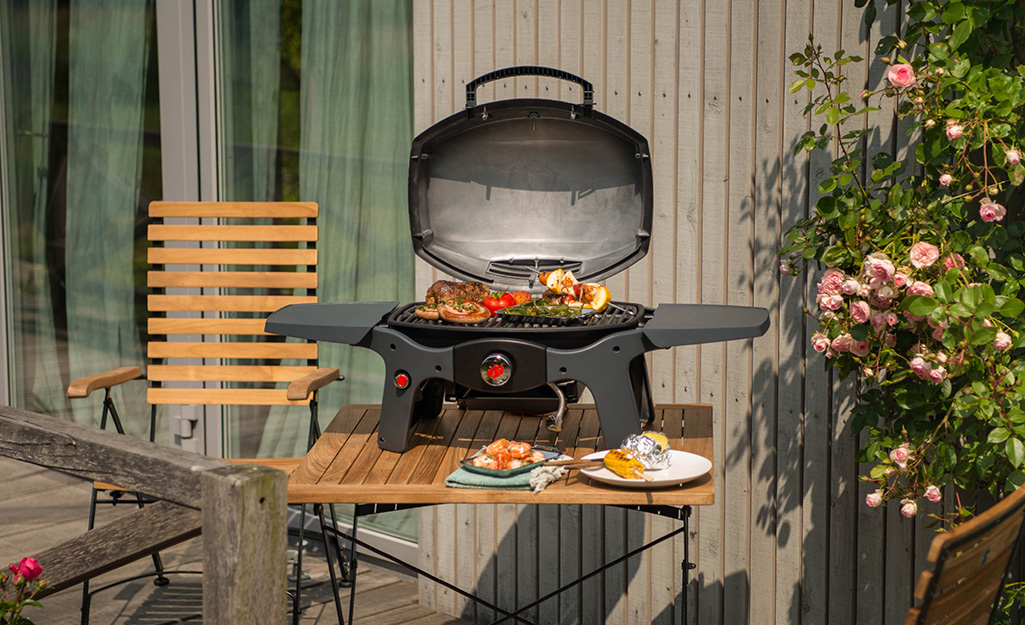 Small portable grills offer convenience for camping, tailgating or other outings. 
Just about all types of grills have a smaller version that can be used when you're away from home. The trade-off for their portability is their reduced cooking surface, which can be limiting if you have a large group. 
The upside is that you can take them with you and still enjoy chargrilled flavor when you aren't on your patio.
Gas and Charcoal Combo Grills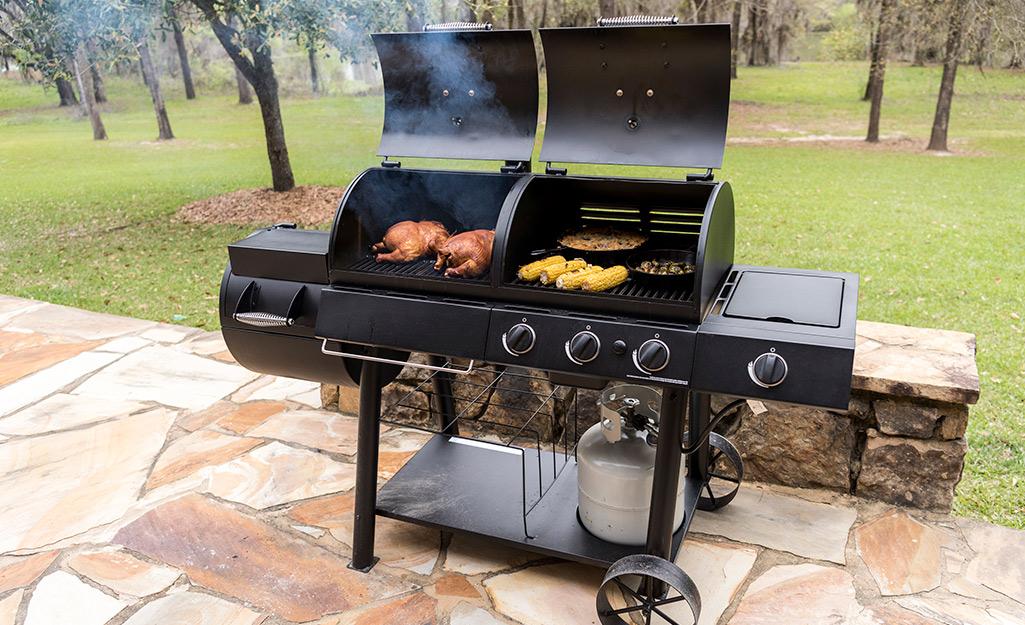 The best grills for outdoor cooks who can appreciate the benefits of both charcoal and gas grills might be a combo grill with two fuel sources.
These models have one side of the grill fueled by charcoal to provide traditional barbecue flavor. The other side is heated by propane burners to use when convenience matters most.
Grill Features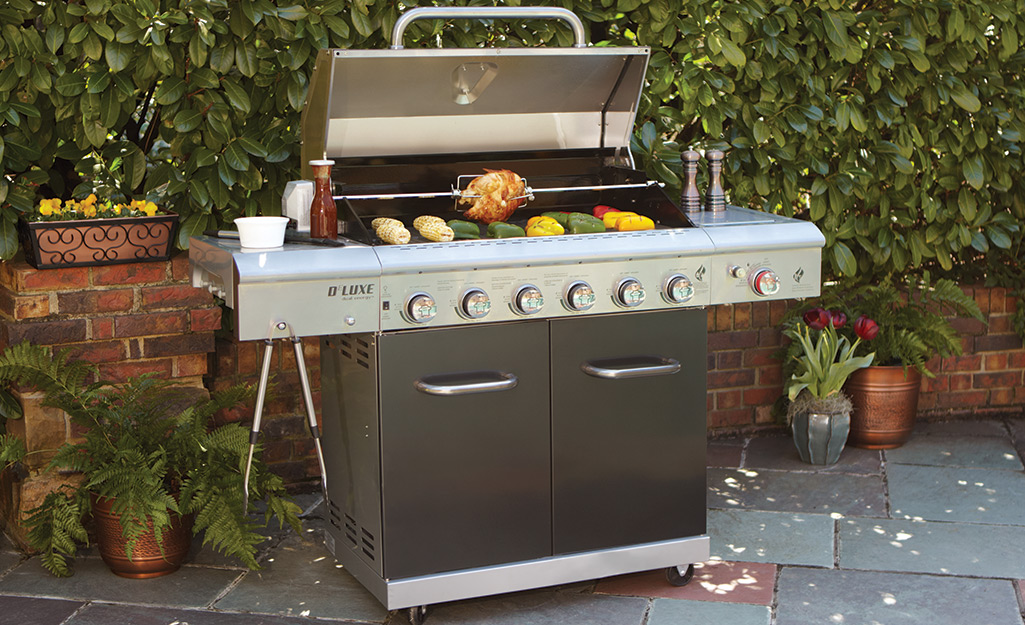 Some grill designs offer special features that you should consider before making your purchase. 
Electronic ignition lets you light the grill with the push of a button instead of a match or lighter. 
A built-in temperature gauge lets you monitor the heat without lifting the lid. 
Multiple burners allow you to cook meat or vegetables at the same time but at different temperatures. 
Side shelves provide a handy place for cooking utensils, platters and basting sauces.
Heat resistant handles, control knobs and other exterior design elements make the cooking area safer. 
Stainless steel design is easy to clean compared to some other materials, as are removable grates and cooking trays. 
A grill drip tray collects grease for easy disposal.
Pullout charcoal drawers for easy cleaning.
General Grill Buying Tips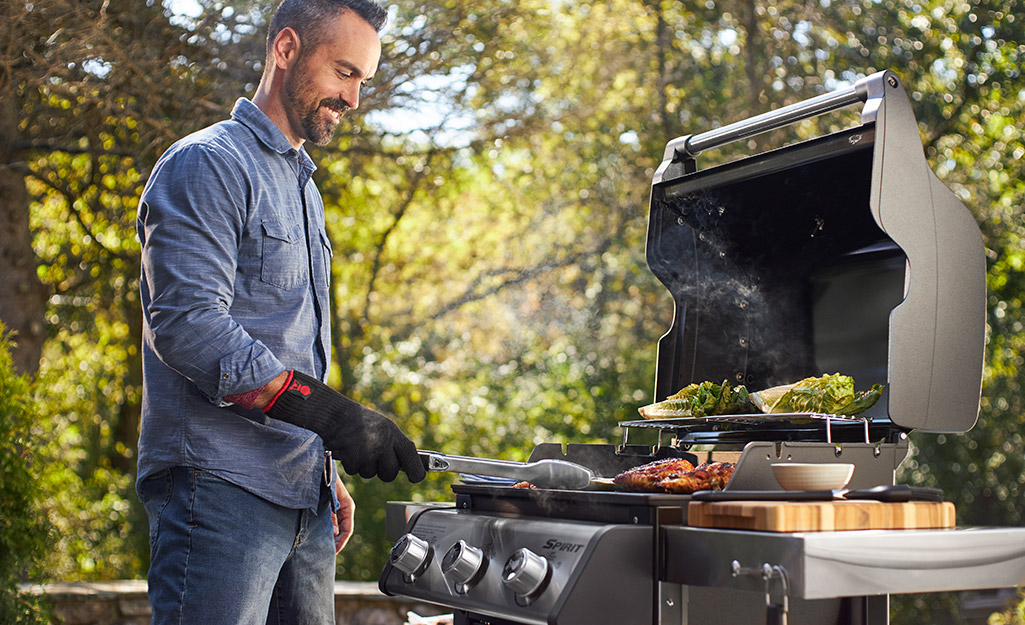 Selecting the best outdoor grill is based on your personal preference. Consider the pros and cons of a model's cooking time, fuel type and features that improve flavor or convenience.
Whether you're serving meat or vegetables, outdoor barbecue grills provide satisfying meals and a fun family experience. When you make your grill purchase, remember to also get the necessary grilling accessories to help you enjoy cooking in your outdoor space even more. 
Whichever type of grill you choose, be sure to stock up on the fuel you need. Include charcoal or wood pellets with your order so you can begin grilling quickly and easily.
Ready for a new grill? Shop online and The Home Depot delivers online orders where and when you need them. Add our grill assembly service to make it even more convenient. We assemble top brands including Weber, Traeger and Nexgrill from charcoal grills to propane and natural gas.
Explore More on homedepot.com