Paving stones, or pavers, are made of natural stone, brick, concrete and other materials. This guide will help you understand the differences so you can choose the best types of pavers for your garden, walkway or patio.
Natural Stone vs. Brick vs. Concrete Pavers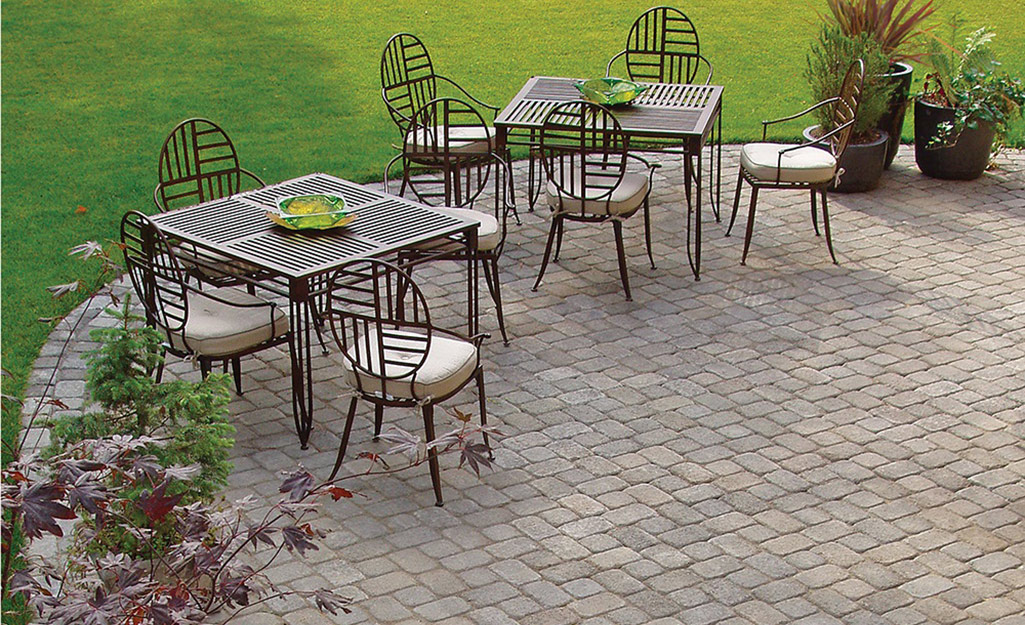 There are three main types of paver materials: natural stone, brick and concrete. These come in hundreds of styles and colors. Your budget and where you want to use the pavers will help you decide which type to buy.
Natural Stone Pavers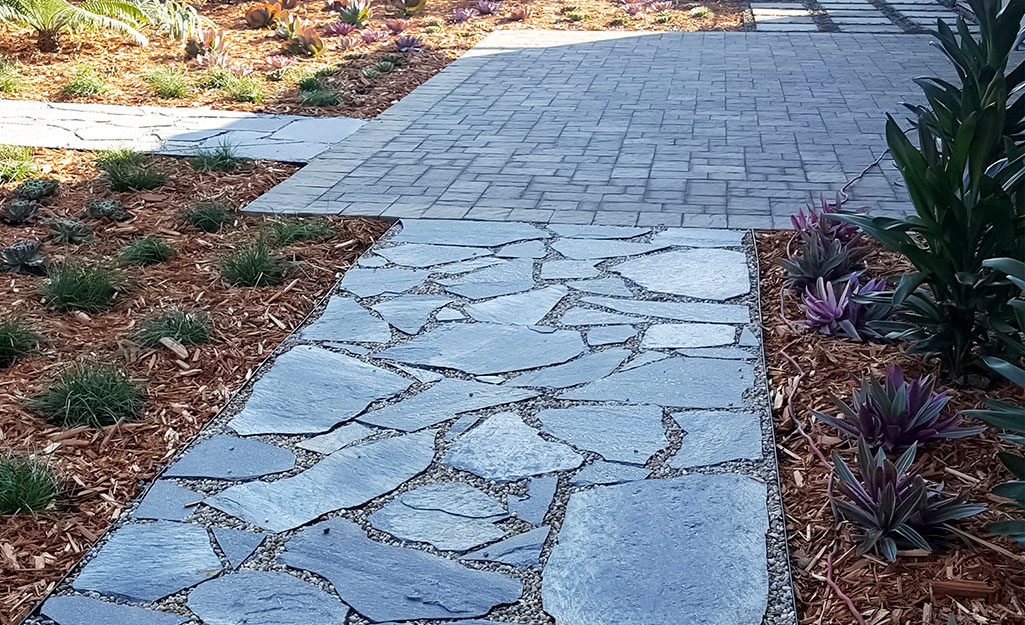 Most common types of pavers are flagstone or fieldstone.
More expensive than bricks and concrete.
Limestone pavers are strong and often used for edging.
Travertine pavers retain their natural color and withstand weather; seldom need cleaning.
Absorbent, so often used for pool decks and other pool areas.
Natural stone not ideal for high-traffic areas because it can break under pressure.
Brick Pavers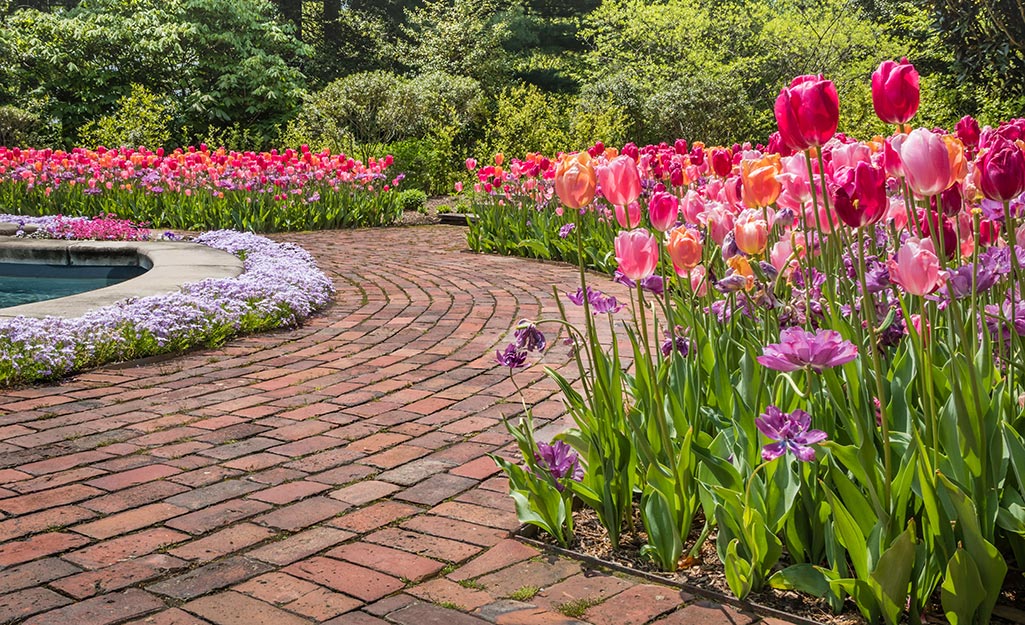 Made of clay or concrete and aggregate and dyed to look like brick.
Wide variety of brick colors and textures.
Very strong and stain-resistant paving material.
Sealants can help prevent fading.
For permeable paver system, bricks can be laid with small gaps between them so water can drain through to the sub-base.
Concrete Pavers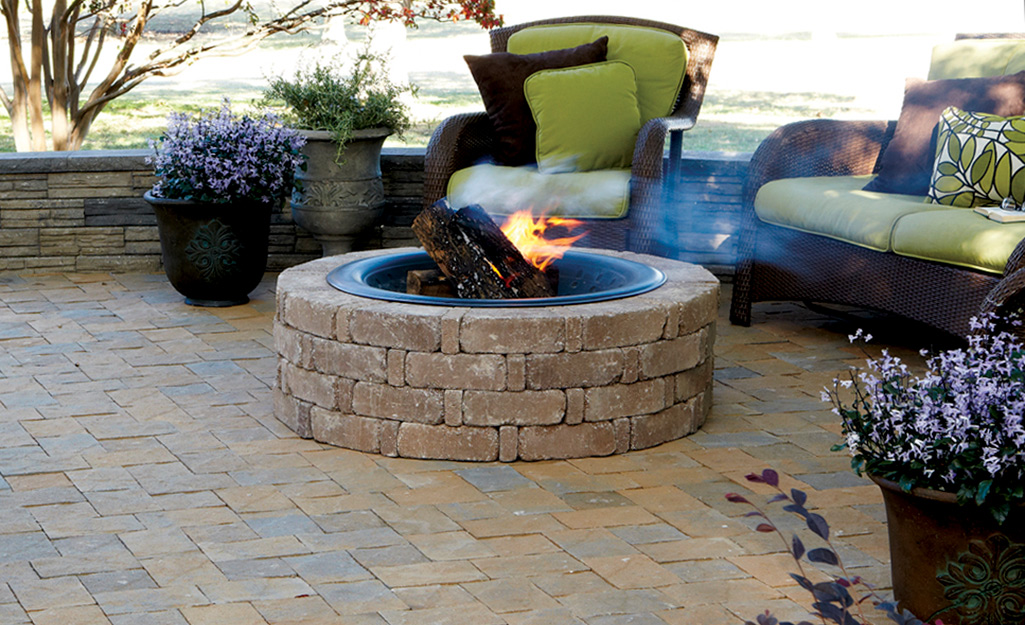 Made of molded concrete mixed with aggregate.
Available in a variety of colors and styles with interlocking patterns.
Some concrete pavers dyed to look like brick.
Must be sealed to retain color.
Very strong and durable types of pavers.
Interlocking concrete pavers with small gaps between them allow water to drain through.
How to Install Pavers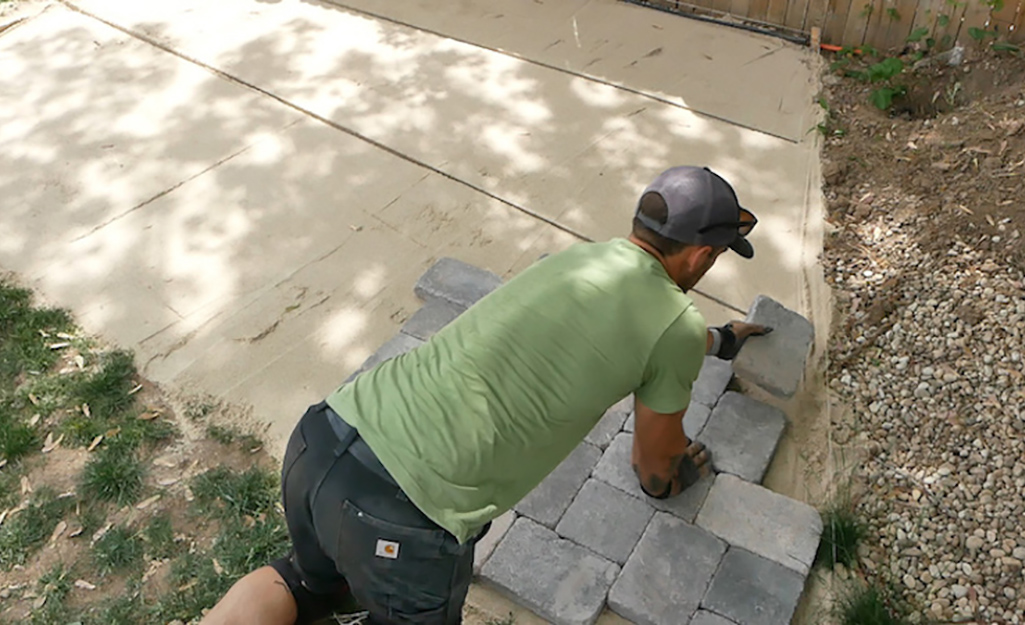 For pathways and walkways, plan for a width of at least three feet. For driveways, measure your vehicles and allow enough space with the doors open for people to move comfortably around the car.  
Interlocking pavers are manufactured pavers that are easier to install. Lay them side-by-side to create neat borders that separate your lawn and garden, stack them in a low wall to make a raised bed or make a patio, walkway or other outdoor living space. You do not need mortar to achieve a tight fit between interlocking pavers. 
Joints between pavers eliminate cracks that could occur in conventional concrete pavement.
How to Maintain Paving Stones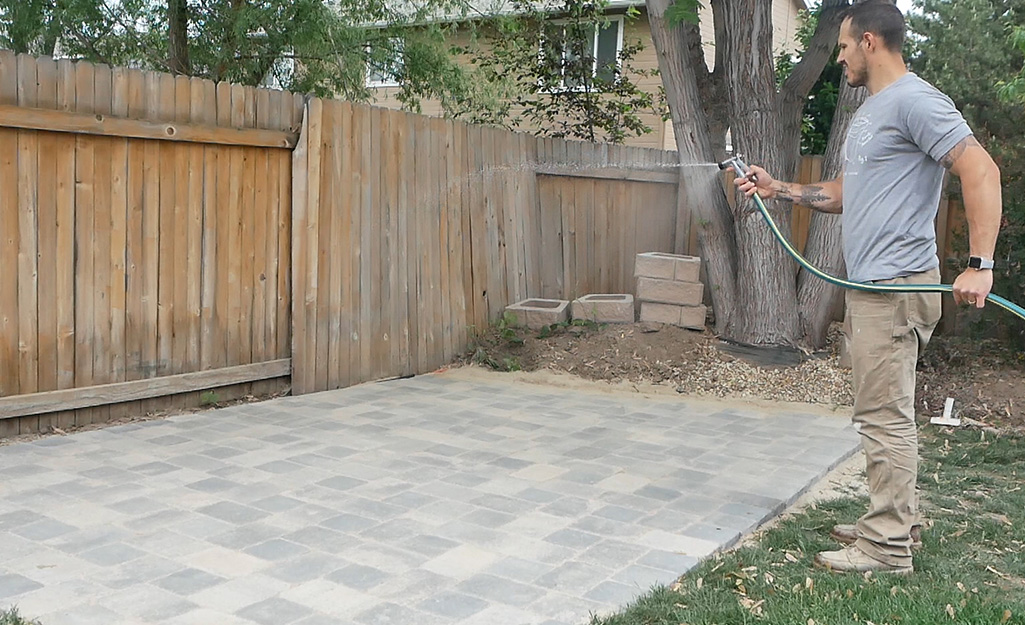 Pavers are virtually maintenance-free, although you can sweep, seal and regularly clean most types to enhance their appearance and longevity. Using a pressure washer from time to time can help keep them clean. 
Sealing some types of pavers will minimize staining and help them last longer. Reseal concrete pavers every two years or so, especially in areas with heavy traffic and a lot of wear. 
Clay pavers usually don't need sealing unless they regularly come in contact with grease and oil, such as around a barbecue grill or cars that leak oil. 
To clean brick pavers, use water and a small amount of detergent to wash away grime. 
Fix a cracked paver only if the crack is large and noticeable. It may be less expensive to replace individual pavers than to try to fix cracks.
How to Un-Sink Pavers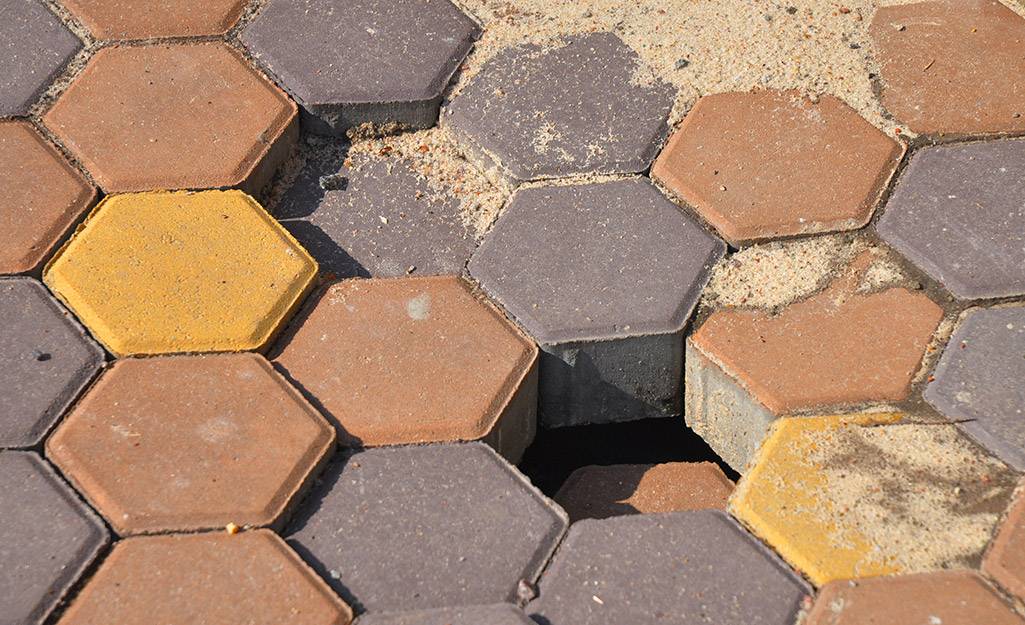 Sinking pavers can be caused by any number of problems including roots, poor drainage and even animals. Burrowing creatures such as moles, groundhogs and gophers can tunnel under paver patios and upend your paver work. Most commonly, though, the problem begins with your initial work. 
The most important step to prevent sinking pavers is to get the layering of your base materials correct. Incorrectly done, this can lead to sinking pavers. However, redoing the sunken area carefully can fix this issue.
Before you begin, take a few photos of your paver pattern. This will make it easier to recreate the pattern accurately later.
Lay a level across the sunken area of paver. This will help you find out where to start digging.
Use two putty knives to dig up about a 12-inch radius from the center of the sunken spot.
Scrape out any loose soil with a shovel.
Next, add paver base to even out the 4-inch layer.
Tamp down the paver base, then pour on a 1-inch layer of paver sand.
Tamp the paver sand down, and then lay pavers back in, following the original paver pattern.
Fill in the cracks using joint sand or polymeric sand. Pour some polymeric sand on top and work it into the cracks with a push broom. Be sure to blow off all the excess sand from the paver surface. Otherwise, it will create a haze on your pavers.
Following manufacturer's instructions, soak the sand with just enough water to dampen it.
Let the pavers rest undisturbed until the sand has hardened.
Natural stone, brick, clay and other types of pavers add beauty and value to your home. Limestone, flagstone and fieldstone are popular choices, but aren't recommended for high-traffic areas. Brick and concrete pavers are strong and durable. Rubber pavers are slip-resistant and a good choice for wet areas. Add landscaping to enhance your curb appeal or other area where you use paving materials.
Looking for a product or material? Use The Home Depot Mobile App to search by voice or image.
Explore More on homedepot.com