The Home Depot offers a wide selection of single- and multi-piece shower walls and surrounds and shower pans designed to easily fit almost any bathroom. However, there are any number of options when it comes to building out your shower as you'd like it.
SHOP SHOWER PANS OR SHOWER WALL PANELS NOW
Types of Shower Walls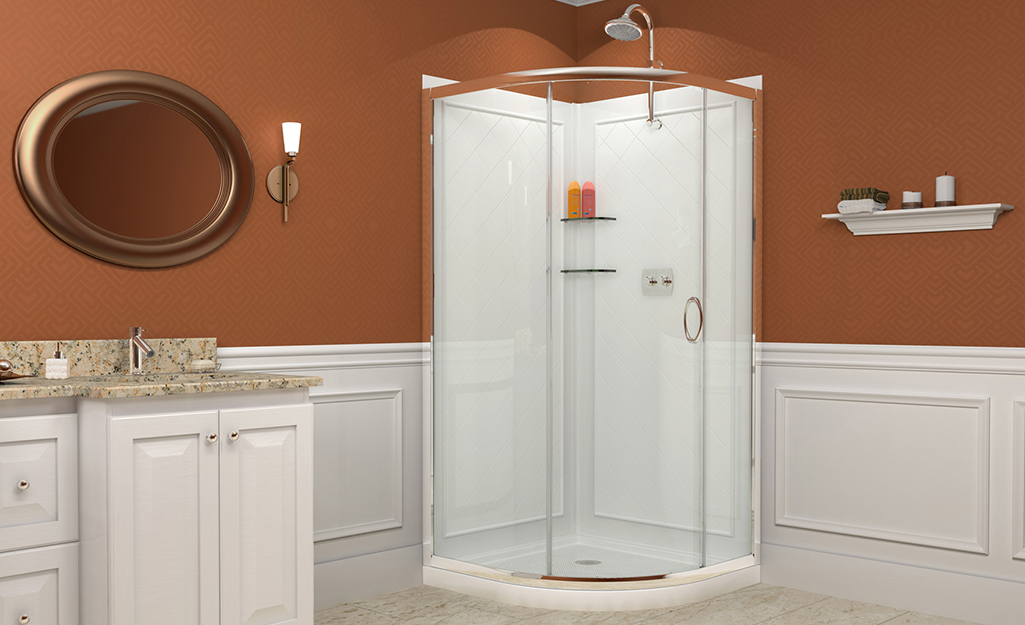 Shower walls may be single or multi-piece units that can be purchased separately or as part of a complete shower kit. When deciding the right types of shower walls for your bathrooms, you'll need to consider the space available and configuration concerns.
One-piece units may be too large to maneuver into an existing bathroom. Multi-piece units are easier to assemble and provide maximum adjustability.
Shower wall surrounds accommodate common widths of 32, 36, 48 or 60 inches and heights of 59, 72 or 96 inches.
Look for a unit that is at least 36 inches wide for comfort and safety.
Configurations include rectangular, angled, round and square.
Types of Shower Bases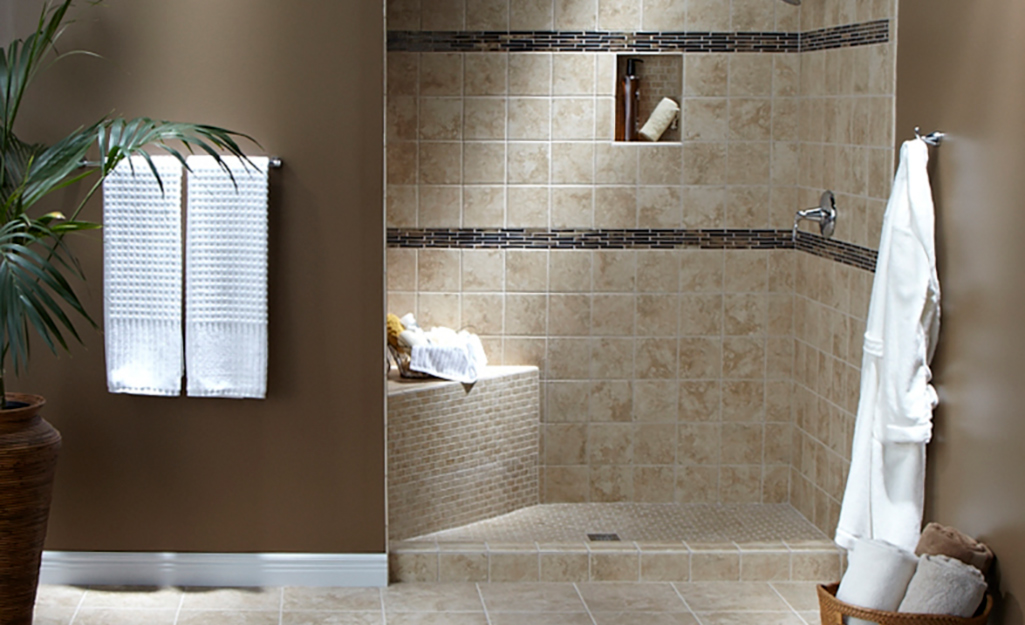 Shower bases are also known as pans or trays and they protect the floor from moisture under your shower. Sizes are standardized for traditional showers ranging from 32 to 60 inches and may be used with select walls.
Available in rectangular, square or corner configurations with a pre-drilled hole for the drain. Select a base with a drain hole that matches the location of the existing drain to avoid re-plumbing.
May be made of plastic, cast polymer, a concrete/stone mixture called terrazzo and other solid-surface materials.
Low-level bases are ideal for open shower alcoves and for easy entry for individuals with special needs.
Look for bases that feature non-slip patterns for greater safety.
Best Materials for Shower Walls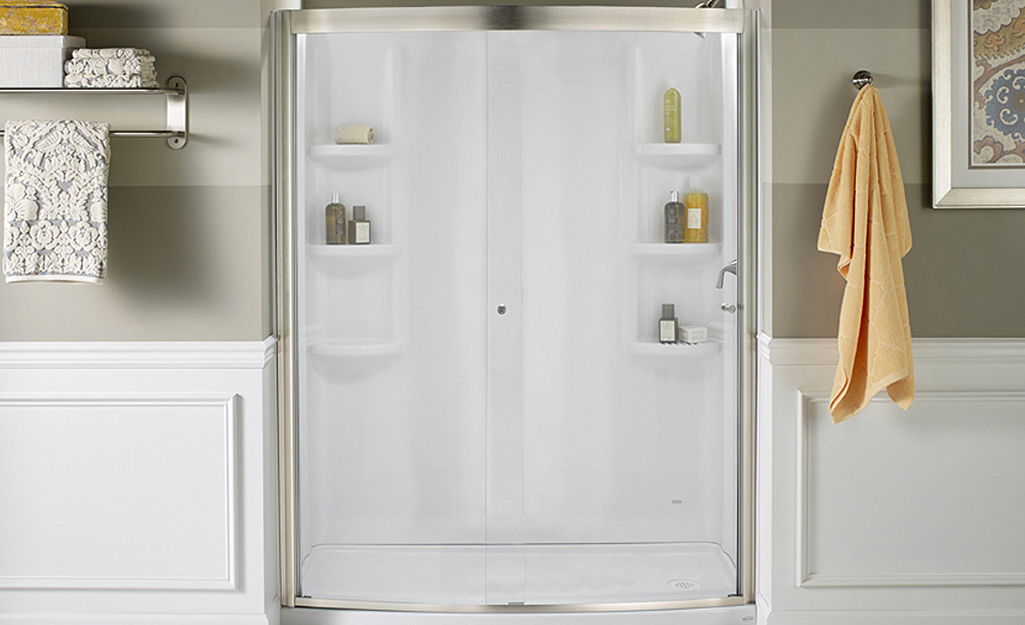 Acrylic shower walls may be installed as a single unit or as separate panels that fit together to provide a watertight surface that does not require grout. They are usually the least expensive option and simple to DIY.
Solid surface shower walls are seamless with a nonporous surface. Without grout lines, they are easy to keep clean. The surface is non-slip and can be sanded and refinished if need be over the years.
Composite shower walls have the advantage of being extremely easy to install. They can be trimmed with a utility knife and are applied with a waterproof adhesive. The joints must be carefully sealed, however, to prevent water getting in behind the panels.
Aluminum shower walls are typically decorative accents rather than full surrounds. Aluminum resists rust and is lightweight. This makes it a useful metal to use in a shower. However, upkeep can be an issue since you have to be careful of the cleaning products you use on the material.
Fiberglass shower walls are also a cost-effective option. They also have the added benefit of being easy to maintain. However, they can be difficult to seal at wall and ceiling joints. A beginner DIY-er should leave them to be installed by a professional.
Tile walls, such as glass, ceramic or natural stone, are an alternative to shower wall panels. They are more expensive and most require professional installation. However, you can create a more high-end, custom look with these choices.
Best Materials for Shower Floors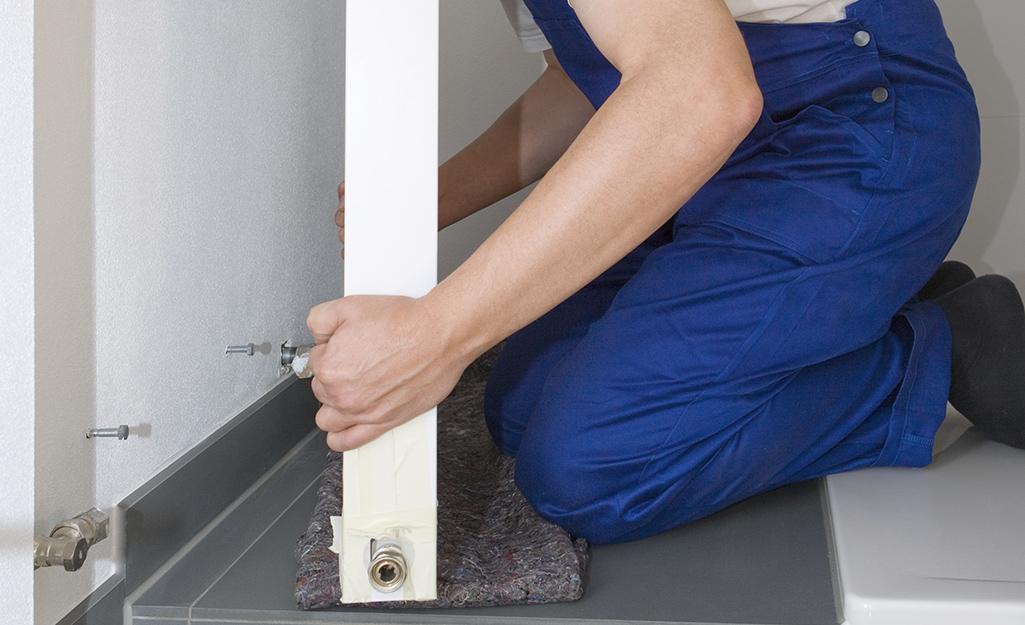 In many homes, the shower floor will be a shower pan. It is all one piece, made of waterproof materials. There are various types of shower pans, but they will all slope inward to direct water to a shower drain. Typically, an acrylic shower pan or a polyurethane shower pan are the most popular choices. Though it is possible to find some constructed of metal or ceramic.
Just as with the wall, there is also the option to outfit the shower floor in tile or stone. These types of shower floors are more expensive, but if you crave a custom look, these materials fit the bill:
Glass:
Pros: Easy to maintain
Cons: Very poor slip resistance, quality materials are expensive
Porcelain:
Pros: Good slip-resistance (with a textured surface), long-wearing, easy to clean
Cons: Grout lines hard to clean
Marble:
Pros: Wide variety of designs
Cons: Poor slip resistance, surface easy to scratch or stain
Travertine:
Pros: Good slip resistance, durable
Cons: High maintenance
Shower Kit Designs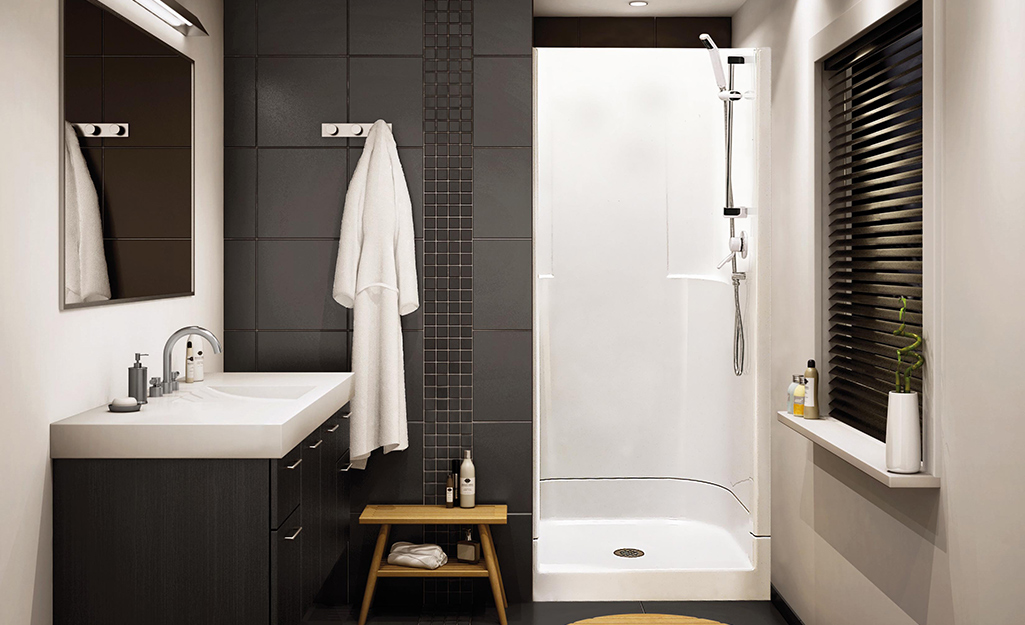 Shower stalls and kits are available in several standard designs that fit into existing bathroom corners and walls.
Also feature various options for door configurations, including pivot, bi-fold and sliding.
When selecting a shower kit, consider the shower base configuration and be sure it will fit in the allotted space.
Measuring Your Space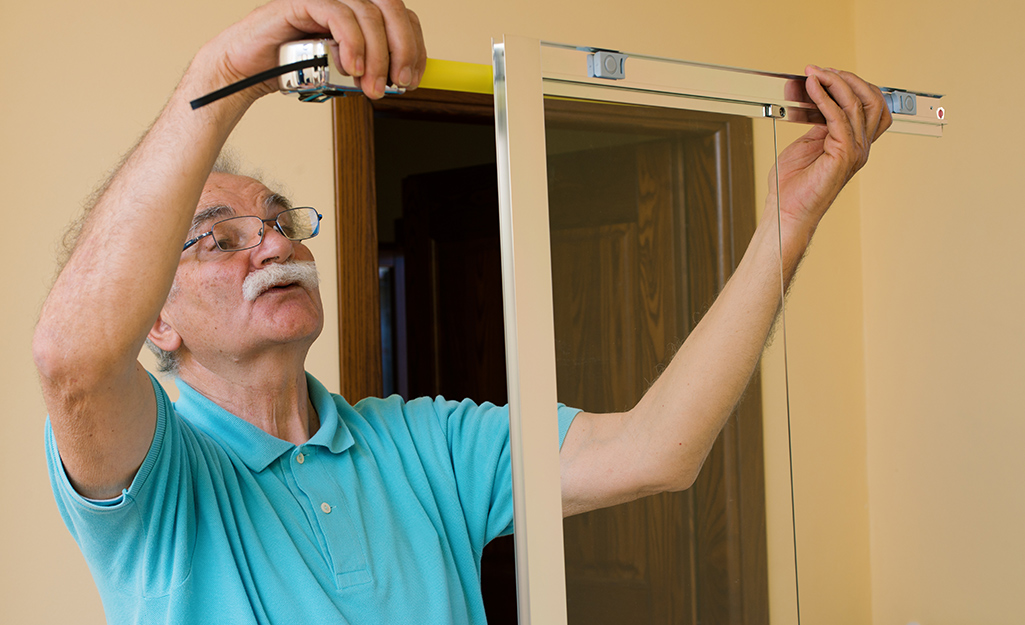 Accurate measuring is essential to ensure a proper fit. Always measure twice for accuracy.
Shower Walls: If you are installing walls direct-to-stud, measure from stud to stud after demolition. If measuring for a corner shower, measure along the walls and make sure the radius connecting the two points on the wall is clear of any obstruction. 
Measure the width in two places from wall to wall at the top and bottom of the opening. If the measurements differ slightly, use the larger of the two.
Measure the height in two places from the base to the top of the wall unit or tile wall.
Measure the depth from the back wall to the front of the enclosure area along both side walls. If the measurements differ slightly, use the larger of the two.
Shower Pan: Measure only after the floor has been prepped and leveled. Take into account the position of the drain and select a pan that fits that configuration.
Measure the inside length and width dimensions of the shower floor in the unfinished space from wall stud to wall stud.
Measure the length and width from the wall studs to the drain hole.
If the DIY option seems like too much, opt for professional bathroom installation services from The Home Depot. Let us help with your DIY project, too. When transportation of shower bases and walls is a challenge, The Home Depot truck rental can help. From pickups and vans to moving trucks, we've got you covered.
Explore More on homedepot.com