Buying Guide
Washing Machine Buying Guide
On average, an American family will do over 300 loads of laundry a year. An efficient and effective washing machine can help make this task easier, but with all the different styles and features available in washing machines, choosing the best one for your laundry space can be difficult.
This guide will help you understand the different types of washing machines available and choose the best washer to help you conquer your laundry day challenges.
Analyze Your Washer Needs
Before you begin shopping for a washer, think about how you are going to use it. Analyzing your wash patterns can help you zero in on the washer features that will be most important to you before you start shopping.

Things to consider:
Space
How much space will you have for the washer/pair?
Will the unit be close to sleeping or living quarters?
Capacity
How many pounds of laundry will you need to do per week?
How much time per week can you devote to laundry?
Cleaning Challenges
Do you have a lot of delicate items in your regular laundry?
Do you frequently wash items that are heavily soiled, such as sports or restaurant uniforms or baby clothing?
Will you often wash bulky items, such as bed linens and towels?
Do you or family members suffer from allergies?
Laundry Habits
Will you need to add clothes after the cycle starts?
Do you typically leave laundry in the machine for a while after the cycle is done?
Price
How much are you willing to spend?
What features might you be willing to give up to get a more affordable machine?
Front-Load vs. Top-Load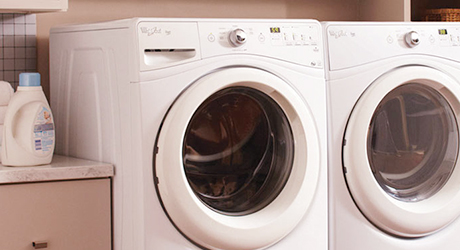 Washers come in both front-load and top-load styles. Most front-load styles are considered high-efficiency (HE), but top-load styles can be either high-efficiency or traditional washing machines. A high-efficiency (HE) machine must meet set standards of conservation in its use of water and energy to earn an HE designation. While an HE washer is slightly more expensive than a traditional machine, it may help save money over the long term.
Front-Load Washer Benefits
Uses less water/energy
Some units are stackable ; optional pedestals offer extra storage space, if used
Modern look
More cleaning options
Top-Load Washer Benefits
Less expensive
Easy to reach; no pedestal required
Traditional look
Less expensive to repair
Types of Washers
Once you've decided the features you require, it's time to shop for your new washer.
Tip: If you opt for a high efficiency (HE) washer, be sure that you also change to using HE laundry detergent. HE detergent is specially-formulated for the lower water volume used by HE washers. Using regular detergent in an HE machine can have disappointing results and in some cases can damage the machine.
Traditional Washing Machines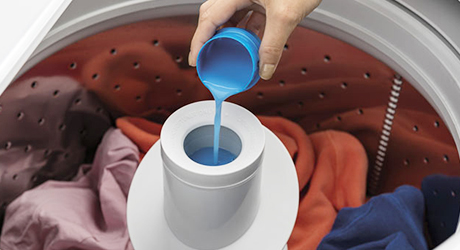 Make loading and unloading easy with access to the drum from the top
A central agitator moves the clothes around the drum during the wash cycle
Settings allow you to choose the appropriate water level
Normally, three temperature settings are available: hot/cold, warm/cold and cold/cold. Newer models offer a wider range of temperature settings.
High-Efficiency Top-Load Washers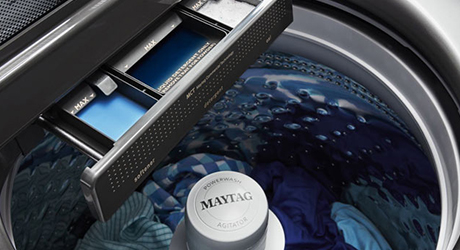 High-Efficiency Top-Load Washers
Offer several wash cycle options; some use a series of different directional movements to get clothes clean as opposed to agitation of traditional models
Impeller washers feature a cylinder at the bottom of the drum that delicately moves clothes through the wash cycle and produces clean laundry without as much wear and tear as agitator models
Utilize higher speed spins and increased water extraction but with reduced energy consumption
Require high-efficiency (HE) detergents, which are ultra-concentrated
Front-Load Washers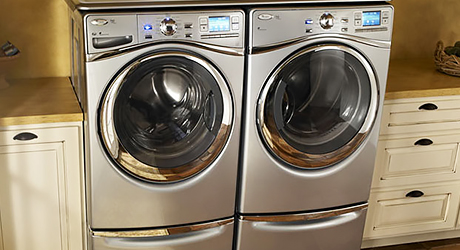 Clean better and are more energy efficient than the best high-efficiency top-load models
The load monitoring feature determines the amount of water for the load based upon the weight of the clothes
Washer partially fills with water and cleans by lifting the clothes to the top of the tub and dropping them back down into the water
Touchpad controls offer convenient start time delay and memory settings
Can be used with a laundry pedestal, which raises your washer to a more comfortable height for loading and unloading
Compact Washer/Dryers
All-in-one unit that stacks the dryer on top of the washer
Unitized models can fit into a space the size of a small closet and are ideal for apartments or 1-2 person households
Installation Requirements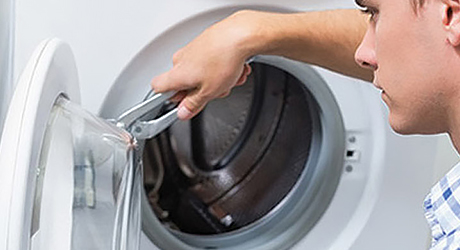 Delivery and installation of your new washer will go much more smoothly if you've made sure in advance that the space you intend for it has everything the washer needs to be supported and hooked up.
Spacing
Width: For proper air circulation, add one inch of space on either side of the width of the washer
Depth: Add six inches of space to the depth of the washer to accommodate the hookup and door clearance
Height: Top-load models should have at least 20 inches of clearance above the door of the machine
Floor
A perfectly flat floor is preferable for installation, but highly unlikely; be sure the floor has no more than a one-inch slope. If installing on an upper floor in your home, make sure the floor is properly reinforced to support the weight of the machine.
Required connections:
Hot and cold water lines (must be within 3 feet of washer hookups)
A 3- or 4-prong power cord
Wastewater drain connection
Washer Features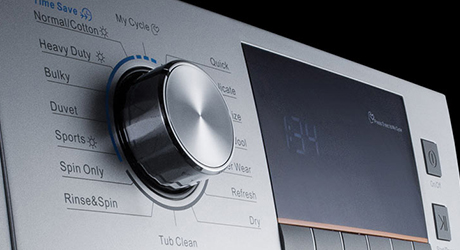 The more features you get in a washer, the higher the cost. However, there are some features that are fairly standard and extremely useful:
Stainless Steel Tub
Resists rust and stands up to higher spin speeds in HE washers, extracting more water while protecting clothes from snagging.
Automatic Dispenser
Convenient feature that can store several loads worth of detergent, fabric softener and bleach and dispense during designated points in the wash cycle.
Automatic Temperature Control
Automatically adjusts water temperature to the ideal settings for the selected wash cycle.
Extra Rinse Cycle
Optional extra rinse eliminates soap residue and pet hair on clothes. Good feature if anyone in the household has skin sensitivities.
End-of-Cycle Signal
Alerts you when wash cycle is complete to remind you to move clothes to the dryer.