Buying a home is an exciting and stressful time. Home buyers want to make sure they are making the right choice in terms of pricing and location, but it's also important for buyers to stick to a plan that will help them remain focused on their priorities and not let emotions guide their house-hunting.
This guide gives tips for creating a house-viewing checklist that you can use when determining what is most important in a new home, what to look for when buying a house and the red flags to avoid.
Prioritize Features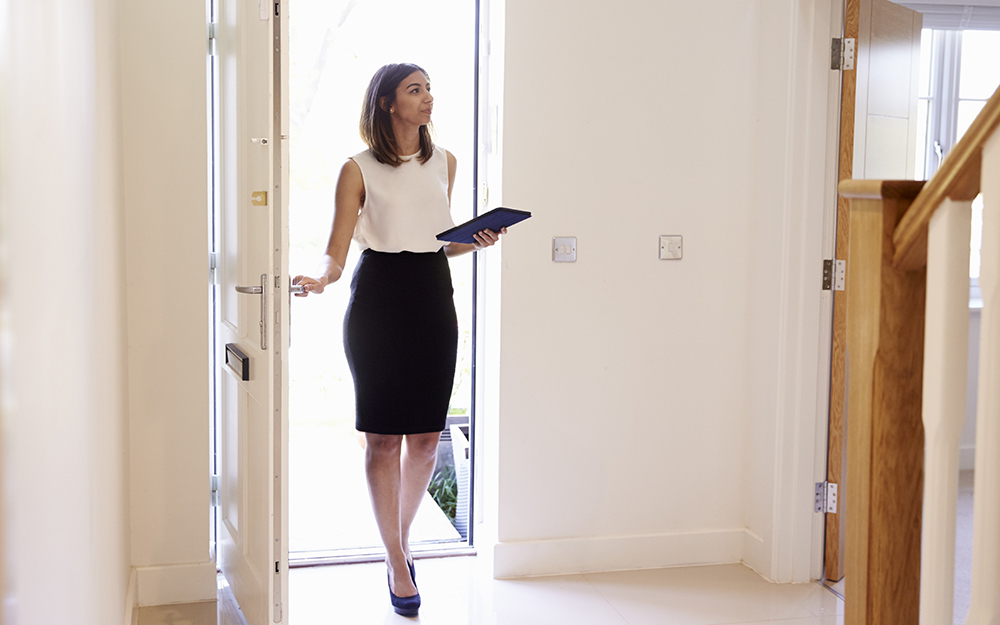 There are hundreds of variables to take into consideration when buying a house. Weighing your options in a list of preferences is an important process that could avoid some common house-buying mistakes.
Creating a house-viewing checklist helps you focus on what to look for when buying a house. Prioritize features within categories to determine qualities that you absolutely require, what amenities are very important to you and other things that would simply be nice to have. 
Arrange all the features you want and make tough decisions about what is more important. Is having a big yard more important than a lengthy morning commute, or would a shorter commute allow more time to work in the small garden? You might find the perfect home, but trade-offs are expected when house-hunting.
Sticking to this type of approach can help you avoid falling in love with that cute house with the beautiful remodeled kitchen in a desirable neighborhood even though it has only one bathroom for you and your two children. The worst mistake a homebuyer can make is buying a house that doesn't fit their lifestyle. Let's take a look at things to consider when buying a house. Here are the top features to look at when you start house-shopping:
Neighborhood condition: Buying a home means buying part of a neighborhood, so be aware of the condition of other houses in the area.
Location: Do you commute into work? Will you need easy access to the highway or public transit? Is the home located on a quiet street made for families? Location is important when finding a home you plan to age in. Is the neighborhood walkable? Are good schools nearby? Take into account what's needed for your lifestyle and compare it with the location. 
Healthy bones: A solid foundation without cracks or major structural issues is key. Any small cracks or uneven landings in flooring or issues with roofing can lead to bigger problems down the road. 
Age of the home: Take into account how many years the house has existed and what year it was built. Does it have a history of lead paint? Does it still have its original plumbing or electrical wiring? All of this can be an issue for you later on. 
Adequate Bathrooms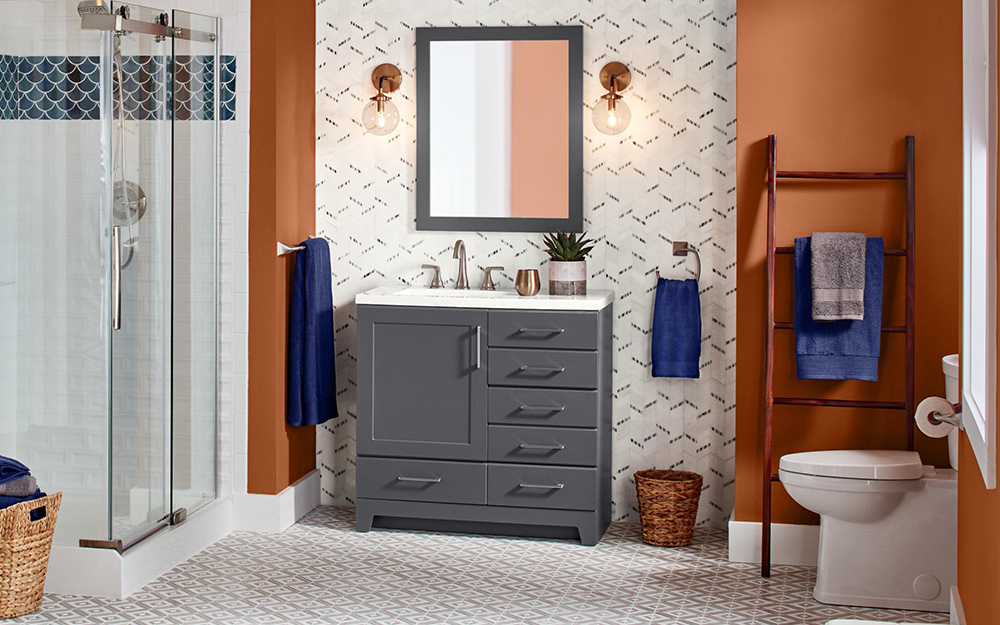 On the top of the list for what to look for when buying a house: Having an adequate number of bathrooms. Make sure the home you like has enough bathrooms and that they're strategically placed around the house. Not having the right number of bathrooms or enough bathroom space could be a red flag when buying a home for a family that prepares for work and school at the same time.
Ideally, there would be one bathroom per bedroom, but many older homes have only one or two in a two-story home. Two children can share a bathroom with a double vanity. For guest rooms or any small bathroom, having a shower stall is likely sufficient and takes up less space than a bathtub.
If the master bedroom has an adjoining bathroom, look for those with a separate room or partition for the toilet. And also consider a design that has both a tub and a shower, which is used more frequently. That way, the tub will be cleaner when it is used for soaking.
Half-baths, or powder rooms, should be located near the areas where you entertain guests and for your own convenience. In a two-story house, there should be one on the main level and also one in a finished basement.
When touring a home that has made your short list, be sure to test for acceptable water pressure in the shower and observe that water drains smoothly from sinks and tub. Similarly, see that toilets provide a good flush.
Be sure to look at bathroom storage and conveniently placed GFCI electrical outlets.
More than Enough Bedrooms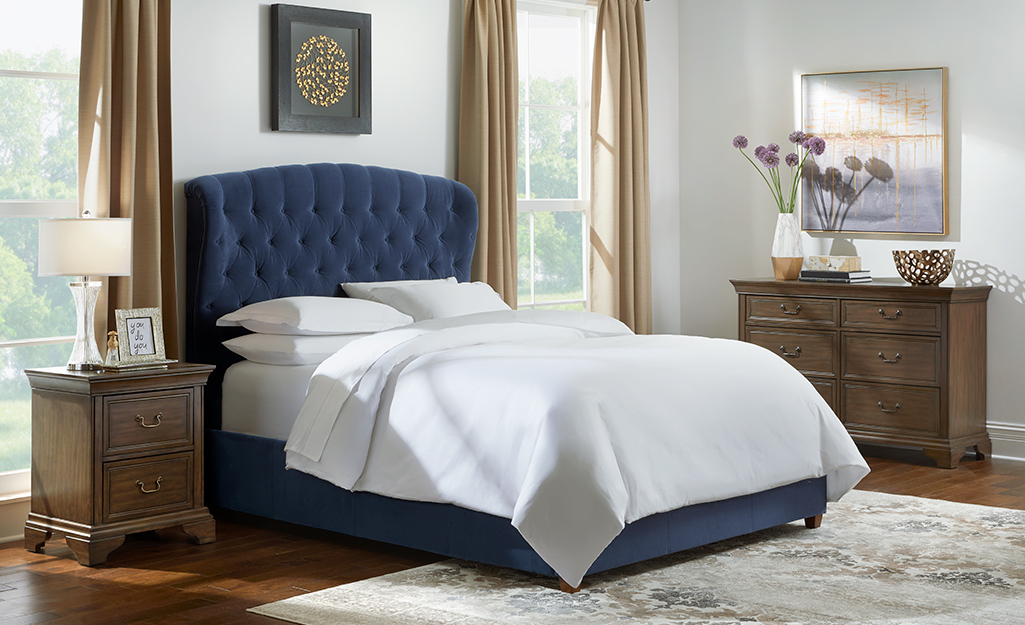 You'll want to keep family size or any future family plans in mind as you are shopping for a house. Also consider if you will need to work from home and use a guest bedroom as an office, or gym. If you plan to be a caregiver for family members or expand your family in the future, it's better to have more bedrooms than too few. 

Look for layout, closet space, ceiling levels, any additional amenities such as ceiling fans and lighting that may come with the house, as well as how the rooms are placed throughout the house. 
A Kitchen to Suit Your Needs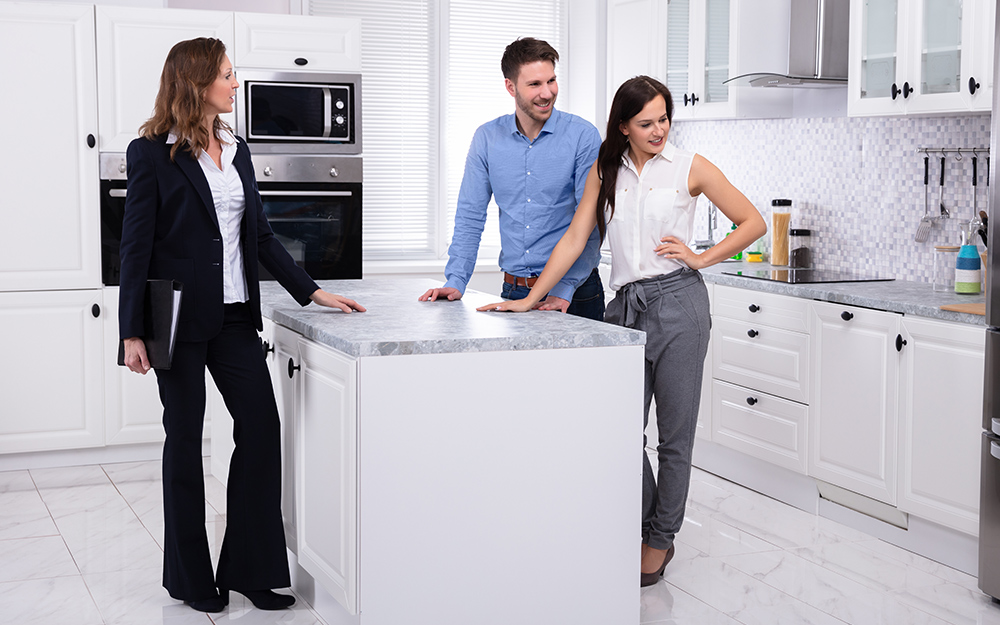 Real estate listings will sometimes advertise a chef's kitchen and feature shiny new appliances and gleaming countertops. This can be attractive to anyone who enjoys cooking; but if entertaining is part of the overall enjoyment, consider the kitchen layout, its size and the location related to dining and lounging areas. An open kitchen design or a large kitchen gives a host the opportunity to enjoy conversation with guests without being isolated from the fun while preparing the food. On the other hand, an upscale kitchen might not be on the list of must-haves for buyers who prefer dining out to cooking at home. Other aspects of the kitchen to look for when buying a home include:
Outdated appliances can easily be replaced with current models with modern features. Even so, see that the existing appliances operate properly so they can be used until replacements are purchased.
Ample electrical outlets (including GFCI receptacles near water sources) are necessary for small appliances like coffee pots and toaster ovens as well as cell phone charging stations.
Kitchen flooring should be in good condition and the material should be able to endure the heavy traffic and spills found in a kitchen.
Kitchen countertops should provide plenty of space and show no current scratches, blemishes or stains.
Eye the Exterior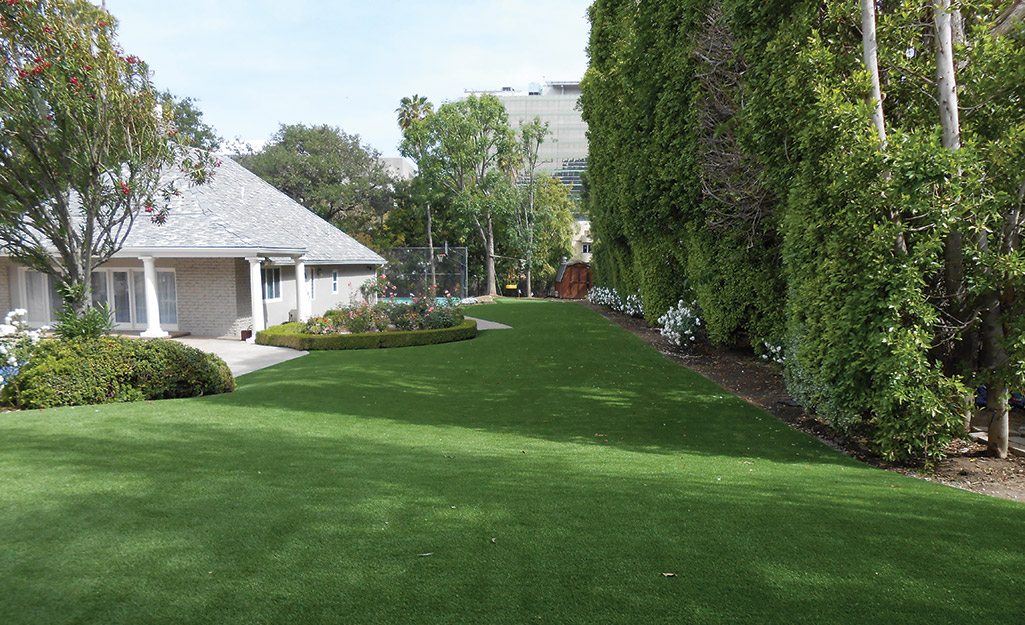 Curb appeal is an important part of the home-buying process, so be sure to take a look around the property to make sure it fits your needs. 
When it comes to landscaping, keep an eye out for any shared tree lines, fences or driveways. Also look for any broken fencing, outdoor pest issues or lawn problems. 
Note any large trees that could be a problem as they age or as storm season comes through. 
Is the property downhill or uphill? Is outside drainage working correctly? Does the lawn need any replacing? All of these questions add up to cost, so be sure to ask and inspect thoroughly. 
Ample Storage Space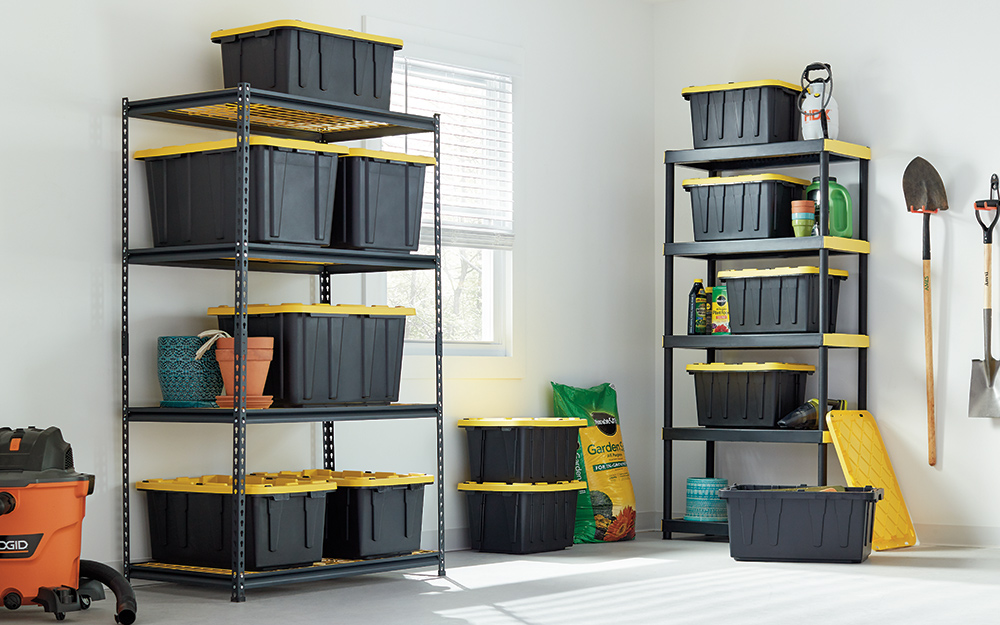 Photographs in real estate listings can make it difficult to gauge the amount of space in bedrooms and living spaces. Know the measurements of your current furniture, and have a tape measure with you when touring a home with your real estate agent, to be sure that your current bedroom furniture or sectional sofa will fit in the new home.
Similarly, closets and other storage space is something else to look for when buying a new home. Whether it's closet organizers, storage containers in the attic or shelving units in the garage, make sure there's a place for your seasonal decorations, keepsakes and anything else that isn't used regularly.
Red Flags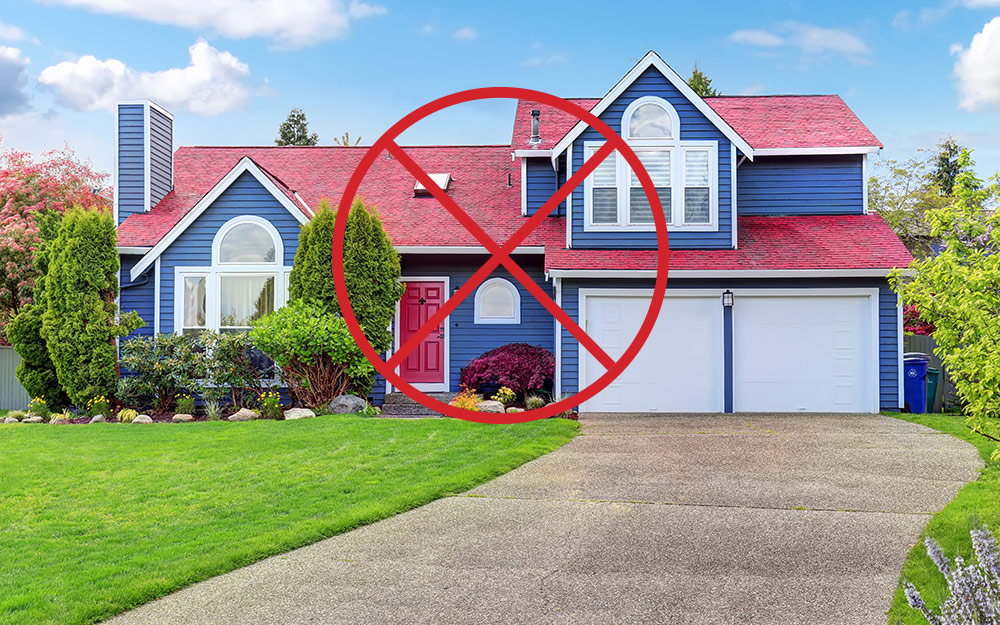 Red flags are anything that makes a buyer rethink their desire for the property, the price they are willing to pay, or that will prompt them to obtain more information from the seller.

Most importantly, you want to a home with healthy bones. If you notice anything off with the foundation, cracks or unevenness in the flooring or the roofing, you will want to question it right away to avoid issues down the line. 
Most new homeowners would not want to deal with flaws in the foundation, electrical system issues, water heater problems, old plumbing or the immediate need for a new roof that could cost thousands of dollars.
A savvy homebuyer can use their own home inspections checklist while looking at houses to help them decide whether to even make an offer on the property. Too many minor repairs could be a red flag for some buyers.
Other Considerations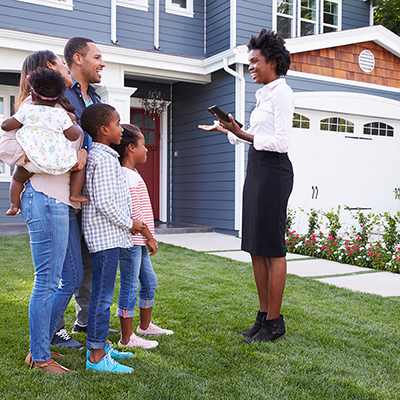 Also include these items on your list of what to look for when buying a house.

Poor drainage: Visit the home during or shortly after a storm to see how the gutters perform and look for pooling water around the property.
Neighborhood condition: Buying a home means buying part of a neighborhood, so be aware of the condition of other houses in the area.
Landscaping: Take a look around the property for any broken fences, sprinkler systems, etc. Make sure to look and see if you are sharing any tree lines or driveways with neighbors as this could become a future issue. 
Odors: Any strong smell can be a bad sign. An abundance of scented air fresheners might be used to mask unpleasant odors from sewage, plumbing issues or musty dampness.
Pool: If the house includes a pool or other amenity like a hot tub, be sure that the electrical outlets and filtration systems are working properly. Also take into account whether or not the pool has a fence or room for one. This will protect your property as well as help prevent any safety issues. 
Amateur workmanship: DIY home improvement should be applauded, but shoddy work could mean more trouble down the road for a new homebuyer.
Random fresh paint: Sellers can brighten a room with a new coat of paint to make it more attractive to buyers. Patches or single walls with new paint could be a rushed attempt to conceal a problem.
Street noise: Be sure that you'll be able to enjoy peace and quiet in the home.
Accessibility: Keep stairs and other entryways in mind when looking for a new home. If you are planning to age with the home or have relatives that need easier entry options, like a ramp or zero step entry, steps or a long elevated driveway may not be right for you.
Temperature: If you walk in and it's too cold or too hot, this could be a sign of a faulty heating and cooling system. HVAC units are expensive to replace, so be sure the home's unit is in good shape before making the purchase. 
Prioritze budget: For many first time homeowners, the process of looking can be overwhelming. Always keep your budget in mind (mortgage payment, taxes) and factor in things like the cost of moving, homeowners insurance, etc. 
Buying a new house is an exciting but stressful time, and we want to help make the process as easy as it can be. What to look for in buying a house will vary based on your lifestyle and budget, but our simple tips and red flag list should help you understand what to check when buying a house. 
Explore More on homedepot.com