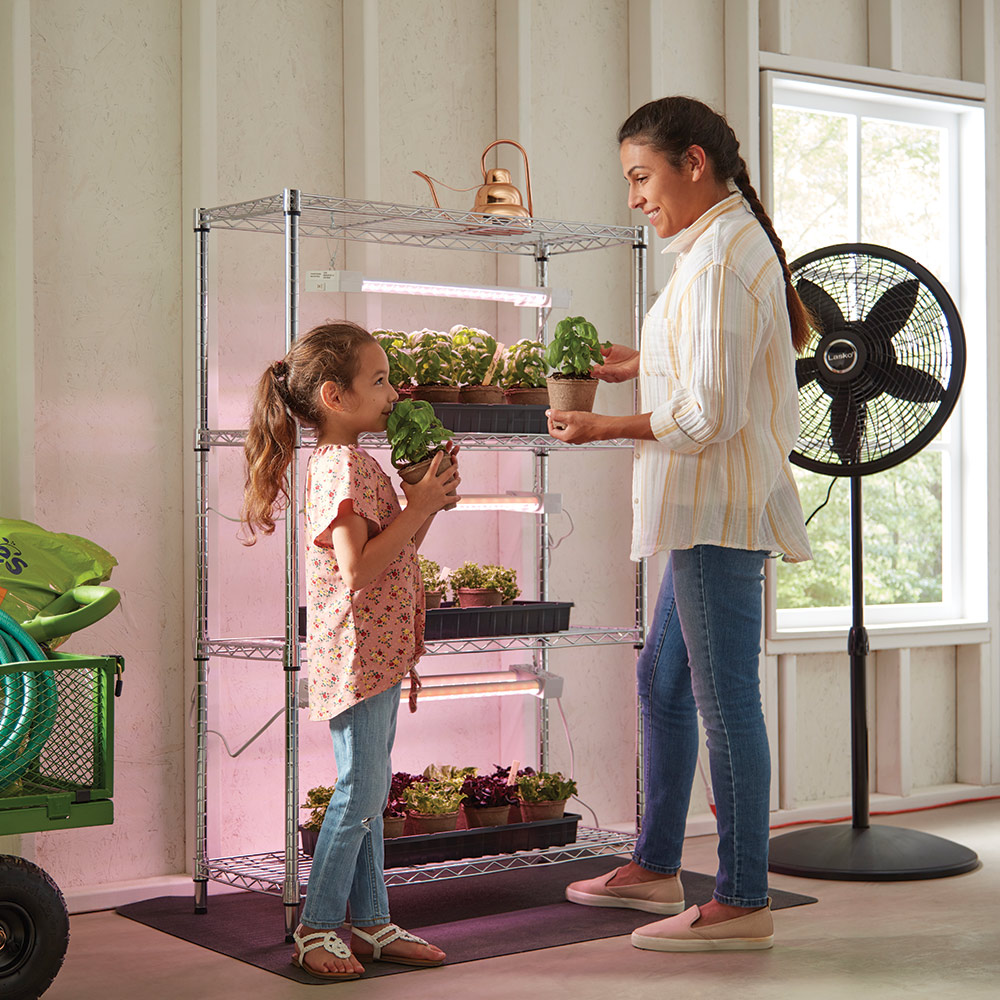 Fresh, homegrown fruits and vegetables are delicious and can be easy to grow. Yet climate, lack of water, light and even outdoor space can prevent you from having a garden. One solution is growing an indoor garden. Using a light system, you can create a garden full of your favorite veggies and herbs. Indoor gardening can also be easier since there is little to no weeding. Building an indoor lighting system is a budget-friendly way to produce your own seedlings too. This guide explains how to build a DIY 3-tier shelving unit with a grow light.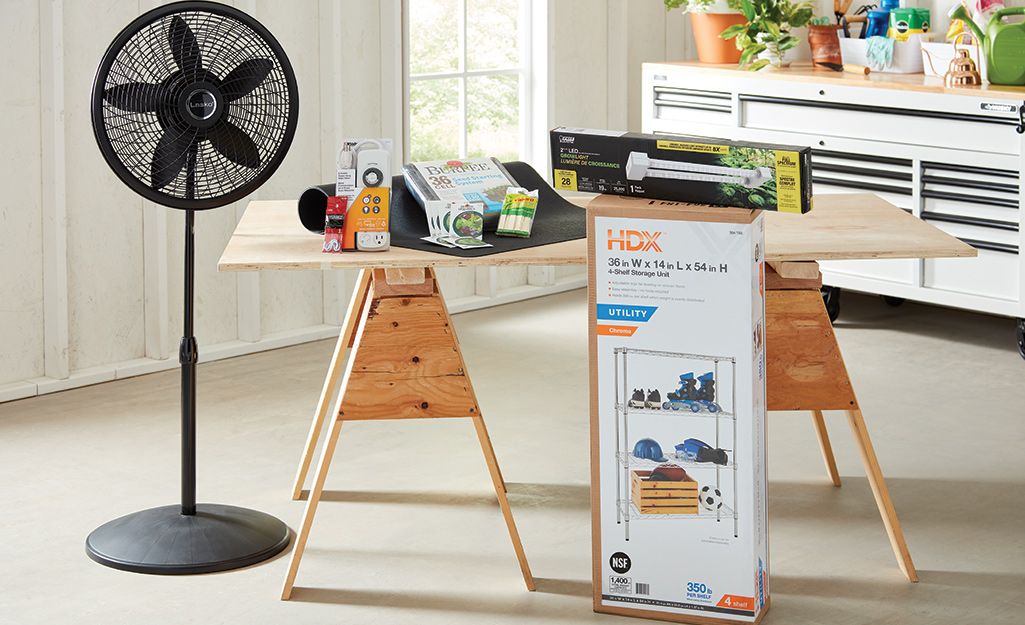 To create a DIY grow light system for an indoor garden, start with a shelving unit. You'll also need growing lights, seeds, potting soil, a fan and seedling starter trays.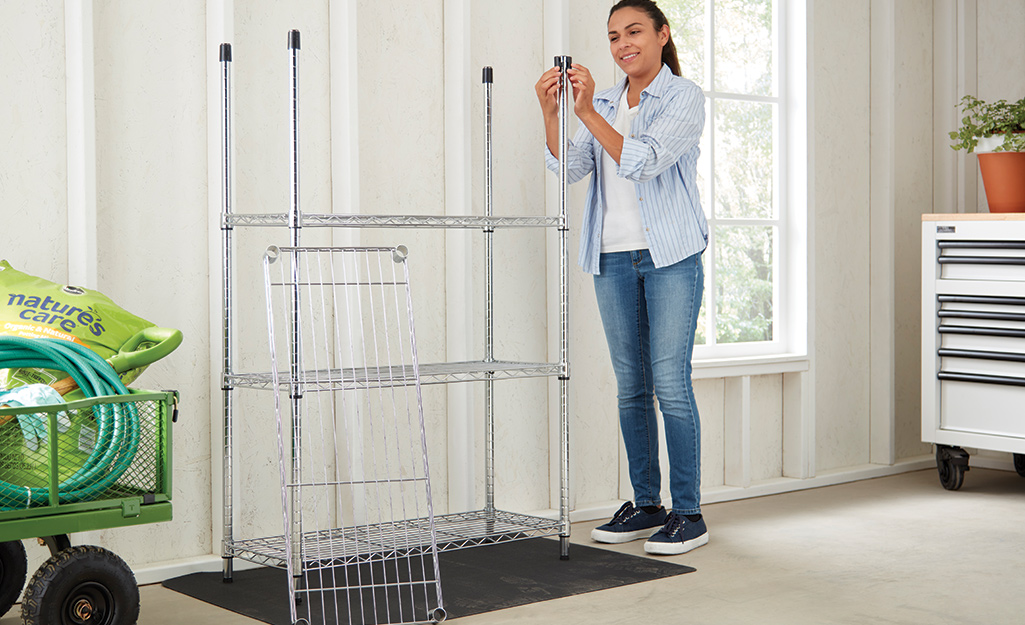 Choose a sturdy shelving unit that's easy to assemble. Wire shelving units work well because clamp lights and grow lights can be attached to the wire frame. Or choose shelving units with movable shelves. This will allow you to move the plant trays instead of the lights during the growing cycle. 
Assemble the shelving unit according to manufacturer's directions. Place your unit on top of a rubber mator shallow plastic tray to protect your floor from spillage or water run-off.
Choose a grow light approximately the same width as the shelving unit. When selecting your lights, consider the light source needed for the seedlings and plants you'll be growing. You'll also need a light source for each shelf. The system shown above uses LED grow lights. However, there are several types of grow lights to choose from, including:
Fluorescent lights: Tubes such as the T5, T8 and T12 use 75 percent less energy and last 10 times longer than traditional bulbs. They're best for low to medium light needs such as starting seeds and growing greens and herbs. Full-spectrum fluorescents are the closest to natural lighting. Fluorescent lights are also recyclable.
Compact fluorescent lights (CFLs): Similar in size to traditional iridescent bulbs, CFLs are much more efficient. CFLs do not emit much heat, so they can be placed closer to seedlings and other plants that need close light. They are available in different shapes, sizes and wattages to suit your needs. These lights are a good source of supplemental light when you want to prolong daylight and encourage blooming. CFLs are recyclable.
Light-Emitting Diodes (LEDs): Light, compact and efficient, LEDs can be set to emit only the colors plants absorb (red and blue), so they don't waste energy. One advantage of LEDs is that they last much longer than other grow lights. However, these lights cannot be disposed of in home recycling, so you'll have to find a special facility to recycle them.
4
Add Grow Lights to Shelving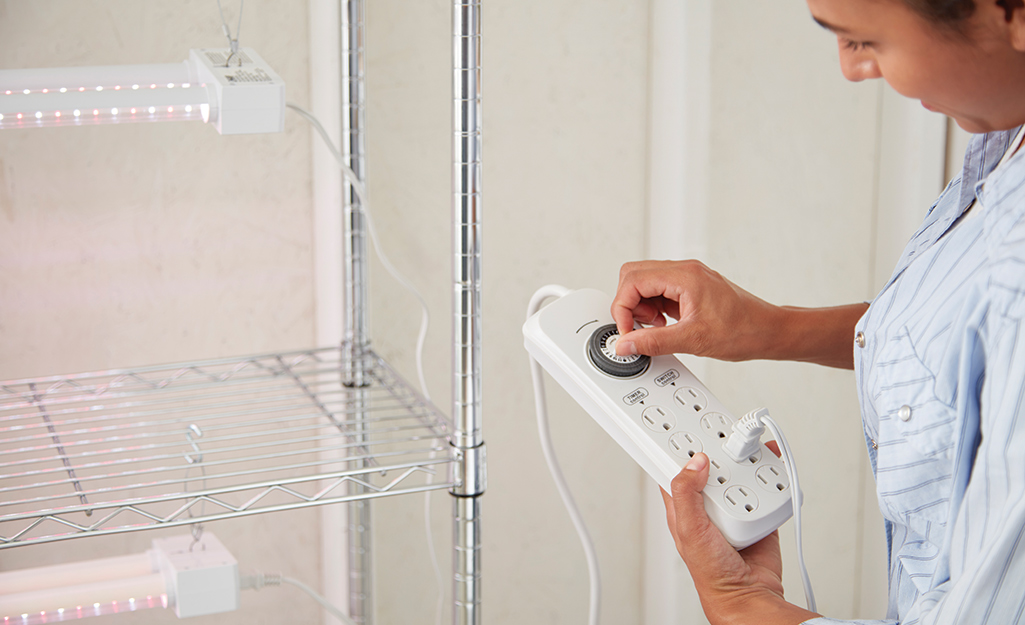 Most grow lights come with wire to hang them. Attach the wire to an S-hook and hang it from the shelving unit above the plants. When starting seeds, you'll want the light closer to the plants. As plants grow, use the wire or string to raise lights. For a shelving unit with movable shelves, you can attach lights with zip ties to the shelves and move the trays closer to or farther away from the light. 
To save yourself the trouble of remembering, plug grow lights into a power strip with a timer. Set the timer to keep the lights on for 12 to 16 hours a day. If desired, attach the power strip to the shelving unit with zip ties.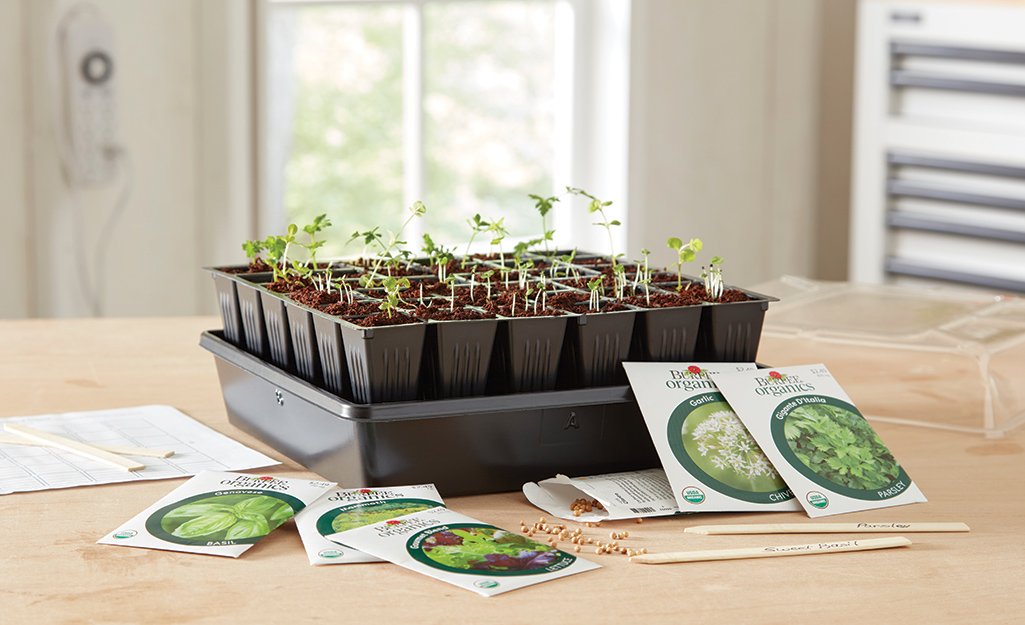 If this is your first time using an indoor grow light system, choose seeds and seedlings that require low-to-moderate light such as herbs, vegetables and house plants for the best chance of success. Tropical plants, leafy greens and cool-season herbs are good choices, including:  
Basil
Kale
Lettuce
Mint
Parsley
Spinach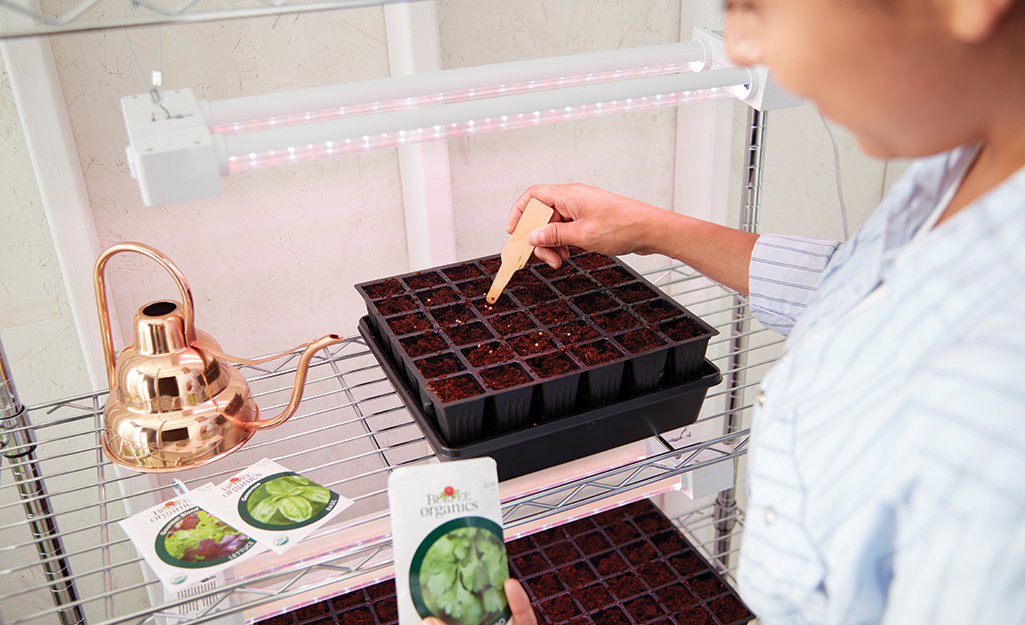 Using a seed tray or peat pots, fill starter mix so that each section or tray is 2/3 full of mix. Plant seeds or seedlings in mix. Keep the soil moist and monitor seeds and seedlings as directed on the seed package.
Tip: When starting plants from seed, keep in mind that you'll need to increase the level and duration of light. Light-starved seedlings will be weak and leggy.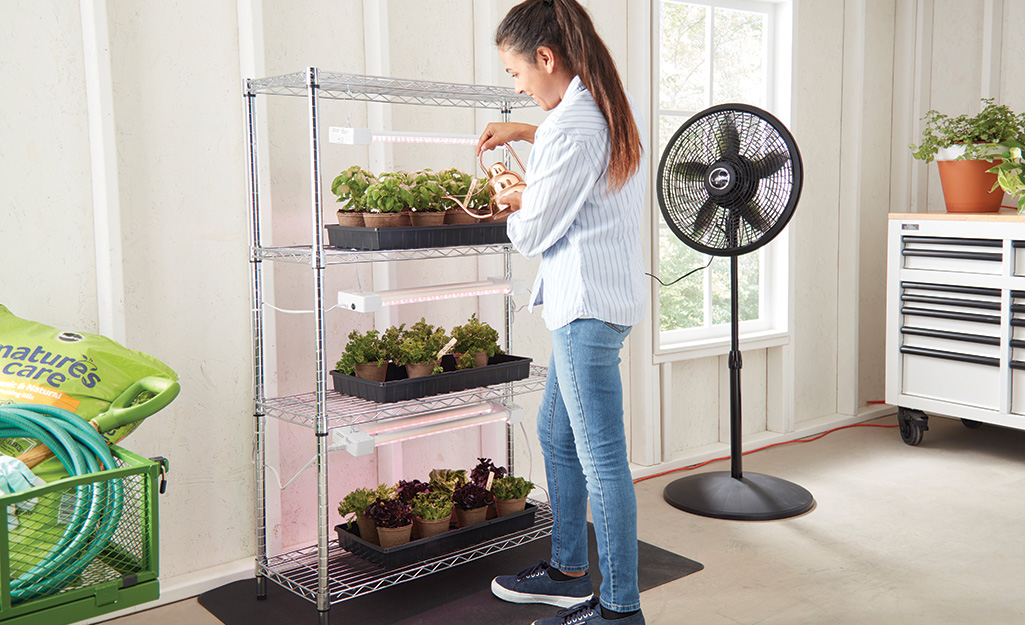 Once seedlings mature, transplant them into a container designed for a mature plant.
Keep soil damp but do not over water.
Mist plants from time to time, especially during the winter when the air is dry.
To keep fungi and garden pests away, circulate air with a small electric fan on low near your plants.
Be sure to fertilize seedlings but avoid over-fertilization. It can burn seedlings.
Use a natural fertilizer as recommended by the seed packager.
Growing edibles and plants is a rewarding activity, especially when you have the right equipment and set up in place. The Home Depot Mobile App is a great place to shop for accessories and equipment for your indoor grow light system. When you're set up and ready to go, visit the app to look for seeds and seedlings.
Explore More on homedepot.com