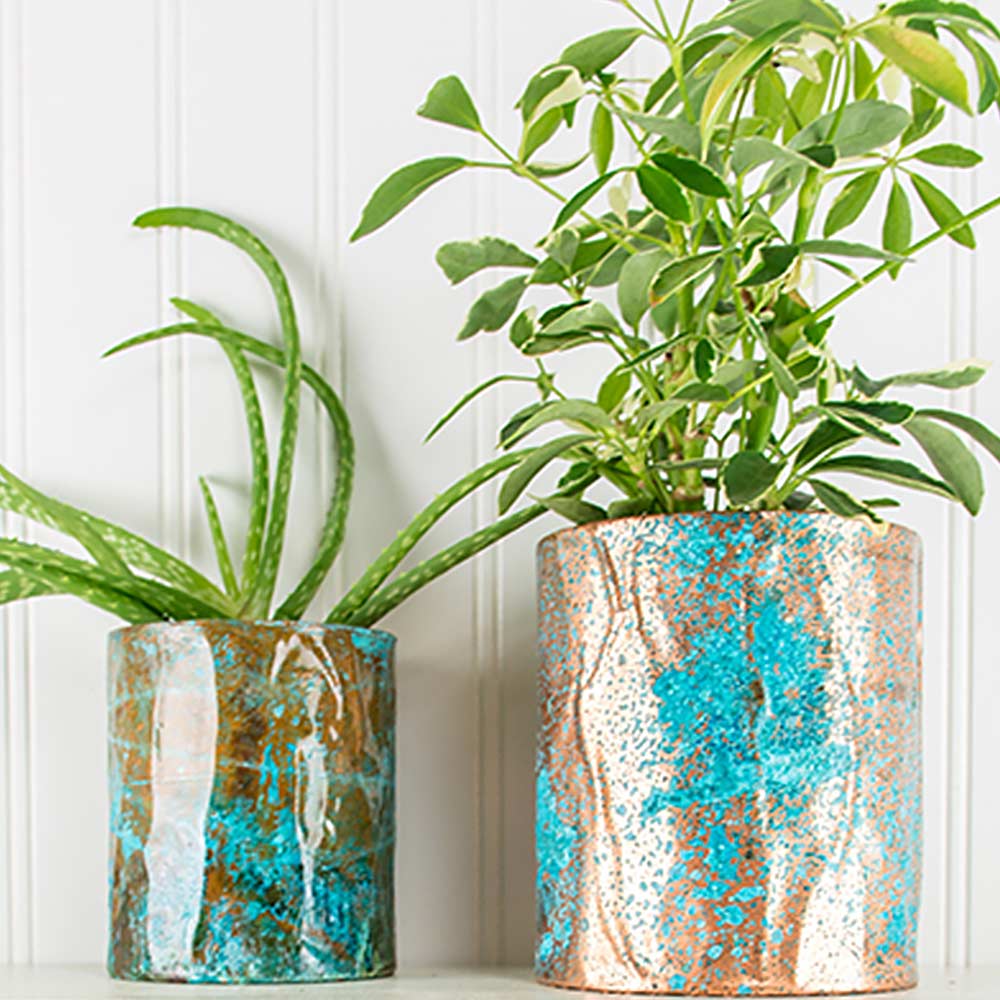 Copper gradually develops a beautiful patina over time, but some of us don't want to wait forever to achieve that look. For a quicker, more vibrant version of the look, you can add patina to your pots yourself with some unexpected ingredients. Make your own copper planters, then use plant fertilizer and vinegar to enhance the beauty of the copper.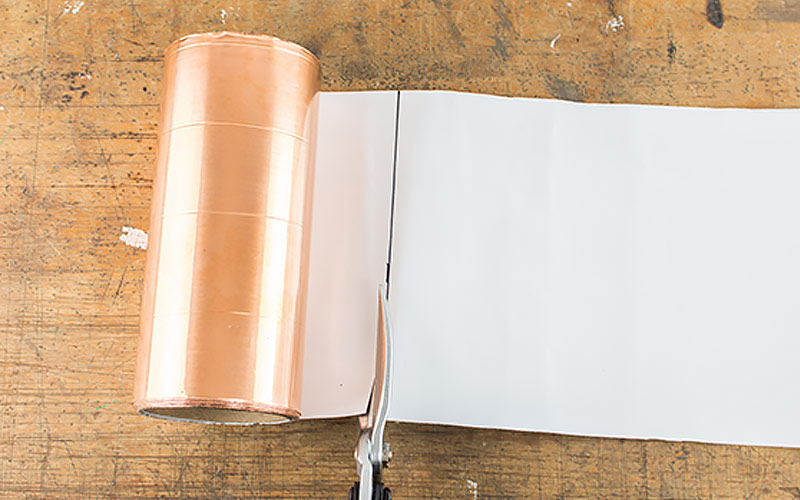 Wrap copper flashing or other sheet copper around an empty paint can, quart or gallon depending on your plant size, overlapping by one inch. Mark the distance and draw a straight line on that mark. Cut the copper flashing with tin snips, wearing leather gloves to protect your hands from sharp edges. Trim copper to fit the height of the can as well.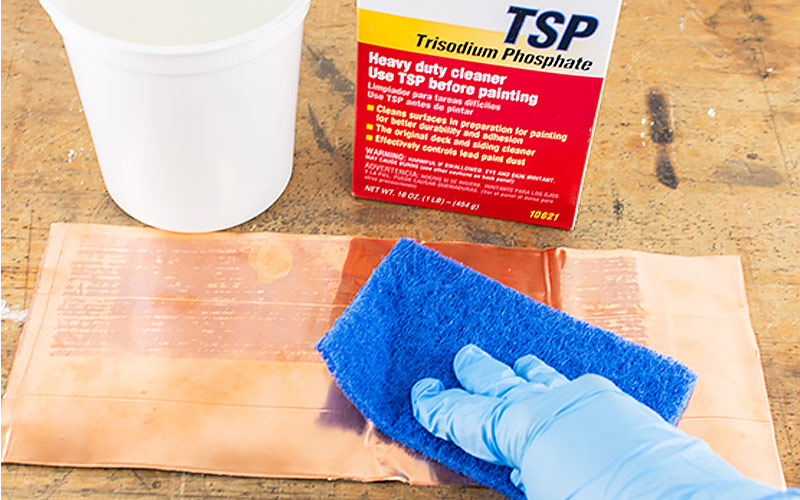 Copper flashing is coated to prevent a patina, so you will need to remove the coating. Put on nitrile gloves and mix TSP or another heavy-duty cleaner. Use a scrubbing pad and cleaner to scrub the surface of the copper. Rinse thoroughly with hot water. Avoid touching the copper with ungloved hands after washing, as the oils on your hands could interfere with the patina.
In a spray bottle, mix well three tablespoons of water-soluble plant food to 100 milliliters, or approximately ⅓ – ½ cup, of white vinegar.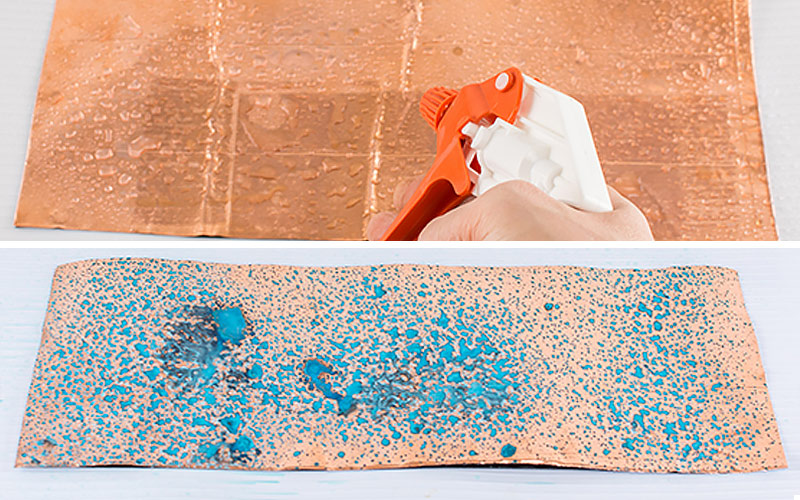 Lay the clean copper flat on an impermeable surface, and spray it with the patina solution. Experiment to find your favorite look. A light application with large droplets will result in a different look than larger pools of color. Let the patina develop for at least three hours, or overnight. You can apply additional layers of patina solution, if you wish.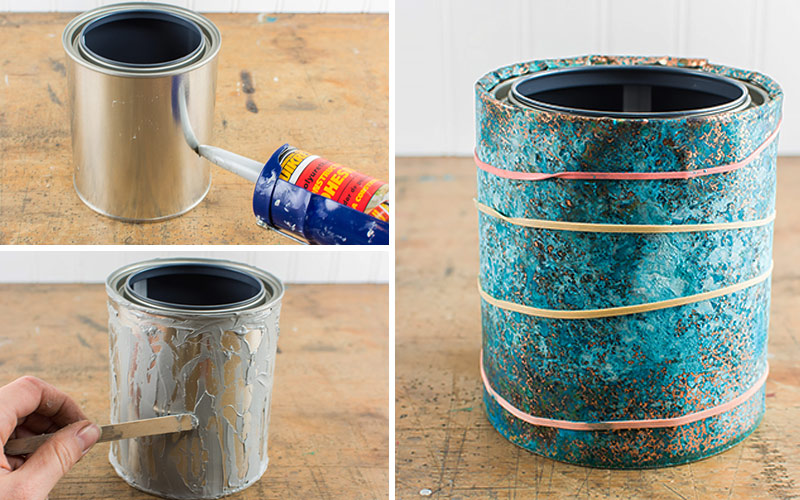 Apply construction adhesive to the exterior of your container, and spread it to form an even layer, being sure to cover the top and bottom edges. Wrap the copper, trimmed height edge down, around the container, adding glue to the overlapping edges. Secure the copper with rubber bands, and allow to dry overnight.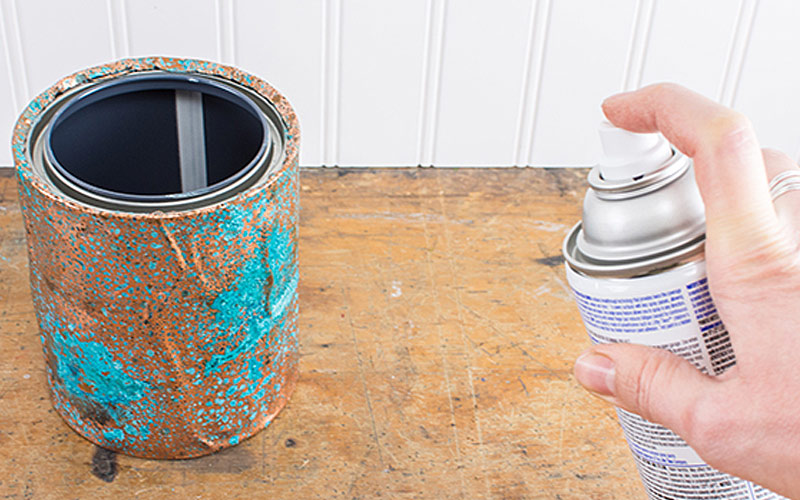 As soon as possible, seal the copper with a clear gloss spray sealer, according to the instructions on the packaging. Left unsealed, the copper will darken in color, and the patina may flake off. 
Tip: Although we show this project using empty metal paint cans, you can use any container with straight, un-tapered sides for your pots, making this a good opportunity for up-cycling clean canisters you might otherwise throw away.
Explore More on homedepot.com