With just a few pieces of lumber and little elbow grease, you can build your own unique beverage station with a galvanized pail to hold chilled drinks. This guide will walk you through process of making this DIY drink holder.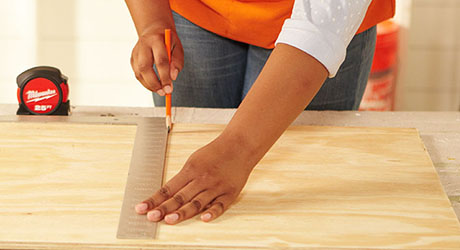 Measure and mark the frame boards and shelf braces from the three 1 x 2-inch x 8-foot boards, and the three shelves from the 2 x 4-foot plywood board. 
See these cut diagrams for reference.
2
BEVERAGE STATION CUT DIAGRAM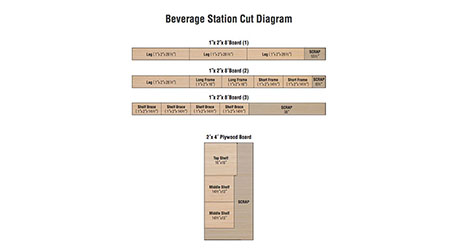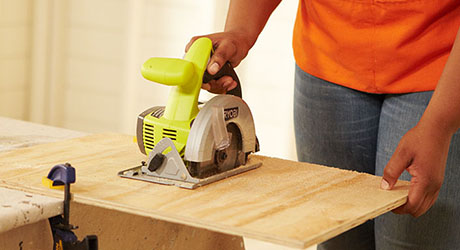 Use a circular saw to cut where you've made your marks. 
Smooth any rough ends with a sanding block.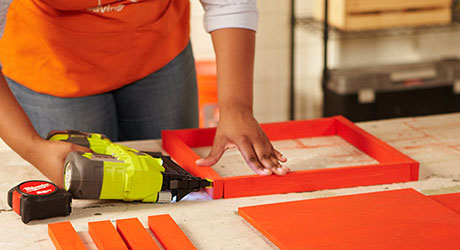 Stand the two 16-inch frame boards on end and parallel to each other. 
Sandwich the two 14 ½-inch short frame boards between the long boards to create a 16 x 16-inch square frame. 
Secure with brad nailer.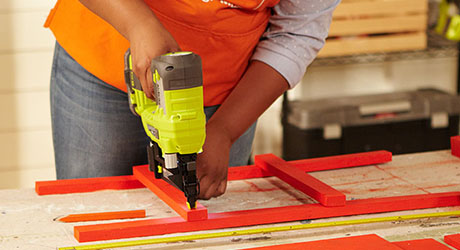 Lay two legs flat 14 ½ inches apart. 
Using brad nailer, attach one 14 ½-inch shelf brace to the legs 7 ½ inches up from the bottom of the legs to make the bottom shelf. 
Attach the second shelf bracket 17 ½ inches up from the bottom of the legs to make the middle shelf. 
Repeat with the other two legs and shelf braces.
7
DRAW CIRCLE ON THE TOP SHELF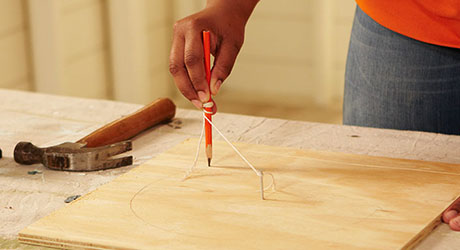 Mark the center of the 16 x 16-inch piece of plywood. 
Hammer a nail into the center mark and tie a string around the nail head on one end and to a pencil on the other end, ensuring that the string when stretched from nail to pencil is 6 inches. 
Draw a circle, keeping string tight. 
You should have drawn a 12-inch diameter circle.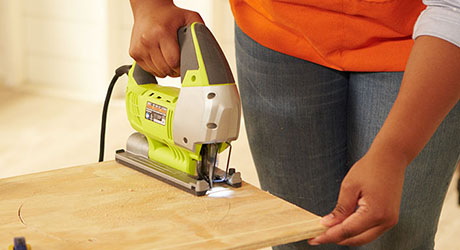 Using a ½-inch drill bit, drill one hole inside the edge of the circle. 
Cut the circle out around the edge with a reciprocator saw.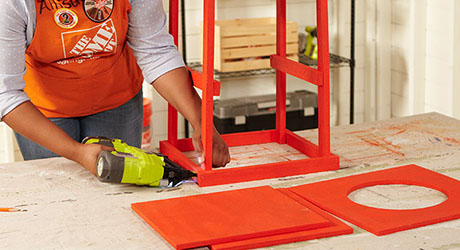 Place the top shelf frame on a flat surface and insert the leg frames upside down into the frame with shelf braces facing inward. 
Keep legs flush with the corners and the top of the frame. 
Secure with a brad nailer.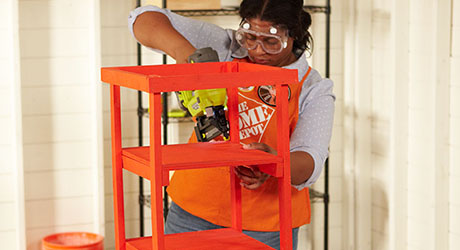 Double-check that the legs are secure. 
Turn the project over and lay one 14 ½ x 13-inch section on top of the bottom shelf braces and secure with brad nailer. 
Repeat with the other 14 ½ x 13-inch piece for middle shelf
Tip: Attach bottom shelf first, then middle shelf.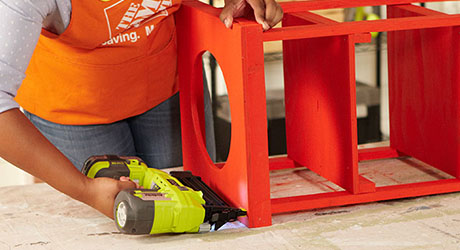 Place the 16 x 16-inch piece on top of shelf frame and secure with brad nailer. 
Tip: Use a stainable or paintable wood putty to fill in screw heads and touch up after attaching all parts.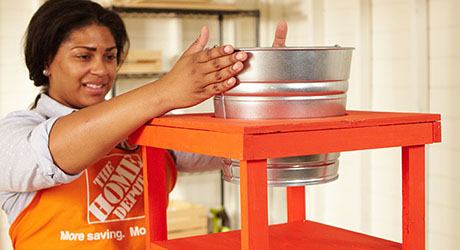 Insert the galvanized pail into the hollow circle. 
Explore More on homedepot.com