Build a simple DIY blanket ladder out of pine so you can display your beautiful blankets or throw rugs instead of folding and stacking them away. This wooden ladder can also be used in the bathroom with towels to save cabinet space. If you're new to woodworking, this project is a great way to practice your developing skills.
This guide will show you how to make a blanket ladder. It includes instructions for painting or staining a DIY blanket ladder, which is a decorative piece that is not for climbing. This project may take as little as an hour, but if your blanket ladder plans include paint or stain, allow additional time for drying. 
1
Gather Your Tools and Materials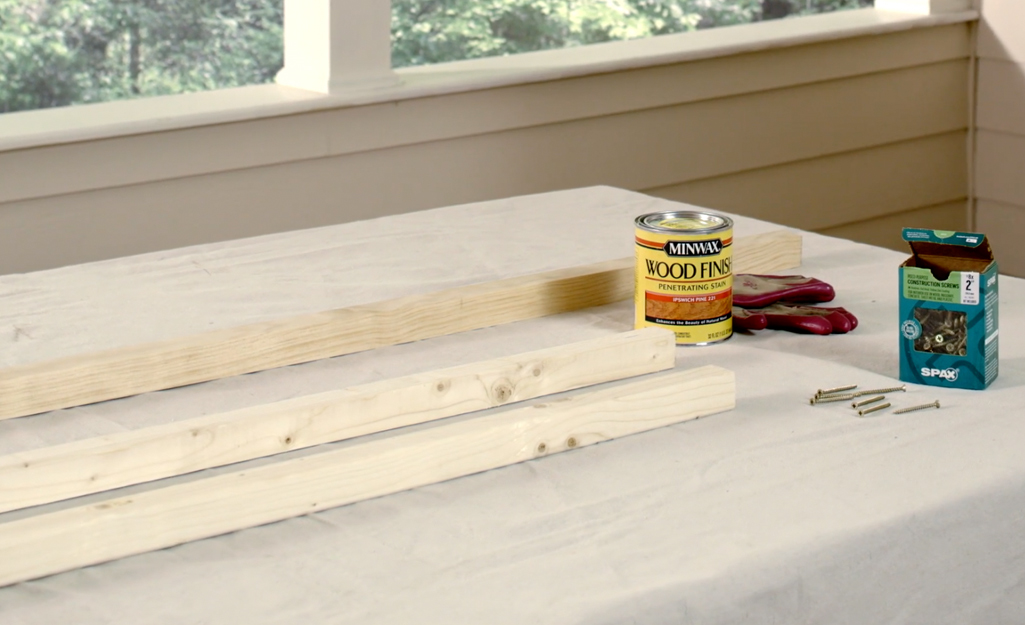 To build a DIY blanket ladder, you'll need: 
Two 2- x 2-inch x 6-foot select pine boards
One 2- x 2-inch x 8-foot select pine board 
10 #8 2-inch wood screws
Optional materials include: 
Stain
Paint
Paint brushes 
Safety gloves
The tools you'll need are: 
Circular saw or miter saw
Drill with a 1/8-inch bit
Measuring tape or carpenter's square
Pencil
Sanding block or sanding sponge
Clamps
Safety goggles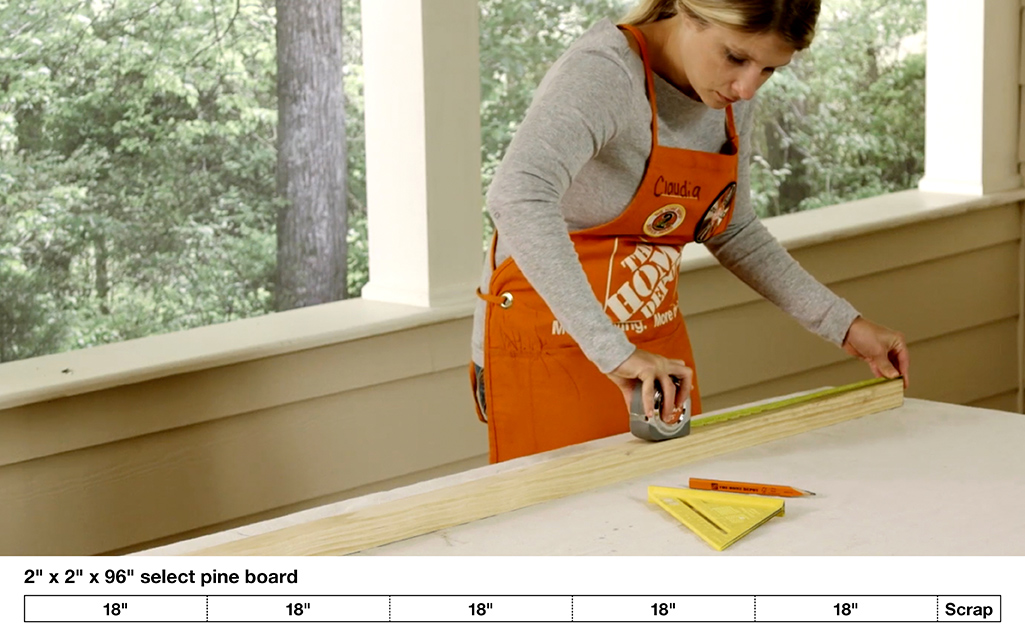 Use a tape measure and a pencil to measure and mark the cuts every 18 inches on the 2- x 2-inch x 8-foot select pine board. If you'd prefer, you can use a carpenter square for measuring and marking the wood.
You will have a total of five sections. Each will be 18 inches long. Some scrap wood will be left over at one end of the board.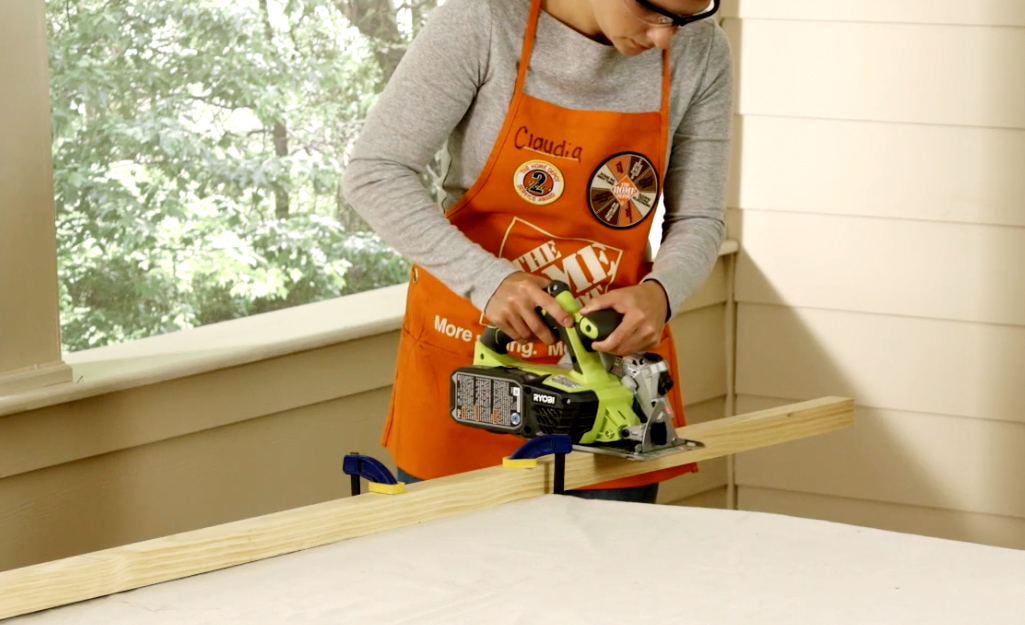 Use a circular saw and clamps to make the marked cuts on the select pine board. If you'd prefer, you could use a miter saw to make the marked cuts, instead.
Smooth any rough edges with a sanding block or a sanding sponge.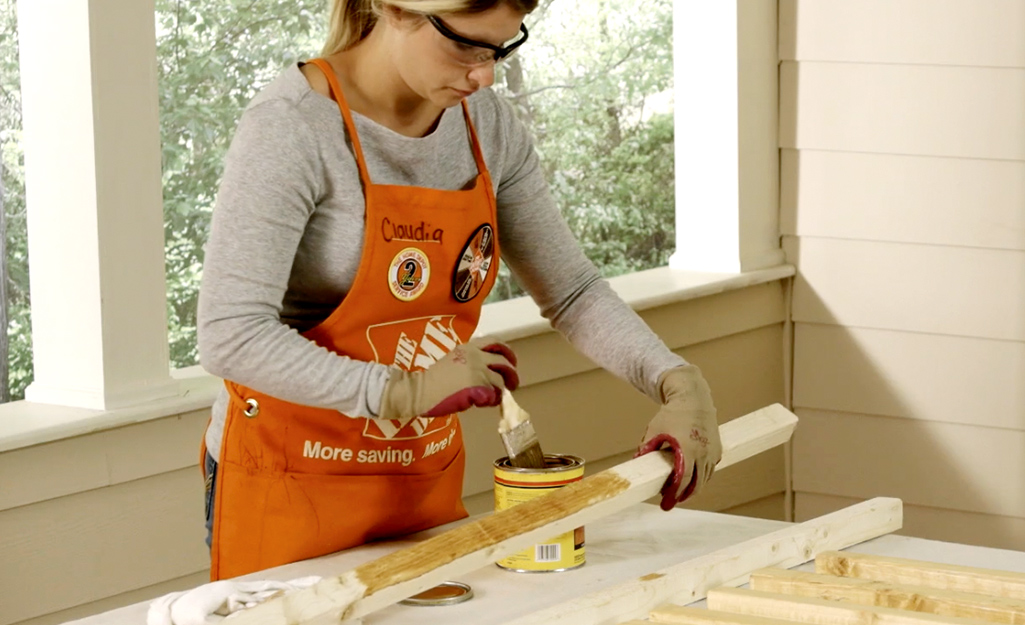 As you learn how to make a blanket ladder, you may want to use paint or stain to customize it. Before painting or staining, remove all the sanding dust from the wood and your working area. Cover your work space with a drop cloth. 
You should paint or stain all the wood pieces before putting them together. After applying paint or stain, wait for the pieces to get dry before assembling them. Factor drying time into your blanket ladder plans. The total active time you'll be working on your DIY blanket ladder should be less than an hour. However, waiting for the paint or stain to dry will add additional time to the duration of your project. 
If you plan to paint your ladder, you'll need to select a color. You can choose a neutral or a color that will complement the room where you plan to use the ladder. 
Use a paint brush to paint all of the pieces of ladder and let them dry. The time you should allow for the paint to dry completely will depend on whether you use latex or oil paint. Latex paint can dry in as little as an hour. With oil-based paint, you may need to wait 24 hours for the first coat to get completely dry. 
If you like the look of stained wood, use interior wood stain. You can apply it with a paint brush or a lint-free cloth. Layered coats of wood stain will result in a richer color. To protect the stain and make it last longer, you can finish with a coat of polyurethane. 
The first coat of some stains dries in around two hours. Two coats could dry in as little as four hours. Wait eight hours before adding a coat of oil-based polyurethane and 24 hours before applying a coat of water-based polyurethane. 
Drying times for paint and stain can vary. Read the label of the product you're using for specific directions. 
5
Drill Holes for Attaching Each Rung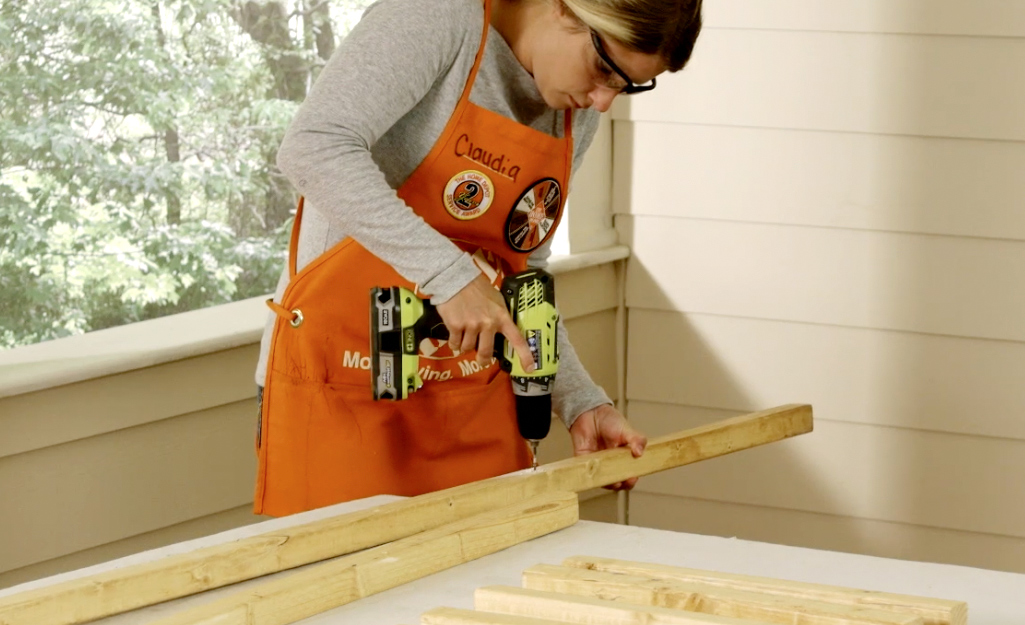 Mark five holes 12 inches apart and 12 inches from each end on each of the 2- x 2-inch x 6-foot select pine boards. These boards will serve as the sides of your ladder.
Use a power drill to carefully pre-drill a hole for each with the 1/8-inch drill bit.
Make sure the hole goes all the way through the board. The holes on each board should line up so that the rungs will be level.
6
Drill Holes Into Each Rung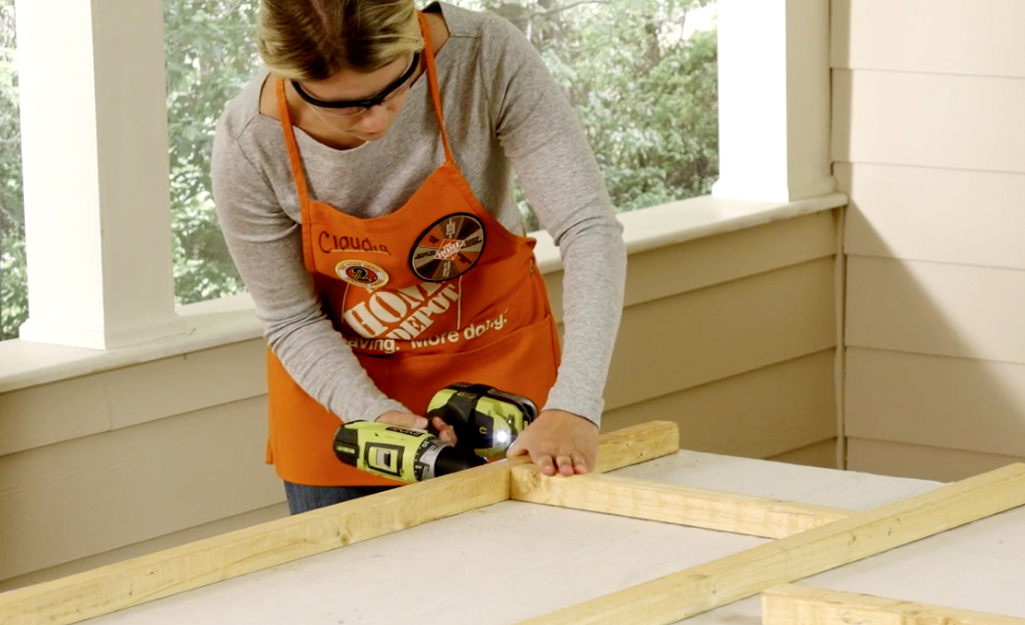 Hold each rung against the pre-drilled holes on the side boards and "re-drill" through the holes. 
Use the holes you just drilled as guides so that there are aligning holes in each rung.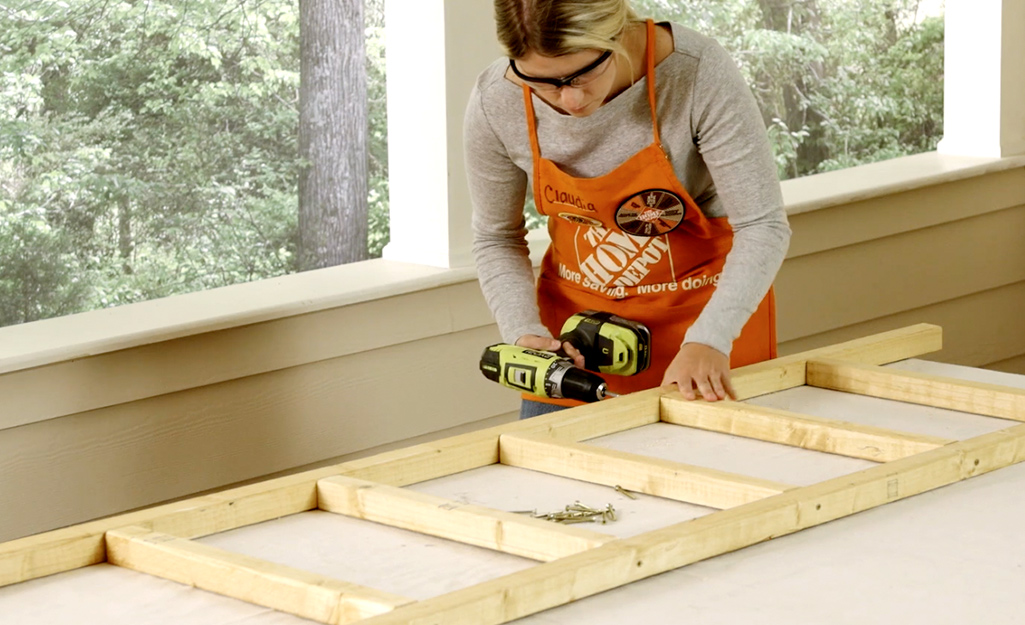 Screw 2-inch wood screws through each side into the end of each rung. 
Drill all the way in to completely attach each rung.
8
Where to Display a DIY Blanket Ladder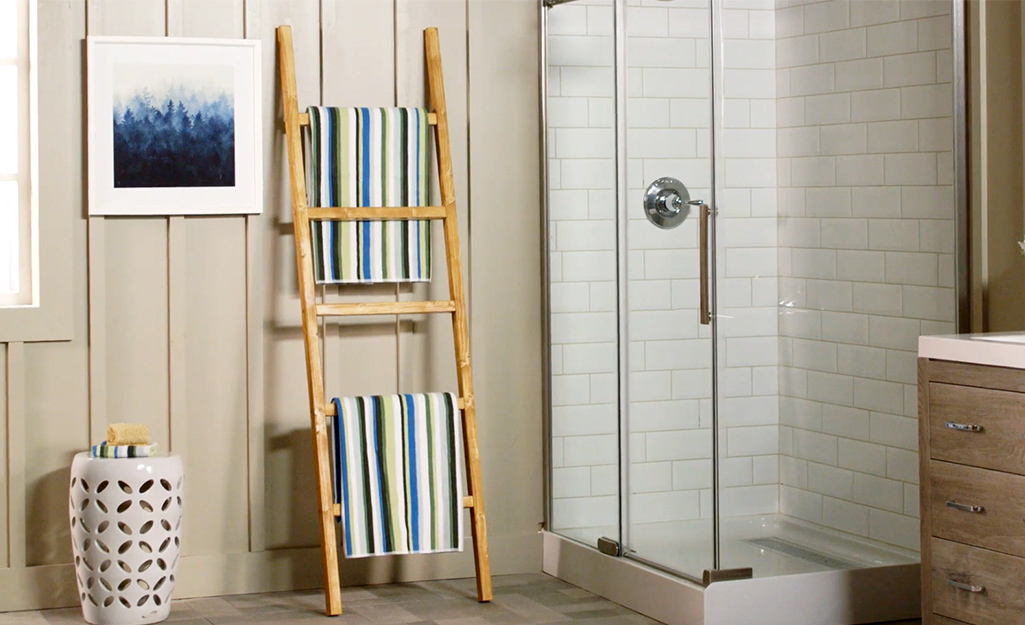 While this ladder is not meant for climbing, it can elevate the style of a room. Use it in a living room to hang your cozy blankets while they aren't on your lap. In a guest room, this DIY blanket ladder can display extra linens your visitors may need. Prop it against a bathroom wall for an additional place to hang towels. 
After you've learned how to make a blanket ladder, you may end up building more than one. A DIY blanket ladder will work in almost any room for display or storage. The ladder will only be strong enough to support the weight of a few linens, however. It should not be used for climbing. 
Once you've made your blanket ladder plans, it's time to get the tools and materials for your project. The Home Depot delivers online orders when and where you need them.
Explore More on homedepot.com