Time Required:

2-4 hours

Difficulty:

Beginner
---
The best way to grow fresh edibles in your own yard is in a DIY raised garden bed. Raised bed gardening makes it easier to control the soil and protect your plants from pests. If your garden plot has compacted soil, then a raised garden bed is the perfect solution. This guide will teach you how to build a raised garden bed and how to choose a location for it. You will also learn how to maintain the plants you grow and learn expert gardening tips for raised garden beds.
Raised garden beds keep weeds from your garden soil, prevent soil compaction, provide good drainage and serve as a barrier to pests. The sides of the beds will keep your garden soil from eroding away during heavy rains. Raised garden beds also help reduce back strain, which is helpful for older gardeners or people with chronic back pain.
You can build your own raised garden bed with pressure-treated wood or treated lumber. However, building raised beds does take more time, effort and requires extra tools. If you prefer an easy alternative, buy a raised garden bed kit.
Raised bed plans and kits come in different styles and sizes. They are great for growing your own salsa or salad ingredients. You can make a raised garden bed to plant crowds of seasonal flowers to add color to your landscape.
How to Plan a Raised Garden Bed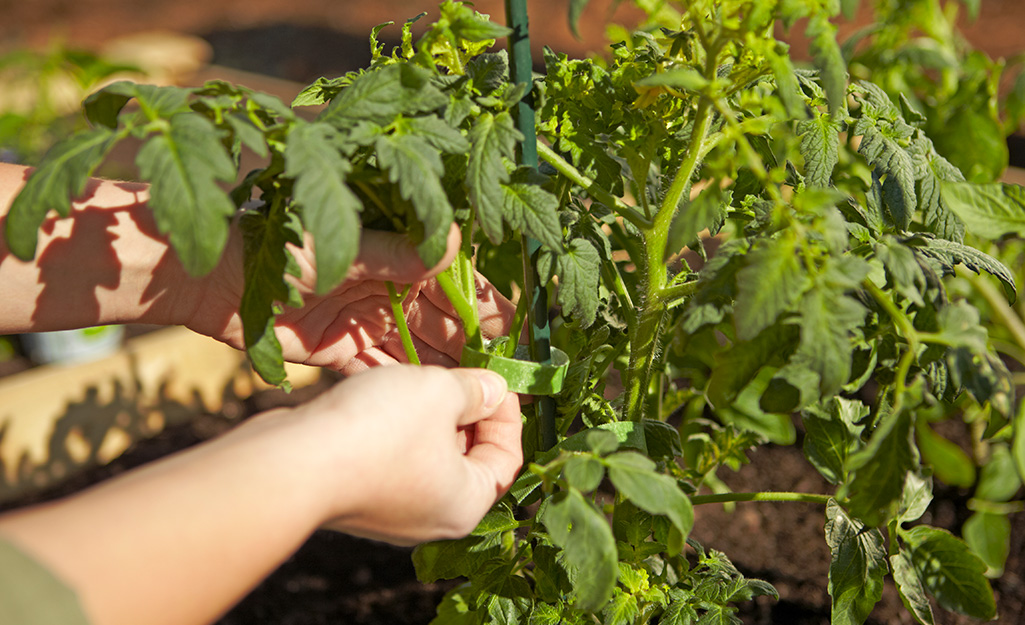 Raised garden beds are easy to maintain once you get them going. Follow these steps to learn how to plan a raised garden bed to suit your gardening needs.
Select a location. Choose a flat, sunny spot to build your raised garden bed. It can even be an area of existing lawn or grass.
Don't worry about the condition of the soil or the grass in your chosen location. You will be adding your own quality soil.
Keep the beds about four feet wide. At this width, you can easily reach to the center of the bed.
Leave at least an 18-inch path between beds, more if you want wheelbarrow access.
Raised garden beds are best when they are about 11 inches deep. This height will allow you to grow most vegetables.
Decide what fruit or vegetables you plan to grow. This will determine how many raised bed kits and bags of soil you will need.
Some kits are stackable, so you can grow plants with long root stems.
Purchase bagged soil and compost for your bed.
Purchase landscape fabric.
Assemble the Raised Bed Kit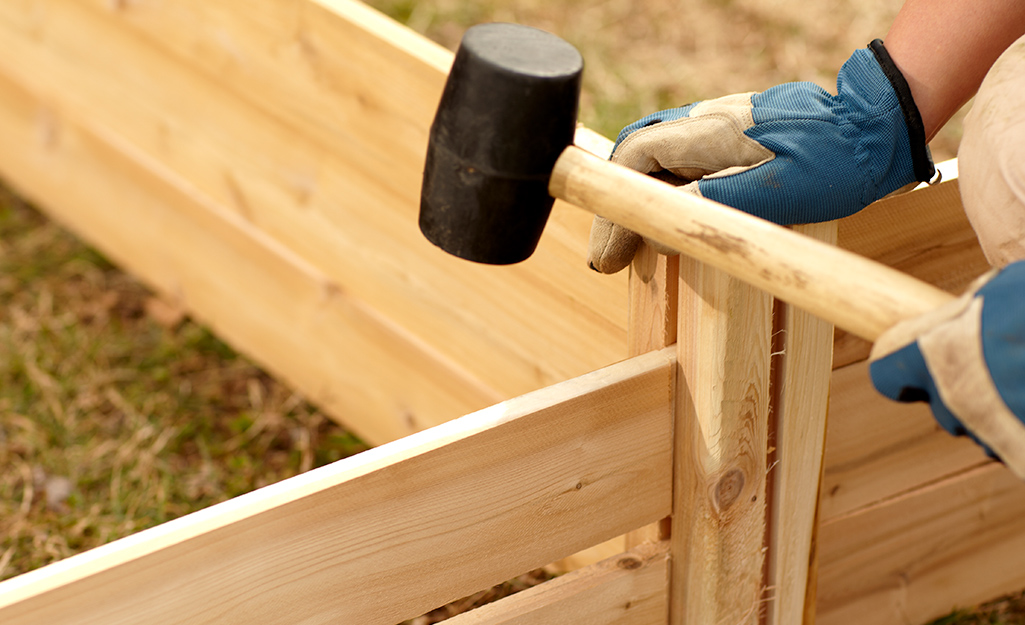 Put your raised garden bed kit together according to the manufacturer's instructions.
Place the assembled bed in the area where you plan to have your garden.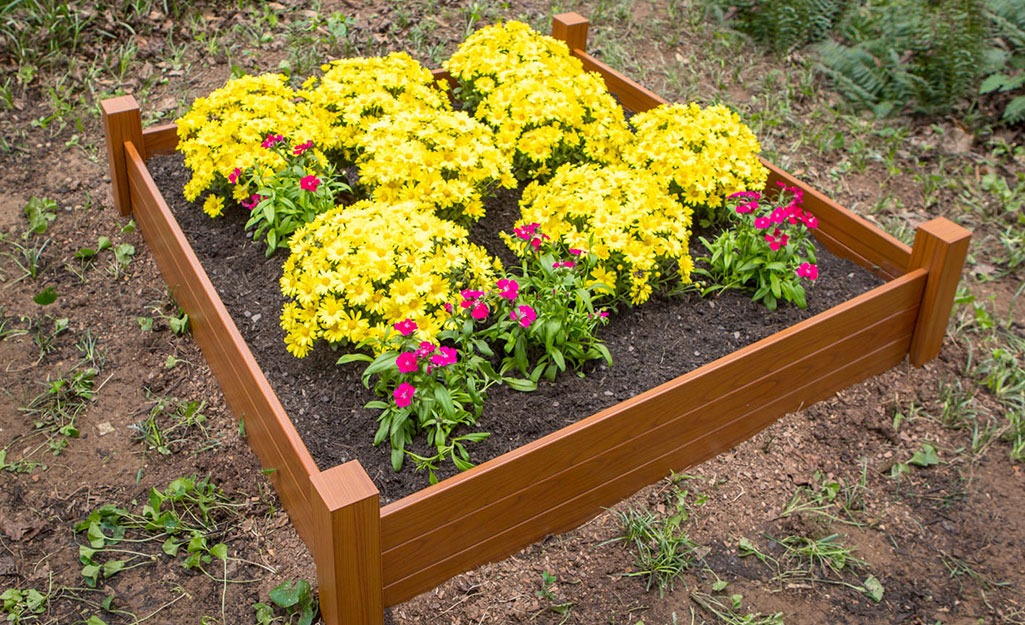 The best way to enjoy your vegetable garden is to spend less time weeding. A weed blocker will help prevent weeds.
Line the bottom of the bed with weed block or landscape fabric. This barrier between the soil in the bed and the soil in your yard helps keep weeds and grass from growing in the bed.
Alternatively, you can line the bottom of the bed with a thick layer of cardboard to block weeds. Unlike landscape liner, the cardboard will eventually deteriorate over time.
Tip: Remember that this fabric is porous and will allow water to pass through for drainage while keeping weeds at bay.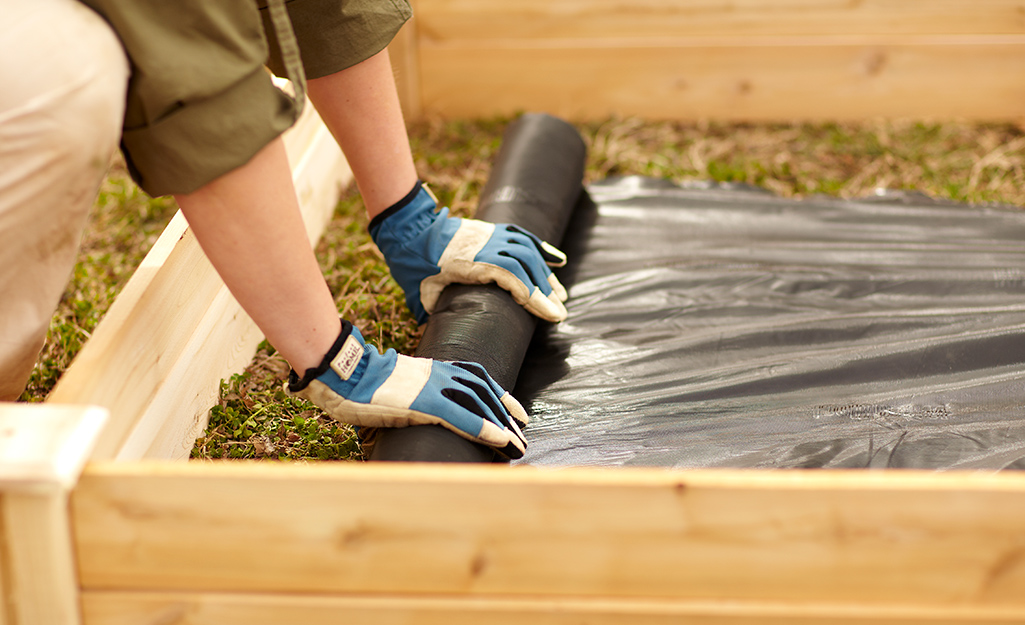 Choose the correct soil for the plants you intend to grow.
A good basic soil mix will include 60 percent topsoil, 30 percent compost and 10 percent potting mix. These ratios are adjustable. Add other soil amendments according to the needs of the plants you select.
Add enough soil mix to almost fill the bed.
This is a good time to add any amendments such as manure or plant food to the soil.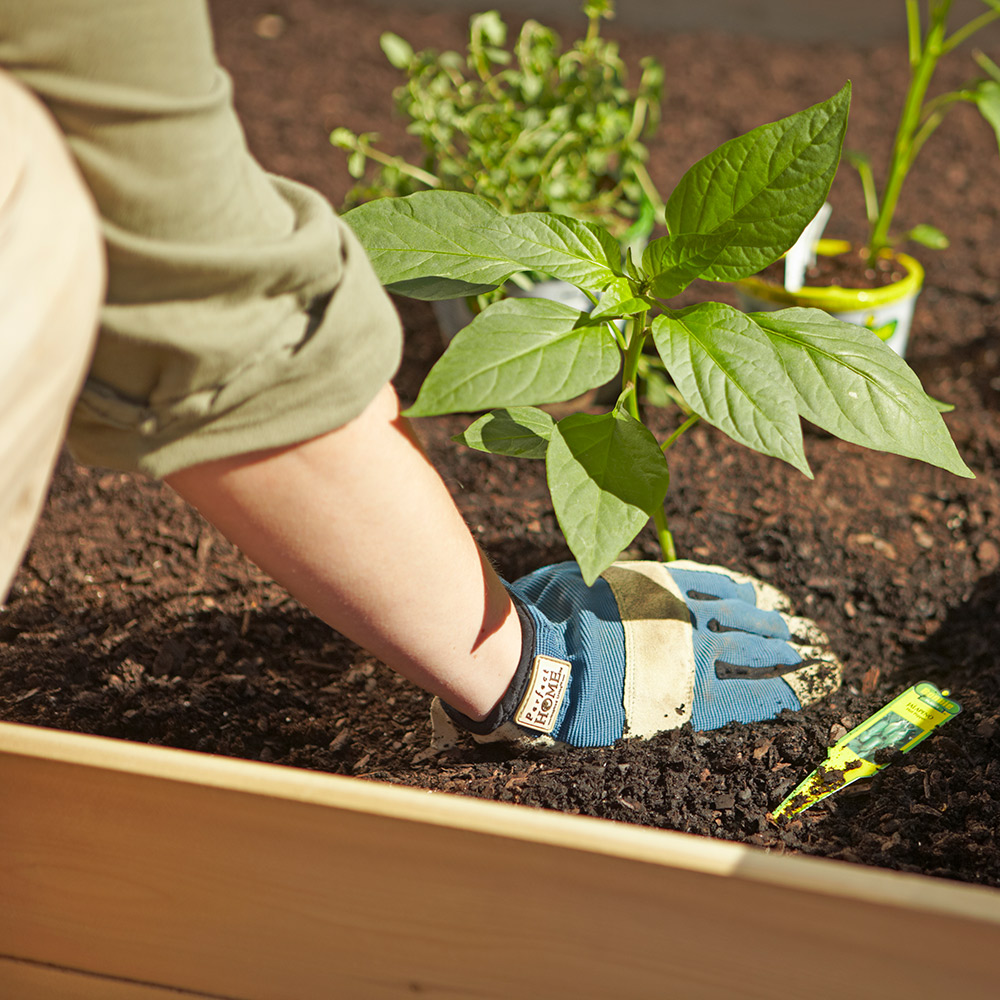 As they grow, support plants as needed with garden stakes, props or tomato cages.
As the plants mature and bear fruit, you many need to add a row cover or bird netting to keep your produce safe.
Water regularly if rainfall is scarce.
Plants need about one inch of water a week once they are established and actively growing.
Use your gardening tools to weed and cultivate the soil.
What to Grow in Your Raised Garden Bed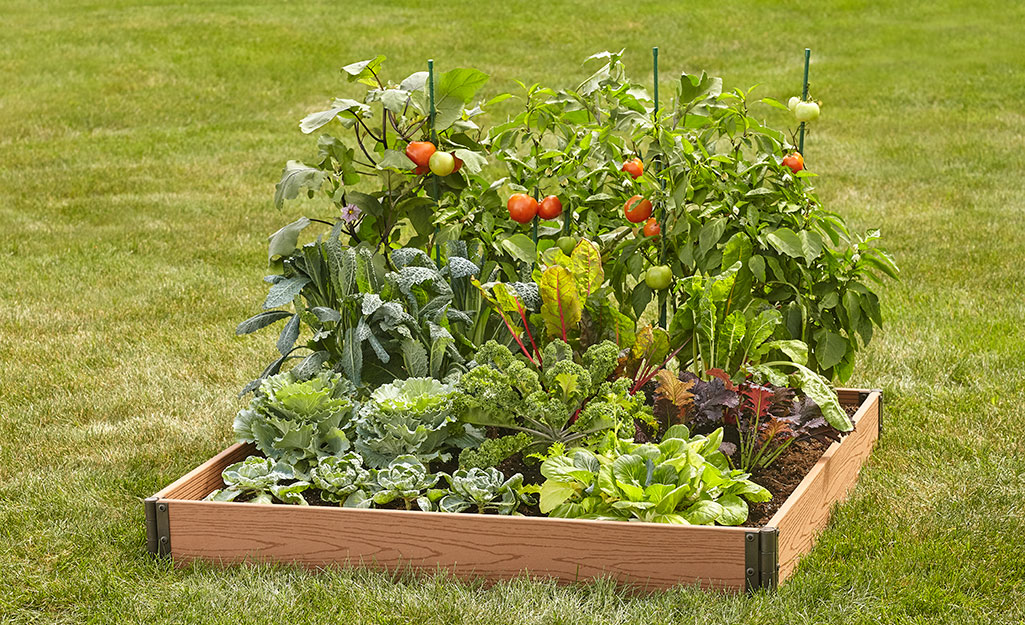 What you grow in your garden depends on your appetite. Grow a themed edible garden with all the ingredients you need for a delicious meal in your backyard.
Salsa Garden
In the front of your raised bed, plant one oregano plant, two cilantro and nine red onions.
In the middle of your raised bed, plant one serrano, fresno chili or chile de arbol pepper (staked), and one Roma tomato (caged).
In the back, plant two tomatillos. Tomatillos must be planted in pairs to cross pollinate.
Salad Garden
In the front of your raised bed, plant carrots, radishes and onions.
In the middle of your raised bed, plant lettuce and baby spinach.
In the back of your raised bed, plant peppers (staked) and tomatoes (caged).
Kitchen Herb Garden
In the front of your raised bed, plant oregano, cilantro and parsley.
In the middle of your raised bed, plant thyme, sage and rosemary.
In the back of your raised bed, plant chives and basil.
Once your herbs are mature, be sure to harvest a little every few days to keep the plants producing.
Tip: Mint makes a great herb for a kitchen garden, but it is a runner plant and will often crowd out and take over a bed. It is best to plant mint in a separate container and place it a few steps from the raised herb bed.
You can also build raised garden beds to hold flowers or bulbs. Try planting alternating rows of seasonal flowers so that you have something blooming all year round.
Once you've gotten your DIY raised garden bed going, keep digging into garden projects with the help of some of our other guides. Shop The Home Depot for everything you need to build a raised garden bed.