Time Required:

2-4 hours

Difficulty:

Beginner
---
Wondering what to do with a blank wall? Why not show off your favorite canvas art prints, treasured photos and unique picture frames with a stunning gallery wall. All you need is imagination and a few simple tools such as a tape measure, paper, picture hanging materials, framing nails and a hammer. This guide will show you gallery wall ideas, give step-by-step instructions on how to make a gallery wall layout and provide tips on how to hang a gallery wall.
Tip: A gallery wall is ideal for showing off the things you love. Liven up a pet station with an assortment of fun pet art and decor.
How to Make a Gallery Wall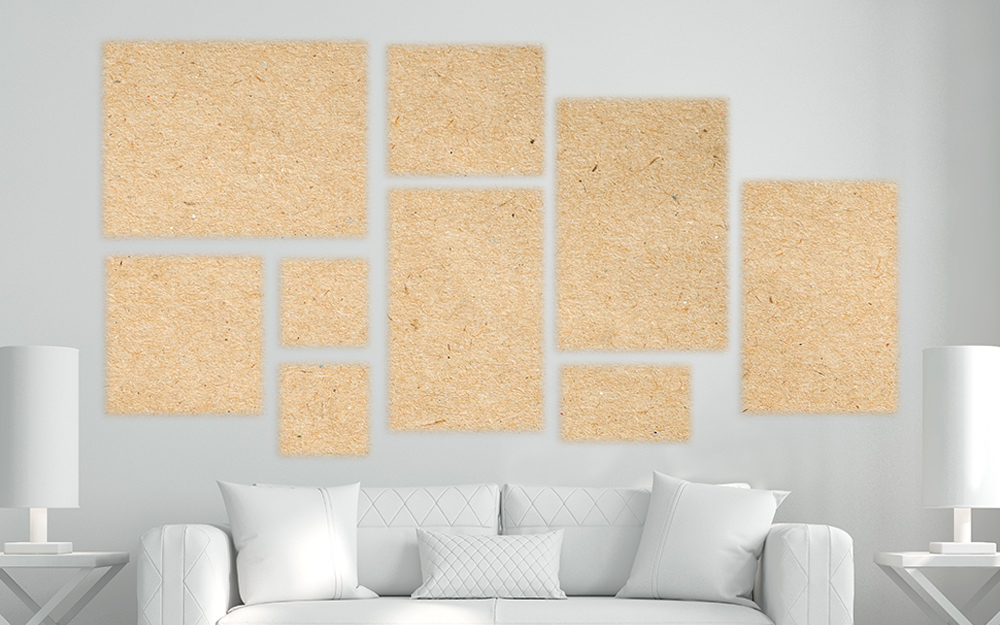 Choose a theme: Display your favorite art prints, photographs, mirrors, wall decor or a mix of all four.
Decide on a size: Many picture wall ideas call for covering the entire wall. A good rule of thumb is to make your display a little wider than the furniture and to keep the top-most piece about a foot below the ceiling.
Make a gallery wall layout: Trace each piece you've selected for your wall onto builder's paper. Cut the shapes out. Start by taping the largest paper shape in the center at about eye level (60 to 65 inches above the floor). Place the pieces about two to three inches apart. Use painter's tape, so you can move the other pieces around until you find a layout you like.
Remove the paper as you hang each piece.
Tip: See our guide for tips on hanging pictures, mirrors and more here.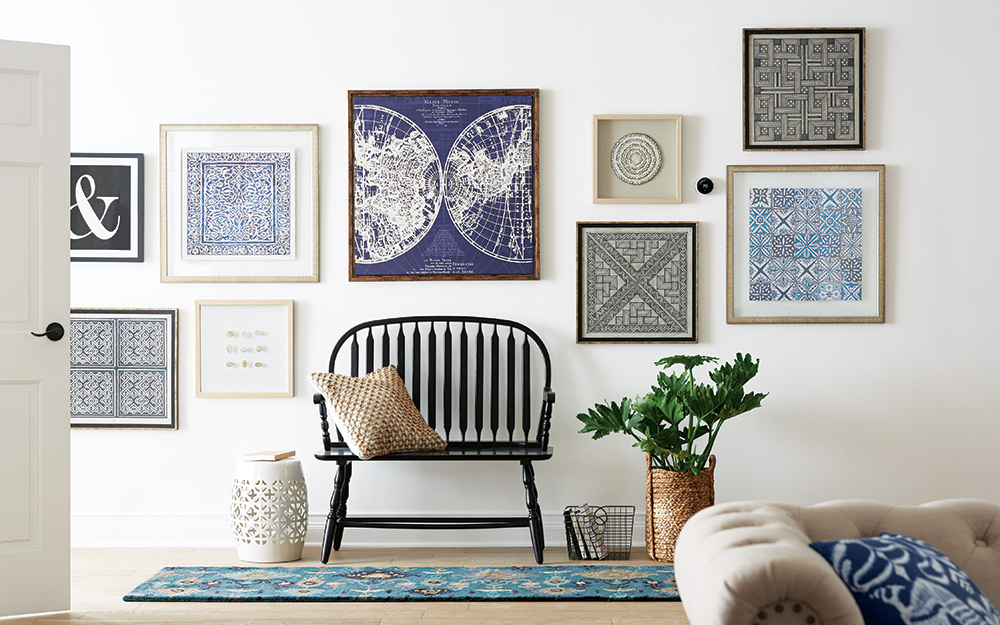 Large spaces like entryways or staircases can require several pieces of wall decor. Various-sized pieces in a similar color or shade will help define the space without looking too busy.
Tip: Photo wall ideas featuring intense colors and complicated subjects will stand out better on white or neutral walls.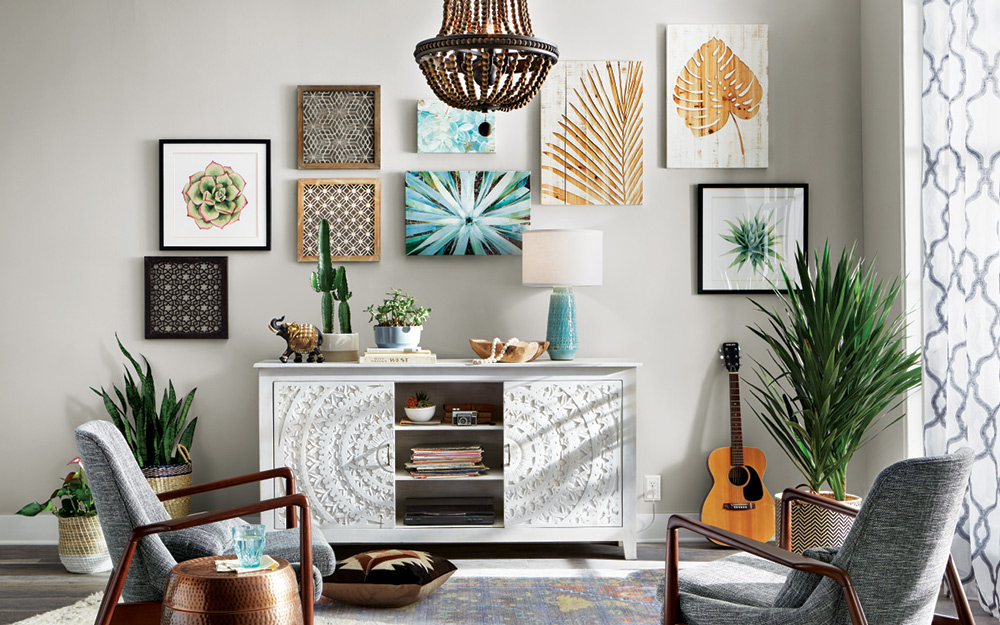 Relate your love of world travel by pairing global-inspired furniture with a collage of intricately carved panels, earthy artifacts and exotic botanical prints.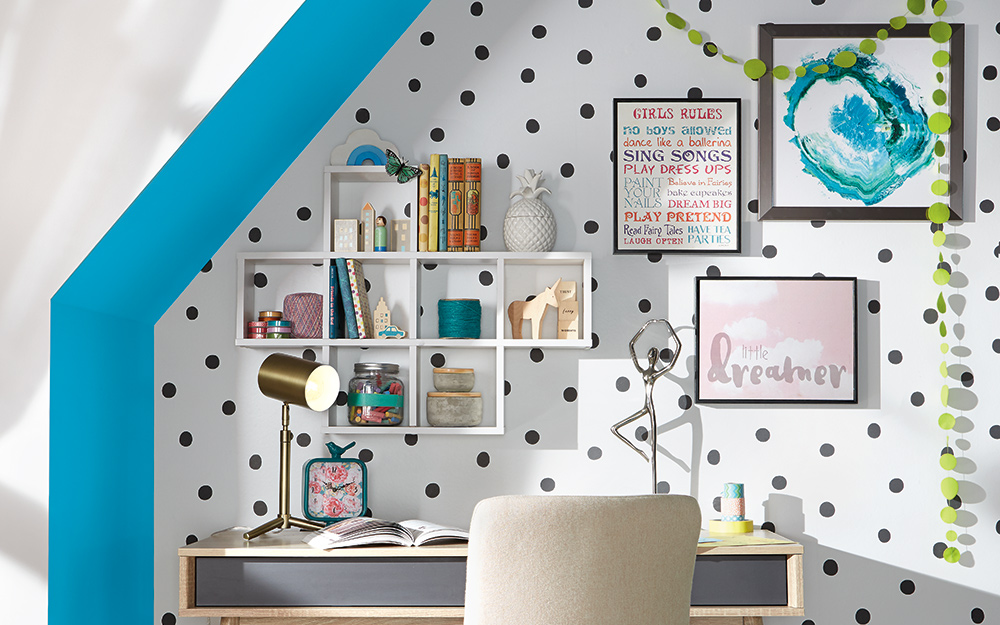 Gallery wall ideas don't have to be all serious. Brighten up a tiny corner with fun picture wall ideas such as a display of modern shelves, light-hearted art, whimsical wallpaper and a burst of bold color inspired by a favorite art piece.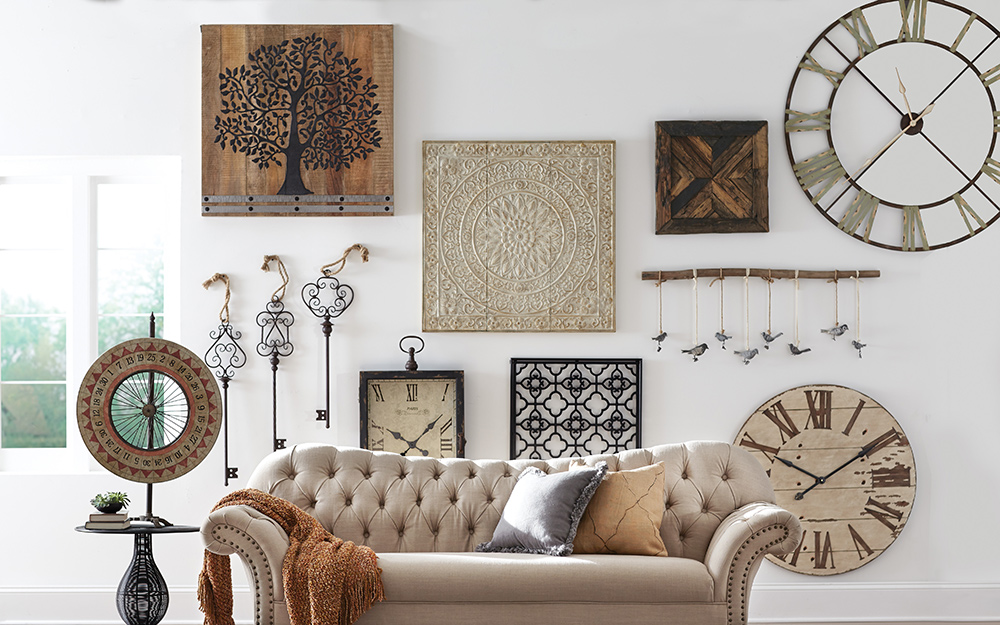 Put a blank wall to work with a refined industrial look. Mix oversized clocks in rustic finishes with metals and sculptured wall art in distressed woods.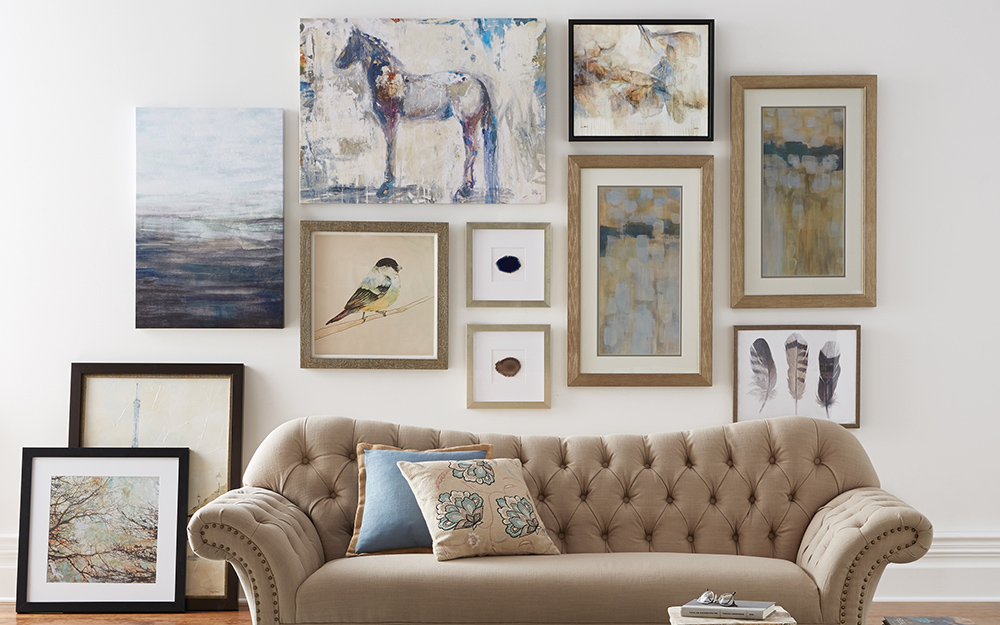 Make a tall wall feel even more spacious or create height in a small room by displaying art in long, vertical lines. Complete the look by having a few pieces lean against the wall for a true floor-to-ceiling effect.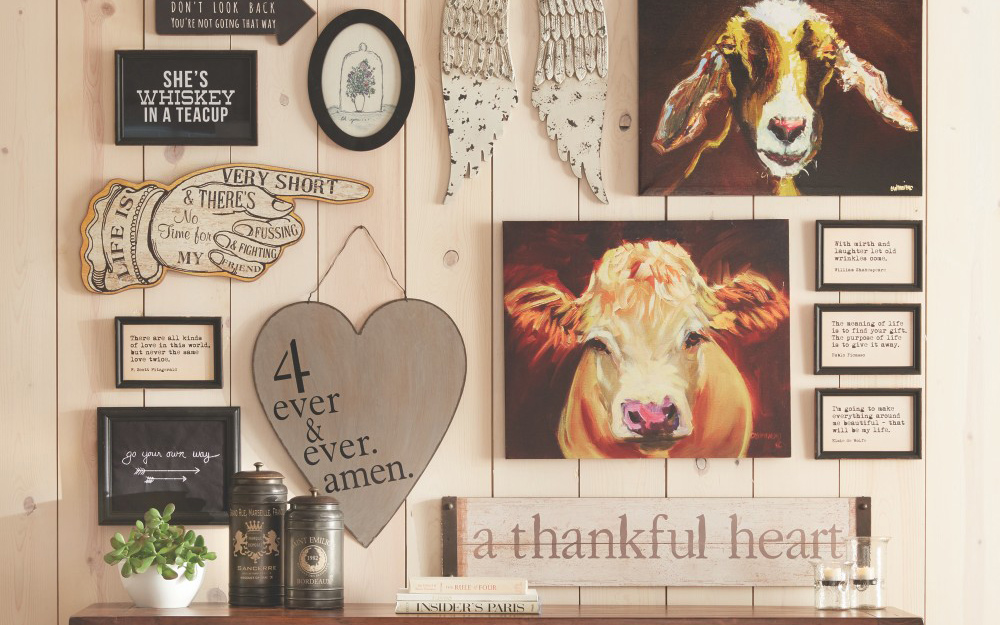 Anchor your gallery wall with a large special painting, family photo, black-and-white print, color illustration, architectural element or even a framed quote. Surround it with different shapes and textures for a one-of-a-kind look.
Tip: Give your picture wall ideas balance by including several complementary pieces in the same color.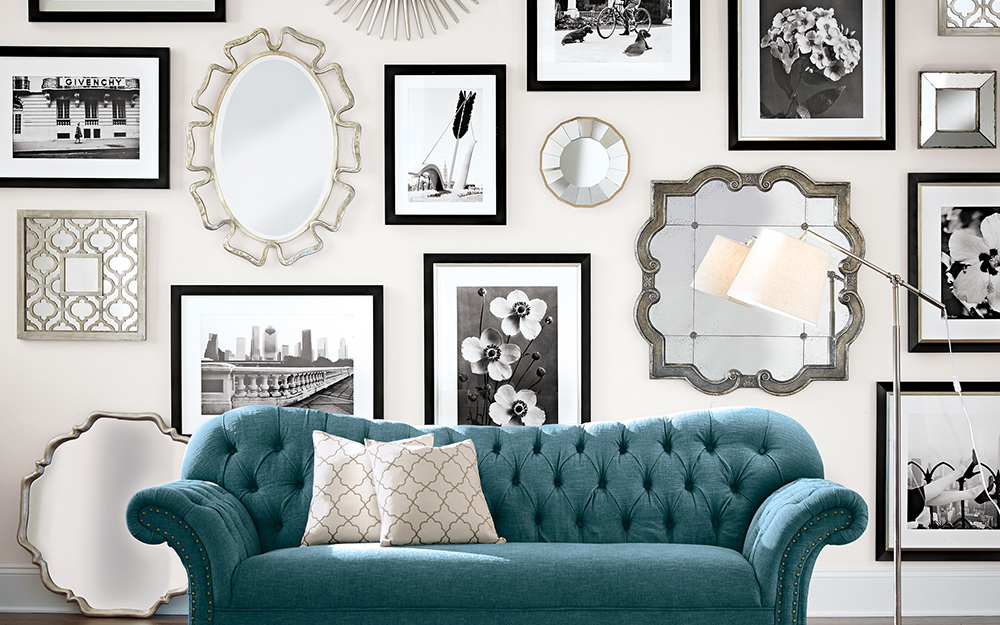 Experiment with silver-framed mirrors in various shapes and sizes for a chic, glimmering gallery wall. For a modern spin, layer in crisp, black-and-white photography.
Tip: For fun variety, use multiple picture frames of the same color in different shapes and sizes.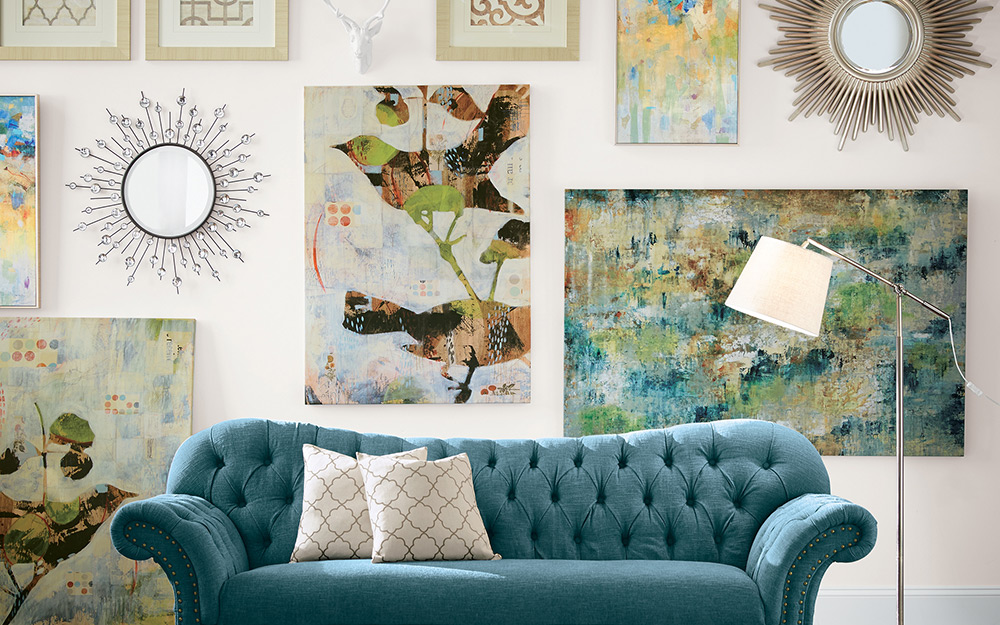 Get the effect of a museum gallery wall by completely covering a wall with a mix of small-framed art prints and larger-than-life canvas paintings. Keep the look cohesive by choosing abstract art in similar color schemes.
Tip: Break up a wall full of art with decorative mirrors to add depth and interest.
Family Photo Gallery Wall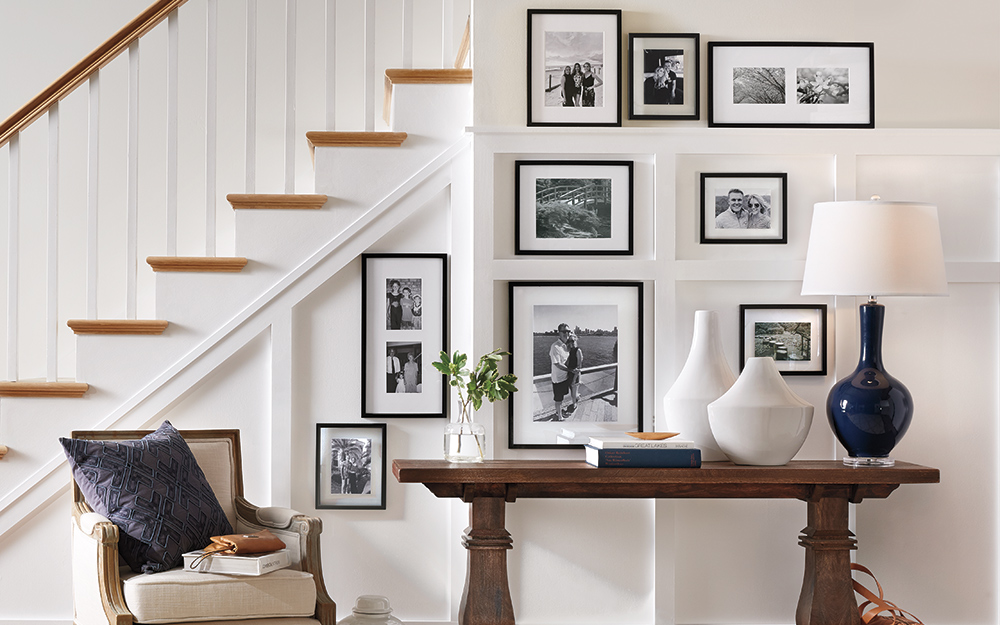 One of the most popularly executed photo wall ideas is to display family pictures. Create a big statement in a small space with an assortment of family photos in small picture frames of various shapes. An all-neutral or black-and-white theme shows off cherished photographs without taking away from the elegance of your space.
Seasonal Art Gallery Wall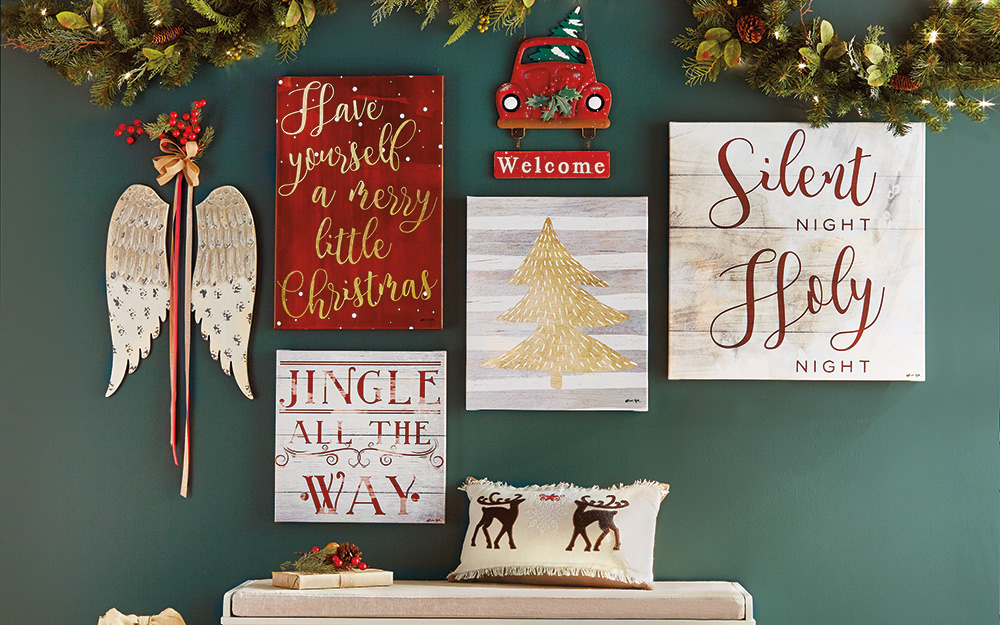 A special gallery wall over a bench or stool is the perfect way to celebrate seasonal changes in your home. For example, welcome the holidays with a mix of greenery, iconic wall sculptures and festive sayings written in silver, gold and red.