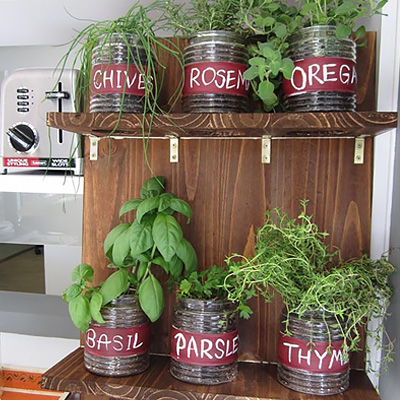 Football parties are in full swing, and the holidays are just ahead. When you grow your own herbs indoors, it's easy to pick fresh cilantro to whip up a bowl of spicy salsa, or snip chives, parsley, tarragon or dill to make a creamy dip for chips.
If you can grow a houseplant, you can grow herbs, as long as you give them the basics: bright light, humidity and the proper temperature range. Make this indoor planter to keep them convenient to your kitchen or other food prep area.
1
Start with Primer, Then Paint
Painting chalkboard paint directly on the jars is a great way to keep track of what you have growing inside. If you want to do this, tape off the areas that you do not want painted. Then apply a coat of Glidden Gripper primer. This primer sticks to many surfaces, including glass. Once the primer is dry, apply 2 coats of chalkboard paint. 
Note: Doing this step first will ensure that the paint is completely dry before you start planting.
Measure the center of each of your shelves and mark it with a pencil. This is where your first hole is going to be. Next, measure and mark the center of each half of the shelves for the two outside holes. Using your 3 1/2 inch hole saw, make three holes in each shelf.  Sand the edges smooth with the sanding sponge.
Cut List:
2  (5 x 17) (shelves)
1 (1- 17 x 24) (back)
Note: These cuts can be made by the lumber associate at your local Home Depot. 
After you are done, stain all of your wooden pieces. We used Varathane Stain and Poly 'American Walnut.' This particular stain is water based and dries in about an hour. It only requires one coat and leaves a slight sheen on the surface.
Once the stain is dry, attach four 'L' brackets, spaced evenly, to each shelf. Then attach the shelves to the back piece.
Attach one half of the French cleat to the back of your piece and the other half to the wall where you want to hang your herb garden. You can hang the garden or omit the cleat and rest it on a counter.
Plant your herbs in the glass jars and write on the front what herb is inside each one. Then place a jar in each hole and enjoy!
Herbs aren't hard to grow, but they do need the right conditions. Most do best near a window with a southern exposure, so they receive at least eight hours of sun a day. If you don't have a bright spot, add grow lights and a timer to automatically turn them on and off.
Most herbs need daytime temperatures that range from 60 to 70 degrees Fahrenheit, with a drop of about 10 degrees at night.
Because our homes tend to be warm and dry during the fall and winter, help your herbs by raising the humidity around them. Give them an occasional misting with a spray bottle or group them on a tray filled with pebbles and a little water. To prevent rot, don't let the roots stand in the water.
Mix a few basics and fresh, finely chopped herbs for a delicious, creamy dip. Experiment with different combinations to find your favorites. Remember to wash and pat the herbs and scallions dry before using them.
8-ounce package of cream cheese, softened and whipped
3/4 c. sour cream
3/4 c. mayonnaise
1 T. fresh lemon juice (optional: 1 tsp. of grated lemon rind)
3-4 scallions, minced (use the green and white parts)
Blend the above ingredients and add salt and pepper to taste. Herbs to try include: dill, chives, tarragon, marjoram and parsley. Italian parsley, oregano and basil also make a good combination.
Explore More on homedepot.com