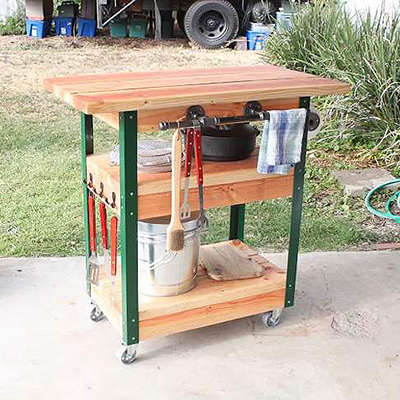 Make a stylish cart to hold all your grilling accessories using just a few materials from The Home Depot and the following instructions presented courtesy of Ben Uyeda, the designer behind HomeMade Modern. This guide will walk you through the step-by-step process of building this DIY cart to hold all of your grilling supplies.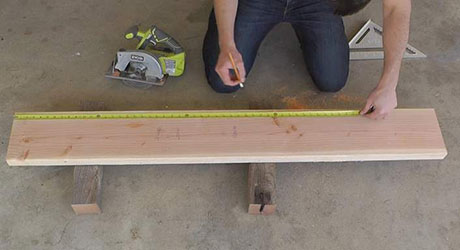 Cut the wood into the following lengths:
Eight 30-inch x 2 x 4-foot boards to make up the longer sides of the shelves and the middle piece of the top of each shelf.
Six 16-inch 2 x 4-foot boards to make up the shorter sides of the shelves.
Four 30-inch x 2 x 8-foot boards to complete the tops of each shelf.
Three 40-inch x 2 x 8-foot boards to make up the cutting board.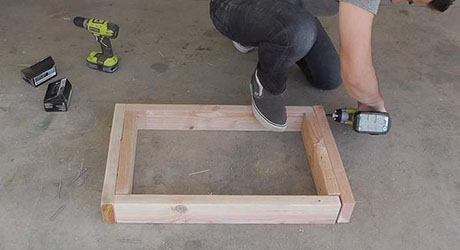 Screw together the 30-inch and 16-inch x 2 x 4-foot boards into rectangular frames.
For the top of the bottom two shelves, frame a 30-inch x 2 x 4-foot board with two 30-inch x 2 x 8-foot boards.
Screw them on the top of the frame to make each shelf.
The top shelf should remain just a frame so the top table surface can be added after the cart is assembled.
3
DRILL THROUGH THE ANGLE IRONS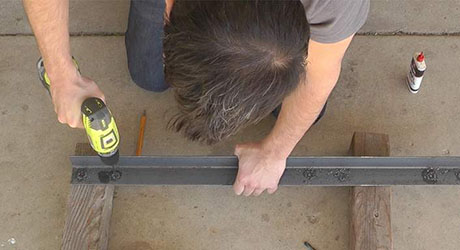 Drill through the angle irons with the 3/16-inch bit.
Check to make sure that the screws fit through the holes.
Use the larger drill bit to create a hole over the 3/16-inch hole to countersink the screws.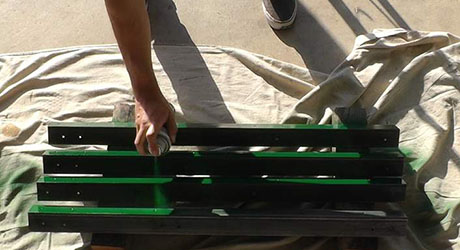 Clean the cutting oil off the angle irons.
Paint them with spray paint.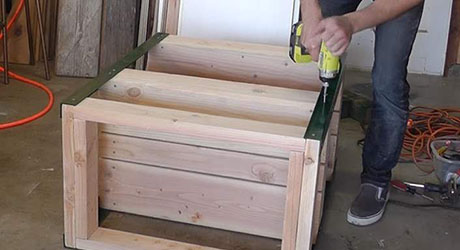 Screw through the holes drilled in the angle irons and into the wood shelves, spacing them evenly.
Put the empty frame on top.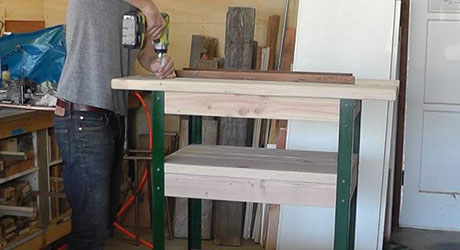 Stand the cart upright.
Screw in three remaining 2 x 8-foot boards onto the top frame to complete the table surface.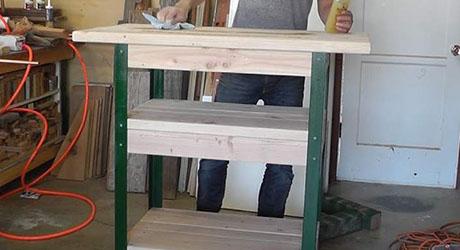 Finish the wood with a butcher-block conditioner.
8
ADD WHEELS AND ACCESSORIES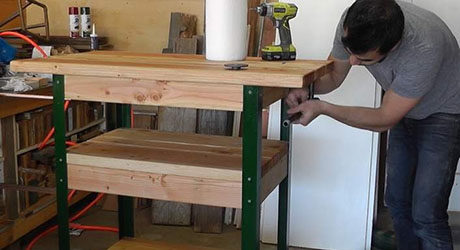 Flip over the cart and screw on the wheels.
Add other accessories where desired.
Explore More on homedepot.com