Project Guide
How to Build a Ground-Level Deck
Time Required:

Over 1 day

Difficulty:

Advanced
---
You can add a ground-level deck to your outdoor space and expand the options for dining al fresco, entertaining and relaxing. This guide will show you how the decking was assembled, and the approximate time it took for each step. These are the simple steps to build a ground level deck.
Tip: Before you begin, you must first calculate the amount of lumber, concrete and hardware you will need. This project guide will provide thorough details on this process.
Safety:
Wear hearing and eye protection when using power tools.
Wear eye protection when using striking tools.
Wear a dust mask when cutting lumber and mixing concrete.
Wear gloves and work boots when handling lumber and concrete. (Do not wear gloves when operating power saws.)
Use GFCI-protected power cords when operating power tools outdoors.
Use manufacturer-approved hardware and fasteners for all wood products. Check with the manufacturer or your local supplier for more information.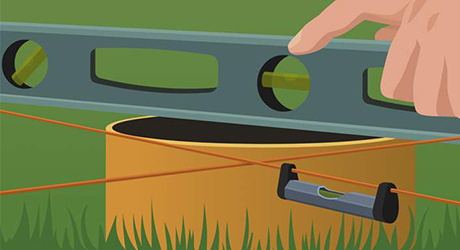 Use batterboards and mason's string lines to lay out footing locations for a deck that is approximately 8 feet wide and 10 feet long. Use a posthole digger to dig six holes for 8-inch-diameter footings. Each hole should be 12 inches deep.
There is no frost line since this is a freestanding deck. Use tube forms to level the footings about 1 inch above ground level.
Approximate time for a novice (with a helper) to lay out footing locations, dig holes and level tube forms for this deck: 5-7 hours.
POUR CONCRETE AND PLACE POST ANCHORS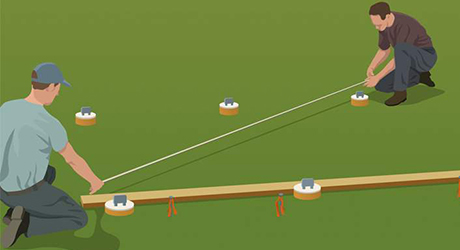 Mix six 60-pound bags of ready-mix concrete in a wheelbarrow. Pour cement into the footings, then place post anchor bolts into the center of each footer before cement begins to harden.
Align anchors with a long straight board. Check diagonal measurements to square the anchor positions.
Approximate time (not including curing time): 3-4 hours.

Tip: Leave enough of the bolt above the footer to connect to the anchor.
ATTACH BEAMS TO POST ANCHORS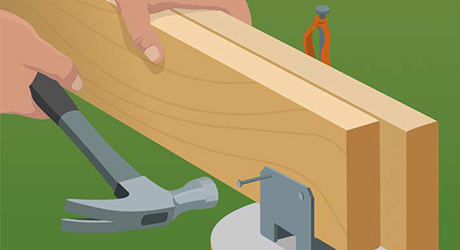 Use double 2 x 6 deck boards as beams. Attach them within the post anchors. Install a 1/2-inch-thick pressure-treated shim between the beams and one side of the anchor at each footing. The anchor is 3-1/2 inches wide and the beam is 3 inches thick.
Approximate time: 2-3 hours.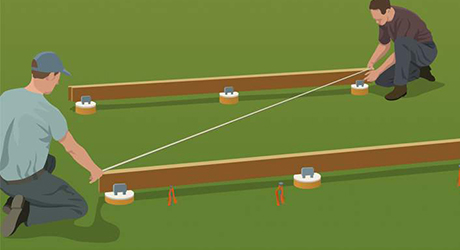 Check beam alignment and adjust as necessary to make certain beams are square.
Approximate time: 30-45 minutes.
ATTACH RIM JOISTS AND ANGLE BRACKETS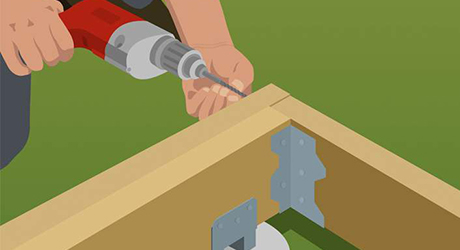 Attach 2 x 6 rim joists
to the ends of the beams.
Install angle brackets to provide additional support for the corner joints.
Approximate time: 1 to 1-1/2 hours.
ATTACH INNER JOISTS TO BEAM FACES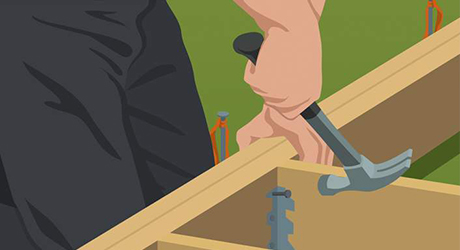 Attach inner 2 x 6 joists to the beam faces with joist hangers.
Approximate time: 3-5 hours.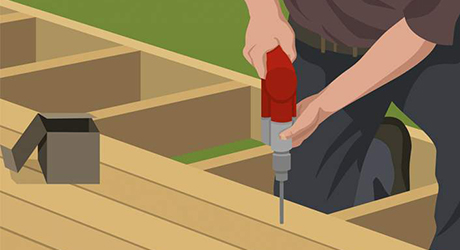 Drive two fasteners through the board into the center of each joist. Position each fastener 3/4 to 1 inch from the edge of the board.
Approximate time: 3-5 hours.
TRIM DECK IN STRAIGHT LINE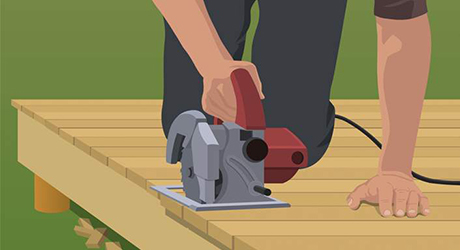 Snap a chalk line to mark a straight cutting line. Trim decking to length with a circular saw.
Approximate time: 15-30 minutes.
How much does it cost to build a ground level deck? The cost for a ground level deck varies depending on the size of your deck. This impacts the tools and materials you'll need as well as how much time goes into building your deck.
For help with installing your free-standing deck, contact the helpful experts at the The Home Depot Installation Services department.