Turn two large wood crates into a stylish double drawer nightstand with this simple, five-step DIY. Use this as bedside storage or anywhere in the house you could use some extra space.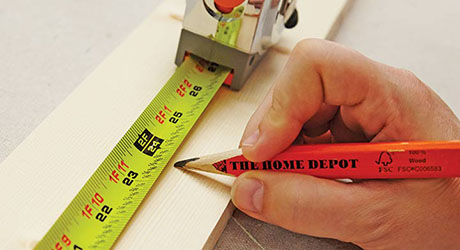 Measure and mark:
Six 13 ¼-inch side boards from the 1- x 2-inch x 8-foot common board
Four 23 7/8-inch vertical boards from one of the 1- x 4-inch x 8-foot common boards
Four 18 ¼-inch back boards from the other 1- x 4-inch x 8-foot common boards
One 20 ¼- x 13 ¾-inch section from the sanded plywood board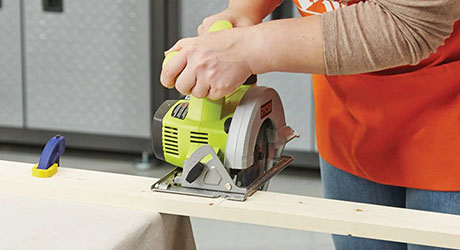 Using your circular saw and clamps, cut along your marks.
You should now have six 1 x 2 x 13 ¼-inch pieces, four 1- x 4- x 23 7/8-inch pieces, four 1- x 4- x 18 ¼-inch pieces and one 20 ¼- x 13 ¾- x 23/32-inch piece of plywood.
Tip: If you're planning to paint or stain your nightstand, give it a good sanding, then paint or stain and allow to dry completely before it's assembled.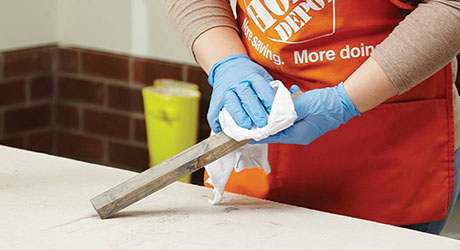 Lay two of the 23 7/8-inch vertical boards 6 ½ inches apart.
Place three of your 13 ¼-inch sideboard pieces on top, evenly spaced between the vertical boards, and attach them with the brad nailer.
Repeat with the other two 23 7/8-inch vertical boards and 13 ¼-inch sideboards.
Tip: Be sure that the spacing on the side boards matches.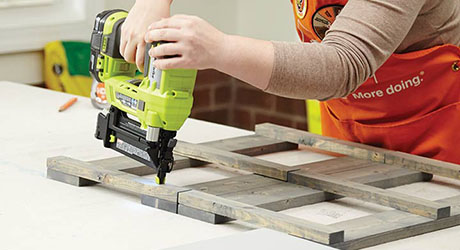 Connect the side frames you've just built to the back board.
Position the two side frames parallel to each other with the sideboards facing inward.
Sandwich the four 18 ¼-inch back boards between the two frames with two of the back boards above the bottom sideboards and the other two back boards above the middle sideboards.
Secure the back boards to the side frames with a brad nailer and nails.
5
ATTACH TOP AND INSERT CRATES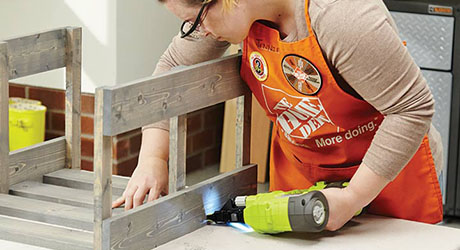 Place the 20 ¼-inch by 13 ¾-inch plywood board on top of the frame, leaving a ¼-inch overhang on all sides.
Use your brad nailer to secure it to the frame.
Slide the crates into the frame, slatted-side facing outward, so that each one rests on top of the side boards.
Explore More on homedepot.com