Project Guide
How to Build a Playhouse
Time Required:

Under 2 hours

Difficulty:

Intermediate
---
A backyard playhouse creates a spot for kids to stretch their legs and their imaginations, giving rise to hours of play that become treasured memories as they grow up. This guide will show you how to prepare for, select and maintain an outdoor playhouse that remains safe, sturdy and fun for your children.
CREATE A PLAYHOUSE-READY BACKYARD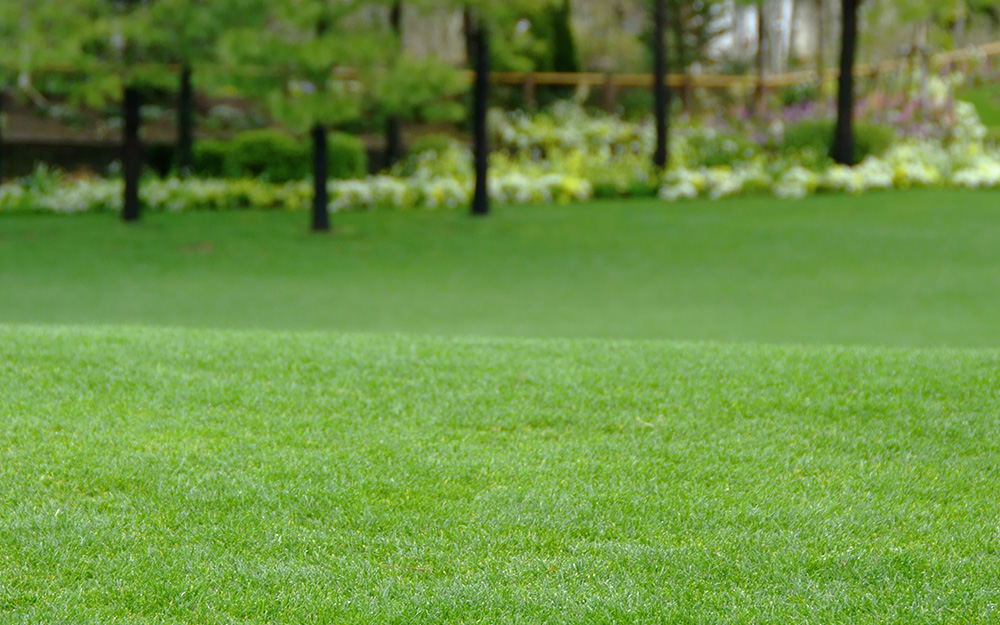 Choose a location and orientation for your playset; it can be placed parallel, perpendicular or catty-corner to the home. Consider the sight lines from the street when you are deciding on a build site, and you may want to place the playset so that it is easily visible from several windows to be better able to keep an eye on the kids as they play.
Check the selected site for utility features, including underground elements like sprinklers or gas lines. Also, be sure the site is out of the way of overhead features such as power lines or roof overhangs.
Leave at least six feet of open space in all directions from the intended footprint of your playset.
Remove all plants, yard toys and hardscape elements from intended build site.
Walk the area and remove any animal waste. Also, check for harmful plants such as poison ivy or oak. If needed, treat the area with weed killer to eliminate the plants.
Completely level the ground in the area of the build site. Remove sod and earth from the highest level of the ground to meet the lowest level to save effort.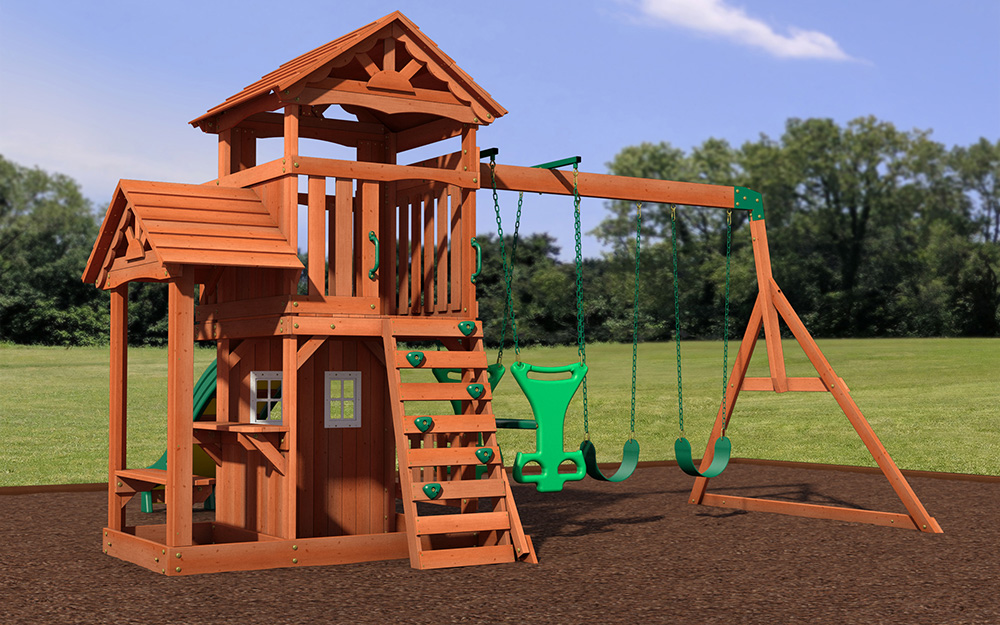 Playsets are available in plastic, wood, metal and vinyl-coated frames.
All-plastic playsets are usually only available as toddler-level equipment. They don't require a foundation beyond a level place in the yard.
Wood playsets, though durable and attractive require more maintenance. Redwood is the most expensive, but it is known for its beauty. Preserved pine is also a popular choice due to its ability to withstand harsh weather conditions. Cedar is the least expensive playset wood, but still offers a good level of durability if properly maintained.
Metal playsets are significantly easier to maintain, but in warmer climates can be uncomfortable to use in the heat of summer.
Vinyl-coated playsets are also a low-maintenance choice, but since the protective layer rests over a wood frame, these playsets can be prone to internal rot that is hard to detect.
Choose a deck height of at least 5 feet to get the most out of a playset before the child outgrows it. If you do not need a playset to accommodate a child past the age of 8, a 4-foot deck height will save yard space and be less expensive.
Be sure the design you choose incorporates standard safety features: commercial-grade, recessed hardware; rounded or capped corners; and solid swing beams and base posts.
Purchase a swing set with growth in mind. Many sets are modular and can be expanded over time or allow you to replace sections with different styles of play elements:
Some play elements such as tire swings; rope ladders and nets; and features requiring lots of upper-body strength – trapezes, fireman poles, climb walls – are not recommended for children under 4 years.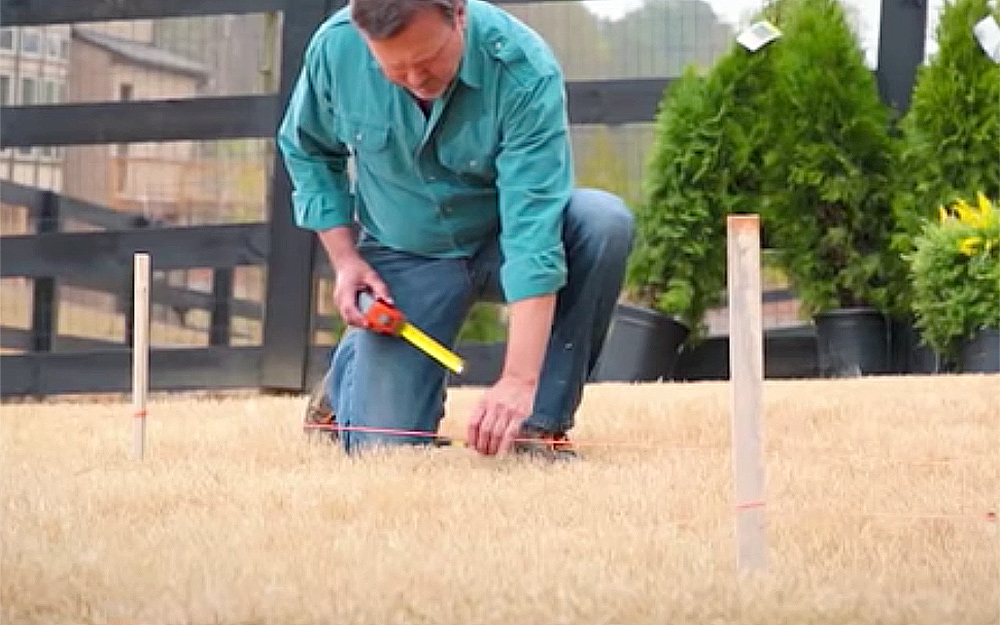 Playset construction is a two-person job at minimum. Be sure you have help before you try to tackle the project.
Before you begin construction, remove all the playset parts and check them against the inventory in the instructions. If any parts are missing, contact the store or company right away to acquire the correct replacement parts.
Follow all manufacturer's instructions when putting together a playset.
One the playset is in place, you will need to install surfacing underneath and on the surrounding areas to cushion the inevitable tumbles that will happen as kids play. Depth of surfacing should be at least 9 to 12 inches, depending on the playset deck height.
To maintain a soft surface, do not compact surfacing material.
Sand or Pea Gravel
Pros
Inexpensive
Natural material
Cons
Pets and wild animals may use for waste relief
Can be scattered or blown away more easily
Sand can compact when wet
Not recommended for wheelchairs
Mulch or Chips
Pros
Inexpensive
Environmentally friendly; biodegradable
Less inviting to pets
Cons
Must be replaced every 2 years
Absorbs moisture; freezes in cold weather
Wood chips attract roaches in warm, damp climates
Shredded Rubber
Pros
Does not decompose
Supports recycling
Cons
More costly than other loose-fill solutions
Must be raked regularly to keep in place
Needs more volume; recommended level is 12-20 inches
Rubber Mats
Pros
Easy to clean
Highly durable
Wheelchair-accessible
Can be purchased in a variety of colors
Cons
Significantly more expensive than loose fill solutions
Thickness depends on playset height; can increase costs
May need professional installation around playset
May clash with natural look of wood playset
Pour-in-Place Rubber
Pros
Safest surface option
Low maintenance
Wheelchair-accessible
Cons
Most expensive option
Thickness depends on playset height
Professional installation required
Order any replacement parts or upgrade kits ahead of time so that you can make repairs or improvements along with cleaning.
Put on work gloves and check over the structure for insects. Spiders, wasps and other harmful insects often hide in outdoor toys; treat areas of infestation with an appropriate insect killer.
Gather cleaning supplies: a bucket, microfiber rags, a soft-bristle brush and mild dish soap or outdoor cleaner. Pull on latex gloves, fill bucket with warm water, swish in some soap and start cleaning the structure from the top, working down to the base. Let dry thoroughly.
Inspect any metal pieces on the structure for rust. Remove any rust spots with steel wool, then seal with outdoor metal primer.
Check playset wood for structural integrity and look for any splinters, small holes or cracks. Replace any wood that is not safe. Fill small holes and cracks with wood putty and sand rough areas. After sanding, stain and seal the wood.
Check all the connectors in the playset and tighten any screws, nuts or bolts that are loose.